Costa Rica group tours
that last one day but will be remembered forever
Nothing is more important than strong family relationships. And if you want to cherish them, Adventure Park & Hotel Vista Golfo has something special for all of you. What we know for sure is that there is hardly anything that unites loved ones, friends, or colleagues better than spending a day on super-fun activities together – especially if they are combined with panoramic views of unspoiled nature. Inspired by the idea of making families closer and encouraging the unbroken team spirit among co-workers, we arrange one-day
Costa Rica group adventures
and invite you to take part.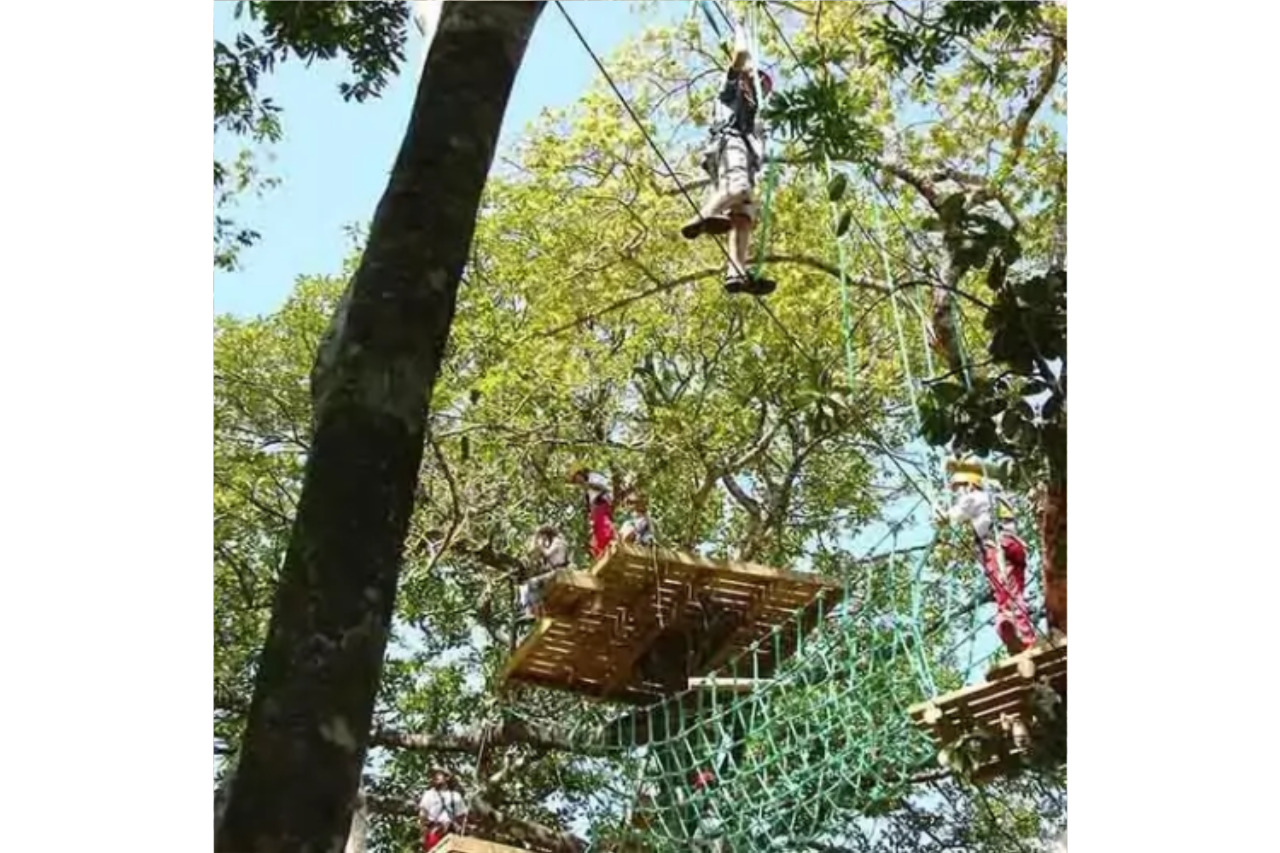 For those who don't feel like traveling solo and are eager to share the excitement of new experiences with others, our tours will be perfect additions to their must-do lists. And all you need to spend the best
Costa Rica family adventure holidays
in your life is get to our park. It is located only an hour and a half away from San Jose, so you won't even have time for getting bored. But if you stay in San Carlos or Guanacaste, be ready that it will take you something like 2 hours to get to our facilities. It is definitely worth the drive, though.
Book now and safe your place with 25 % prepayment. Spend-the-Day Package, high-ropes course with as many as 17 elements, and the options for additional activities. This amazing tour costs only $25.
Our Costa Rica family adventurepackages
Even if you are traveling on a shoestring budget, you can still spend an excitement-filled day at Adventure Park & Hotel Vista Golfo. We offer 2 packages for our Costa Rica family adventure tours which leave no room for boredom, no matter your preferences. Check out the details below and pick the one for your needs:
Spend-the-Day Package
This is an ideal option for those who are willing to get lost in the serenity of nature without taking part in any adrenaline-rush activity. Our Spend-the-Day Package allows you to rejoice in all the facilities of our park, including low-ropes courses for kids, swimming pools, trampolines, multiple bird-watching spots, and more under one roof. All these are available to you and your little ones for the whole day only for $8 per person.
Basic Package
To have fun-filled Costa Rica co-workers adventure holidays, you need something more impressive, don't you? Within our Basic Package, you will be able to enjoy your vacation to the max while crossing the Big Papa Trail high-ropes course. It has as many as 17 elements with the spider's web, blocks, tires, hammocks, and hanging bridges being included. After you complete the course, you can add the lunch at our restaurant so that you can sample the local cuisine. The cost of the Basic Package is $25 per person.
The most outstanding feature of our Basic Package is that it can be customized the way you want. Although it already includes Big Papa Trail, you can add other pastimes to make your Costa Rica co-workers adventure tours complete. Each additional activity will cost you from $10, regardless of what exactly you pick. Take a look at the list of what you can choose from:
High Ropes (17 different elements in the"Big Papa Trail") It is included;
Labyrinth (Maze); ($5.-)
Monkey Trail (to be added to a current ropes course);($10.-)
Climbing Wall and stack boxes;($10.-)
Superman Flight for as long as 2,200 ft;($15.-)
4-Cable Zip-Lining;($10.-)
Rappelling .($10.-)
Tarzan Swing;($10.-)
Typical Costa Rican Casado;($10.-)
Next time you are in Puntarenas or nearby with your loved ones, why not spend an exhilarating day at Adventure Park & Hotel Vista Golfo? Our aim is to make your family adventure travel in Costa Rica worth remembering!