Mega Zip Line Over 11 Waterfalls
Costa Rica tour
We offer the unique
Waterfall Zip Line tour in Costa Rica
that allows you to experience the feeling of flight over as many as 11 cascades. The route includes 25 zip-line spots and is deemed to be the longest one in the whole country. It is something that should be added to your bucket list! As a matter of fact, Costa Rica is globally known for its tropical rainforests,
abundant wildlife
and turquoise water. So, what if there was a tour that combined all those and even more? Do not wait until the fortune smiles on you and seize the opportunity at Adventure Park & Hotel Vista Golfo.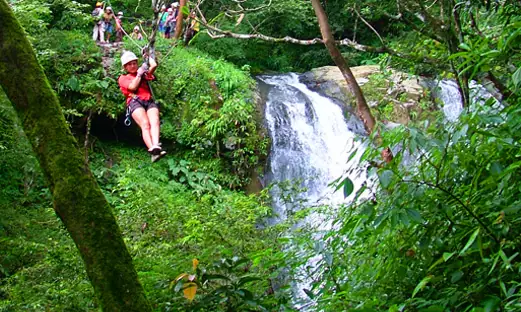 If you have never tried zip-lining before, this is your unique chance to experience it in the best possible way. Our
Canopy Zip Line tour in Costa Rica
is a must for every traveler not only because of the splendid view it offers. Apart from overlooking wonders of nature and the Gulf of Nicoya, it is one of the safest activities you can engage in. Our guides will make sure all belay devices and pulleys are installed securely so that no risks are involved during your canopying. That is why you can leave your worries behind and take your kids to this activity as well.
Book now and safe your place with 25 % prepayment. 25 cables over 11 waterfalls, cascades, canyons, valleys, two rappels, and a hanging bridge. This amazing tour costs only $99 / 89$
Superman canopy tour in Costa Rica – an exciting experience you will never forget
Our
canopy and zip-line Costa Rica
tours, which take you over waterfalls, rainforests, and mountains, are designed for people of all ages – even for kids at the age of 6-8. Our well-trained zip-line guides will eliminate any chances of mishaps and risks along the way. The unique braking system invented and developed at our park is now being implemented by most entertainment facilities in the country. It is deployed at the end of the cables, providing you with a highly secure ride and extreme comfort. So, now you can get an enchanting bird's eye view while safely descending from the steep hikes of waterfalls.
The tour for the longest
zip-line in Costa Rica
takes 3 hours of enjoying a totally new adventure in the jungle and getting to deep into one of the largest waterfalls. If you are a photo enthusiast, you are allowed to capture great memories here the way you want. What is more, you will be able to engage in 2 rappel locations that are included in your canopy tour. Although they feature the high level of adrenaline, they are designed to be easy for everyone. Once you complete your scenic
Costa Rica zip-line at Adventure Park
& Hotel Vista Golfo, we will bring you back to the hotel, where you will be able to enjoy delicious lunch (additional) at our restaurant with an amazing view over the Gulf of Nicoya.
Explore depths of the jungle while canopying in Costa Rica
There is no fun setting off on
Costa Rica zip-line tours
in artificial conditions. With us, you enjoy multiple flights amidst real forests and over 11 real waterfalls instead. While traveling from one zip-line spot to another, you will cross famous Costa Rican mountains and cascades that adorn ancient rainforests. Our
zip-line tours in Costa Rica
combine flights with so amazing forest and waterfall views that your breath cannot avoid being taken away. Behold indigenous plants, birds, animals, and ecosystems that boast of one of the most exotic natural growths in the continent.
Are you still worried about safety during this adventure? Leave it to us. Thousands of tourists from all over the world come to our park on exhilarating holiday under the tutelage of our guides who have been conducting these tours in Costa Rica for more than a decade. They are fully capable of ensuring safety at every turn of your adventure.
Get on board on our shore excursion tours which include zip-lining over 11 waterfalls and take advantage of your stop at the Pacific coast of Costa Rica. This package combines a spectacular show from Mother Nature during your shore excursion, 25 zip-lining cables, two rappelling locations, one suspended bridge, and also the option of swimming in crystal-clear natural pools. All those are available to you in only half an hour drive from the piers in Puntarenas and Caldera. Plan this shore trip combined with our
Costa Rica zipline tours
to let the best experiences make you cheerful. Plus, you will be able to have lunch (additional) at our restaurant offering the breathtaking ocean view.
Looking forward to coming to Costa Rica on holiday? We can make all the arrangements for your stay in our 4-star all-inclusive Fiesta Resort in Puntarenas. They are close to the airports, most popular beaches and, of course, our Adventure Park where you can enjoy the unique zip-line tour over 11 waterfalls, the high ropes course, and more. We can also make the airport pickup, hotel-hotel, or hotel-airport arrangements for you. So, we are here to take care of everything you may face with. Feel free to ask us for a quote for amazing holidays in an all-inclusive beachfront hotel and find out the cost of zip-line tours in Costa Rica.