Costa Rica Superman zip line
tour in Finca Daniel adventure park
Contrary to popular belief, Costa Rica is more than just a beach destination. This country has far more to offer than just white sandy shores, clear-blue ocean, and sunny weather year-round. It is world-renowned adventure parks that have thousands of tourists flocking to Costa Rica every year. Here you can get that perfect mix of relaxing beach time and active outdoor activities that would make any traveler sublimely happy. So if you are currently planning your next trip and dread spending another vacation lying on a towel by the water, book our
Costa Rica zip line Superman
tour in Finca Daniel adventure park! We guarantee endless fun, and memories that will last a lifetime! Incredible views of the Gulf of Nicoya.
Here is what you need to know about this excursion: 13 zipline cables to ride, One 750 meter 'Fly Like Superman' cable, only $60 / $50 per person.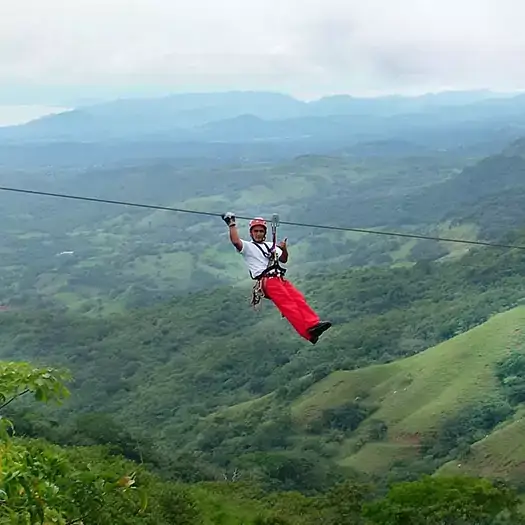 Superman canopy tour in Costa Rica – an exciting experience you will never forget
Why is it called Superman zip line? Because you will go down the cable headfirst just the way Superman flies! Thanks to such position, it will indeed feel like you are flying through the air at high speed – something around 35 miles per hour. But no worries! It is absolutely safe. Our instructors are well-trained and experienced in their field. They will help you every step of the way, making sure you take off and land safe and sound.
Besides high adrenaline, you will get a chance to admire the beautiful Costa Rican nature. We promise breathtaking views over the ocean and mountains! Trotting through the jungle forest can take hours. What is more, it is quite dangerous. Glide over it instead to see everything from the bird's view in just a couple of minutes. Any person who ever ziplined in Costa Rica as Superman will tell you that it is an experience of a lifetime and that there is surely no other activity that brings as much adrenaline and fun as our canopy tour does. Join the ranks of our loyal clients who come here over and over again with their friends and family!
Superman Costa Rica zip-lining attractions
Montes de Oro is perfect for zip lining since it has deep ravines, giving you an opportunity to effortlessly glide over the chasms. Finca Daniel adventure park is located in the forest full of ancient trees and exotic tropical flowers you have never seen before. Adventure Park Costa Rica located on Finca Daniel is one of the biggest canopy-ride parks in the world with 25 cables and 11 waterfalls. And you have a chance to see all of them – and even dip into some of them – if you go for our Mega Zip Line over 11 Waterfalls in Costa Rica!
For more than 25 years Finca Daniel adventure park has provided tourists with adrenaline-rushing canopy tours. Over this time, we have perfected our organizational skills and safety measures to give you a stress-free zip lining experience full of fun and excitement. If you are an adventurous kind and you are looking for an ideal destination to try zip lining – search no more! Superman zip line in Costa Rica is the best canopy tour you can find. But it is not only meant for adrenaline-seeking daredevils. We have different levels of difficulty designed for people of any age and physical training. Even your grandma could do it! Fill in the form below to book a tour or contact us if you have any questions. See you in Costa Rica!