SUMMARY
As a huge first for BMW, the 2022 BMW iX features enough power and range to go far on a single charge. Its powertrain allows for some all-wheel drive action while providing drivers with a driving experience that's responsive and snappy. The interior cabin is plush with high-tech features and comes with amenities that are sure to be enjoyed. With such steep competition in the EV market, we're expecting this BMW model to be a fierce contender. This 2022 BMW iX review will look into the different specs and features that make this car a key part of the brand's choice towards a cleaner tomorrow.
LATEST
For this model year, the 2022 BMW iX is a brand-new model to pad up their growing electric-based vehicle lineup.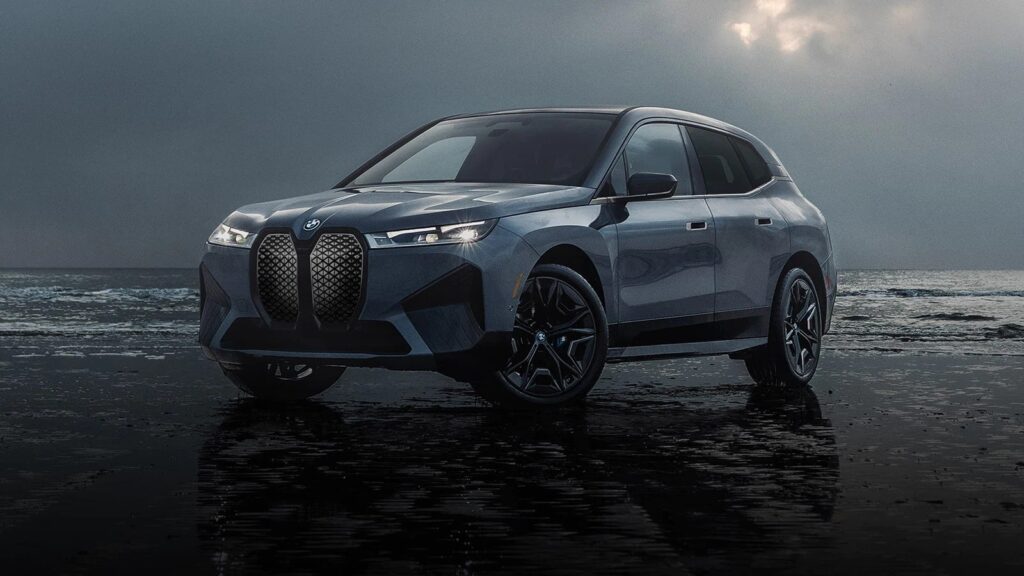 ESTIMATED PRICE
The 2022 BMW iX price point varies according to which of the 2 configurations a buyer wishes to go for. The first model, the iX xDrive50, invites drivers to experience an all-electric adventure with its eye-catching interior features. If you're looking for a bit more out of your purchase, then you could go for the optional packages available for the model. The top-of-the-line model, the M60 is made with speed and precision in mind. Get this model if you want an EV that's always got a handle on the situation, no matter the road conditions. The roster of 2022 BMW iX colors includes options such as Alpine White, Mineral White Metallic, Blue Ridge Mountain Metallic, and Aventurin Red Metallic. Each model comes with its own set of colorway options, ensuring that each model is perfect for the driver. Below are the different MSRPs of the different 2022 BMW iX configurations:
| | |
| --- | --- |
| Trim (Drivetrain) | MSRP* |
| 2022 BMW iX xDrive50 | $83,200* |
| 2022 BMW iX M60 | $105,100* |
MACHINE PERFORMANCE
Although the 2022 BMW iX specs of the 2 models are significantly similar, there are a few key differences that make them stand out against each other. The xDrive50 makes use of an all-electric dual-motor setup that's capable of producing around 516 horsepower and a torque output of 564 pounds-feet.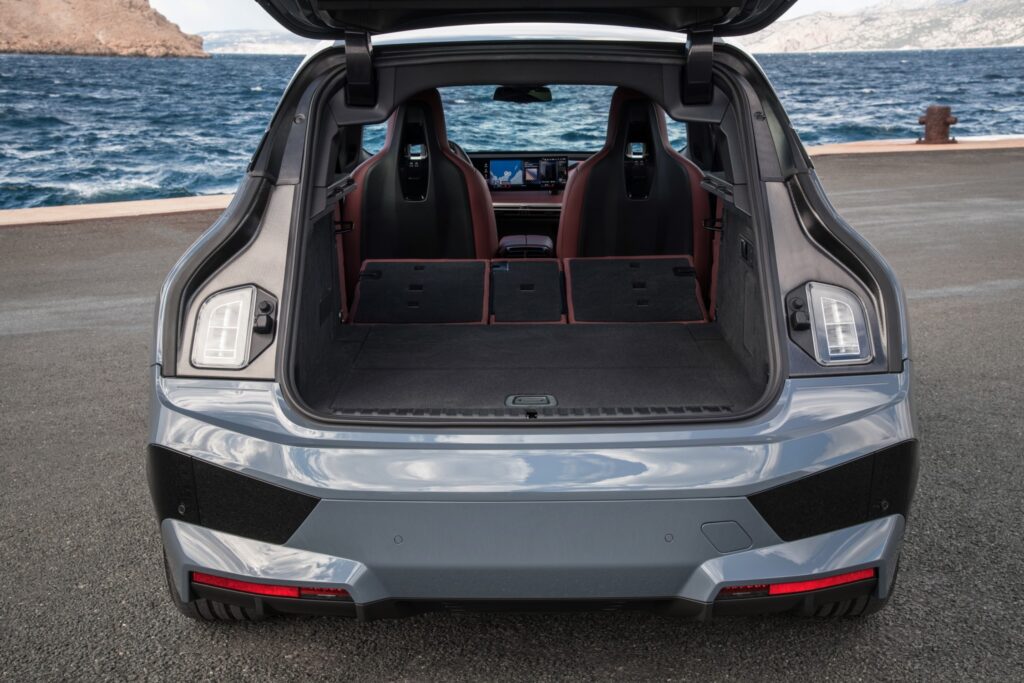 The M60 spices things up a little with the all-electric dual-motor powertrain upgraded for some high-performance driving. This model is capable of putting out some intense power at 610 horsepower and a max of 749 pounds-feet of torque.
Both models are paired with an e-speed single-speed automatic transmission that's known to be quite responsive. The 2022 BMW iX 0-60 sprint time is noted at 4.4 seconds for the xDrive50 and 3.6 seconds for the M60. For the 2022 BMW iX top speed, drivers can expect around 124 mph for the base models and 130 mph on the souped-up M60.
BATTERY LIFE
All models of the 2022 BMW iX come with a Lithium-Ion battery pack with a rated capacity of 11.5kWh. Each cell of the battery is rated for 303.0 Ah. Currently, there are no estimates of the charging time of the 2022 BMW iX on the manufacturer's site, leaving us to speculate on it till then.
FUEL EFFICIENT & ACTUAL MPG
Although there's no official rating for the MPG estimates of the M60 model, the 2022 BMW iX's base model has already been rated by the EPA. The xDrive50's fuel efficiency stats depend on the specific configuration. If you're looking for peak fuel usage stats, then models with the 20-inch wheels will be a great choice for you. The 2022 BMW iX range reaches above 300 miles. Below are the fuel efficiency scores that were given to each trim of the 2022 BMW iX, specifically the xDrive50:
| | | | |
| --- | --- | --- | --- |
| Trim Mileage Estimates | City/mpg | Highway/mpg | Combined/mpg |
| 2022 BMW iX xDrive50 (20-inch) | 86 | 87 | 86 |
| 2022 BMW iX xDrive50 (21-inch) | 82 | 84 | 83 |
| 2022 BMW iX xDrive50 (22-inch) | 86 | 85 | 86 |
INTERIOR, SOLACE & BAGGAGE
When looking at the 2022 BMW iX interior, one thing that isn't obvious is the number of materials made from recycled sources. As part of the brand's commitment to lessening its carbon footprint, we see BMW using 'Sensatec' which is an eco-friendly material. The iX has a passenger capacity that's enough for 5 passengers with base models receiving a 3-stage heating system for front passengers. The M60 gets a bit fancier with its heating features as all seats receive it. The cargo capacity of the iX has a cargo volume of 36 cubic feet. It's a respectable amount for this EV and should be good enough for families on the move.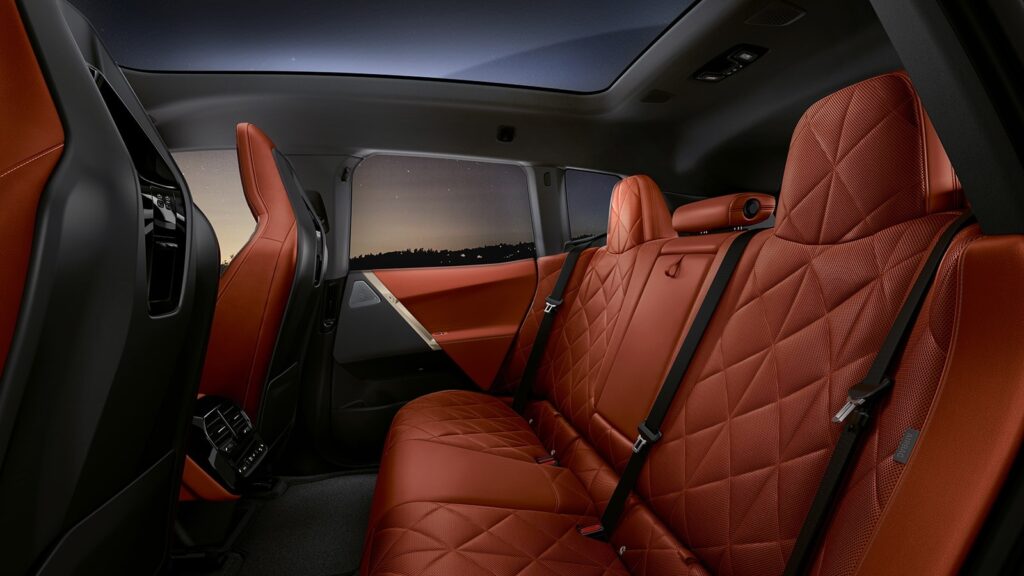 TECHNOLOGY
The infotainment suite of the 2022 BMW iX is quite extensive, featuring some high-tech inclusions that are sure to thrill any techie on board. All models come with a 14.9-inch central information display that's paired with a 12.3-inch digital instrument cluster for the driver. The driver has the choice to configure what vehicle and road information is displayed on the instrument cluster. The cabin's suite comes with both Android Auto and Apple CarPlay connectivity options. It's also got Bluetooth Wireless features alongside a couple of USB-C ports on the front and rear for a complete set of smartphone connectivity options. The audio system of the 2022 BMW iX features a HiFi Sound System that's composed of 12 strategically placed speakers. It also comes with a 205-watt digital amplifier for crystal clear sound quality. Along with that, drivers gain access to the SiriusXM 360L audio platform with a 1 year Platinum Subscription.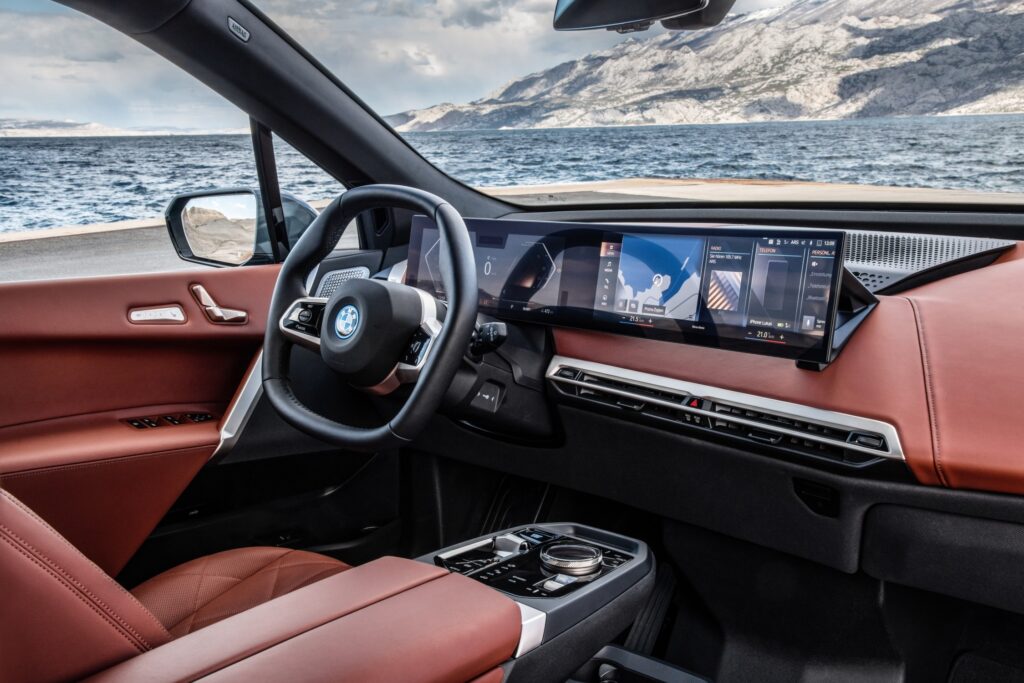 SAFETY
Although there are no formal reviews on how the 2022 BMW iX protects against crashes, we do know the extent of the safety and driver-assistive suite available for all models. For the base model, the suite includes a Rear-view Camera, Park Distance Control Systems, an Active Protection System, Automatic High Beams, and a whole suite of active driver-assistive features. The only difference the M60 has over the xDrive50 model is the inclusion of an Icon Adaptive LED Headlight.
WARRANTY
When it comes to the BMW iX, the brand offers the same competitive warranty as to the other EV in its product lineup. Their limited warranty spans 4 years with a mileage limit of 50,000 miles driven, whichever comes first. Next is the powertrain warranty that lasts for 4 years or the first 50,000 miles different as well. One special inclusion is the EV Component warranty which lasts for 8 years and has a mileage limit of 100,000 miles. Another is the complimentary scheduled maintenance service that's available to BMW drivers for 3 years with a mileage limit of 36,000 miles.