SUMMARY
Looking for a roadster that delivers great performance while having some of the best interior amenities in the class? Look no further than the 2022 BMW Z4! This BMW has some great performance stats and handles like a dream. With 2 models available for purchase, buyers can choose the turbo V4 engine or the powerful twin-turbocharged V6 engine. Whichever choice you go for, the 2022 BMW Z4 will make sure every ride is as exciting as the day you bought it! This 2022 BMW Z4 review will look into the specs and features that make this roadster a shining star for its class even against the more opulent brands around.
LATEST
Looking into the 2022 model of the BMW Z4, many drivers will find that there are not many changes made to the powertrain options and design elements of the 2022 BMW Z4. One thing to note is that drivers will no longer receive ambient lighting features and wireless charging pads as standard options. There is also a new Driving Assistance Package that's now its own customization option from the Convenience and Premium Packages.
ESTIMATED PRICE
The 2022 BMW Z4 price is around the $50,000 mark for the base model and manages to reach nearly $64,000 if you're going for the higher-end models. The sDrive30i already comes with all the features and safety additions that you could ever want with your roadster. However, if you're feeling a need for speed, you should go for the M40i and its improved powertrain system. The roster of 2022 BMW Z4 colors includes options such as San Francisco Red Metallic, Mediterranean Blue Metallic, Glacier Silver Metallic, and Black Sapphire Metallic. The M40i gets two unique colorway options: Misano Blue Metallic and Frozen Grey II Metallic. Below is our 2022 BMW Z4 cost table detailing the starting MSRPs of each of the models:
| | |
| --- | --- |
| Trim (Drivetrain) | MSRP* |
| 2022 BMW Z4 sDrive30i | $49,900* |
| 2022 BMW Z4 M40i | $63,700* |
Looking for a more flexible way of funding your dream BMW roadster? Consult with the brand's financial services department and see how they can help you with different financing options. The 2022 BMW Z4 lease price can be found on their website alongside the terms and conditions you'll need to know before diving straight into a lease deal.
MACHINE PERFORMANCE
The 2022 BMW Z4 specs sheet shows that there are 2 different powertrain options available across the Z4 lineup. The Z4 sDrive30i has a 2.0-liter BMW TwinPower Turbo inline 4-Cylinder engine that's capable of 255 horsepower and a torque output of 294 pounds-feet. The Z4 M40i, it's outfitted with a 3.0-liter BMW M TwinPower Turbo inline V6 engine. This setup is capable of bringing the Z4's performance stats up to 382 horsepower and a max torque output of 368 pounds-feet. Looking into the car's other performance metrics, we're impressed with how this roadster runs. The 2022 BMW Z4 top speed rounds out to 155 mph while the 2022 BMW Z4 0-60 sprint time takes around 3.9 seconds with the M40i configurations. The sDrive30i manages to reach the same top speed with an acceleration time of 5.2 seconds.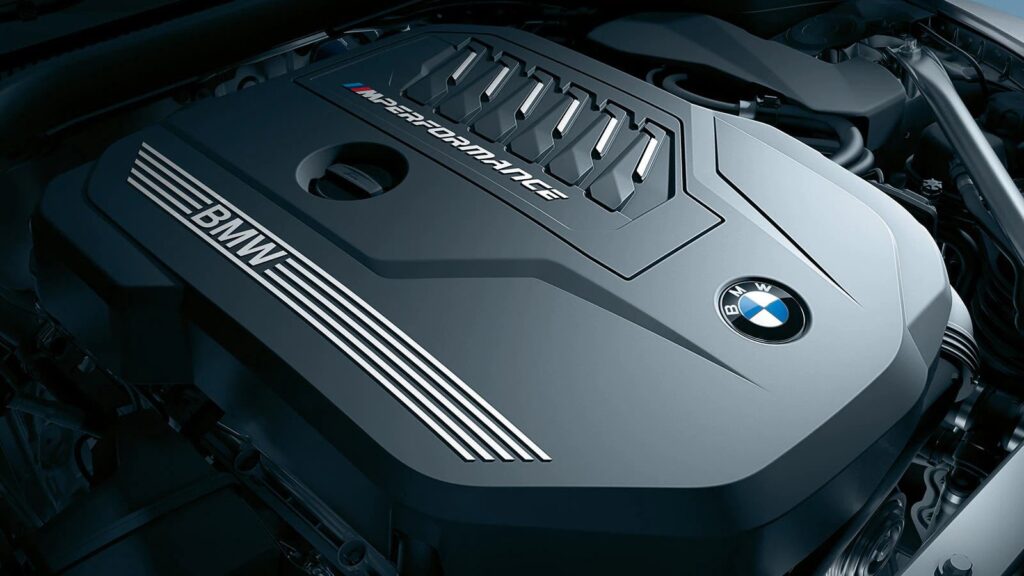 FUEL EFFICIENT & ACTUAL MPG
The fuel efficiency stats for each of the 2022 BMW Z4 models have now been released by the EPA. As we can see, the car's MPG metrics are quite efficient when it comes to the sports car class. The sDrive30i is the most efficient with its MPG scores reaching 32 within the Highway/MPG category. The M40i is still quite decent with a score of 29 Highway/MPG. Although we do have to note that the Z4 does need premium gasoline and only has a fuel tank capacity of 13.7 gallons.
| | | | |
| --- | --- | --- | --- |
| Trim Mileage Estimates | City/MPG | Highway/MPG | Combined/MPG |
| 2022 BMW Z4 sDrive30i | 25 | 32 | 28 |
| 2022 BMW Z4 M40i | 22 | 29 | 25 |
INTERIOR, SOLACE & BAGGAGE
We feel that the 2022 BMW Z4 interior complements its sporty nature perfectly. The cabin itself is lined with high-quality materials, creating a powerful feeling of luxury that helps to create a thrilling drive experience. The Z4 can accommodate 2 passengers that are seated on Power M Sport Seats that come with SensaTec seat covers. The BMW Z4 isn't made with cargo capacity in mind, focusing more on speed and performance. The trunk volume of the Z4 is only around 10 cubic feet, just enough to keep a few small bags and items.
TECHNOLOGY
Drivers will find a plethora of high-tech features on the 2022 BMW Z4 and its infotainment system. The cabin hosts a 10.25-inch central information display while drivers make use of a similarly sized 10.25-inch Digital Instrument Cluster for vehicle information. All models gain access to Android Auto and Apple CarPlay connectivity options alongside Bluetooth wireless features for full smartphone connectivity. Through the car's multi-input iDrive 7.0 system, the car can receive over-the-air updates for both software and map information. With the addition of the Connected Package Professional, drivers get additional features such as Real-Time Traffic Information, Hazard Preview, and the services available on the BMW Remote Services suite. The audio system of the 2022 BMW Z4 is composed of a 10-speaker setup that includes 2 bass speakers and a 205-watt digital amplifier. All of these components make up a HiFi Sound System that's capable of some amazing sound quality.
SAFETY
The 2022 BMW Z4 hasn't received any in-depth reviews regarding the car's safety and driver-assistive suite. However, the company has released a lot of information regarding all the safety features found on each model of the 2022 BMW Z4. Some examples of the safety features included on the BMW Z4 are Adaptive Brakelights, Automatic Safety-Belt Pretensioners, Rollover Protection, Impact Sensors, Rear-view Cameras, and a set of Automatic High Beams. All of these are part of the safety suite for both the sDrive30i and the M40i.
WARRANTY
Looking into BMW's warranty program, we see that it's quite competitive and has some unique packages that other manufacturers don't offer. Their limited warranty plan lasts for 4 years with a mileage limit of 50,000 miles. BMW's powertrain warranty also comes with the same terms as the prior warranty package – 4 years and a mileage limit of 50,000 miles. One unique addition to their warranty package is their complimentary scheduled maintenance service that's available for 3 years or the first 36,000 miles, whichever comes first.