SUMMARY
We always expect a flagship model to be fitted with all the latest features available to the brand. The 2023 BMW 7 Series is the latest generation of the brand's best luxury sedan. It's been refitted with new technologies and a revamped powertrain for that extra push. With all the standard and optional features slated for its release, we're placing our bets that the 2023 BMW 7 Series will be the best one yet. This 2023 BMW 7 Series review will look into the released specs and features for its upcoming flagship release by November 2022.
LATEST
For the 2023 model year, BMW has undertaken a full redesign for the 2023 BMW 7 Series and its different models. This includes additional features, luxurious cabin amenities, and reconfigured external design stylings. Both models are expected to release by November of this year.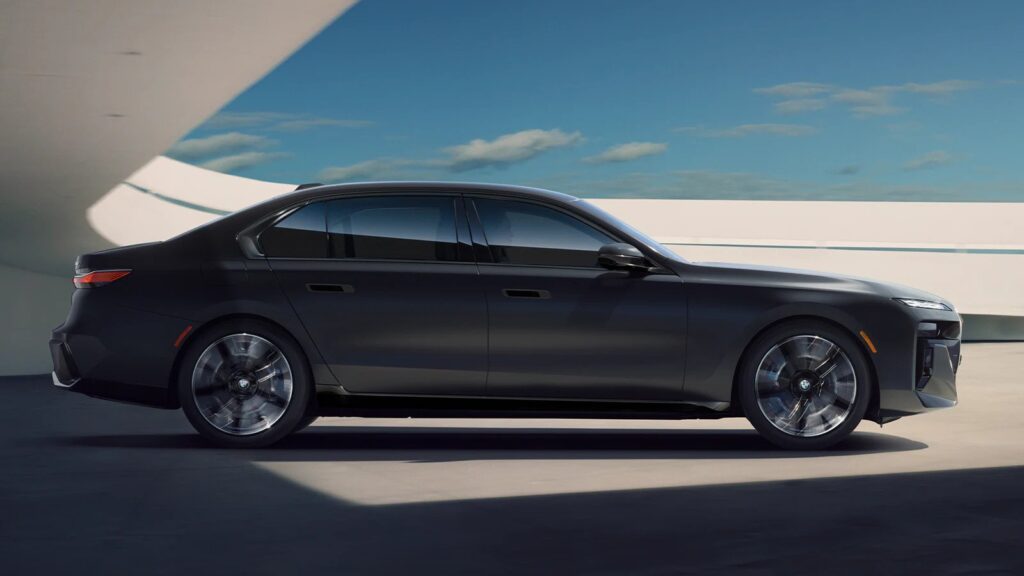 ESTIMATED PRICE
The 2023 BMW 7 Series price point depends on which of the 2 models you choose to get for yourself. Since the 7 Series represents the flagship luxury sedan of the company, it comes with all the bells and whistles that you could ever dream of. The 740i makes use of a 3.0-Liter V6 Engine that's suitable for all sorts of driving styles. However, the 760i is for those who want a significant boost in performance thanks to its 4.4-Liter V8 Engine. The roster of 2023 BMW 7 Series Colors includes options such as Carbon Black Metallic, Mineral White Metallic, Oxide Grey Metallic, and Frozen Pure Grey Metallic. In total, there are 11 different colorways available for buyers to choose from. Below is our 2023 BMW 7 Series cost table detailing the starting MSRPs of both models:
| | |
| --- | --- |
| Trim (Drivetrain) | MSRP* |
| 2023 BMW 740i Sedan | $93,300* |
| 2023 BMW 760i xDrive Sedan | $113,600* |
If you're looking for a reliable and easy financing option for your new BMW, then you may want to check with the company's Financial Services department. The 2023 BMW 7 Series lease price can be found on their website alongside the terms and conditions of any lease deal. Make sure to check these resources out and do your research to make sure you're getting the best price on your new car!
MACHINE PERFORMANCE
The 2023 BMW 7 Series specs sheet shows that there are 2 powertrain options available for buyers. All models of the 740i use a 3.0-Liter BMW TwinPower Turbo V6 Engine that's capable of producing around 375 horsepower. It's aided by a 48-volt Mild Hybrid System for increased performance and fuel efficiency. The higher-end model, the BMW 760i xDrive, makes use of a 4.4-Liter BMW TwinPower Turbo V8 that comes with higher performance stats. This powertrain option produces a power output of 536 horsepower and combines a pair of turbochargers for additional power. It's also aided by the same Mild Hybrid System used on the 740i. The 2023 BMW 7 Series top speed reaches around 130mph with its speed limiter on for both models. Without the speed limiter, the company states that the top speed could reach up to 155 mph. The 2023 BMW 7 Series 0-60 sprint time takes around 5.2 seconds for the 740i and 4.1 seconds for the 760i xDrive.
FUEL EFFICIENT & ACTUAL MPG
The 2023 BMW 7 Series and all its respective models have not been reviewed by the EPA for fuel-efficiency. We will make sure to update this section as soon as more information is available. For more information, please visit the EPA's official website for MPG scores.
INTERIOR, SOLACE & BAGGAGE
The 2023 BMW 7 Series interior has been completely updated for the 2023 model year. It now comes with additional cabin amenities such as leather and wood material work and even cashmere upholstery for those who want an additional layer of luxury. The passenger capacity of both models of the 7 Series is expected to be enough for around 5 passengers. Merino Leather seating surfaces are standard to the 760i xDrive while the base 740i makes use of Veganza Leather upholstery. The cargo capacity of all models of the 2023 BMW 7 Series lineup is estimated to be around 19.068 cubic feet. This is on the larger side of things when comparing other luxury sedans. Thanks to certain features, the 740i and 760i xDrive can carry longer items through a rear-seat through-loading feature.
TECHNOLOGY
Drivers of any model within the 2023 BMW 7 Series lineup will be glad to see a comprehensive infotainment system at their disposal. All models come with a digital instrument cluster and a responsive central information display from the Live Cockpit Professional package. Both Android Auto and Apple CarPlay connectivity options are supported alongside Bluetooth features for full smartphone compatibility. The audio system of the 2023 BMW 7 Series is composed of a 40-speaker 4D Surround Sound System. This astounding audio setup is capable of outputting around 1,965 watts and brings an additional layer of depth to any piece of music played through the system.
SAFETY
The 2023 BMW 7 Series and its respective models all feature cutting-edge safety and driver-assistive features. Although the crash safety performance of the different 2023 BMW 7 Series models hasn't been given a thorough review yet, the vehicle itself hosts several features like Frontal Collision Warning Systems, an Airbag Supplemental Restraint System, and Automatic Safety Belt Pre-tensioning all for passenger safety. Other features which go hand-in-hand with these include a Front and Rear Head Protection System, Adaptive Brakelights, Automatic High Beams, Post-Crash Braking, Active Blind Spot Detection, and an Emergency Request system in case of collision.
WARRANTY
When it comes to all the 7 Series models, BMW offers a hefty warranty package that matches the offers of other rival manufacturers and models. The brand's limited warranty plan spans 4 years or the first 50,000 miles driven, whichever comes first. Next is their powertrain warranty that lasts for the same amount of time: 4 years with a mileage limit of 50,000 miles driven. An additional perk of BMW's warranty coverage is their 3-year complimentary scheduled maintenance service. It also comes under a mileage allowance limit of 36,000 miles driven.