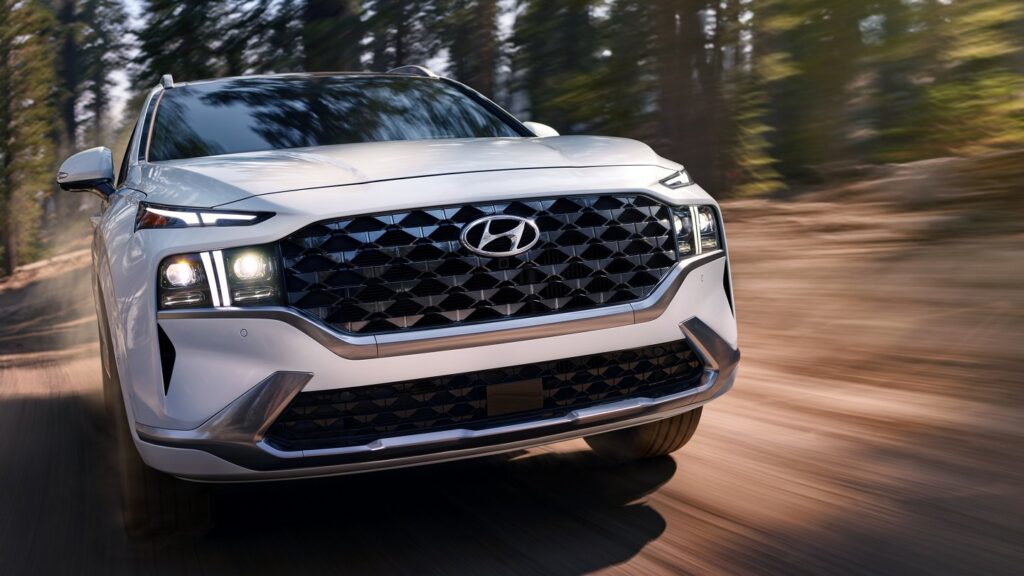 Lately, we've been looking over cars that offer a lot more value compared to what the rest can do. Our search led us back to the 2021 Hyundai Santa Fe, a quaint budget-focused SUV that got some decent marks from everyone. As more drivers lean towards cars that have a good balance of practicality and utility, we found the Santa Fe to be a good deal.
We've looked at different customer reviews, comments, forum posts, and the official specs sheet to bring you our informed review of the 2021 Hyundai Santa Fe and its performance specs. We'll also look into all sorts of info you might want to know before getting your own Santa Fe.
The Engine & Performance
With 2021's version of the Hyundai Santa Fe, buyers get the choice between 2 powertrain options based on a 2.5-Liter 4-Cylinder Engine. The SE and SEL models get a non-turbocharged engine setup that produces around 191 horsepower and a max torque output of 181 pounds-feet. As you upgrade to the Limited and Calligraphy models and its turbocharged 4-Cylinder engine, the power output will be boosted to 281 horsepower and a torque output of 311 pounds-feet.
All models are paired up with an 8-speed automatic transmission that's upgraded to a dual-clutch automatic setup on the turbocharged models. The drivetrain of the Santa Fe can either be a front-wheel drive or all-wheel drive system, depending on the buyer. However, we feel that both choices offer a smooth and stable ride that delivers more than a few jolts of excitement with the turbocharged models.
Of course, the Santa Fe isn't the end-all option for those who want a more varied and thrilling drive experience. This SUV is cool and refined when compared to options that offer up a bit more power. The suspension kit of the Santa Fe is composed of a Front Strut Suspension and a Multi-Link Rear Suspension, offering up a stable and calm ride. However, road imperfections and bumps might cause a bit of a shakeup within the cabin.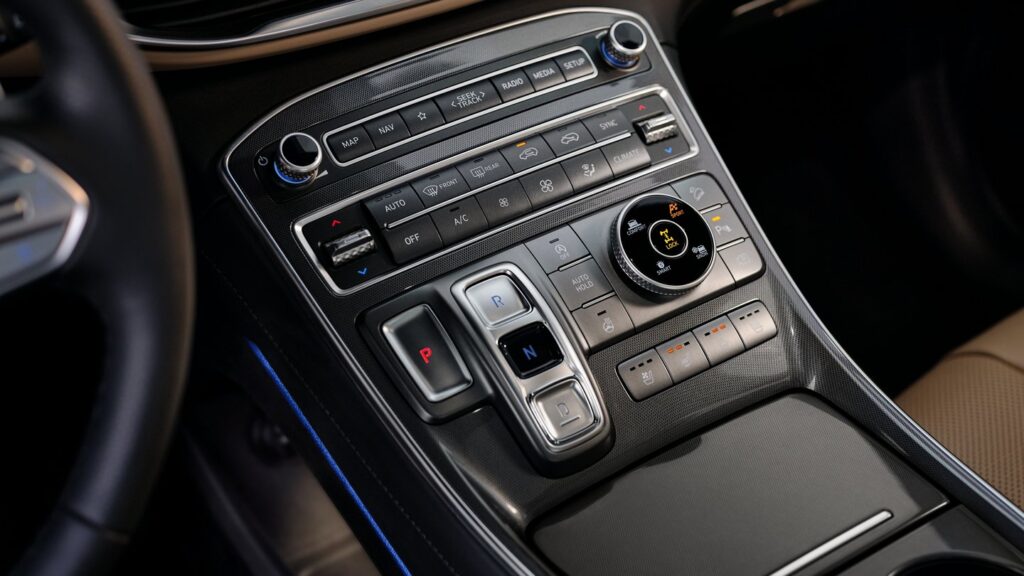 Styling, Interiors, & Infotainment System
If you're looking for an SUV that's got passenger space to spare, the 2021 Hyundai Santa Fe is a surprisingly good choice. It's got a spacious cabin that's made with an ergonomic layout in mind. The passenger cabin is also fitted with a variety of different technologies and passenger amenities, all designed around providing a seamless experience.
The 2022 Santa Fe is made to carry around people within its spacious cabin. The front and rear seats are covered with sets of stain-resistant cloth seating surfaces. The rear seats are made to be split-folded in a 60/40 manner. Now, higher-end models gain access to luxurious features such as heating front seats and even ventilation features on the Limited and Calligraphy models.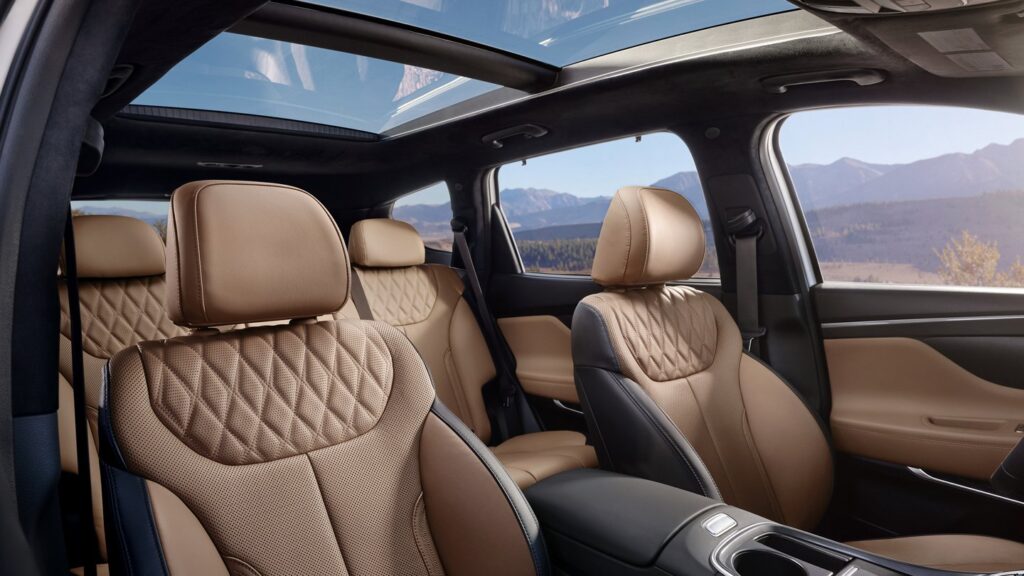 The infotainment system of the 2021 Santa Fe is also quite rich in high-tech features. Santa Fe SE models, being the base trim level, comes with an 8-inch touchscreen that sports a great user interface for easy usage. On higher-end models, the screen gets updated to a larger 10.3-inch resolution. All models come with Android Auto and Apple CarPlay features as standard.
Optional features are also available for buyers through the Premium and Convenience packages. The Convenience package gives drivers a 12.3-inch gauge cluster to work with along with a better climate control system and other desirable features. Those going for the Premium Package get upgrades such as leather seating surfaces, power-adjustability for the front passenger seat, and a 12-speaker premium audio setup from Harman-Kardon.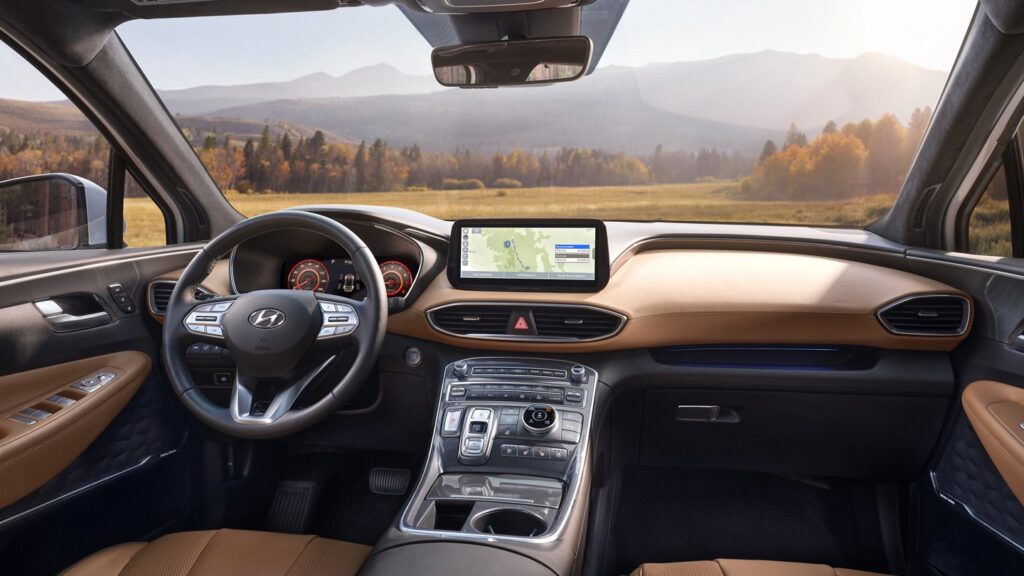 Fuel Efficiency
When it comes to fuel efficiency, we found all models of the 2021 Hyundai Santa Fe to perform decently well for the class. There is some difference when it comes to the turbocharged and non-turbocharged versions. The turbocharged models achieve MPG scores of 22 City/MPG, 28 Highway/MPG, and 25 Combined/MPG and has a total driving range of 470 miles. The non-turbo models fair a bit better with scores of 25 City/MPG, 28 Highway/MPG, and 26 Combined/MPG.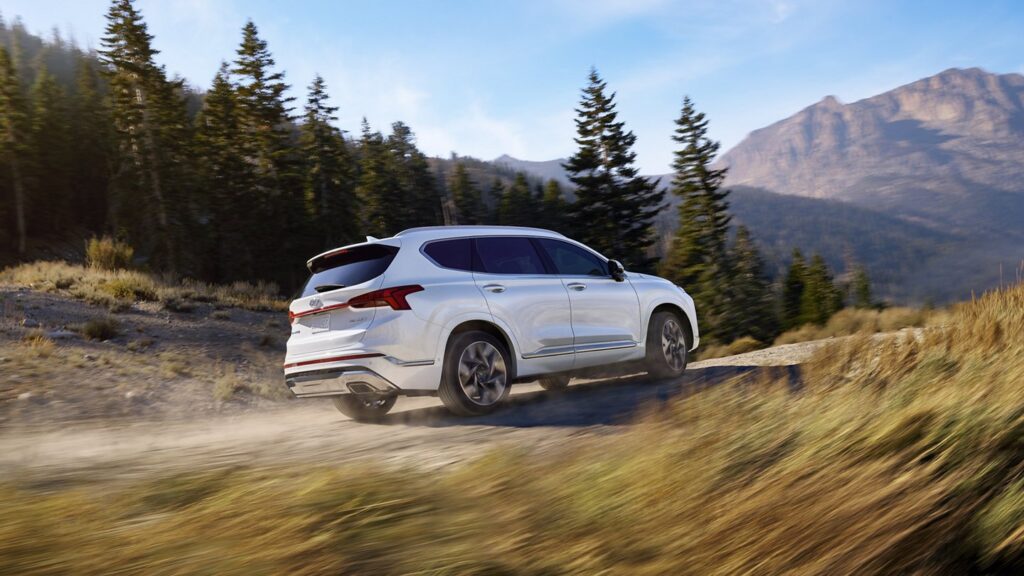 These scores are only for the FWD models as the Santa Fe AWD scores smaller MPG ratings, as expected. The non-turbo options get a City and Highway score of 22 and 25, respectively. For the turbo options, you'll be seeing MPG scores nearing 21 and 28 in both categories.
Safety Features
Both the NHTSA and the IIHS have given the 2021 Hyundai Santa Fe glowing reviews when it came to their safety features and crash test results. The IIHS gave the Santa Fe an overall evaluation of Good and a crash rating of Superior. The reviewers at the NHTSA had similar reactions as they gave the Santa Fe a 5-star rating for overall safety.
Even on the base models, the 2021 Santa Fe came with a whole load of safety and driver-assistive features. Some of these included Adaptive Cruise Control features, Lane-Keeping Assists, High-Beam Assists, and Forward Collision-Avoidance Assists.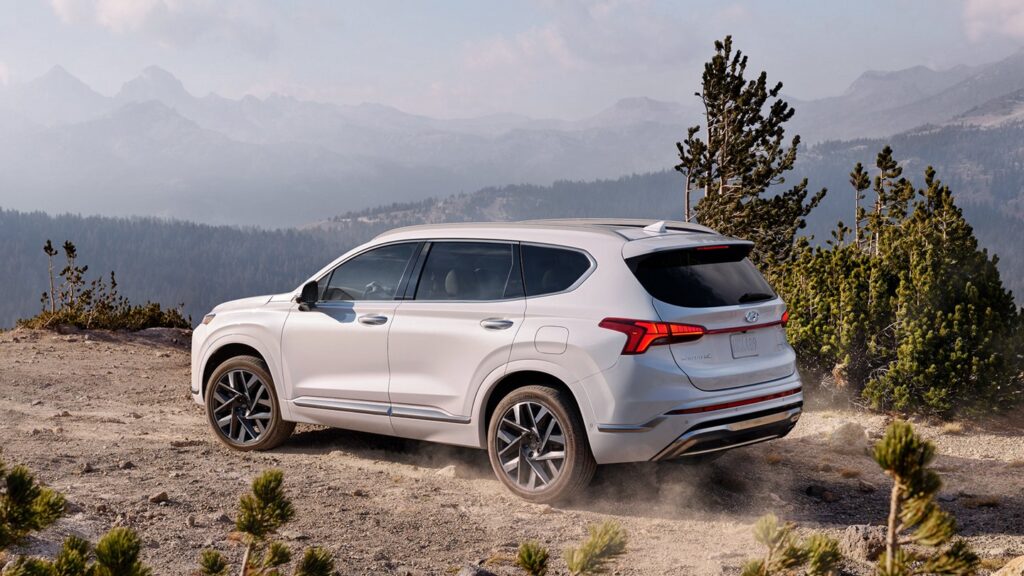 On higher-end trim levels, drivers gain access to advanced features such as Blind Spot Monitoring, a Safe Exit Assist, Head-Up Display, and a Highway Driving Assist system.
Final Thoughts
If you're in the market for a reliable and budget-friendly SUV that's sure to not let you down, the 2021 Hyundai Santa Fe is going to be a great option. It's got a price tag that starts at a respectable price point nearing $28,000. From there, buyers have an extensive range of choices and packages to choose from. It's got good performance metrics and lends itself well to urban driving settings and longer road trips out of town. Not only that, but it's got enough features and amenities to keep all 5 passengers well entertained throughout the journey.
Overall, we highly recommend the 2021 Hyundai Santa Fe and all its models to anyone wanting an SUV that can serve whatever purpose you need. This SUV has got some serious utility to it and is a great addition to our list of highly-rated family SUVs.