SUMMARY
When you look at the 2022 BMW X1, you might think that it shouldn't be nearly as agile as other luxury SUVs. However, the real story is that BMW has honed the X1 to focus more on practicality and reliability. It handles like a dream and houses a decently strong powertrain that's enough for any driver to ride around town in. As always, the ride experience is top-quality and the interior cabin is well designed with both passengers and cargo in mind. This 2022 BMW X1 review will look into the specs and features that make it a fun choice for any driver looking for a loveable small SUV of their own.
LATEST
For this 2022 model year, the 2022 BMW X1 doesn't seem to come with any big changes made to its looks or its performance metric.
ESTIMATED PRICE
The 2022 BMW X1 price point varies with the choice between the sDrive28i model and the xDrive28i model. The sDrive28i comes in front-wheel drive while the premium xDrive28i is available in all-wheel drive. However, we found that there's not much discernable difference when it comes to their performance metrics. If you want the most value out of your purchase, maybe consider getting the sDrive28i and fitting it with some of the packages available for all different 2022 BMW X1 configurations. The roster of 2022 BMW X1 colors includes options such as Alpine White, Misano Blue Metallic, Mineral White Metallic, and Storm Bay Metallic. Overall, there are 9 different colorways available for the 2022 BMW X1. Below are the starting MSRPs for each of the models of the 2022 BMW X1:
| | |
| --- | --- |
| Trim (Drivetrain) | MSRP* |
| 2022 BMW X1 sDrive28i | $35,400* |
| 2022 BMW X1 xDrive28i | $37,400* |
BMW's Financial Services department allows drivers to get their dream BMW cars using different payment schemes. The 2022 BMW X1 lease price can be found on their official website alongside other financing options. Make sure to check that out and with your preferred car dealer to find the best deal in your local area.
MACHINE PERFORMANCE
The 2022 BMW X1 specs sheet shows the difference between the sDrive28i and the xDrive28i. However, we feel that the all-wheel-drive model of the X1 doesn't bring much to the table compared to its front-wheel-drive counterpart. Both the sDrive28i and the xDrive28i make use of a 2.0-Liter BMW TwinPower Turbo Inline 4-Cylinder Engine that's capable of 228 horsepower and 258 pounds-feet of torque. All models come paired with an 8-speed STEPTRONIC automatic transmission. This comes with additional Sport and Manual Shift Modes, allowing the driver to cater their drive experience depending on road conditions. All-season run-flat tires are installed on all models with the wheels measuring around 18-inches in diameter. Although BMW's website doesn't list an official top speed, sources claim that the 2022 BMW X1 top speed reached around 129 mph. The 2022 BMW X1 0-60 sprint time is reported by the brand to be around 6.3 seconds. Driving the X1 isn't particularly a thrilling experience but we do note that it handles quite smoothly across a wide range of road conditions. The ride feel is also excellent, a hallmark of any vehicle coming from BMW.
FUEL EFFICIENT & ACTUAL MPG
The 2022 BMW X1's fuel efficiency scores have already been released by the EPA. To us, we see the X1's MPG scores as competitive when compared to other cars of its class. The sDrive28i model is the configuration to go for if you're looking for every advantage when it comes to fuel usage. With a Combined/MPG score of 27 and a driving range of 435 miles, you'll be able to get the most out of every drop of fuel. Below are the MPG scores received by both models of the 2022 BMW X1:
| | | | |
| --- | --- | --- | --- |
| Trim Mileage Estimates | City/mpg | Highway/mpg | Combined/mpg |
| 2022 BMW X1 sDrive28i | 24 | 33 | 27 |
| 2022 BMW X1 xDrive28i | 23 | 31 | 26 |
INTERIOR, SOLACE & BAGGAGE
Once you look into the 2022 BMW X1 interior, you'll notice that it makes use of some top-notch material work. However, more observant enthusiasts might find a few places where the company saved a couple of bucks on interior design. One notable area where this is prevalent is with the X1's various storage compartments, most especially the glovebox. The plastic may feel flimsy and unreliable to some drivers. For passenger capacity, the BMW X1 can host about 5 people within the decently spacious cabin. From the driver's seat, you'll find that the layout is focused more on the use of the driver. When it comes to cargo capacity, the BMW X1 can hold up to 27.1 cubic feet of space with all seats deployed. With the rear seating row stowed away, the storage space increases to 58.7 cubic feet.
TECHNOLOGY
All models of the 2022 BMW X1 receive an 8.8-inch touchscreen for navigating the BMW Navigation Business suite. Starting from the base models, the SUV comes with Apple CarPlay connectivity along with a whole set of features from BMW ConnectedDrive Services. Through Over-The-Air updates, remote software upgrades are available. The audio system for both models of the 2022 BMW X1 is composed of a 7-speaker HiFi Sound System. It's also paired with a 205-watt digital amplifier for added sound quality. Alongside that, all drivers receive a 1-year complimentary Platinum Plan subscription to the SiriusXM Satellite Radio suite.
SAFETY
The 2022 BMW X1 has received some glowing reviews from the NHTSA and the IIHS regarding its safety and driver-assistive suite. Both models of the BMW X1 come with the same roster of features which includes a Rear-View Camera, Frontal Collision Warning, Lane Departure Warnings, and Park Distance Controls for the front and rear of the vehicle.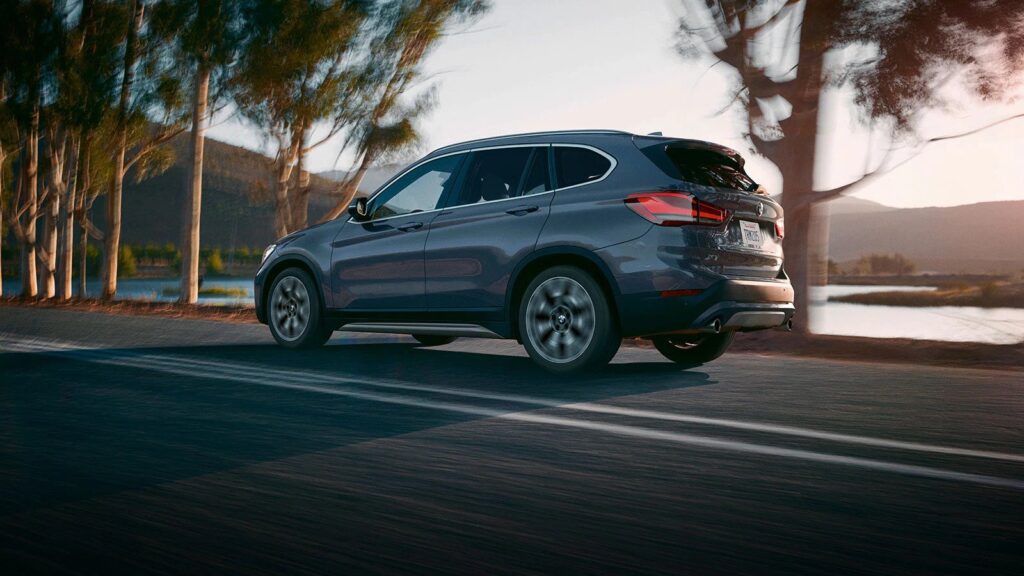 WARRANTY
BMW offers a competitive and valuable warranty package that's a bit of a step up from the ones offered by other luxury SUV manufacturers. Their limited warranty plan spans for 4 years or the first 50,000 miles driven, whichever comes first. Next is their powertrain warranty which lasts for the same amount of time: 4 years or 50,000 miles driven. A nice addition to the brand's warranty offerings is its complimentary scheduled maintenance.