SUMMARY
The 2023 BMW 8 Series Coupe is an elegant but powerful coupe that mixes luxurious cabin elements with an extremely responsive powertrain system. Although they aren't made with practicality in mind, drivers are sure to enjoy all the Sunday drives they can get out of it. The hefty V6 or V8 engine rockets the car forward up to a top speed of 156 mph. The cabin itself is plush and silent, creating an immersive driving experience. This 2023 BMW 8 Series Coupe review will look into the specs and features that bring an element of strength to its graceful façade.
LATEST
The 8 Series receives several updates to its looks such as revisions to its exterior grilles and other elements. New color options are available across the lineup such as San Remo Green and Frozen Pure Grey. For the M850i, drivers will find aerodynamic side mirrors and a new badge on the grille. Lastly, there is a new option for the M Sport Package Professional that upgrades the exterior with darkened elements.
ESTIMATED PRICE
The 2023 BMW 8 Series Coupe price varies according to which of the models you choose to go for. The 840i and 840i xDrive models come with a range of high-tech features within the cabin. Next is the M850i xDrive Coupe that's powered by a powerful V8 engine and comes with improvements to the car's handling and driving performance. Last is the M8 Competition Coupe which comes with every single improvement available to the BMW 8 Series lineup. The roster of 2023 BMW 8 Series Coupe colors includes options such as Alpine White, Sunset Orange Metallic, Dravit Grey Metallic, and Aventurin Red Metallic. Higher-end trim levels get different sets of colorway options. Below is our 2023 BMW 8 Series Coupe cost table detailing the starting MSRPs of the different models:
| | |
| --- | --- |
| Trim (Drivetrain) | MSRP* |
| 2023 BMW 840i Coupe | $85,000* |
| 2023 BMW 840i xDrive Coupe | $87,900* |
| 2023 BMW M850i xDrive Coupe | $99,900* |
| 2023 BMW M8 Competition Coupe | $134,100* |
If you'd like to take a different approach to finance your dream BMW vehicle, then you can consult with BMW's Financial Services department. The 2023 BMW 8 Series Coupe lease price can be found on their website alongside other financing options available.
MACHINE PERFORMANCE
The 2023 BMW 8 Series Coupe specs sheet shows the different powertrains used by the various models available on the lineup. The 840i makes use of a 3.0-Liter BMW TwinPower Turbo inline V6 engine. This engine setup produces a total of 335 horsepower and a torque output of 368 pounds-feet.
The M50i and the M8 Competition models replace the V6 engine with a 4.4-Liter BMW M TwinPower Turbo V8 Engine. With this configuration, drivers can enjoy a max power output of 523 horsepower and 553 pounds-feet of torque on the M850i. The M8 Competition bumps these numbers up to a total of 617 horsepower and a max torque output of 553 pounds-feet.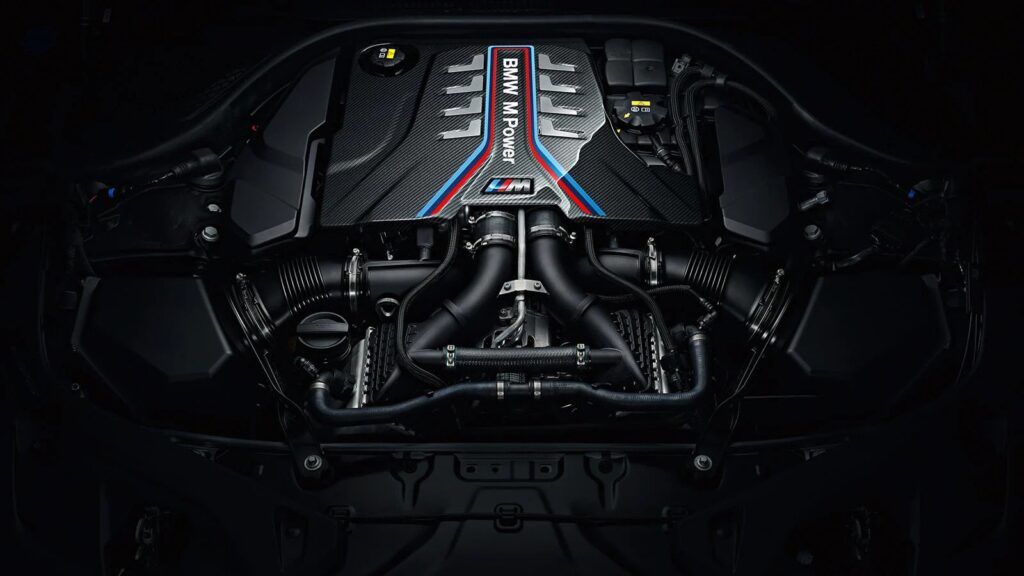 When it comes to performance, you can expect the best out of BMW's powertrain options. The 2023 BMW 8 Series Coupe 0-60 sprint time takes around 3.0 seconds while the 2023 BMW 8 Series Coupe top speed rounds out to 156 mph on the M8 Competition model. However, even the base 840i Coupe has a sprint time of 4.7 seconds and a top speed of 130 mph.
All models of the 2023 BMW 8 Series Coupe lineup come with an 8-speed Sport Automatic Transmission, a system that comes with Manual Shift Modes and Launch Control settings for optimum acceleration. The 840i comes with a set of All-Season Mixed Tires while the M850i and M8 Competition models come with Performance Tires.
FUEL EFFICIENT & ACTUAL MPG
Each of the 2023 BMW 8 Series Coupe models currently available has been reviewed by the EPA already. The 840i has a Highway/MPG score of 29 and a Combined/MPG score of 24. The next model, the M850i, scores 24 on the Highway category and 19 for Combined/MPG. The Competition, the most powerful of the models, has the least efficient powertrain with a Combined/MPG score of 17. The 840i and the M850i have a fuel tank capacity of 18.0 gallons. The M8 Competition gets a larger tank that holds 20.1 gallons.
| | | | |
| --- | --- | --- | --- |
| Trim Mileage Estimates | City/mpg | Highway/mpg | Combined/mpg |
| 2023 BMW 840i Coupe | 21 | 29 | 24 |
| 2023 BMW 840i xDrive Coupe | 21 | 29 | 24 |
| 2023 BMW M850i xDrive Coupe | 17 | 24 | 19 |
| 2023 BMW M8 Competition Coupe | 15 | 22 | 17 |
INTERIOR, SOLACE & BAGGAGE
Drivers will find that the 2023 BMW 8 Series Coupe interior is filled with grandiose design elements and luxurious material work. All models have a passenger capacity of 4 passengers, all seated on Extended Merino Leather seats. The cargo capacity of the BMW 8 Series Coupes has a trunk volume of 15 cubic feet. This should be enough for small bags and a few items from a quick grocery trip.
TECHNOLOGY
All models receive a 12.3-inch touchscreen for the infotainment system while the driver receives a 12.3-inch digital gauge cluster. Each model comes with Android Auto and Apple CarPlay connectivity as standard features. An enhanced suite for smartphone connectivity is also included, coming with a whole host of USB ports and Bluetooth features. The audio system of the 2023 BMW 8 Series Coupe is the same throughout the whole lineup. It's got a Harman Kardon Premium Surround Sound Audio System that comes with 16 speakers and a 464-watt amplifier unit. Drivers also receive a 1-year subscription to SiriusXM's 360L Audio Platform.
SAFETY
Looking into the safety and driver-assistive suite of the 2023 BMW 8 Series Coupe, we found that it comes with a large number of features. Some inclusions to their safety suite include Adaptive Breaklights, a Rear-view Camera, Lane Departure Warning, Automatic Collision Mitigation, Automatic Braking Systems, and other automated features. All models come with the same set of features, with some being available through optional technology packages.
WARRANTY
BMW offers the new driver a competitive warranty program that rivals the ones offered by other luxury manufacturers. Their limited warranty plan spans 4 years or the first 50,000 miles driven, whichever comes first. Next is their powertrain warranty which lasts for the same duration as the limited warranty. One added perk that we appreciate is their 3-year complimentary scheduled maintenance service that's limited by a mileage allowance of 36,000 miles driven.