More and more people are looking into getting crossover SUVs, especially with the performance and efficiency benefits this class offers. For the 2021 Mercedes-AMG GLB35, we're glad to say it offers both speed and practicality. In fact, we'd even go so far as to say nothing can really compete with what it has in store for buyers.
More savvy car enthusiasts may have noticed the AMG designation, but what does it really mean for the regular consumer? For the GLB35, this means that it offers drivers a lot more power from the handcrafted engines, along with added luxuries and improved features. A modernized dashboard, Mercedes' MBUX infotainment system, and a large passenger and cargo capacity helps this Mercedes create a great package for all kinds of buyers.
We've brought together different reviews, comments, and data to bring you our own review of the 2021 Mercedes-AMG GLB35. We'll be going over the engine specs, performance, interior and exterior stylings, and the many different creature comforts it provides.
Although this is the second-smallest crossover SUV offered by Mercedes, it doesn't lack in power or performance. Though its chunky exterior might not seem sporty at all, don't underestimate this crossover. The AMG GLB35 has a 2.0-Liter turbocharged 4-cylinder gasoline engine that reaches 302 horsepower at 5,800 RPM, outputting 295 pounds-feet of torque. The engine is lively when it revs up, though it doesn't really sound ferocious or aggressive. The exhaust does pick up from there, offering a bit more crackle and pop to it.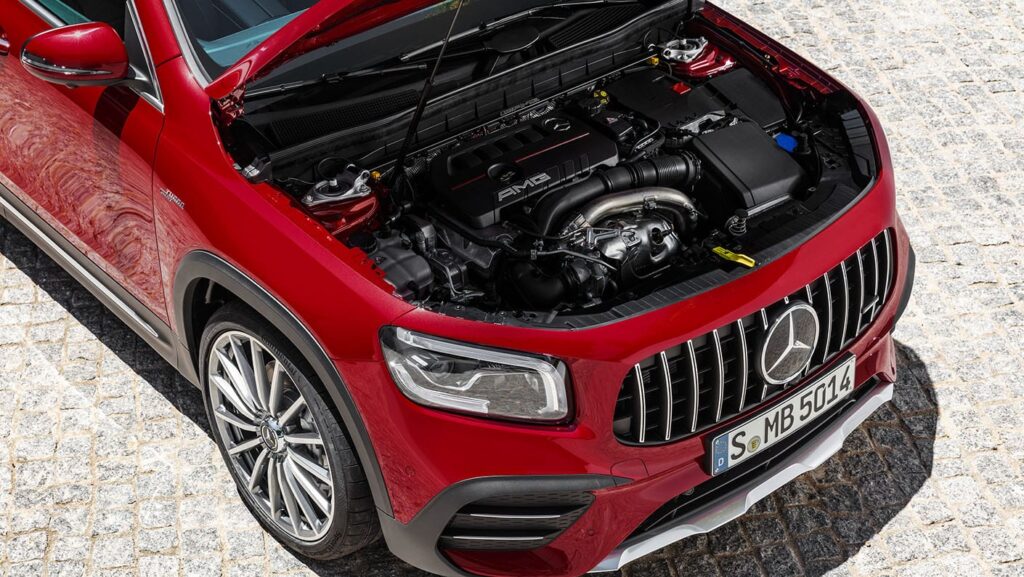 All that power is run through a 7-speed automatic transmission, with all models having an all-wheel drive system. Drivers with families don't need to sacrifice any performance with this crossover SUV. Along with the Sport+ and AMG advance modes, this GLB35 races from 0 to 60 mph in only 5.1 seconds. That's some impressive acceleration speeds coming from a crossover SUV that's decently bulky.
There are various adjustments that drivers can make tailor the car's performance to their liking. Suspension, steering, stability control, and even powertrain programming can all be tuned via the touchscreen, the console, or even an optional set of steering wheel switches. The fun ride experience of this crossover SUV is great, even if sometimes the ride can feel a little stiff with the AMG Ride Control Sport Suspension. Although, this does mean that the SUV doesn't need to worry about traction as it dampens body rolls to a minimum.
The weighty steering wheel is such a satisfying feeling, with the SUV staying steady on rougher roads. The steering itself feels light, with the AMG GLB35 eagerly going whichever direction it's steered towards. It's a nimble SUV when it comes to corners, easily being able to navigate through them. This may lend well to city driving, as well as an everyday car for families of all sizes.
The exterior styling of the AMG GLB35 has some exclusive elements to it, like the AMG-exclusive radiator trim, a set of 19-inch AMG light alloy wheels, AMG roof spoiler, and the coveted AMG badge from Mercedes.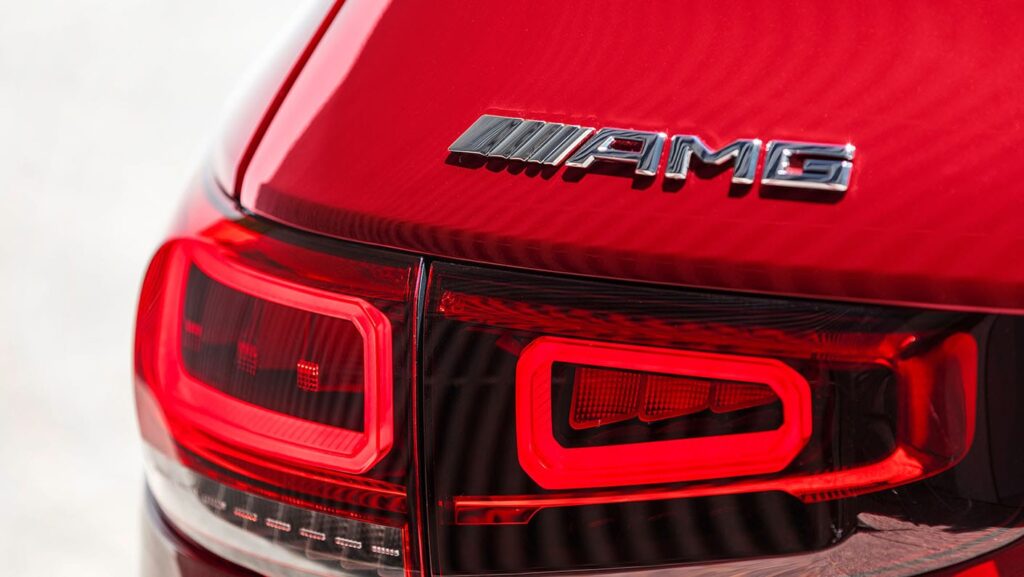 The AMG treatment continues in the interior as leather upholstery adorn the cabin, giving it some class to the look. The seating capacity is quite a surprise as Mercedes has managed to fit in three rows of seats inside the already compact body of the AMG GLB35. The cabin is quite spacious, easy to move around in and isn't suffocating at all. Although, it is notable that the third row is quite cramped and may not be the comfiest seats for adults.
The cargo capacity of this crossover SUV only amounts up to 130 liters of space with all the seats down. However, you can fold the rear third row to increase it up to 500 liters of space, a respectable amount by itself.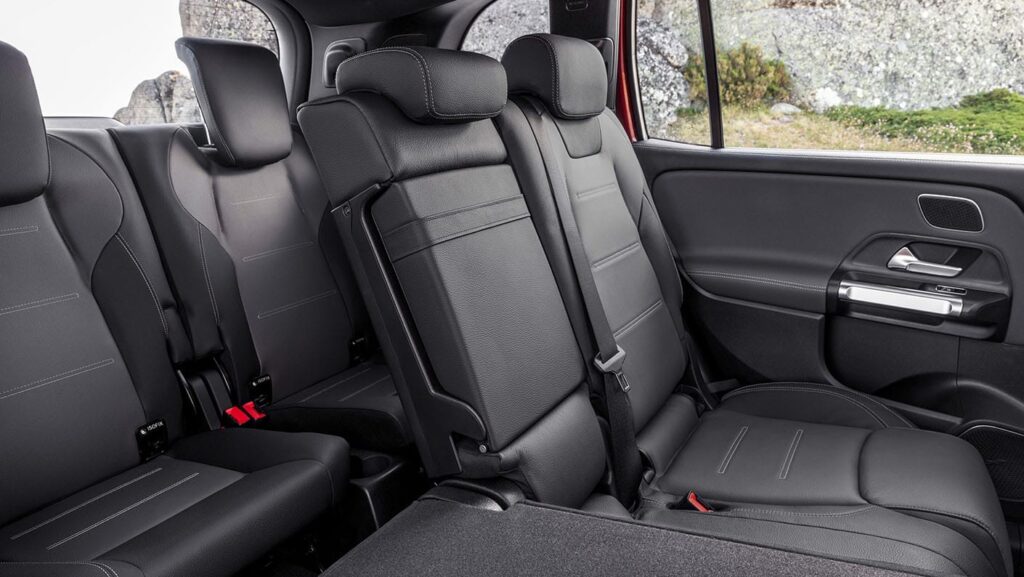 For drivers with families, the AMG GLB35's infotainment system is sure to keep your kids busy on those long road trips. Featuring a digital gauge display that blends right into the car's 10.25-inch touchscreen infotainment system. Using Mercedes' MBUX infotainment software, it is capable of voice recognition, touchpad inputs, and even the use of gesture controls for interactions. It also comes integrated with Android Auto and Apple Carplay, as well as the Wi-fi hotspot abilities. A Burmeister sound system rounds out this great infotainment package. Satellite navigation comes optional.
EPA ratings for the AMG GLB35 have been released, rating it at 21 MPG/City, 26 MPG/Highway, and 23 MPG/Combined. It ends up at the lower side of the fuel economy scale; a price to pay for the increase in performance.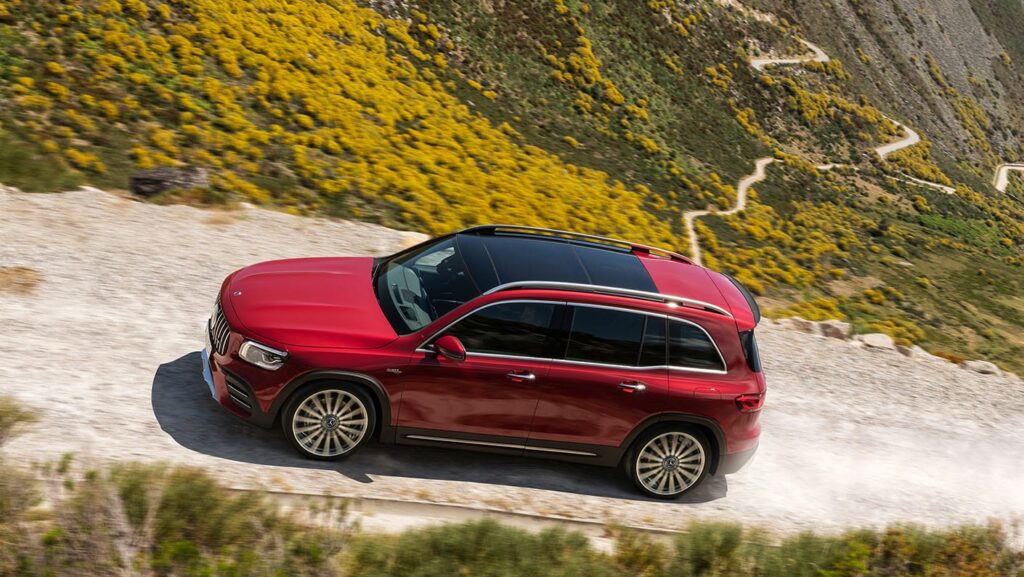 Mercedes-AMG gives a lot of options for driver-assistance features, although they aren't standard to the crossover. However, it does have automated emergency braking systems as standard to all AMG GLB35's. Other optional safety features that buyers can get are lane-departure warning systems, lane-keeping assist, and adaptive cruise control.
The 2021 Mercedes-AMG GLB35 really did come as a surprise, now taking a small niche for itself as the crossover that can do it all. Usually, we see practicality and performance as something that can go only one way or the other. However, this crossover SUV seems to have struck that delicate balance between those two.
Its performance is just as expected for an AMG model, being capable of some sports car level feats. Its handling isn't that far from that of a sports car either, feeling light to steer with the wheel having a satisfying weight behind it. The rigid ride has both its pros and cons, lessening body roll but making it feel much stiffer on bumpy and rough roads.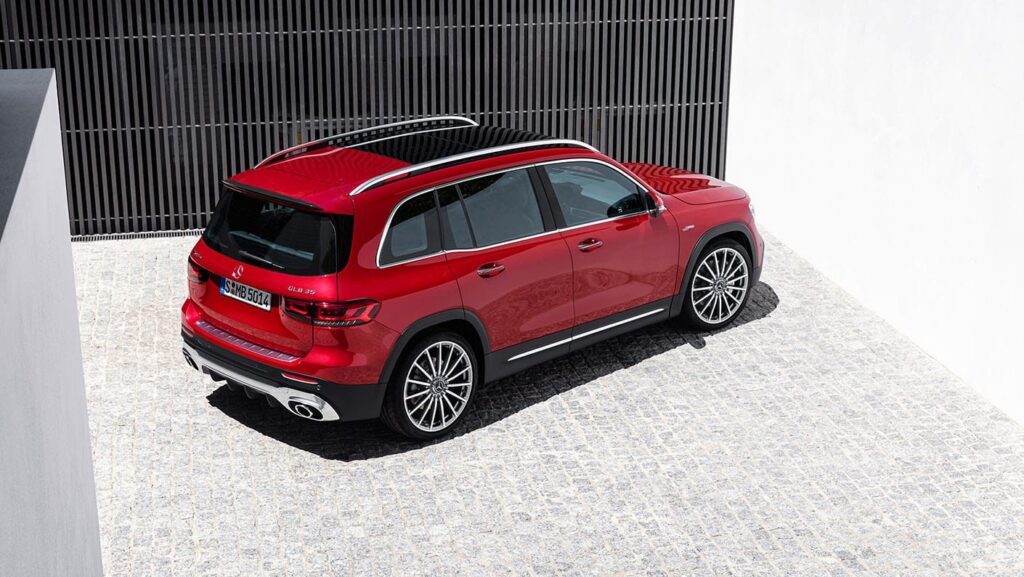 Overall, we feel that this iteration of the Mercedes-AMG GLB35 is a great choice for both enthusiasts and family driver alike. A rare gem in the sea of SUVs that come out every year, it deserves the coveted AMG badge.