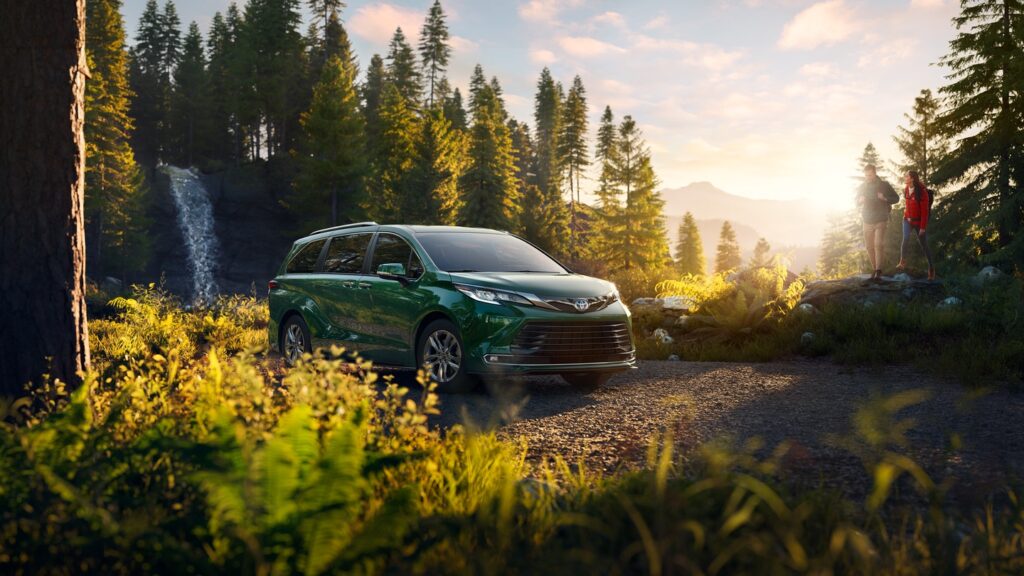 The Toyota Sienna has now entered its 4th iteration with the 2021 model and looking to be a major hit for this year. A solid and practical design, the Sienna is making rounds as a great minivan for the casual markets and enthusiasts alike. The minivan format is great for when you need to transport people and cargo alike. Not only does it do its job well, it does it in relative safety, comfort, and at an affordable price point.
Chief Engineer of the Sienna, Monte Kaehr, says that the car is built with a new chassis platform and electrical platform. Along with that, their aim with this 4th generation Sienna was to make "the best van yet."
Engineered and put together straight in the USA, the Sienna offers a robust package for a minivan. It comes with features such as four-zone climate control, sliding side-doors and rear, and various packages that you can avail of.
The All-wheel drive option is for the adventurous types looking for a reliable car for their outings. Rooftop carriers, bike racks, and other accessories from the brand Yakima can be purchased alongside the vehicle. The Sienna has an optional 1,500-watt inverter that can be used to power your equipment when out camping. They also come with a tow hitch and are rated to be able to tow up to 3,500 pounds! That should get the more active car enthusiasts to consider one for their outdoor adventures. Bikes, gear, even a whole compact travel trailer can be towed for the weekends where you need to get away from it all.
For those looking for more standard packages, you can select options that include a drop down rear-seat entertainment system, a rear-view mirror with a camera feed of the backside should the rear be loaded up to the brim, spare tire, and all-weather floor mats. Dynamic navigation packages and a dynamic radar cruise control system help round out the Sienna's kit.
For passenger capacity, there's a difference between the Limited and standard models. The Standard Sienna comes with eight-passenger capacity while the Limited models have seven. However, the second-row of the Sienna Limited come with captain's chairs that are much more comfortable. The third row can be folded flat for the times where you need to haul lots of cargo. If you need maximum passenger capacity while storing cargo, you can make use of an under-floor storage area.
There are drawbacks though with the Sienna's new design, especially with the second-row captain's seats. Though you can slide them forward and partially fold them, you can't remove them which reduces the maximum cargo that you can carry. The reason for this is that Toyota has put in a side airbag to these seats, which can be an added safety bonus for families who never intended to remove those second-row seats. Another backside is that it does not come with a spare tire, so it's a good idea to have a backup roadside assistance plan or get a spare yourself.
Being a minivan, the Sienna handles quite well and has a rear axle that is driven by a motor. You won't find a driveshaft on this minivan, much like its other hybrid siblings from Toyota and Lexus.
The Sienna brings to the table a hybrid powertrain that helps you save on gas. You heard that right: The Sienna is now a hybrid vehicle, forgoing the usual V6. Unlike the full battery vehicles, we see from companies like Tesla, hybrids do not require any plugging in and use a gasoline engine along with an electric motor. The two then work together and provide acceleration, with every brake causing the motor to run in reverse and charge energy. Unlike conventional brakes, the energy is not wasted and sent into the battery for use later on.
This brings the car to a massive 15-mpg improvement over the last model, with front-drive models capable of 36 MPG and all-wheel models capable of 35 MPG. Overall, the system is capable of delivering 243 total horsepower alongside its outstanding fuel economy. It can cruise on the highway with a gentle hum of 67 decibels, pretty quiet all things considering.
It even comes with a specialized phone app, being equipped with Toyota's Connected Services technology. It can report the status of your door locks, windows, and even your parking location. It can also remotely control the door locks and even start or stop the car engines for when you need it to cool down or for pre-heating. It also comes with health reports on your vehicles along with notifications that can be sent directly to your phone about warning lights.
To top it all off, the Sienna comes packaged with the Toyota Safety Sense Safety Suite. This is an active safety system that sports a pre-collision system along with lowlight and pedestrian detection, lane departure with steering assistance, lane trace system, automatic high beam system, and a road sign assist. These intervene when needed, not being an intrusive element as long as you practice proper and safe driving. If the driver seems to be constantly hounded by the system, then they might want to clean up their driving!
Overall, the Toyota Sienna comes in as a great competitor to other minivans today, like the Honda Odyssey. It provides a level of luxury that gets near the level of Lexus, along with a solid drive experience. This hybrid car balances just right its fuel economy and overall performance, being much more practical than something likes a crossover SUV.
The Toyota Sienna is for the buyers who value efficiency, while still retaining the creature comforts, we expect in the mainstream family of vehicles. It starts of at a price of $34,460, being higher than the average price of the minivan class. The Limited model with all-wheel drive climbs up to $48,500, while the front-wheel drive model comes to $46,700. The Platinum Model goes for $49,900, offering a more luxurious kit for those looking. The SUV isn't the only line of cars that can bring that level of comfort, so might as well go for the minivan option instead!