SUMMARY
We've all fallen in love with the subtle details and intricate designs created by Italian-based automakers. With the 2022 Alfa Romeo Giulia, it has what it takes to amaze anyone with what it's got. As a sports sedan, it doesn't disappoint with its 2 powertrain options. It also comes with new standard features which are quite welcome for this year's model. This 2022 Alfa Romeo Giulia review will look into the specs and features that make this Italian beauty such a delight to drive around in.
LATEST
As with other Alfa Romeo products, the Ti Sport trim was renamed to Veloce. New standard features such as a built-in navigation system and wireless charging pads have been added. There are also new driver-assistive features included and an air-quality system that's just a part of the many convenience features new to the lineup.
ESTIMATED PRICE
The 2022 Alfa Romeo Giulia price is well within the range of other luxury sedans, even leaning more towards the pricier side of things. As you'll see below, the addition of the AWD drivetrain puts an additional $2,000 on the price tag. The Ti is already a good choice for those who want to make the most out of the car's sublime performance, although the base model is as much a good option as others. The roster of 2022 Alfa Romeo Giulia colors includes colorways such as Rosso Red, Ocra GT, and Misano Blue. Note that the Quadrifoglio trim level gets a different roster of colors, including the exclusive Verde Green Montreal color theme. Below is our 2022 Alfa Romeo Giulia cost table which details the starting MSRPs of its trim levels and drivetrain options:
| | |
| --- | --- |
| Trim (Drivetrain) | MSRP* |
| 2022 Alfa Romeo Giulia Sprint (RWD) | $43,350* |
| 2022 Alfa Romeo Giulia Sprint (AWD) | $45,350* |
| 2022 Alfa Romeo Giulia Ti (RWD) | $46,050* |
| 2022 Alfa Romeo Giulia Ti (AWD) | $48,050* |
| 2022 Alfa Romeo Giulia Veloce (RWD) | $51,190* |
| 2022 Alfa Romeo Giulia Veloce (AWD) | $53,190* |
| 2022 Alfa Romeo Giulia Quadrifoglio (RWD) | $80,030* |
Looking for a better way of paying off your car without dipping too much into your savings? Take one of Alfa Romeo's various lease deals and financing options. The 2022 Alfa Romeo Giulia lease price is available on their official site alongside preferred car dealers around your area. Make sure to check these deals out to make sure you're getting the most value out of your purchase.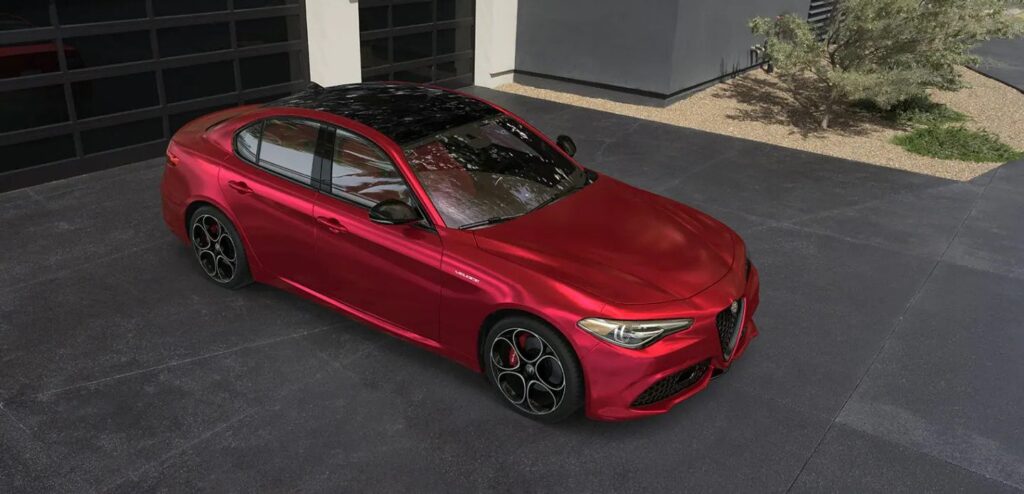 MACHINE PERFORMANCE
The 2022 Alfa Romeo Giulia spec sheet shows that the first 3 trim levels are powered by a 2-Liter 4-Cylinder Turbocharged Engine. It's capable of producing around 280 horsepower and goes from 0-60 mph in only 5.1 seconds. The Quadrifoglio model and its 2.9-Liter V6 Engine puts it at the top of the pack with a power output of 505 horsepower and a sprint time of 3.8 seconds. All models of the Giulia come with an 8-speed Automatic transmission system with the Sprint, Ti, and Veloce trim levels coming in either RWD or AWD configurations. The Quadrifoglio is exclusively sold as a rear-wheel drive model.
FUEL EFFICIENT & ACTUAL MPG
The 2022 Alfa Romeo Giulia has scored impressive MPG scores with the EPA when compared to its rivals which have similar powertrains. The AWD doesn't perform too badly with it only losing 1 MPG on the City and Combined categories while losing 2 MPG on the Highway category. The Quadrifoglio and its V6 Engine is a quite different as it's a lot thirstier than the other models.
| | | | |
| --- | --- | --- | --- |
| Trim Mileage Estimates | City/MPG | Highway/MPG | Combined/MPG |
| 2022 Alfa Romeo Giulia Sprint (FWD) | 24 | 33 | 27 |
| 2022 Alfa Romeo Giulia Sprint (AWD) | 23 | 31 | 26 |
| 2022 Alfa Romeo Giulia Ti (FWD) | 24 | 33 | 27 |
| 2022 Alfa Romeo Giulia Ti (AWD) | 23 | 31 | 26 |
| 2022 Alfa Romeo Giulia Veloce (FWD) | 24 | 33 | 27 |
| 2022 Alfa Romeo Giulia Veloce (AWD) | 23 | 31 | 26 |
| 2022 Alfa Romeo Giulia Quadrifoglio (RWD) | 17 | 25 | 20 |
INTERIOR, SOLACE & BAGGAGE
If you're looking for elegance and grace, the 2022 Alfa Romeo Giulia interior space is sure to delight. The cabin has materials like wood, textured metals, leathers, and soft-touch plastics worked into every crevasse purposefully. It has a passenger capacity of 5 people with a full passenger volume of 95 cubic feet. The seats are comfortable enough on the standard models but can be improved with the upgrade to sports seats. Cargo capacity is a bit lacking with the Giulia having a payload capacity of 905 pounds and trunk volume of 13 cubic feet. This does leave it slightly lacking in the storage department but capacity was never really a strong suit of luxury sedans.
TECHNOLOGY
The 2022 Alfa Romeo Giulia and all its trim levels come fitted with an 8.8-inch Multi-Touch Display. The infotainment system itself comes with Android Auto and Apple CarPlay connectivity features and Bluetooth as standard. Wireless Charging Pads have also been made standard across the lineup, making sure that drivers are less inclined to be distracted during their trips. The audio system on the Giulia Sprint is an 8-speaker setup that comes with AM/FM/HD/Satellite Radio connectivity options. A 15-speaker setup from Harman Kardon is available on the Giulia Quadrifoglio and is capable of an output of 900 watts.
SAFETY
Drivers will find that the Giulia's safety and driver-assistive suite comes with a good suite of standard features. Some of these safety systems include Anti-lock Braking Systems, Traction/Stability Controls, Forward Collision-Mitigation Systems, and even Parking Sensors on the front and rear of the car. Along with that, there are semi-autonomous safety features made available for buyers as optional features. This includes Lane Keeping Assists, Blind Spot Assists, Intelligent Speed Control, Driver Attention Alerts, and even a Highway and Traffic Jam Assist.
WARRANTY
Alfa Romeo is quite infamous for the reliability issues suffered across its different lineups and products. It makes the warranty package offered by the company a bit lackluster as it mirrors the terms of other luxury car manufacturers. They offer a limited warranty that spans 4 years or the first 50,000 miles driven, whichever comes first. Next is their powertrain warranty which lasts for the same amount of time: 4 years with a mileage limit of 50,000 miles. They offer the included perk of complimentary scheduled maintenance which is welcomed by us. It can be availed of for the first year and is under a mileage limit of 10,000 miles driven.