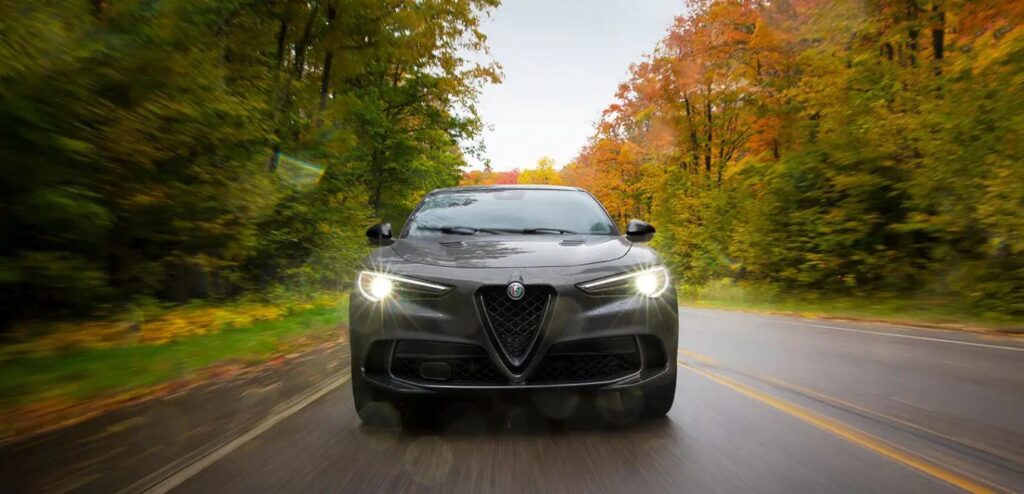 SUMMARY
You wouldn't expect a crossover SUV to stray away from the well-established designs that have been used for years now. However, the 2022 Alfa Romeo Stelvio shows us that there's still a lot of creativity with their design. The bodywork done on the Stelvio is nothing short of spectacular while the performance specs are quite impressive, especially with the premium Quadrifoglio trim level. Although we do note that its cargo space seems quite lacking. Passenger space for the front is good but the rear passengers might find it a bit cramped back there. This 2022 Alfa Romeo Stelvio review will look into the specs and features that make this crossover SUV a love letter to anyone that's a fan of the stylings used by Italian automakers.
LATEST
The Stelvio lineup has been here since 2018 but there seems to be change in the horizon for the 2022 model. For starters, the Ti Sport from previous years has been renamed into the Veloce. It includes new standard features such as driver-assistive technologies and interior amenities such as wireless charging pads. There's new body kits available on the Ti trim level alongside aluminum paddle shifters on the Sprint and Veloce.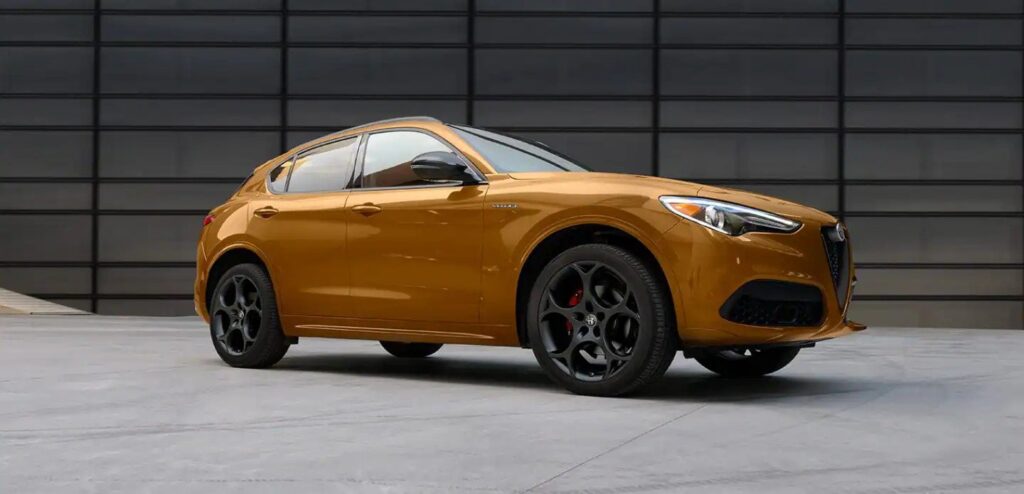 ESTIMATED PRICE
The 2022 Alfa Romeo Stelvio price point depends on which of the 4 trim levels you choose. Each one comes with its own set of standard features and amenities that can further be customized with packages. Starting from the Ti model, all-wheel-drive comes as standard while the Sprint trim level can only get it as an optional feature. The roster of 2022 Alfa Romeo Stelvio colors numbers a total of 7 different colorways. This includes Verde Montreal, Ocra GT, Rosso Etna, Misano Blue, Vesuvio Gray, Vulcano Black, and Alfa Rosso Red. Below is our 2022 Alfa Romeo Stelvio cost table which details the starting MSRPs of each trim level:
| | |
| --- | --- |
| Trim (Drivetrain) | MSRP* |
| 2022 Alfa Romeo Stelvio Sprint – RWD | $45,550* |
| 2022 Alfa Romeo Stelvio Sprint – AWD | $47,550* |
| 2022 Alfa Romeo Stelvio Ti – AWD | $51,160* |
| 2022 Alfa Romeo Stelvio Veloce – AWD | $52,630* |
| 2022 Alfa Romeo Stelvio Quadrifoglio – AWD | $86,850* |
Whether you choose the base model or any of the higher tiered trim levels, you may want to look into different financing options for your new car. Alfa Romeo does offer several lease deals for that exact purpose. The 2022 Alfa Romeo Stelvio lease price can be found on their official website alongside information on car dealers around your area.
MACHINE PERFORMANCE
The 2022 Alfa Romeo Stelvio specs sheet shows that the lineup comes with 2 powertrain options: A 2-liter 4-Cylinder Engine and a 2.9-Liter V6 Engine. The first option is capable of 280 horsepower and is shared across the Sprint, Ti, and Veloce trim levels. The V6 is exclusive to the Quadrifoglio and allows for the greatest 2022 Alfa Romeo Stelvio horsepower at 505 horsepower. Drivers have the option between a rear-wheel or all-wheel drivetrain on the Sprint trim level. Every other trim level comes with AWD as the standard choice. Each one comes with an 8-speed automatic transmission system that's responsive and allows for smooth gear transitions. Stopping power is provided by a 4-wheel disc brake set while steering is assisted by an electric rack-pinion power-assisted system. Lastly, they come with a set of summer tires which fit onto the 20-inch wheels of the Stelvio.
FUEL EFFICIENT & ACTUAL MPG
The EPA has already released their MPG estimates for both drivetrain options available on the 2022 Alfa Romeo Stelvio. Its fuel efficiency seems to be comparable across both drivetrains with the AWD only losing 1 MPG on both the Highway and Combined categories. The Stelvio has a fuel capacity of 16.9 liters and takes in Premium Unleaded gasoline.
| | | | |
| --- | --- | --- | --- |
| Trim Mileage Estimates | City/mpg | Highway/mpg | Combined/mpg |
| 2022 Alfa Romeo Stelvio Sprint – RWD | 22 | 29 | 25 |
| 2022 Alfa Romeo Stelvio Sprint – AWD | 22 | 28 | 24 |
| 2022 Alfa Romeo Stelvio Ti – AWD | 22 | 28 | 24 |
| 2022 Alfa Romeo Stelvio Veloce – AWD | 22 | 28 | 24 |
| 2022 Alfa Romeo Stelvio Quadrifoglio – AWD | 17 | 23 | 19 |
INTERIOR, SOLACE & BAGGAGE
Stylishness and Comfort is at the heart of the 2022 Alfa Romeo Stelvio interior cabin. The base Sprint model already comes with excellent material work but those who choose to go for premium models can enjoy interior elements like wood inlays. The passenger volume of the Stelvio goes to around 116 cubic feet with 5 passengers able to fit within the luxurious cabin. Heating comes standard even on the Sprint model, ensuring that all drivers will be able to drive in absolute comfort. For cargo capacity, the Stelvio has a maximum interior cargo volume of 56.5 cubic feet. However, the standard useable interior space for cargo is rated at 18.5 cubic feet.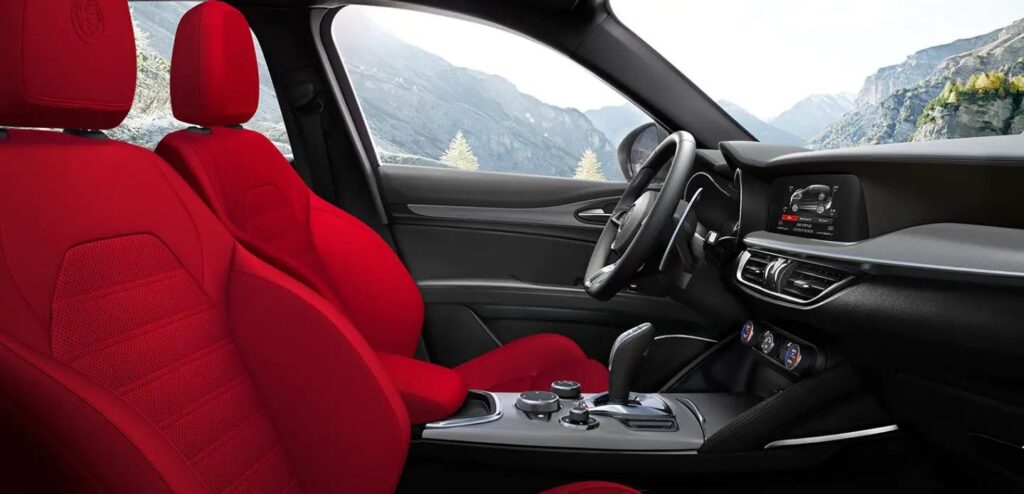 TECHNOLOGY
The infotainment system on the 2022 Alfa Romeo Stelvio is quite simple as it seems that performance was the main idea behind this vehicle. It only comes with an 8.8-inch touchscreen that's shared across the whole lineup. Android Auto and Apple CarPlay are all standard alongside a built-in navigation system and a Radio Date System. Passengers can also make use of voice activated audio controls for hands-free operation of the radios. The sound system that's standard on most models is an 8-speaker setup that comes with Speed Sensitive Volume functions. This is upgraded to a 15-speaker branded audio system on the premium Stelvio Quadrifoglio.
SAFETY
The Stelvio is outfitted with a respectable set of safety and driver-assistive features across the whole lineup. Some standard features include sets of protective airbags, an Anti-lock Braking System, Traction/Stability Control, and a Blind Spot Warning System. Overall, it comes with the features that most expect out of a luxury vehicle.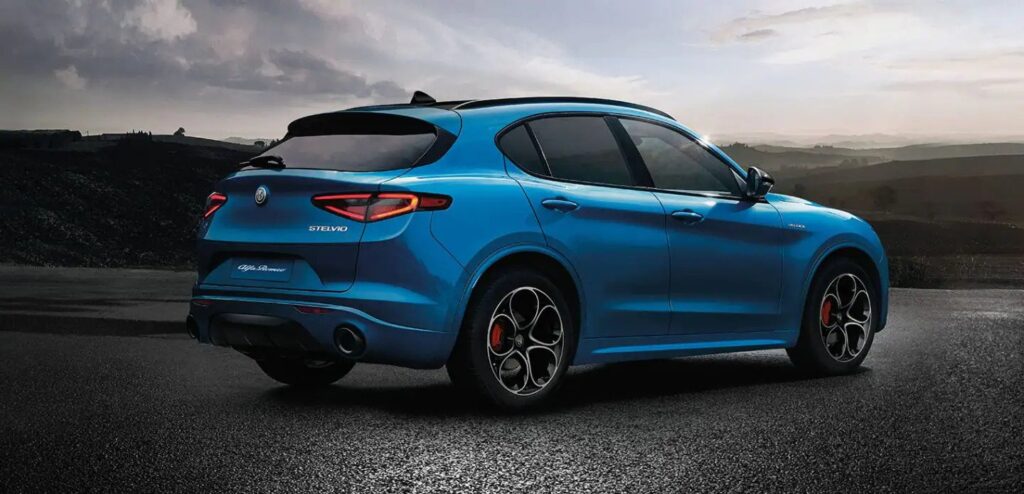 WARRANTY
One thing that's prevalent with Alfa Romeo is that their vehicles are prone to issues as it gets older. Despite that, the company only offers an average warranty coverage which may put off any driver that's aware of this reputation. Their limited warranty coverage spans 4 years or the first 50,000 miles driven, whichever comes first. Next is their powertrain warranty which lasts the same time as the limited warranty package: 4 years with a mileage limit of 50,000 miles. Luckily, the brand does offer complimentary scheduled maintenance as a perk on all new vehicles. This is available for a year with a mileage limit of 10,000 miles.