SUMMARY
The full-size luxury sedan market is filled with competitors that go for the top and nothing less. With the release of the 2022 Audi S8, the competition is expected to heat up once more. It has a drive feel that's completely unique to it, giving drivers an enjoyable experience that they won't soon forget. The interior cabin is roomy and laden with premium features that's been updated for the model year. Overall, it's a humble-looking car that's got some surprises hidden underneath the hood. This 2022 Audi S8 review will look into the specs and features that make it a great choice when compared with the rest of the competition.
LATEST
The 2022 Audi S8 gets an update to the exterior design with the front grille being renewed along with the bumpers getting an update. There are also new exterior lighting elements and wheel designs available for buyers. The interior infotainment system also gets a few updates while the driver-assistive suite gets some modernization done to it.
ESTIMATED PRICE
With the base model already having a hefty powertrain and being fitted with loads of standard goodies and features, you'll find the 2022 Audi S8 price point at the $117,000 mark. It's quite a steep asking price but you'll definitely get your money's worth with how well-equipped it is. There are also several feature-laden packages that you can avail of to better your experience with the S8. The roster of 2022 Audi S8 colors includes Ultra Blue Metallic, Manhattan Gray Metallic, District Green Metallic, and Floret Silver Metallic. Overall, there are about 10 different color schemes available for this year's release of the Audi S8. Below is the starting MSRP of the 2022 Audi S8. Take note that it doesn't account for any optional features or packages available:
| | |
| --- | --- |
| Trim (Drivetrain) | MSRP* |
| 2022 Audi S8 | $116,900* |
If you're looking for a lightweight payment option or just want some flexibility with your payment terms, then leasing your dream vehicle might be the right choice for you. The 2022 Audi S8 lease price can be found on the company's website alongside other financing options. Make sure to check their page out for a list of car dealers that can help you to get the right set of 2022 Audi S8 configurations for you.
MACHINE PERFORMANCE
The 2022 Audi S8 specs sheet shows off the powerful 4.0-Liter Twin-turbocharged V8 engine which gives it the performance stats to amaze anyone. This powertrain produces around 563 horsepower and a torque output of 590 pounds-feet. It's known that the Audi S8 also features a set of high-performance sport air suspensions and a great dynamic all-wheel steering system which is paired with an all-wheel drive system. For performance, the 2022 Audi S8 has a top speed of 155.3 mph and has acceleration times that bring it from 0 to 60 mph in only 3.8 seconds. The transmission system found on the S8 is an 8-speed Tiptronic Automatic system. As the S8 comes with different optional packages, it can be fitted with either the standard 20-inch wheels or a 21-inch wheel design.
FUEL EFFICIENT & ACTUAL MPG
According to the EPA's database, the 2022 Audi S8 has scored MPG ratings that are respectable for a luxury sedan. One special aspect of the powertrain which grants it some slight efficiency capabilities is the mild-hybrid setup. The S8 has fuel capacity of 21.7 gallons with the suggested fuel being premium unleaded gasoline. Below are the EPA-estimated fuel efficiency scores of the 2022 Audi S8:
| | | | |
| --- | --- | --- | --- |
| Trim Mileage Estimates | City/mpg | Highway/mpg | Combined/mpg |
| 2022 Audi S8 | 14 | 23 | 17 |
INTERIOR, SOLACE & BAGGAGE
The 2022 Audi S8 interior is lined with luxurious material work and fine upholstery with the choice of either Valetta or Valcona leather. The Audi S8 has a passenger capacity of 4 to 5 passengers within the cabin. All front-seat passengers can make use of the car's heating and cooling systems while also getting a nice back massage. The rear cabin is spacious and comfortable with enough room to stretch around and gain your bearings. For cargo capacity, the S8 has a closed luggage compartment which has a cargo volume of 17.8 cubic feet. This should be enough for a few bags and cases so small to medium-sized families will see great use for it.
TECHNOLOGY
The 2022 Audi S8 comes with an infotainment system that's made to immerse passengers in the best technology that the company has to offer. The upper display measures 10.1 inches while the lower screen is 8.6 inches. One additional feature is the Audi Virtual Cockpit which gives drivers a focused view of the road. Android Auto and Apple CarPlay are expected to be standard features along with wireless phone charging capabilities. Drivers will also be able to use the connected services suite offered by Audi. LTW mobile Wi-Fi is available through a hotspot feature that can connect 8 mobile devices. Audi Connect also gives Traffic Light Information and an Integrated Toll Module which are only some of the features offered by the whole system. The audio system of the 2022 Audi S8 is composed of a 17-speaker Bang & Olufsen system while an optional 23-speaker setup is also available.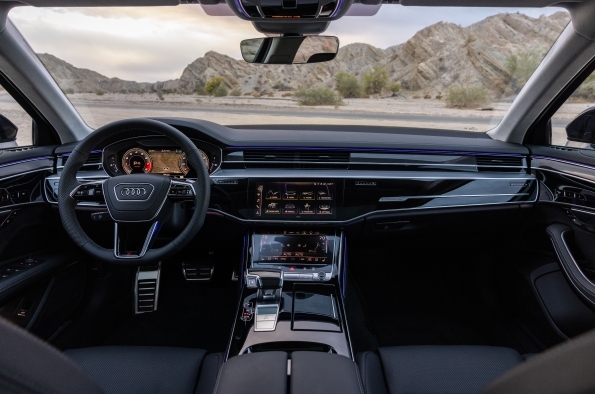 SAFETY
With the Audi S8, a whole cast of safety and driver-assistive features can be used. First, there are features such as Adaptive Cruise Control, Collision Mitigation Systems, a Cross Traffic Assist, and various onboard sensors that aid in the driving experience. There are also advanced features such as lane centering and tracking which help to reduce the amount of stress experienced during longer drives. The S8 is definitely a leader in terms of safety technology and we're certain drivers will love all the new features.
WARRANTY
The warranty policy of Audi is similar to that of rival automakers. However, there's a distinct lack of a complimentary scheduled maintenance perk that is offered by some of the competition. The limited and powertrain warranty coverage spans 4 years with a mileage limit of 50,000 miles driven, whichever comes first.