SUMMARY
The classics are always a lovely thing to behold and the 2022 Audi SQ8 shares a lot more than just an engine with its supercar counterpart. With an amazing horsepower output and performance metrics that would make any race track rock, the SQ8 is a wild machine that maintains an aura of composure and refinement. Its list of standard features has also seen an upgrade, especially when it comes to its driver-assistive features. This 2022 Audi SQ8 review will look into the specs and features that make this car an absolute stunner when it's on the road.
LATEST
The 2022 Audi SQ8 finds itself with an upgraded roster of driver-assistive features, all made standard across the lineup. Along with that, a carbon-fiber trim is now available for the cabin alongside a new Executive package which adds to the comfortability and luxurious feel of the SQ8. There is also the Carbon Optic package that's meant for drivers who want to dress their cars in a bold and dark color scheme.
ESTIMATED PRICE
The 2022 Audi SQ8 price point varies between the 2 trim levels made available for buyers this model year. The Premium Plus, the base configuration for the SQ8, comes as an all-wheel drive vehicle that comes with an adaptive air suspension and driver-assistive technologies. In contrast, the Prestige trim level comes with additional interior amenities, dual-pane acoustic glass, and uniquely styled LED headlights. The roster of 2022 Audi SQ8 colors includes options such as Glacier White Metallic, Dragon Orange Metallic, Matador Red Metallic, and Galaxy Blue Metallic. In total, there are 10 different colorways available to the whole Audi SQ8 lineup. Below are the starting MSRPs for each of the 2022 Audi SQ8 models:
| | |
| --- | --- |
| Trim (Drivetrain) | MSRP* |
| 2022 Audi SQ8 Premium Plus | $93,500* |
| 2022 Audi SQ8 Prestige | $99,700* |
Should you want an easier way of funding your dream vehicle from Audi, you can contact Audi Financial Services for their lease deals and other financing options. The 2022 Audi SQ8 lease price is available on their website alongside the benefits drivers can make use of with the company's lease program. Make sure to check their resources on this and check with your preferred car dealer to ensure you're getting the best out of your purchase.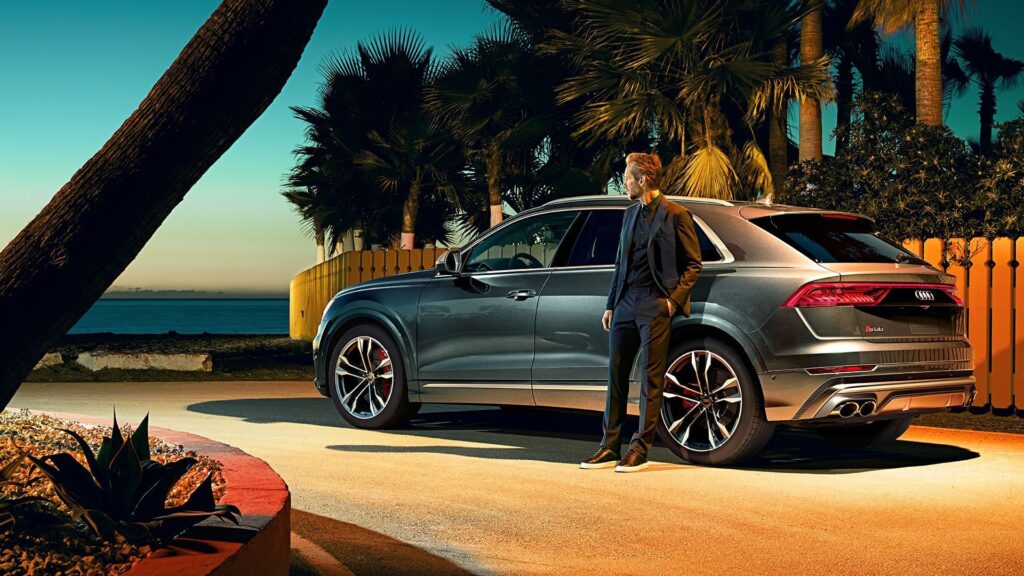 MACHINE PERFORMANCE
The 2022 Audi SQ8 specs sheet shows that both models make use of a 4.0-liter V8 engine that's twin-turbocharged and ready to roll. It allows the SQ8 some impressive performance metrics with a power output of 500 horsepower and a torque output of 568 pounds-feet. The 2022 Audi SQ8 top speed rounds out at 130mph with its all-season tires and goes up to 155mph with the optional summer tires. In terms of acceleration, the 2022 Audi SQ8 0-60 sprint times reach 4.3 seconds from a standstill. The SQ8's impressive powertrain is paired with an 8-speed Tiptronic Automatic Transmission. All models come with the quattro all-wheel drivetrain system which helps to support the different drive modes available for drivers to use. Handling is managed by an all-wheel steering setup with the suspension system being composed of S-tuned adaptive air suspension.
FUEL EFFICIENT & ACTUAL MPG
The 2022 Audi SQ8 has already received MPG estimates from the EPA that shows it's not exactly the best in the fuel efficiency department. The City/MPG score of 15 might be a dealbreaker for drivers looking to conserve fuel. This is especially true when taking into consideration the EPA's estimates that you spend $11,000 more than the average vehicle on fuel costs within 5 years. Below are the MPG scores received by the 2022 Audi SQ8:
| | | | |
| --- | --- | --- | --- |
| Trim Mileage Estimates | City/mpg | Highway/mpg | Combined/mpg |
| 2022 Audi SQ8 | 15 | 21 | 17 |
INTERIOR, SOLACE & BAGGAGE
The 2022 Audi SQ8 interior cabin gets a few more additions to it with the new model year. The material work has also seen some improvement with carbon fiber trims and specialized stitching as standard. The passenger capacity of the SQ8 is enough for 5 people with Valcona leather seats available for both rows. The front seats receive heating elements on the Premium Plus while the Prestige models get ventilation as well. For cargo capacity, you'll have to rely mostly on interior cubbies and compartments. However, we do note that it's not exactly the best deal as you'll only have so much space to stow small items in.
TECHNOLOGY
Looking into the infotainment suite of the Audi SQ8, the main interface is composed of an MMI dual-touchscreen setup. Drivers can also make use of a 12.3-inch digital instrument cluster for detailed vehicle information while driving. It comes with 3 different display modes which include a unique S-themed performance display. Android Auto and Apple CarPlay connectivity is a standard feature on all models. Passengers also get to enjoy all the features of the SiriusXM suite through a 90-day All-Access trial. The company also offers a 6-month trial for Audi Connect PRIME and Audi Connect PLUS, a service that offers multiple services such as Wi-Fi hotspots and real-time navigation data. The sound system of the 2022 Audi SQ8 is composed of a 17-speaker setup that's paired with a 16-channel amplifier. It's capable of a sound output of 730 watts and is sourced from Bang & Olufsen.
SAFETY
The NHTSA, a lead authority in Car Safety Ratings, has not given the 2022 Audi SQ8 and its safety features a thorough review as of yet. However, we do already know what features and driver-assistive technologies are available on both models. Some standard additions include an Adaptive Cruise Control System, Audi Advanced Key, Belt Tightening, Top View Camera System, High Beam Assists, and an active lane departure warning with capabilities for emergency assist.
WARRANTY
Audi themselves offers nearly the same warranty packages like those offered by other car manufacturers they're competing with. The Powertrain and Limited Warranty offers by the company span 4 years each with a mileage limit of 50,000 miles driven, whichever comes first. They have yet to offer any plan or package that comes with complimentary scheduled maintenance as a perk.