SUMMARY
The Chrysler Pacifica has always been a practical minivan, even if most drivers prefer the crossover SUV packages. The 2022 Chrysler Pacifica is just one example of how a minivan can still be a great option for families who need just need something simple. It drives well within cities and urban areas, as well as on the highways out of town. Families will also enjoy the massive cargo capacity, as well as the infotainment suite fitted onto the Pacifica.
LATEST
The 2022 Chrysler Pacifica now offers integration with Amazon Fire TV, as well as an optional set of rear entertainment displays for the passengers at the back. Movies and TV shows streamed through Fire TV will appear on the front and rear screens when parked, and only the rear if the car is in motion. Hybrid model also gain a new Max Regeneration indicator within the driver's gauge cluster. A new color palette, Silver Mist, has also been made available. Lastly, a new air-filtration system is standard and is 95% efficient in cleaning many forms of air particles.
ESTIMATED PRICE
The 2022 Chrysler Pacifica's price is dependent on which of the 4 standard models you choose to get. These are the Touring, Touring L, Limited, and Pinnacle trim levels. All models above the base Touring have their own respective hybrid models, making it a good choice for those looking for better fuel efficiency. Here is a table detailing the specific costs of the different models of the 2022 Chrysler Pacifica.
| | |
| --- | --- |
| Trim (Drivetrain) | MSRP* |
| Touring | $ 38,590 |
| Touring L | $ 41,960 |
| Hybrid Touring L | $ 48,255 |
| Limited | $ 50,245 |
| Hybrid Limited | $ 52,155 |
| Pinnacle | $ 54,700 |
| Hybrid Pinnacle | $ 56,435 |
Not much information can be gathered on the 2022 Chrysler Pacifica's average lease price. We will update this section as soon as we have obtained more information on it.
MACHINE PERFORMANCE
The Chrysler Pacifica utilizes only one engine option: a 3.6-Liter V6. This engine is capable of producing about 287 horsepower and a torque output of 262 pounds-feet. It comes in tandem with a nine-speed transmission, as well as a standard front-wheel drive system or an optional all-wheel drive system. This doesn't make it one of the quicker models within the minivan class, but it does perform well enough to feel satisfying to drive. Acceleration and braking performance are about par for its class, and the steering and handling feel is just adequate. The transmission does have some issues during steep ascents or descents, needing the driver to pay a bit more attention to which gear the car is actually at. Tests have found that it tends to either have a gear higher or lower than what's needed.
FUEL EFFICIENT & ACTUAL MPG
The front-wheel drive models of the Pacifica have garnered an EPA rating of about 19 MPG/City, 28 MPG/Highway, and 22 MPG Combined. The all-wheel drive models perform less in terms of fuel economy, having an EPA rating of 17 MPG/City, 25 MPG/Highway, and 20 MPG/Combined.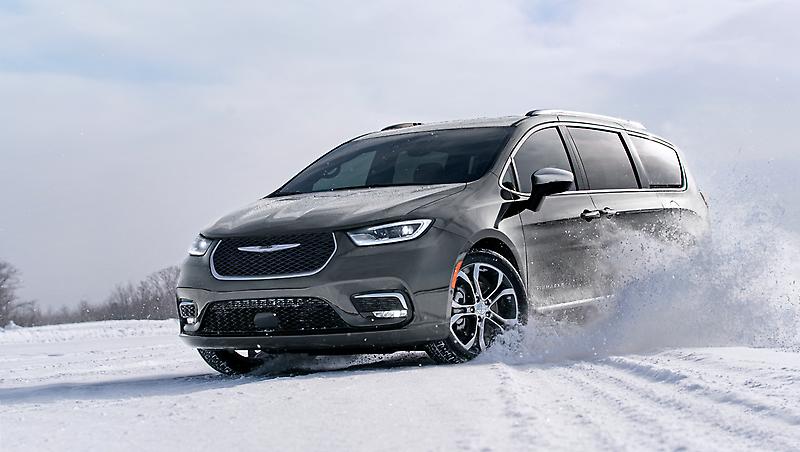 INTERIOR, SOLACE & BAGGAGE
The 2022 Chrysler Pacifica's interior is quite spacious, supporting a variety of cubbies and slide-out bins for storage. The Materials that make up the cabin are quite decent in quality, but there are some sports where it becomes obvious where they skimped out. The higher trim levels, specifically the Limited and Pinnacle, offers a bit more in terms of interior features. These improvements include a tamboured door, and an extra dual-level storage area. In terms of seating, the Pacifica makes use of a standard set of Stow 'n Go seats. These tend to have les spading than we'd like, especially when compared the seating options of its rivals. However, those who can afford to go for the Pinnacle model will be met with quilted-leather seats and upholstery. It even comes with lumbar pillows for the second row – which are now a set of captain's chairs. Other reviews of the 2022 Chrysler Pacifica have stated that its cargo space is more than enough for the needs of any driver. One even managed to fit about 53 suitcases within the car, with all the seats stowed.
TECHNOLOGY
The tech options on the Pacifica are all spearheaded by the brand's Uconnect 5 infotainment system. This is operated through a 10.1-inch HD Touchscreen that improves on the previous model with a 20% size increase. It also comes with multi-device Bluetooth connectivity, with 2 phones being able to connect with the main system. Drivers can also make use of Amazon Alexa, utilizing voice commands in order to control certain car and cabin functions. These include the unlocking and locking of doors, and even starting up your car.
The OS of the infotainment system is based on Android software, improving the overall speed and smoothness of your interactions with Uconnect 5. Updates to it will be done over-the-air, making sure that it always stays operational. Integrations with Android Auto and Apple CarPlay, as well as an added feature of the SiriusXM Satellite radio. All models of the Pacifica come with 6 months as standard, letting drivers use a variety of features within SiriusXM. An optional feature that will be available is Amazon Fire TV Services.
SAFETY
The Chrysler Pacifica is one of the car's rated with 5-stars by the NHTSA for its overall safety rating. It will be offering most of the driver-assistance features that drivers have come to expect with modern cars. These standard features include an automated emergency brake system, pedestrian detection, blind-spot monitoring, rear cross-traffic alert and avoidance, an adaptive cruise control, and a lane-departure warning system.
WARRANTY
Chrysler's warranty plans are pretty standard when compared to that of the rest of its industry. Their limited warranty for new cars is covered for 3 years or for the first 36,000 miles driven, whichever comes first. The Powertrain's warranty plan spans for 5 years or the first 60,000 miles driven. Hybrid components are also under a warranty plan that lasts for a total of 10 years or the first 100,000 miles driven. A negative to their offerings would be the lack of an offered complimentary scheduled maintenance plan, as well as its roadside-assistance plan being shortened.