SUMMARY
The 2022 Ford Bronco Sport releases again for the new year, coming in as the brand's representative for the compact crossover SUV market. With additional headroom and two different powertrain options, this all-wheel drive SUV has a lot of things that set it apart from the pack. This 2022 Ford Bronco review will go over the features and specs that make it a great addition to Ford's 2022 lineup.
LATEST
The 2022 Ford Bronco Sport is coming in this year without much going for it in terms of significant changes. Considering how solid this SUV has been throughout its 2-year lifespan, we find this to be a sign of its long-lasting character. The 2022 Ford Bronco Sport comes with 11 color choices for the highest trim level, with some options priced at $495.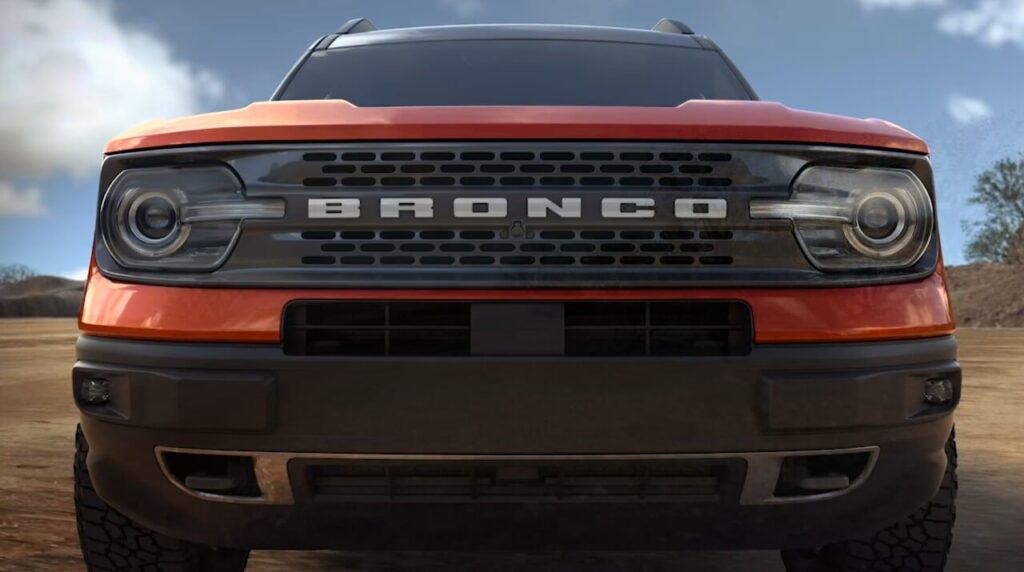 ESTIMATED PRICE
The 2022 Ford Bronco Sport price varies from model to model, with the Badlands model being the most expensive of them all. However, we do find that the increase in both performance and standard features is well-worth the price of admission for them. This shouldn't dissuade you though from picking out the other trim levels as it does have better fuel efficiency for the cost. Below are the respective price points for the 2022 Ford Bronco Sport, including all the trim levels available for it.
| | |
| --- | --- |
| Trim (Drivetrain) | MSRP* |
| 2022 Ford Bronco Sport Base | $27,415* |
| 2022 Ford Bronco Sport Big Bend | $28,980* |
| 2022 Ford Bronco Sport Outer Banks | $33,230* |
| 2022 Ford Bronco Sport Badlands | $34,090* |
When it comes to lease and financing options, Ford does offer them for the Ford Bronco Sport. You can find out which offers are available in your area through the company's official website, as well as the sits of your preferred car dealers. Make sure to see if they have the 2022 Ford Bronco Sport for sale and ask them any other financing questions you wish to know.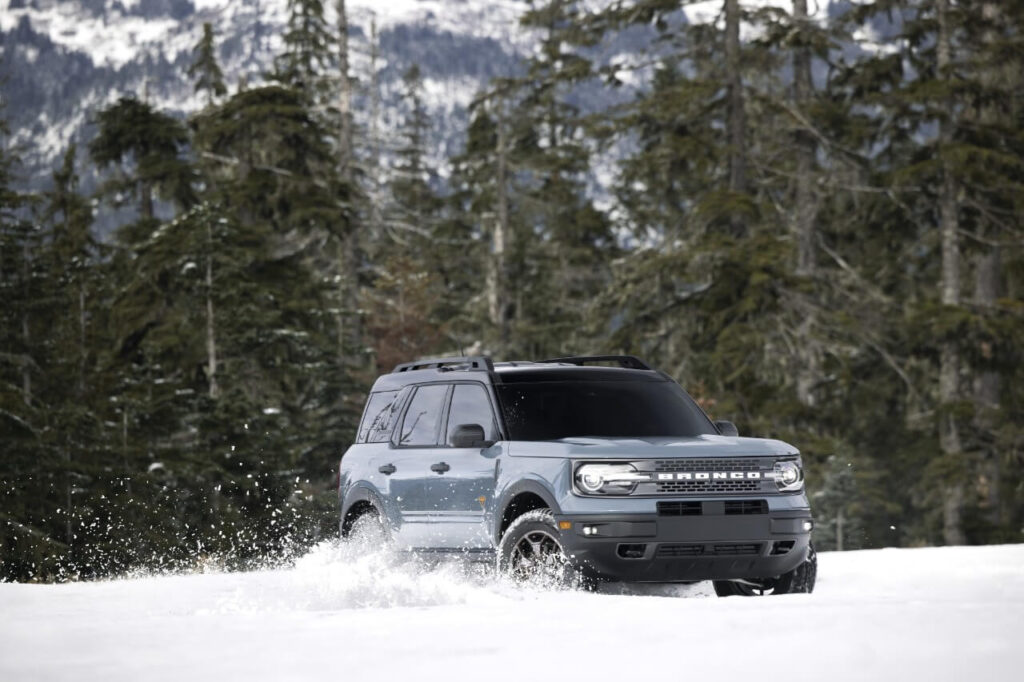 MACHINE PERFORMANCE
The 2022 Ford Bronco Sport specs are nothing to scoff at, delivering some respectable performance in each of its powertrain options. The Base model, Big Bend, and Outer Banks trim levels all come with the 1.5-Liter EcoBoost Engine which comes with Auto Start-Stop features. This powertrain options is able to generate around 181 horsepower and 190 pounds-feet of torque.
The next powertrain option is only available on the Badlands trim level: The 2.0-Liter EcoBoost Engine. It also comes with Auto Start-Stop technology and is a much more capable package compared to its predecessor. The engine can generate 250 horsepower and 277 pounds-feet of torque, a sizeable upgrade already. One more feature of the Badlands model is its advanced 4×4 capabilities which gives it unparalleled performance when it comes to both off- and on-road performance.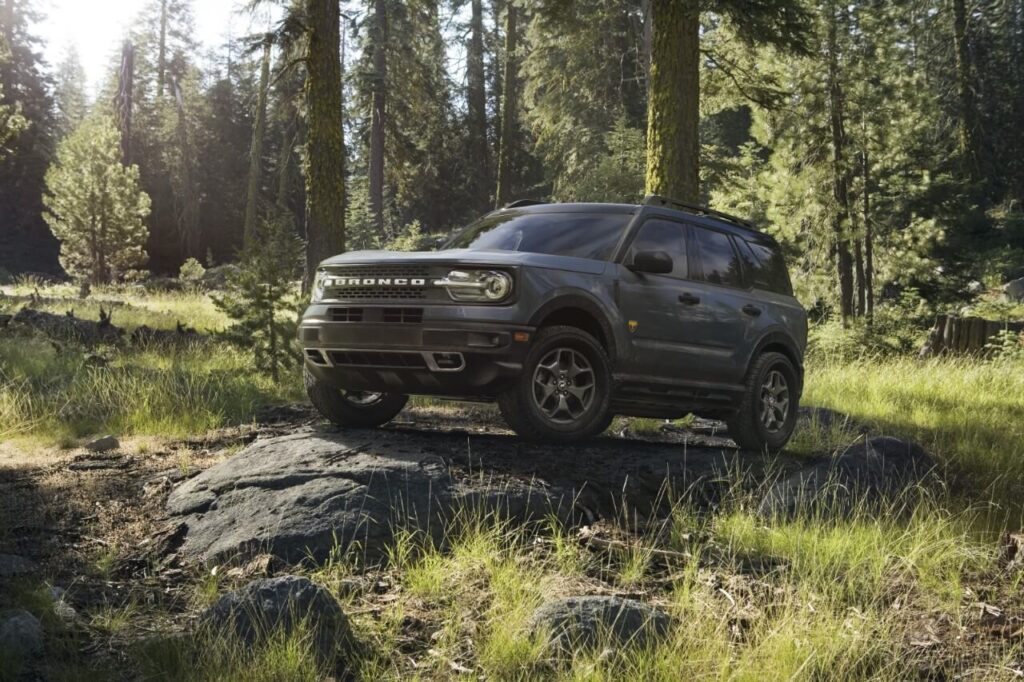 FUEL EFFICIENT & ACTUAL MPG
The two configurations for powertrains that are available on the 2022 Ford Bronco Sport all come with different fuel efficiency ratings. Those looking for a more economical option should stick with either the Base model, Big Bend, or Outer Banks trim. If you don't mind the hit to the MPG ratings, the Badlands' 2.0-Liter engine gives you a lot more power.
Below is a table detailing the MPG ratings of the 2022 Ford Bronco Sport:
| | | | |
| --- | --- | --- | --- |
| Trim Mileage Estimates | City/mpg | Highway/mpg | Combined/mpg |
| 1.5L EcoBoost Engine (Base, Big Bend, Outer Banks) | 25 | 28 | 26 |
| 2.0L EcoBoost Engine (Badlands) | 21 | 26 | 23 |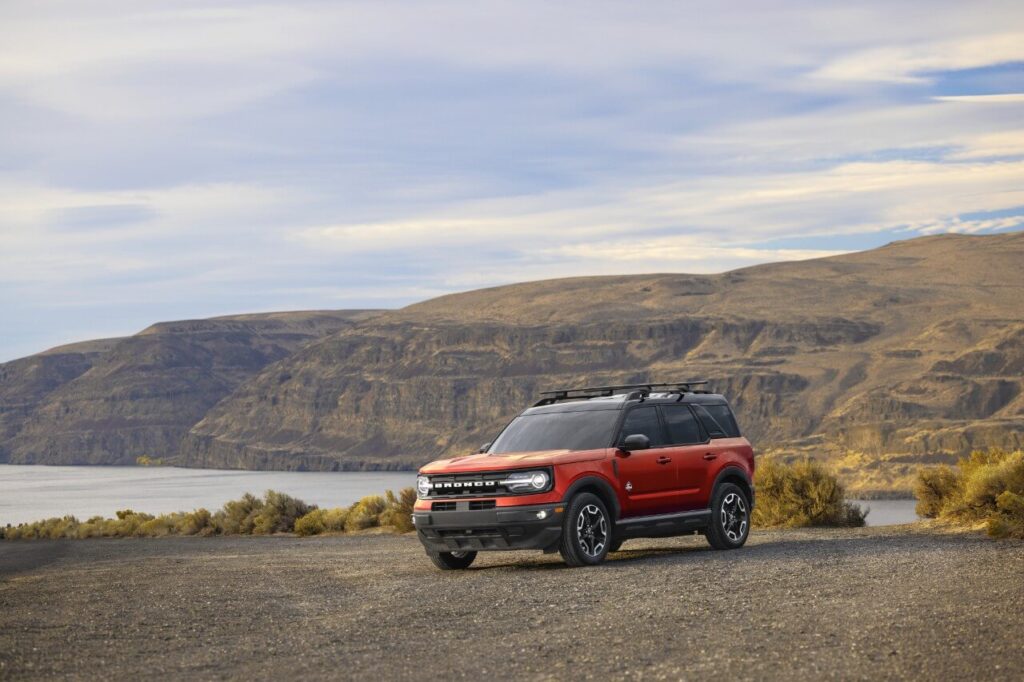 INTERIOR, SOLACE & BAGGAGE
The 2022 Ford Bronco Sport interior is both sleek and practical for outdoor adventures and city driving alike. Carrying up to 5 passengers, all seats are contoured bucket seats which are covered by either cloth or heated leather seating surfaces. The Bronco Sport provides more headspace for all passengers through its Safari-Style Roof, also improving the cargo capacity of the rear. With the expanded headspace, Ford says that you can fit up to two bikes behind the rear compartment area. Speaking of compartment areas, the cargo capacity of the Ford Bronco Sport sits at around 65.2 cubic feet of space. Although all models come with various interior storage cubbies for passengers to keep things in, the Badlands improves on this with an Under-Seat Storage area underneath the rear seats. There's also the Cargo Management System which gives drivers a lot more storage solutions to fit everything they need.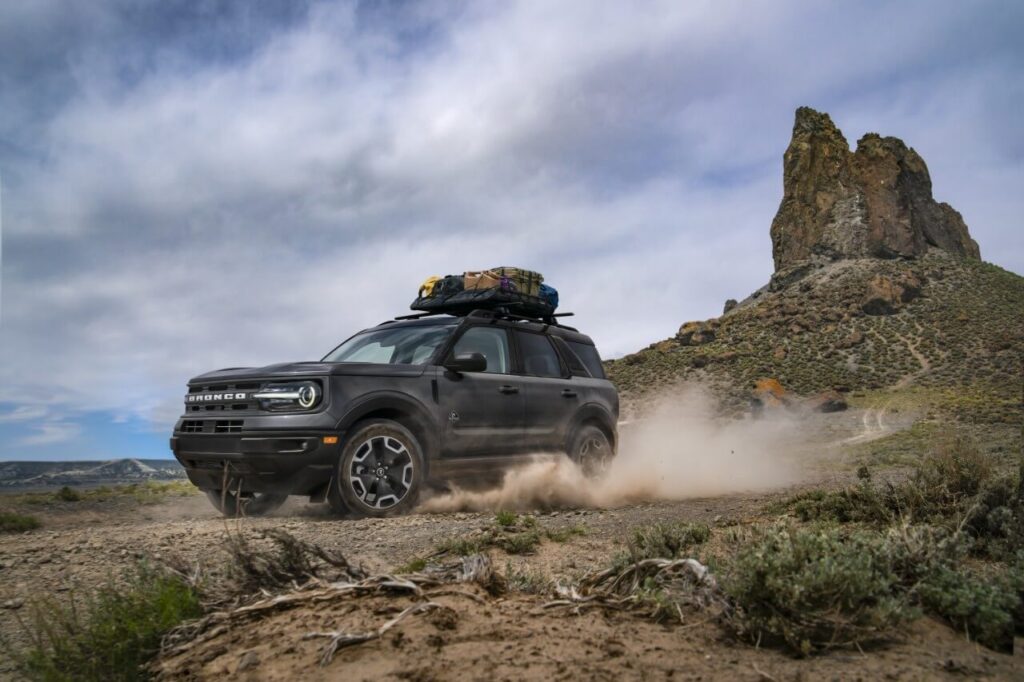 TECHNOLOGY
The 2022 Ford Bronco Sport does come with a well-equipped infotainment system. First off, it has an 8-inch touchscreen which helps you to navigate through the different cabin functions available. Hands-free operation is done through the SYNC 3 system which hosts voice recognition functionality on all models above the standard. Apple CarPlay and Android Auto connectivity comes as standard on all models, with wireless charging pads coming as an optional feature. The audio system featured on most models is a standard AM/FM Stereo which comes in a 6-speaker configuration. However, the Outer Banks and Badlands trim models can upgrade this even further with a 10-speaker sound system courtesy of B&O. This also comes with a Subwoofer unit which gives improved audio quality for audiophiles and music lovers alike.
SAFETY
Many of the safety features available on the 2022 model of the Ford Bronco Sport come as standard. First up is Ford's Personal Safety System, which comes with seat position sensors, crash severity sensors, status indicators for airbags, and other devices which aim to improve safety. The brand's safety canopy system is also built-in as standard, providing additional protection against rollovers. In terms of driver-assistive features, the Ford Bronco Sport comes with Lane keeping assists and a Pre-Collision Assistance System. The Bronco Sport also has a Terrain Management System which helps the vehicle adapt to different terrains. Other features are included in the Ford Co-Pilot360 package which comes standard to all models but can be upgraded to the Assist+ package on all trims above the base model.
WARRANTY
Ford's warranty coverage plans are quite comparable to that of its competitors. Their Limited Warranty plan spans 3 years or the first 36,000 miles driven, whichever comes first. The Powertrain Warranty lasts for 5 years or the first 60,000 miles driven. Ford does not offer any plan for complimentary maintenance, something that other companies do provide with their newer vehicles.