SUMMARY
When you think of the 2022 Ford Bronco, you might remember the squared-off designs used by off-roaders back then. The Bronco returns to this as it shows off what Ford can do when they dedicate themselves to an excellent off-roading design. This SUV is seeking to take the world of SUVs by storm with its fantastic exterior design, durable build, and simple package. Its powerful engine options are just raring to rule the roads, already earning a venerable spot as one of our personal favorites. This 2022 Ford Bronco review will look into the specs and features that make it such a big improvement over the previous version.
LATEST
The 2022 Ford Bronco gets a new model for its 2nd year, the Everglades model. It's an improvement over the Sasquatch Package and improves the off-road capabilities even further. There's also a new Hoss 3.0 package available for the Wildtrak which includes certain upgrades to the truck's chassis. A Bronco Raptor is also available to buyers, featuring a Twin-turbo V6 engine that's more powerful than all the others. There's no changes to the roster of 2022 Ford Bronco colors.
ESTIMATED PRICE
The 2022 Ford Bronco price point is split between the 8 different models made available to buyers. The newest additions to this list are the Everglades model and the highly anticipated Raptor model. These two are only available as a 4-door model and comes with some of the most powerful engine options available on the lineup. If you're looking for a model that just about covers most of what you'll need, then the Wildtrak and the Badlands models are also great options as they come with some huge off-road features as standard. Below is our table detailing the different MSRPs of the 2022 Ford Bronco's model lineup:
| | |
| --- | --- |
| Trim (Drivetrain) | MSRP* |
| 2022 Ford Bronco | $30,800* |
| 2022 Ford Bronco Big Bend | $35,285* |
| 2022 Ford Bronco Black Diamond | $37,950* |
| 2022 Ford Bronco Outer Banks | $40,855* |
| 2022 Ford Bronco Badlands | $44,495* |
| 2022 Ford Bronco Wildtrak | $49,780* |
| 2022 Ford Bronco Everglades | $53,000* |
| 2022 Ford Bronco Raptor | $68,500* |
As always, Ford offers information on the 2022 Ford Bronco lease price and financing options on their official website. This can be a good option for those who don't want to shell out so much money in such a short time. Make sure to check out their site alongside the deals of your preferred car dealer because they just might have the right one for you!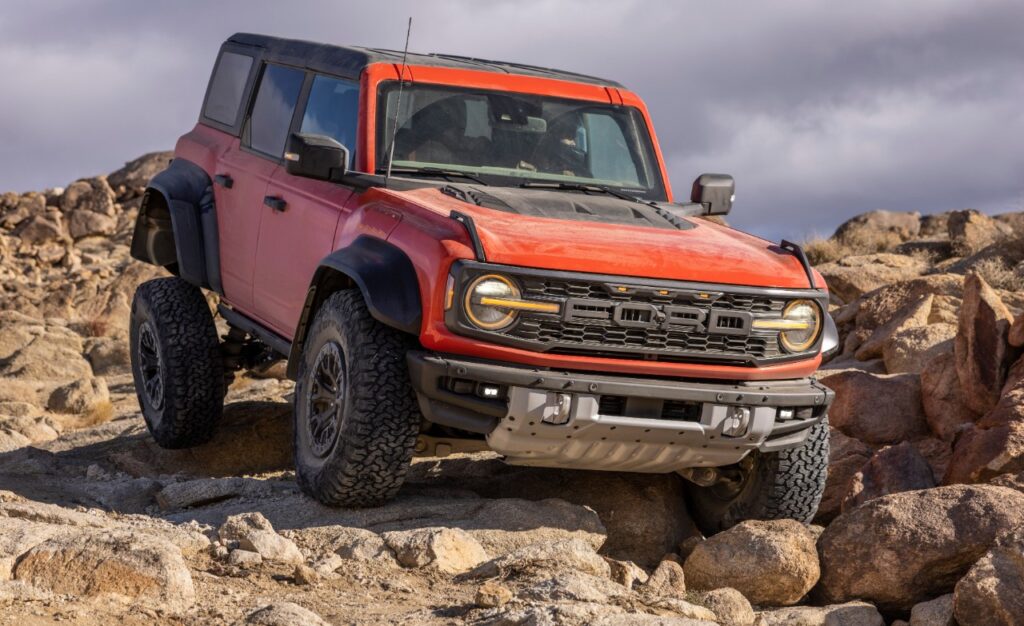 MACHINE PERFORMANCE
The 2022 Ford Bronco specs sheet makes detail of 2 different EcoBoost engines that the company has installed across the Bronco lineup. First off is the 2.3-Liter EcoBoost 4-Cylinder Engine that's capable of 275 horsepower and 315 pounds-feet of torque. Next is the upgraded 2.7-Liter V6 Engine that has 315 horsepower and 410 pounds-feet of torque under the hood. All the Bronco models are paired with a 4×4 drivetrain with some models having a choice between a 7-Speed MT setup or a 10-Speed AT. The Raptor models have the option for an improved 3.0-Liter EcoBoost V6 Engine that's capable of even better performance stats.
FUEL EFFICIENT & ACTUAL MPG
Currently, the EPA estimates for the different models of the 2022 Ford Bronco is limited to the base models, the Sasquatch Package, the Badlands model, and the Black Diamond Model. From their results, we can see that the MPG scores are relatively comparable to each other. Fuel-conscious drivers will have a harder time with the gas-hungry nature of the Bronco although other Ford fans may have no problem with this. Below is our table detailing the different MPG scores of the 2022 Ford Bronco available on the agency's website.
| | | | |
| --- | --- | --- | --- |
| Trim Mileage Estimates | City/mpg | Highway/mpg | Combined/mpg |
| 2022 Ford Bronco (Manual 2.3L) | 20 | 21 | 20 |
| 2022 Ford Bronco (Automatic 2.3L) | 20 | 21 | 20 |
| 2022 Ford Bronco (Automatic 2.7L V6) | 19 | 20 | 19 |
| 2022 Ford Bronco (Sasquatch 2.3L Automatic) | 18 | 17 | 18 |
| 2022 Ford Bronco (Sasquatch 2.3L Manual) | 17 | 18 | 18 |
| 2022 Ford Bronco (Sasquatch 2.7L Automatic) | 17 | 17 | 17 |
| 2022 Ford Bronco Badlands (Automatic 2.3L) | 17 | 17 | 17 |
| 2022 Ford Bronco Badlands (Automatic 2.7L) | 17 | 17 | 17 |
| 2022 Ford Bronco Badlands (Manual 2.3L) | 16 | 17 | 17 |
| 2022 Ford Bronco Black Diamond (Automatic 2.3L) | 18 | 18 | 18 |
| 2022 Ford Bronco Black Diamond (Manual 2.3L) | 17 | 19 | 18 |
INTERIOR, SOLACE & BAGGAGE
Ford planned out the 2022 Ford Bronco interior space to be perfect for those adventurous spirits out there. It offers some open-air capabilities as well as some cabin luxuries that can't be found on its competitors. It has a smartphone and camera rack available as well as frameless doors for easy removal. The passenger capacity depends on whether you get the 2-door or 4-door variants, but usually it can host 4 to 5 passengers. For cargo capacity, the 4-door models have 83 cubic feet of rear space for items you can't stow in the cubies and compartments of the passenger space.
TOWING CAPACITY
Although there's no mention of axle ratios on its specs sheet, we know that the 2022 Ford Bronco towing capacity sits at about 3,500 pounds for both 2-door and 4-door variants. This changes with the Bronco Raptor as it has a max towing capacity of 4,500 pounds.
TECHNOLOGY
The infotainment suite of the Ford Bronco is mostly provided by the SYNC 4 infotainment suite – a solid collection of features which we've given high praise to. The base model starts off with an 8-inch LCD capacitive touchscreen but is further improved to a 12-inch display with voice recognition capabilities on the higher trim levels. Apple CarPlay and Android Auto come supported for both streaming uses and app compatibility. Although the base model's sound system is a simple 6-speaker AM/FM setup, the Raptor finishes it with a 7-Speaker AM/FM Stereo system with a subwoofer unit installed.
SAFETY
The Ford Bronco comes equipped with a host of safety features and driver-assistive technologies that are basically a necessity these day. The safety suite includes features such as AdvanceTrac, Roll Stability Control, Trailer Sway Controls, a 360-degree Camera, and a Rear View Camera as well. Drivers may also opt for a Keyless-Entry Keypad as an optional feature on most of the Bronco lineup.
WARRANTY
Ford offers a limited warranty plan which spans for 3 years or the first 36,000 miles driven, whichever comes first. They also offer a powertrain warranty that covers for 5 years with a mileage limit of 60,000 miles driven. Although they don't offer any plans for complimentary scheduled maintenance, all the other warranty offers seem to align with those offered by their competitors.