SUMMARY
When it comes to family SUVs, the 2022 Ford Expedition comes in as a solid choice. It comes with a spacious passenger cabin and a towing capacity that maxes out at 9,300 pounds. Passengers will experience a smooth ride as the V6 brings power through a rear-wheel or all-wheel drive system. Overall, even with the fuel efficiency issues, the Ford Expedition is great as a good all-rounder. This 2022 Ford Expedition review will look into the specs and features of this great SUV.
LATEST
The interior and exterior design has been given an overhaul for this year's release of the Expedition. Better material quality and new additions to the infotainment system give this SUV some new life. There's also the introduction of the BlueCruise system on higher-end models as a way for hands-free driving. Those looking into some new choices on the roster of 2022 Ford Expedition colors should look into the Stealth Performance package which adds a dark and sleek appearance to the Limited models.
ESTIMATED PRICE
With the 2022 Ford Expedition price point being split among 10 different trim levels, drivers will have a wide choice of standard features and performance specs to choose from. The XL STX is the base model of the lineup and comes in at an agreeable $52,080. This goes all the way up to nearly $80,000 with the Platinum MAX. Below are the starting MSRPs of every trim level available on the 2022 Ford Expedition lineup:
| | |
| --- | --- |
| Trim (Drivetrain) | MSRP* |
| 2022 Ford Expedition XL STX | $52,080* |
| 2022 Ford Expedition XLT | $56,140* |
| 2022 Ford Expedition XLT MAX | $58,140* |
| 2022 Ford Expedition Limited | $65,295* |
| 2022 Ford Expedition Limited MAX | $67,295* |
| 2022 Ford Expedition Timberline | $69,150* |
| 2022 Ford Expedition King Ranch | $75,815* |
| 2022 Ford Expedition King Ranch MAX | $77,815* |
| 2022 Ford Expedition Platinum | $77,765* |
| 2022 Ford Expedition Platinum MAX | $79,765* |
For buyers who want the 2022 Ford Expedition lease price, make sure to check out the company's website as it's constantly updated with the latest lease deals and financing options available. Your preferred car dealer can also be a good resource for finding deals within your local area.
MACHINE PERFORMANCE
The 2022 Ford Expedition specs sheet details the 3.5-Liter EcoBoost V6 Engine that's used by both vehicles. Both models produce around 380 horsepower and 470 pounds-feet on the XL, XLT, and STX models. The Limited, King Ranch, and Platinum models see an increase to 400 horsepower and 480 pounds-feet of torque. For the Stealth and Timberline editions, they have ratings of 440 horsepower and 510 pounds-feet of torque output. Options for the drivetrain include rear-wheel drive as standard and a Control Trac 4WD system made available. The transmission system is a 10-speed AT with SelectShift features.
FUEL EFFICIENT & ACTUAL MPG
As we can see below with the EPA's released statistics on the Ford Expedition's MPG scores, the 2WD model is the most efficient of the 3 drivetrains. The 4WD has a reduction of 1 MPG on City and Highway conditions while the Timberline sees a massive dive in Highway driving at 19 MPG. Those who want the most out of their fuel usage should go for the 2WD drivetrain, although we do note that there are other options out there which may be more viable. Below is the MPG scores for the different drivetrains available on the 2022 Ford Expedition lineup.
| | | | |
| --- | --- | --- | --- |
| Trim Mileage Estimates | City/mpg | Highway/mpg | Combined/mpg |
| 2022 Ford Expedition 2WD | 17 | 23 | 19 |
| 2022 Ford Expedition 4WD | 16 | 22 | 18 |
| 2022 Ford Expedition Timberline AWD | 16 | 19 | 17 |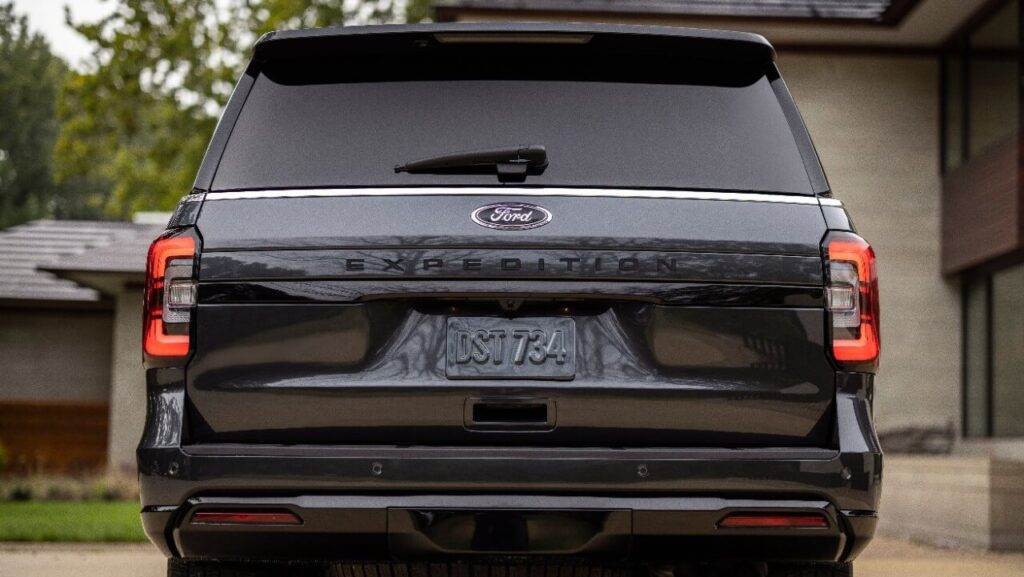 INTERIOR, SOLACE & BAGGAGE
Ford has stepped up the quality of the materials used on the 2022 Ford Expedition interior cabin. With the addition of a dashboard the borrows elements from other Ford models, we feel that the company has hit a good balance between looks and functionality. The Platinum trim gets decked out with leather furnishings all over the cabin. The passenger capacity of the Expedition sits at 5 passengers for the STX and 8 passengers for those models with third row seating. For cargo capacity, the Cargo Management System of the Expedition helps to organize items neatly. Capacity is topped out at 20.9 to 36.0 cubic feet from behind the third row depending on the model being used.
TOWING CAPACITY
Although the specs sheet for this SUV does not make mention of specific axle ratios, the 2022 Ford Expedition towing capacity depends on the drivetrain being used. The 4×2 and 4×4 models have a max capacity of 9,300 and 9,200 pounds, respectively. The MAX models of these drivetrain options have the same towing capacity of 9,000 pounds with the Heavy-Duty Trailer Towing Package.
TECHNOLOGY
For this SUV's infotainment system, the base models come equipped with a 12-inch Center Stack screen that comes with SYNC 4 installed. All models come with access to the FordPass Connect feature which includes a Wi-Fi Hotspot made possible through AT&T's services. The Center Screen can be upgraded to a 15.5-inch Display on higher-end models while the driver makes use of a 12.4-inch Gauge Cluster Display. All models of the Expedition are compatible with Android Auto and Apple CarPlay compatibility. With the SYNC 4A infotainment suite, an App Catalog and 911 Assist feature becomes available. Voice Recognition becomes an option for those who want a hands-free way of operating the car's systems. The audio system starts off with a standard set of 6-speakers that come with AM/FM radio functionality. The Platinum models upgrade the audio system to a 22-speaker setup sourced from B&O that includes a subwoofer unit for better sound quality.
SAFETY
The 2022 Ford Expedition's many driver-assistive features and safety technologies come as either standard features or optional ones. Some features included in Ford's Co-Pilot360 Suite include Stop-Start Technology, AdvanceTrac and Electronic Stability Control, a Blind Spot Information System, and a Pre-Collision Assist with Automated Emergency Brake system. As you upgrade to higher-tiered models, certain advanced features become available for use. Adaptive Cruise Control becomes standard on the Limited model while Active Park Assistance Systems become standard on the King Ranch and Platinum models.
WARRANTY
The warranty package offered by Ford is a great perk for all Expedition buyers as it beats the terms laid out by other SUV manufacturers. Their limited warranty plan spans for 3 years or the first 36,000 miles driven, whichever comes first. Next up is their powertrain warranty which can be availed for 5 years after purchase with a mileage limit of 60,000 miles driven. Ford does not offer any package or perk that brings complimentary scheduled maintenance into the picture.