SUMMARY
In the past, there weren't many heavy-duty trucks being driven around by people. Nowadays, there seems to be an abundance of them as they pick up steam and become a popular choice for tradesmen and truck enthusiasts alike. The 2022 Ford Super Duty is an enormous pickup that offers some great options for drivers while also coming with a load of standard features. The capability of this truck is something to behold as it's able to rival even the toughest of its rivals. This 2022 Ford Super Duty review lists the specs and features that make this huge pickup a great choice for any tough job you need to do.
LATEST
Infotainment options on the Super Duty have been given a revamp, allowing for a lot more customization to suit the driver's needs. There are new exterior elements and even options for interior color schemes. The Lariat Sport Appearance Package and Black Appearance Package are great for adding a new dimension to your truck's looks. The roster of 2022 Ford Super Duty colors has been updated with new options: Baja (Lariat), Navy Pier (Limited), and Light Slate (Limited).
ESTIMATED PRICE
When it comes to the 2022 Ford Super Duty price, drivers have an extremely diverse cast of choices. All models of the Super Duty can come in three different styles: The F-250, F-350, and F-450. The main difference between the 3 of these body styles is the engine that's made standard on them. Once you choose a style, you can select which of the 6 models you'd like for yourself. Below are the starting MSRPs of all F-250, F-350, and F-450 Super Duty models:
| | |
| --- | --- |
| Trim (Drivetrain) | MSRP* |
| 2022 Ford Super Duty XL F-250 | $37,895* |
| 2022 Ford Super Duty XLT F-250 | $42,920* |
| 2022 Ford Super Duty Lariat F-250 | $51,305* |
| 2022 Ford Super Duty King Ranch F-250 | $66,295* |
| 2022 Ford Super Duty Platinum F-250 | $69,610* |
| 2022 Ford Super Duty Limited F-250 | $88,330* |
| 2022 Ford Super Duty XL F-350 | $39,410* |
| 2022 Ford Super Duty XLT F-350 | $44,445* |
| 2022 Ford Super Duty Lariat F-350 | $52,830* |
| 2022 Ford Super Duty King Ranch F-350 | $67,815* |
| 2022 Ford Super Duty Platinum F-350 | $71,130* |
| 2022 Ford Super Duty Limited F-350 | $89,505* |
| 2022 Ford Super Duty XL F-450 | $54,075* |
| 2022 Ford Super Duty XLT F-450 | $60,095* |
| 2022 Ford Super Duty Lariat F-450 | $71,360* |
| 2022 Ford Super Duty King Ranch F-450 | $83,035* |
| 2022 Ford Super Duty Platinum F-450 | $86,905* |
| 2022 Ford Super Duty Limited F-450 | $95,265* |
There's lots of information regarding the 2022 Ford Super Duty lease price floating around the internet. On their official site, Ford shows off some estimates for lease pricing alongside other financing options you may be interested in. Make sure to check that out and to inquire with your preferred car dealer to see if you're getting the best deal in your area.
MACHINE PERFORMANCE
The 2022 Ford Super Duty specs must be fit for taking care of harder jobs. Because of that, there are 3 available powertrain options: A 6.2-Liter Gas V8, a 7.3-Liter Gas V8, and a 6.7-Liter Turbo Diesel V8.  First off, the 6.2-Liter Gas engine is capable of 385 horsepower and a torque output of 430 pounds-feet. The improved 7.3-liter Gas V8 produces around 430 horsepower and 475 pounds-feet of torque. The 6.7-Liter Diesel outputs around 475 horsepower and 1,050 pounds-feet of torque. The Super Duty uses either a 6-speed or a 10-speed Automatic Transmission, the latter having selectable drive modes. Drivetrain options include 4×2 and 4×4, respectively.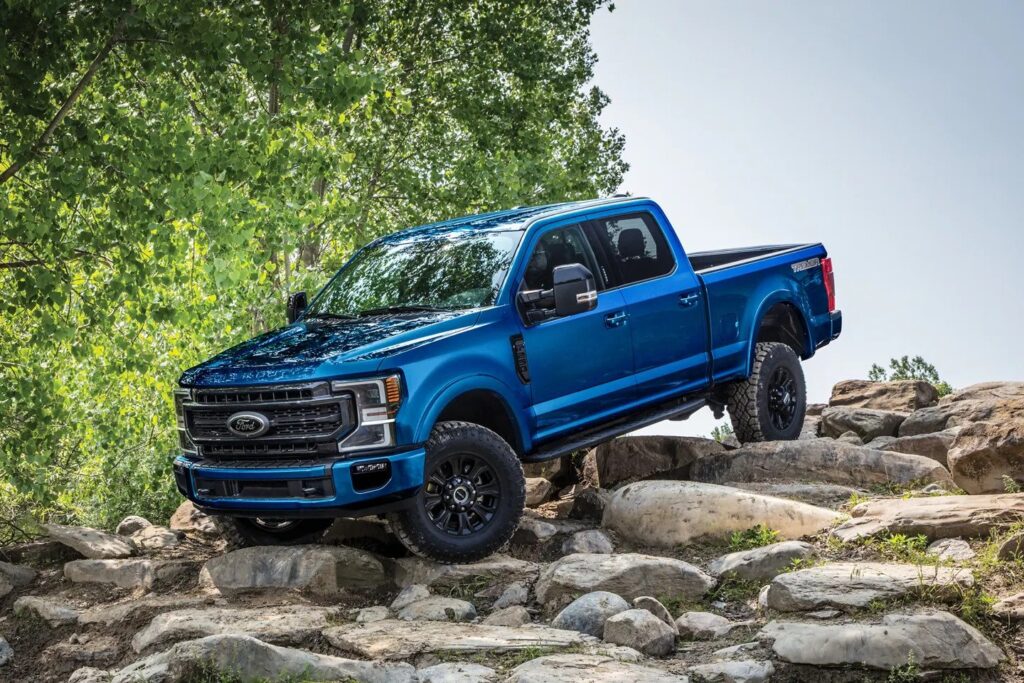 FUEL EFFICIENT & ACTUAL MPG
The EPA doesn't perform tests on vehicles like the Super Duty as most regulations regarding fuel economy estimates are made for smaller vehicles. Even Ford's site only mentions the fuel capacity for each model. The 6.2-Liter and 7.3-Liter Gas engines have a capacity of 34 gallons with the Regular and Super Cab. For the 6.7-Liter Diesel engine, it holds 29 gallons for models with either cab style. All Crew Cab models, regardless of powertrain, have a fuel capacity of 34 gallons.
INTERIOR, SOLACE & BAGGAGE
You'd be surprised how the 2022 Ford Super Duty interior cabin achieves a delicate balance of rugged functionality and smooth luxury. Even with a posher-looking cabin, the materials used on the interior are still meant to handle the tough jobs and rough rides. The Ford Super Duty can seat up to 3 people on the Regular Cab and 6 on the Super and Crew Cabs. For cargo capacity, it depends on the cab style and model that you choose to get. The SWB measures 6.75ft. and has a cargo volume of 65.4 cubic feet. The LWB, measuring a total of 8ft., has a volume of 78.5 cubic feet. If you're concerned about the 2022 Ford Super Duty dimensions, know that most models have a height of at least 78.7 inches and a width of 96 inches with the Regular Cab.
TOWING CAPACITY
Available in a range of different axle ratios with towing package options, the 2022 Ford Super Duty towing capacity varies from model to model. Those looking for the most capable setup should look into the F-350 Super Duty with the 7.3-Liter Gas V8. When an axle ratio of 4.30, it can tow up to 20,700 pounds. The least capable version, the F-250 with a 6.2-Liter Gas V8, still tows up to 13,300 pounds with its axle ratio of 3.73.
TECHNOLOGY
The Ford Super Duty offers two different models of the SYNC infotainment system: SYNC 3 for the XLT Models and SYNC 4 for all other models. Trucks with the SYNC 3 suite get an 8-inch touchscreen display while SYNC 4 models have the option of a new 12-inch touchscreen option. Each comes with Android Auto and Apple CarPlay compatibility with other options to boot. FordPass is another standard option that allows drivers to control certain aspects of their trucks via a smartphone app. While base models have the standard 4- to 6-speaker setup for their sound system, some models like the King Ranch and Limited have 10-speaker setups sourced from B&O.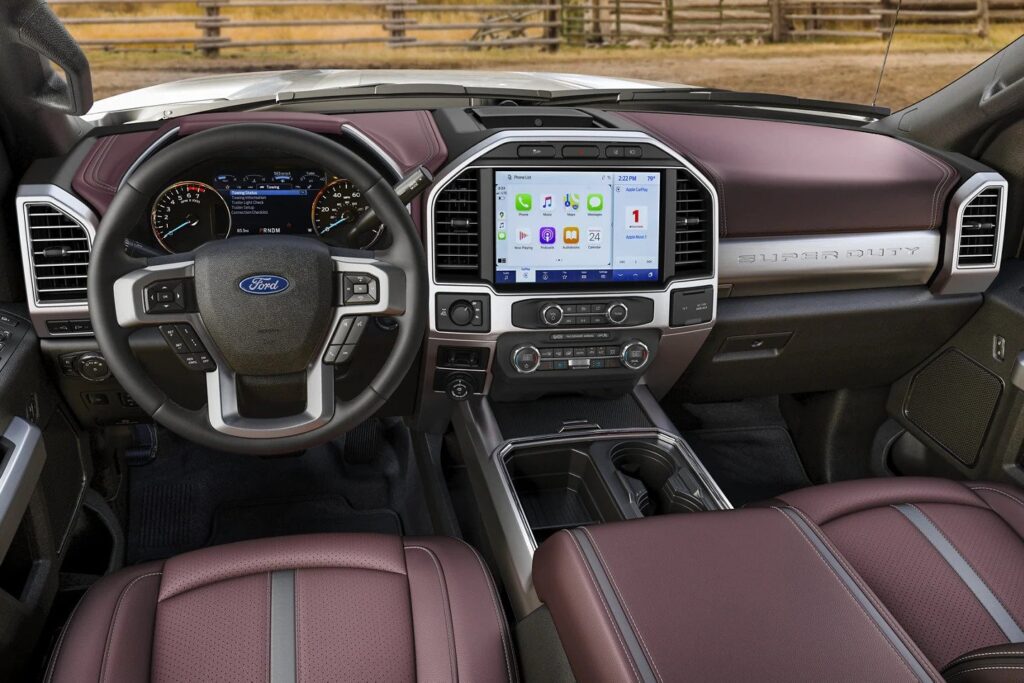 SAFETY
The 2022 Ford Super Duty's lineup is fitted with a wide range of technologies and safety features all meant to make the driving experience as safe as possible. Some standard features like Ford's Safety Canopy System, SOS Post-Crash Alert System, and the SecuriLock Passive Anti-Theft System are all present on most models. Optional features include Blind Spot Monitoring systems, Advanced Cruise Control, and a Pre-Collision Assist. Automatic Emergency Braking and Lane-Keeping systems also fall under optional features for most models up until the Limited line.
WARRANTY
Ford's warranty coverage offers are on par with that of other pickup truck manufacturers. Their limited warranty plan spans for 3 years or the first 36,000 miles driven, whichever comes first. Next is their powertrain warranty which differs depending on whether you got the Gas or Diesel powertrains. Both have 5-year warranty plans with the difference being the mileage limit with gas models limited to 60,000 miles and diesel ones at 100,000 miles.