SUMMARY
The 2022 Kia Carnival MPV is the company's mainline minivan given a much-needed facelift and upgrade. This new Carnival replaces the previous minivan lineup in favor of a stylish and feature-packed vehicle that's sure to win over a lot of newcomers. The 3.5-Liter V6 powertrain is well suited for urban driving while the whole suite of safety and driver-assistive features help to give an air of confidence when you step inside of it. This 2022 Kia Carnival MPV review will go into the specs and features that make it such a keeper in the minivan market right now.
LATEST
For this year, the 2022 Kia Carnival MPV has seen some major updates all across the board. Updates to its design are sure to catch the eyes of anyone out on the street. The additional infotainment and technology features will be a welcome addition for any drive. All this seems to be an attempt to keep the Carnival MPV competitive against its market rivals, especially as some of them have been seeing some major redesigns as well. For us, we feel that Kia's move to modernize the Carnival MPV is sure to pay off. The roster of 2022 Kia Carnival colors sees no major change across trim levels.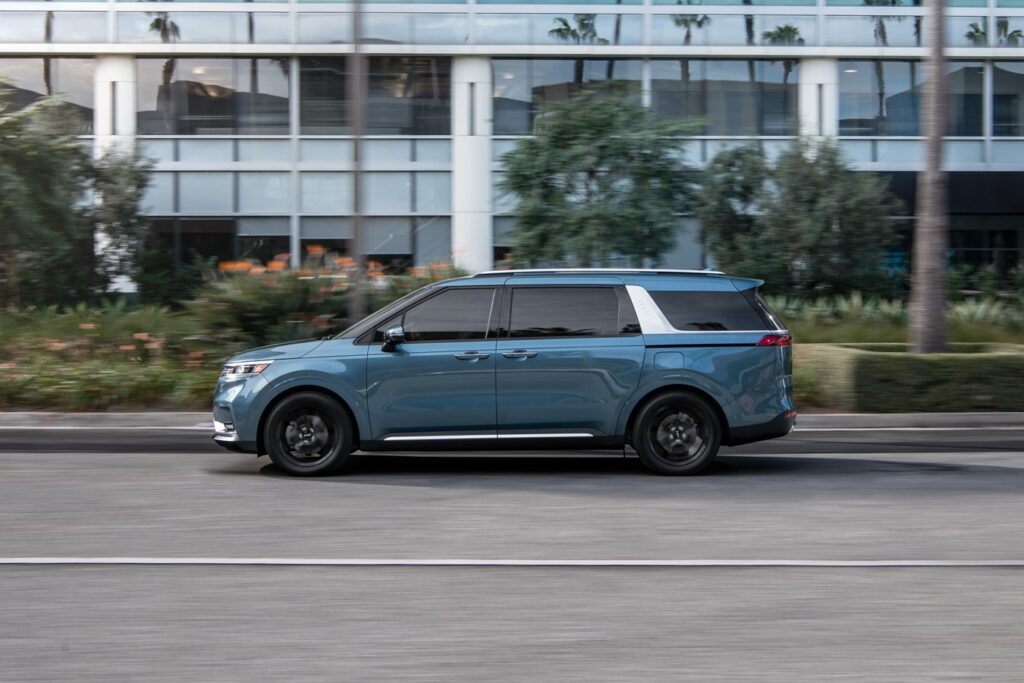 ESTIMATED PRICE
The 2022 Kia Carnival MPV price points are split among the 5 different trim levels. All models already come with a lot of value, with the LX having the most bang for your buck if you're not gunning for the additional features. If you want a more feature-packed MPV, then the EX model is a good start. The SX and SX Prestige are the deluxe models and are only for those who want the best that the lineup has to offer. Below is our table detailing the various starting MSRPs of the 2022 Kia Carnival MPV:
| | |
| --- | --- |
| Trim (Drivetrain) | MSRP* |
| 2022 Carnival MPV LX | $32,300* |
| 2022 Carnival MPV LX Seat Package | $34,300* |
| 2022 Carnival MPV EX | $37,800* |
| 2022 Carnival MPV SX | $41,300* |
| 2022 Carnival MPV SX Prestige | $46,300* |
For the 2022 Kia Carnival MPV lease price, the company has made it available on their official website. Other financing options can also be found alongside it which can be a good option if you don't want to post a large amount of money all at once. Make sure to check their site out and to check with your preferred car dealer for deals that are available in your local area.
MACHINE PERFORMANCE
The 2022 Kia Carnival MPV specs sheet shows that there's only one powertrain option running all the models: A 3.5-Liter V6 Engine. It's capable of 290 horsepower and a torque output of 262 pounds-feet at 5,000 RPM. This powertrain is paired up with an 8-speed Automatic Transmission and a front-wheel drive powertrain. An Eco driving mode is available for additional fuel-efficiency, being the only toggleable driving mode. Its stopping power is supplied by a 4-wheel disc setup with an anti-lock brake system in place.
FUEL EFFICIENT & ACTUAL MPG
The EPA hasn't found any wild differences between the MPG scores of the various Carnival MPV models. Drivers who make fuel-efficiency a priority won't be saving much compared to the average new vehicle, typically spending around $2,750 more over the course of 5 years. However, we do note that the MPG scores are just about on-par with most of the other MPVs on the market right now.
| | | | |
| --- | --- | --- | --- |
| Trim Mileage Estimates | City/mpg | Highway/mpg | Combined/mpg |
| 2022 Kia Carnival MPV | 19 | 26 | 22 |
INTERIOR, SOLACE & BAGGAGE
Kia's made some upgrades to the 2022 Kia Carnival MPV interior space, focusing more on modernizing the look and feel of the car. It's got passenger capacity for about 7 passengers with room for one more on the EX and SX trims. SynTex seating trims can be availed of in either gray or black color schemes. The driver seat itself comes with 10-way power adjustability starting from the LX Seat Package alongside a 2-way powered lumbar support system. The cargo capacity of the 2022 Carnival MPV is around 40.2 cubic feet at a minimum. On full capacity, the Carnival has around 145.1 cubic feet of space for those trips where every inch of room counts.
TOWING CAPACITY
Although there's no mention of axle ratios or other related details on the specs sheet, the 2022 Kia Carnival MPV towing capacity is known to be around 3,500 pounds. Of course, this will require the use of additional equipment which is available with the optional towing package offered by the company.
TECHNOLOGY
The infotainment suite of the 2022 Kia Carnival MPV has been given a much-needed update. The base model starts off with an 8-inch touchscreen which is improved to a 12.3-inch touchscreen starting from the EX model. Android Auto and Apple CarPlay compatibility comes as a standard to all models, alongside standard access to Kia Connect technology. Even on the base LX, voice recognition features have been made a standard addition. Bluetooth technology also allows for greater hands-free usage of mobile phones and even media streaming. Starting from the EX model, drivers can make use of a built-in Wi-Fi hotspot which requires a subscription to use. Wireless Charging pads are also available starting from this trim level. The sound system is made up of a 6-speaker AM/FM/HD Radio setup which is then upgraded to an 8-speaker configuration. The SX Premium tops all of those options with a 12-speaker premium audio setup sourced from BOSE.
SAFETY
Rated as one of the IIHS' Top Safety Picks for 2022, this year's model of the Kia Carnival MPV comes with many standard safety features and driver-assistive technologies. The Kia Drive Wise technology suite includes features like Forward Collision Avoidance-Assist, Pedestrian Detection, Driver Attention Warnings with Leading Vehicle Departure Alerts, Lane Keeping Assists, and Lane Following Assists. There are also features which are only available on higher-end models such as the Junction Turning capabilities found only on the EX and SX lines.
WARRANTY
Kia offers a warranty plan that comes with perks rivaling the warranty plans of other vehicle manufacturers. They have a limited warranty of 5 years or the first 60,000 miles driven, whichever comes first. Next is the powertrain warranty which spans 10 years with a mileage limit of 100,000 miles, one of the longest lasting warranty terms in the industry today. The company has yet to offer any perk or plan for complimentary scheduled maintenance.