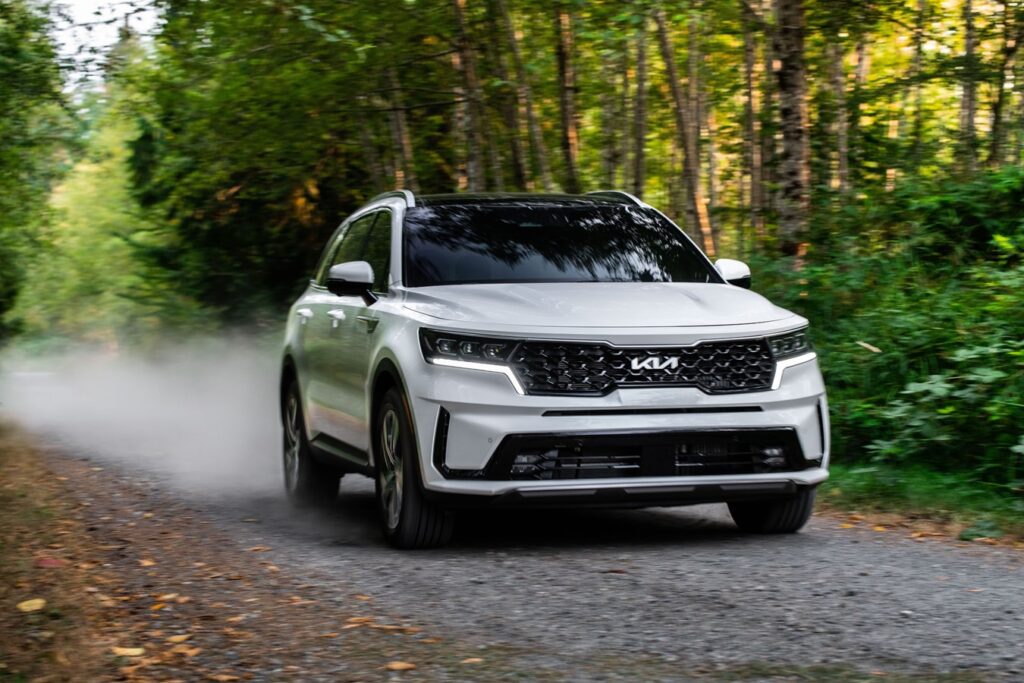 SUMMARY
The Kia Sorento returns with a new PHEV model with the 2022 Kia Sorento Plug in Hybrid. Coming in with added infotainment features and even greater fuel efficiency, this definitely appeals to drivers who are conscious of how much fuel they use up. The infotainment features and other high-tech additions are paired well with the lovely interior design of the passenger cabin. Overall, we love the Sorento Plug in Hybrid as an SUV for people who want that sort of ride with ample amounts of cargo space. This 2022 Kia Sorento Plug in Hybrid review will look into the different specs and features present in this mid-sized SUV.
LATEST
For this year's release of the Sorento, the PHEV variant was the last of the lineup to have their MSRP announced. This model is the newest for the lineup and comes in two variants which are explained in more detail below. It still makes use of the same six-speed AT transmission and has many of the same features present in the other models.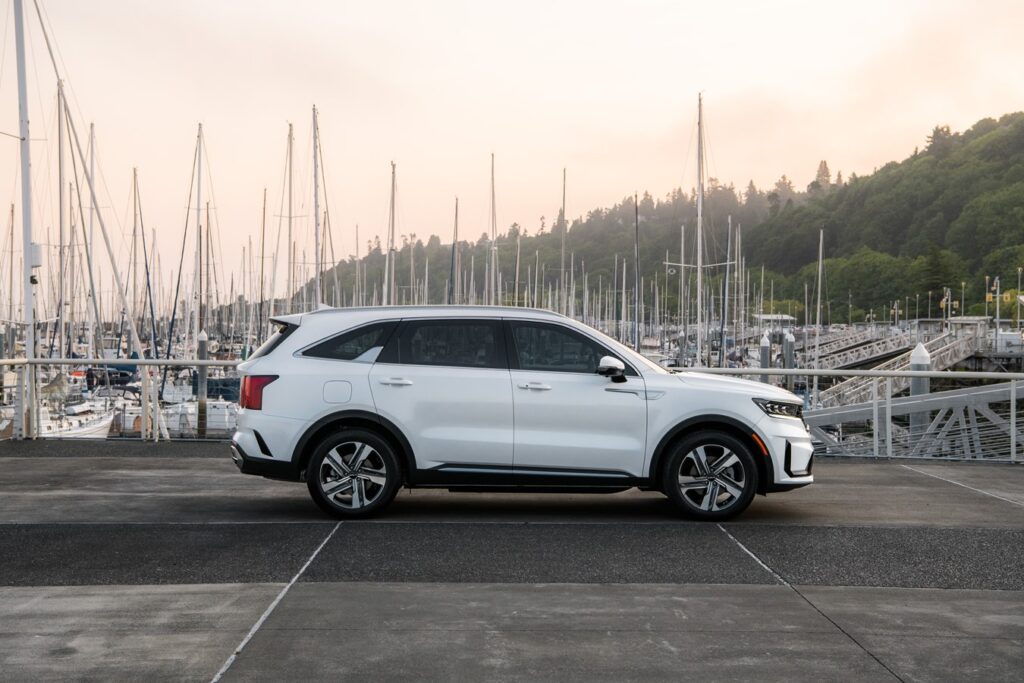 ESTIMATED PRICE
The 2022 Kia Sorento Plug in Hybrid price point is split amongst the 2 trims available: The SX and the SX Prestige. The latter trim level has some exclusive exterior and interior features that make it stand out from the base model. These include Power-folding outside mirrors, a premium audio system, and a larger LCD display for the driver. There are no significant differences in the performance or the dimensions of either trim level so feel free to choose the one that suits you. This table detailing the MSRPs of the Kia Sorento Plug in Hybrid goes over their base prices without any additions or modifications done. If you wish to customize your vehicle, whether through the selection of 2022 Kia Sorento Plug In Hybrid colors or other accessories, please check the brand's configurator on their site.
| | |
| --- | --- |
| Trim (Drivetrain) | MSRP* |
| 2022 Kia Sorento Plug In Hybrid SX | $45,190* |
| 2022 Kia Sorento Plug In Hybrid SX Prestige | $48,090* |
For those looking for the 2022 Kia Sorento Plug in Hybrid lease price, you can check their official site along with other financing options.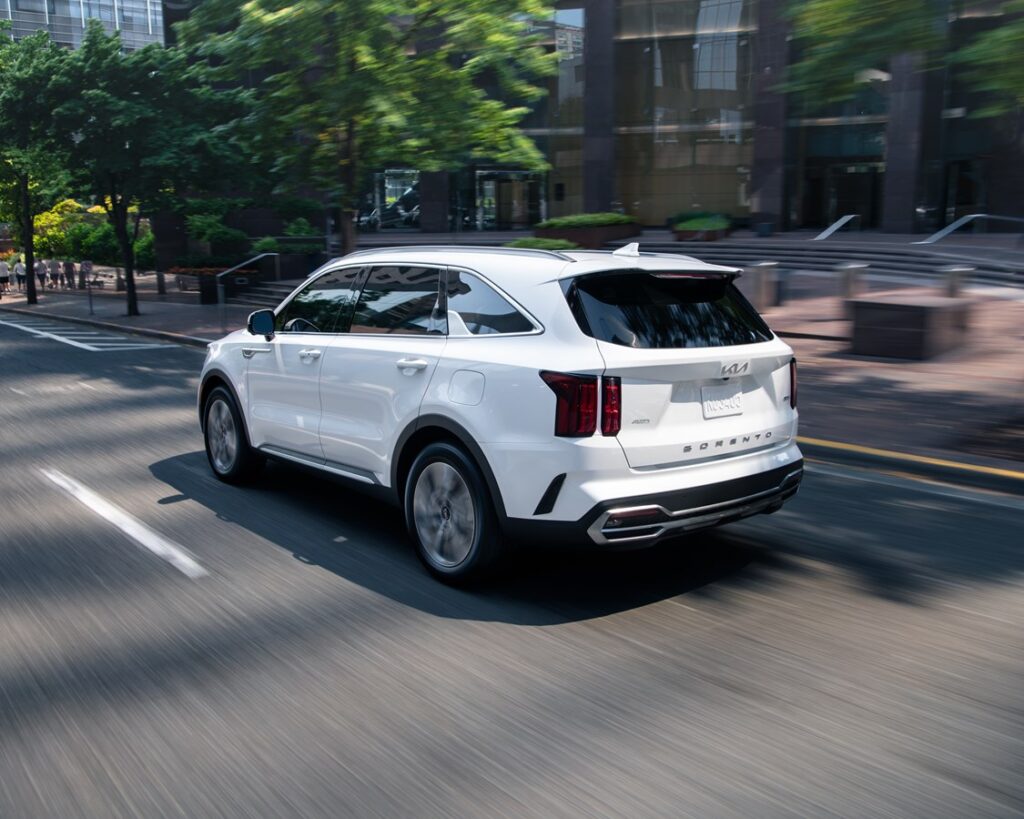 MACHINE PERFORMANCE
The 2022 Kia Sorento Plug in Hybrid specs sheet shows that there's no differences between the mechanics of both trim levels. The engine mounted on the Kia Sorento Plug in Hybrid is a 1.6-Liter Turbocharged 4-Cylinder engine capable of 177 horsepower and a torque output of 195 pounds-feet. This is aided by an electric motor system that's capable of 89 horsepower and 224 pounds-feet of torque. Overall, the combined hybrid system creates 261 horsepower and a torque level of 258 pounds-feet. Its battery is rated at 13.8 kWh and takes around 3 hours and 25 minutes to fully charge.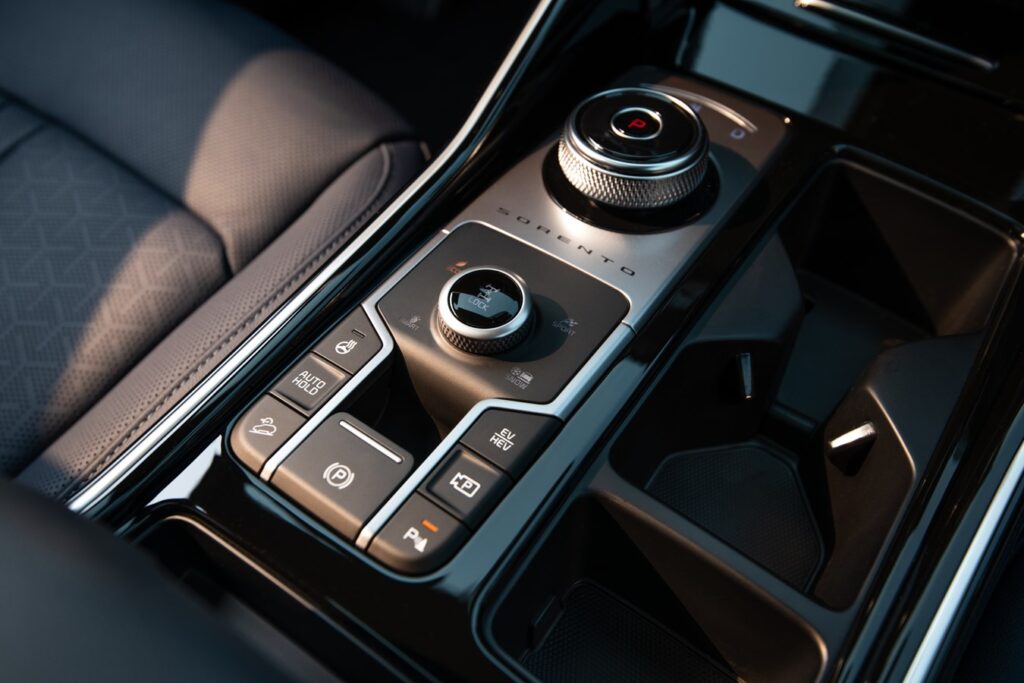 FUEL EFFICIENT & ACTUAL MPG
The 2022 Kia Sorento Plug in Hybrid is a good choice for drivers wanting great fuel efficiency with great all-electric mileage as well. Both models can go on for 32 miles just relying on electricity, a respectable distance by itself. With both the electric motor and the engine working together, the combined MPGe rating beats even the pure hybrid version of the Sorento. Below is a table detailing the different MPG estimates for the 2022 Kia Sorento Plug in Hybrid. Take note that the fuel tank capacity for both trim levels is 12.4 gallons.
| | | | |
| --- | --- | --- | --- |
| Trim Mileage Estimates | City/mpg | Highway/mpg | Combined/mpg |
| 2022 Kia Sorento Plug in Hybrid SX | 35 | 33 | 79 |
| 2022 Kia Sorento Plug in Hybrid SX Prestige | 35 | 33 | 79 |
INTERIOR, SOLACE & BAGGAGE
Kia's attention to detail on the 2022 Kia Sorento Plug in Hybrid interior space is noticeable all throughout the cabin. It's lined with high-quality materials and has been given a layout that's pleasing to the eye. For passenger capacity, the PHEV Kia Sorento comes with seating for 6 passengers and a passenger volume of 105.3 cubic feet. The 2nd row is pampered up with the addition of Captain's Chairs while the front seats are given heating capabilities. Cargo capacity for both PHEV Kia Sorento models is a bit on the smaller side when compared to its rivals. The Cargo volume sits at 75.5 cubic feet from the 1st row, 45.0 cubic feet from the 2nd row, and 12.6 cubic feet from the 3rd row.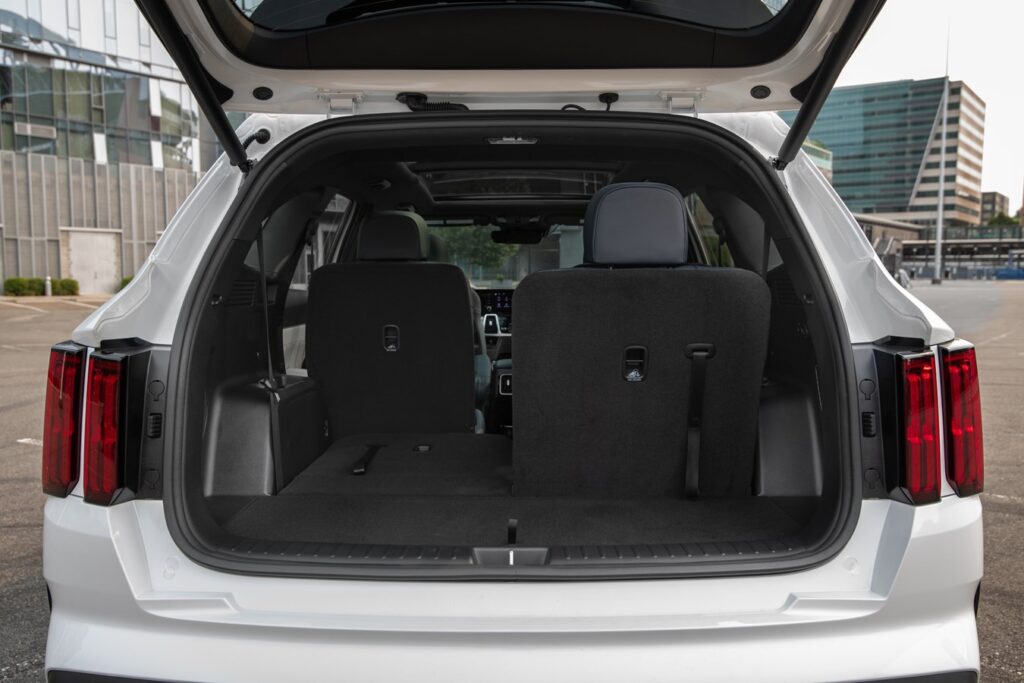 TECHNOLOGY
The infotainment system found on the PHEV variant of the Kia Sorento is one of its main selling points. Both models make use of a 10.25-inch touchscreen to navigate through the various features available. These include Navigation systems, Satellite Radio, and the management of connectivity option. Speaking of that, the Kia Sorento Plug in Hybrid comes compatible with Android Auto and Apple CarPlay. Both models also come with Bluetooth functions for both media streaming and hands-free phone operation. Voice recognition features are also standard on both models, allowing the driver to focus on the road. The audio system on the SX trim is a 6-speaker setup which comes with AM/FM/HD Radio. This can be further upgraded on the SX Prestige level to a 12-speaker sound system sourced from BOSE.
SAFETY
The NHTSA has rated the 2022 Kia Sorento Plug in Hybrid a good 4-stars out of 5 for Overall Safety. It boasts a good selection of driver-assistive technologies and safety features, both standard and optional. Some standard additions to the car's safety suite include Forward Collision-Avoidance assists, a Blind Spot Collision and Avoidance system, Lane Keeping and Following Assists, and a Lane Departure Warning system. Optional features which are available on the SX Prestige include: A Surround View Monitor, Blind Spot Monitor, and several parking-related assistive systems.
WARRANTY
The warranty offered by Kia is renowned for being one of the most long-lasting plans in the industry today. Their limited warranty plan spans for 5 years or the first 60,000 miles driven, whichever comes first. The powertrain warranty lasts for a whole 10 years with a mileage limit of 100,000 miles driven. The also offer an anti-perforation warranty and roadside assistance plan which both last for 5 years and have a mileage limit of 100,000 miles and 60,000 miles respectively.