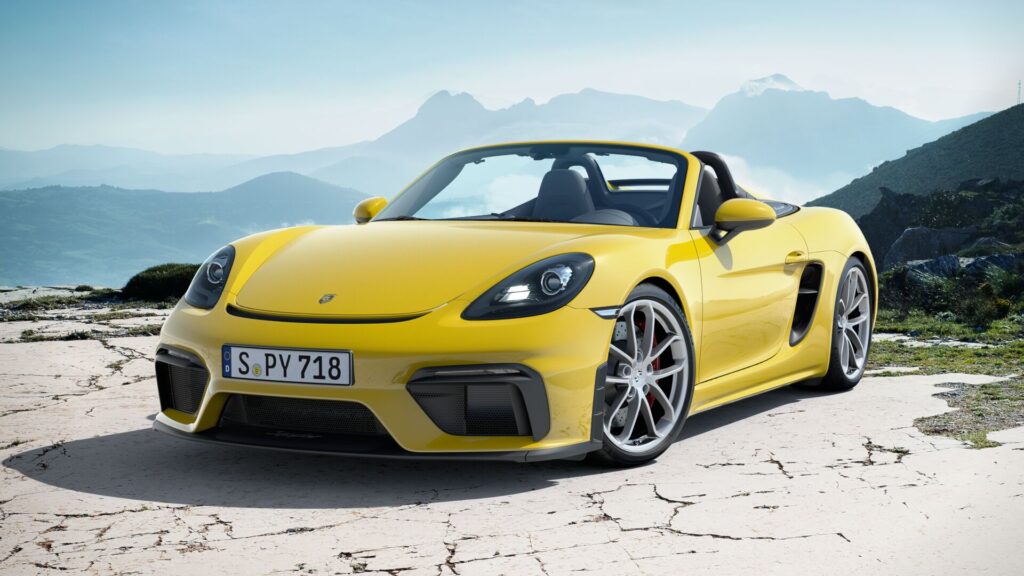 SUMMARY
The 2022 Porsche Spyder is another branch of the 718 lineup that aims to give riders the rawest performance you can get with the 718. What it lacks in interior features it makes up for in performance and speed as its sprint times push the edges of what's possible on Porsche's platform. Drivers can also choose to go for the standard manual experience or to take the plunge and go for Porsche's Doppelkupplung system. The 2022 Porsche 718 Spyder review will go into the different specs and features that made this sports car such a joy to ride.
LATEST
Porsche hasn't made any extensive changes to the 2022 Porsche 718 Spyder for this model year. However, there's some additions to the 2022 Porsche 718 Spyder color roster as well as the option for personalizing your key fob with a similarly colored hue as your car. Leather accessories and upholstery has also been added to the optional features available on their site's configurator.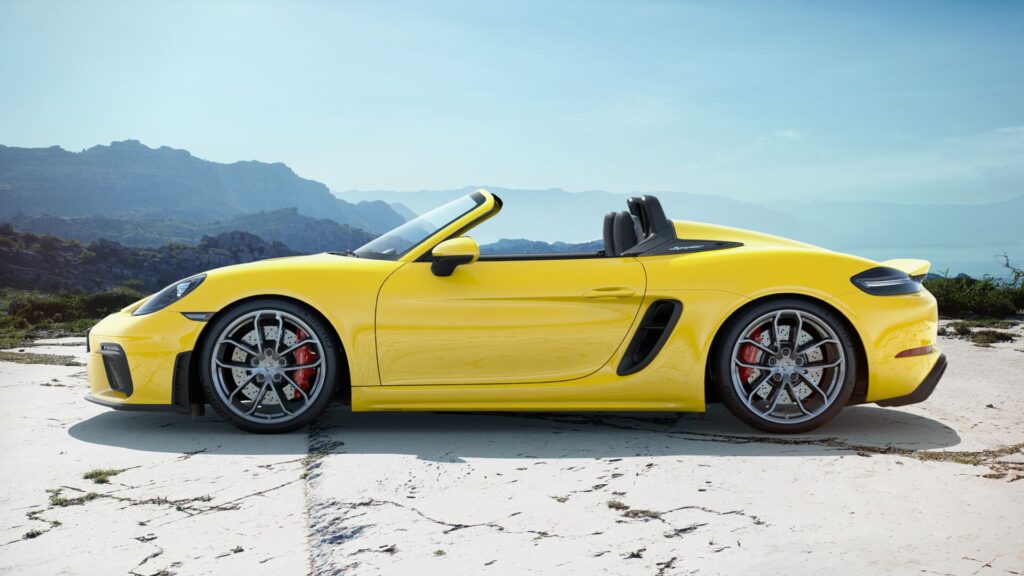 ESTIMATED PRICE
The 2022 Porsche 718 Spyder's price point is dependent on whether you stick to the standard 6-speed manual transmission or go for Porsche's Doppelkupplung 7-Speed transmission system. There's only one available trim level for the 718 Spyder which offers driver's impressive performance and drive feel that's different from the other products in the 718 lineup.
| | |
| --- | --- |
| Trim (Drivetrain) | MSRP* |
| 2022 Porsche 718 Spyder (MT) | $98,300* |
| 2022 Porsche 718 Spyder (PDK) | $101,500* |
The 2022 Porsche 718 Spyder lease price is available through the Porsche Lease Program, an initiative that seeks to allow more drivers to get their hands on their dream machine. Make sure to check out the brand's website as well as the site of your preferred car dealer for more information on the deals you can make use of.
MACHINE PERFORMANCE
The 2022 Porsche 718 Spyder specs sheet gives some details on why the Spyder has such impressive performance stats. Its main mechanical feature is a 4.0-Liter Flat-6 Naturally Aspirated Engine which produces around 414 horsepower and a torque output of 310 pounds-feet with the MT transmission or 317 pounds-feet with the PDK transmission. It also has a maximum engine speed of 8,000 rpm and can launch the Spyder from 0 to 62 mph in only 3.9 seconds. The transmission system found on the 718 Spyder can either be a 6-speed manual transmission or a 7-speed Doppelkupplung system which gives the driver a lot more control over each shift of the gears. An Active Suspension System helps to absorb the shock and bumps of uneven terrain and has two drive modes: Normal and Sport. Other features that make the Spyder a unique sports car is the Sports Exhaust System which gives it a bolder sound profile all at the push of a button.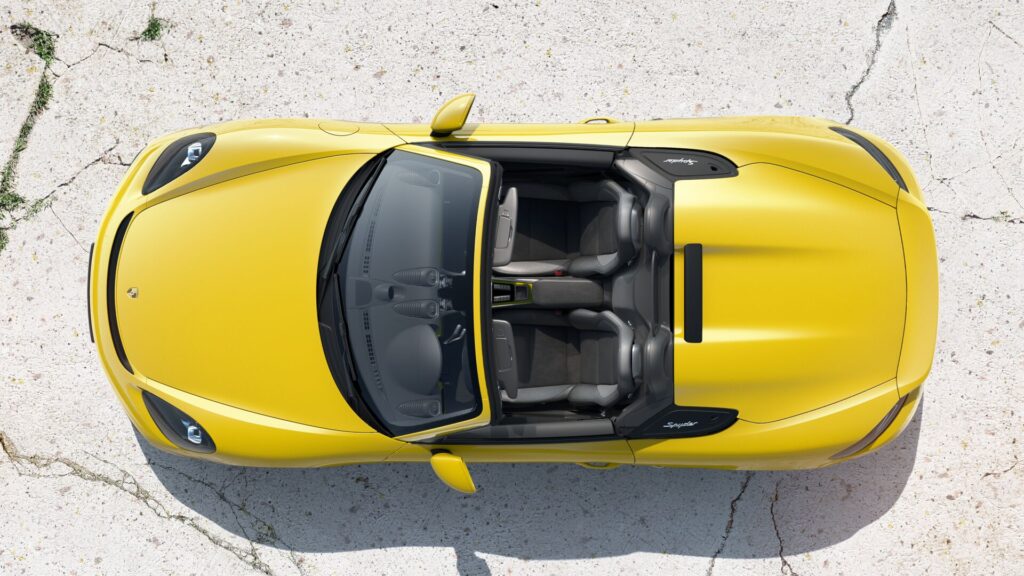 FUEL EFFICIENT & ACTUAL MPG
The EPA rating of the 2022 Porsche 718 Spyder differs only by 1 MPG when comparing the two transmission systems available The PDK system takes the top spot as the most efficient model but only leads by a small margin. Sports cars are not designed with efficiency in mind so this is understandable, but this might dissuade some drivers from buying especially during these times. Below is the MPG estimates for the 2 transmission options of the 2022 Porsche 718 Spyder.
| | | | |
| --- | --- | --- | --- |
| Trim Mileage Estimates | City/mpg | Highway/mpg | Combined/mpg |
| 2022 Porsche 718 Spyder (MT) | 17 | 23 | 19 |
| 2022 Porsche 718 Spyder (PDK) | 18 | 24 | 20 |
INTERIOR, SOLACE & BAGGAGE
The 2022 Porsche 718 Spyder interior is meant for 2 persons riding. You won't find any back seats squeezed into the rear of the vehicle here. The Sports Seats available come with 2-way power adjustment features. However, we do think that the cabin itself might be a bit cramped for persons with wider frames. The storage situation on the 718 Spyder is on-par with other sports cars. It's got enough for short trips out and about but not enough for longer vacations that call for bigger bags. The luggage compartment of the rear sits at about 4.2 cubic feet of space while the front compartment is at 5.2 cubic feet.
TECHNOLOGY
The 718 Spyder can be described as quite conservative and simple when it comes to its infotainment system. It includes the Porsche Communication Management system which has little to no changes when compared to the previous versions. Apple CarPlay is available on this system which allows users to make use of Siri's voice recognition technology and even the use of certain apps through the 7-inch touchscreen display. Another feature available on the 718 Spyder is a real-time navigation system which showcases traffic information and satellite-based maps to get you to your destination. Take note though that some of these features come as optional so you'll have to pay an additional cost for these. Last is the sound system which is composed of 6 loudspeakers placed around the passenger cabin. This system is capable of a sound output of 110 watts and comes with an amplifier unit and digital signal processing for improved audio quality.
SAFETY
There haven't been any evaluations made by the NHTSA or any other administrations on the safety rating of the 718 Spyder. What we do know is that some of the standard features available to its safety suite include rear parking sensors, an anti-braking system, cruise control capabilities, and dynamic stability control. A set of six airbags can also be found on the Spyder, located on door panels and other strategic locations. Don't expect much in the way of driver-assistive systems on this vehicle.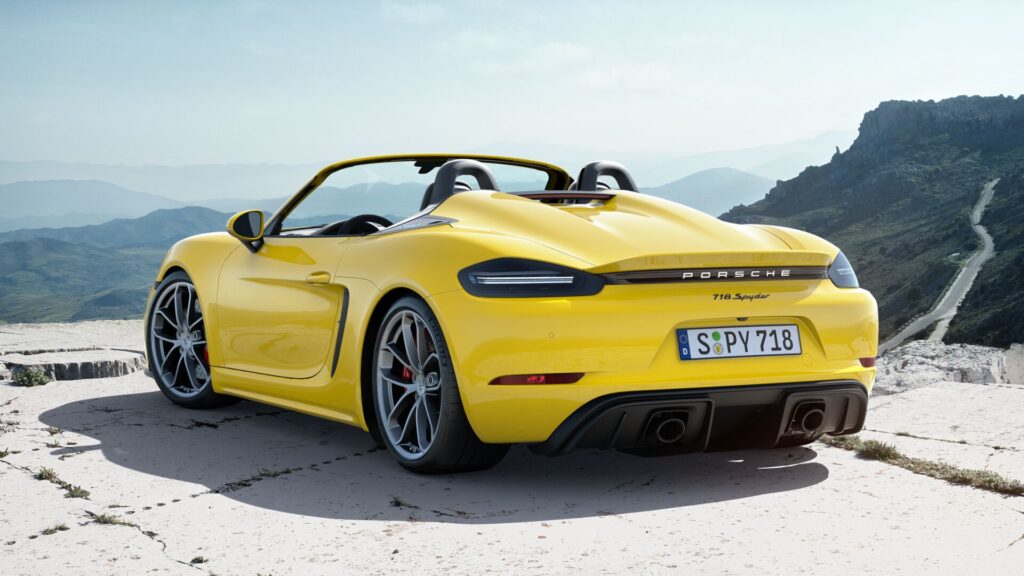 WARRANTY
Porsche offers a warranty plan that's meant to provide new drivers with some peace of mind as they use their cars to their extremes. Their limited and powertrain warranty plans span for 4 years or the first 50,000 miles driven, whichever comes first. They also offer a warranty for parts and accessories which lasts for 2 years without a mileage limit imposed on it. A 12-year Corrosion and Perforation warranty is also available for drivers to avail of.