SUMMARY
The 2022 Toyota Sienna is the brand's new hybrid SUV that's aimed more at the family driver. Offered exclusively as a hybrid vehicle, it comes with either front-wheel drive or all-wheel drive. It's got great fuel economy but we've got to note how its acceleration might be less punchy than desired. While this platform is still a good choice, it'd also be a good idea to consider the other models on the market right now. This 2022 Toyota Sienna Hybrid review will look into the specs and features available on the different trim levels.
LATEST
One new addition to the Sienna lineup is the Woodland Edition for those adventurous drivers that want a hybrid meant for just that. It comes with all-wheel drive and has other features suited for rougher roads. There's even a whole host of different options to make your life in the outdoors a bit easier like roof racks, a built-in power outlet, and towing accessories. For the roster of 2022 Toyota Sienna Hybrid colors, we feel anyone will appreciate the decent number of choices on offer. Some of our favorite color schemes for the Toyota Sienna are Ruby Flare Pearl, Midnight Black Metallic, and Cypress Green.
ESTIMATED PRICE
The 2022 Toyota Sienna Hybrid price point is split among the 6 different trim levels available for the 2022 model year. All trim levels come standard with a hybrid powertrain and additional features that ramp up as you upgrade your model of choice. We expect that the XSE's standard features will entice a lot more people to line up for that model specifically. It manages to balance the premium feel of the higher-end models without breaking the bank too hard. Below is our 2022 Toyota Sienna Hybrid cost table which details the starting MSRPs of the different models:
| | |
| --- | --- |
| Trim (Drivetrain) | MSRP* |
| 2022 Toyota Sienna LE | $34,710* |
| 2022 Toyota Sienna XLE | $40,000* |
| 2022 Toyota Sienna Woodland Edition | $45,500* |
| 2022 Toyota Sienna XSE | $42,250* |
| 2022 Toyota Sienna Limited | $46,950* |
| 2022 Toyota Sienna Platinum | $50,150* |
MACHINE PERFORMANCE
The 2022 Toyota Sienna Hybrid specs show that this SUV isn't meant for roaring performance. It's more for urban driving and family trips where saving on fuel costs would be a welcome addition. A 2.5-Liter DOHC engine and an electric motor system give this car a combined output of 245 horsepower. Aiding the hybrid powertrain is a sealed Nickel-Metal Hydride battery which helps to power either one or two electric motors, depending on the model you take. It's got access to 4 different drive modes: Normal, Eco, EV, and Sport. The transmission is a CVT system that comes with sequential shift modes. All Sienna models are available in either Front-wheel drive or All-wheel drive setups.
FUEL EFFICIENT & ACTUAL MPG
As you can see from the EPA's released estimates regarding the Sienna's fuel efficiency, it's a good car to have if you're worried about rising fuel costs. Even the AWD version poses itself as an economical choice as it barely has any difference from the FWD's fuel efficiency rating. The benefits of a hybrid powertrain start to rein in when you take into consideration its annual fuel costs ranging from $1,750 – $1,800. Take note that the fuel capacity on all models is around 18 gallons. Below are all of the released MPG scores for the two drivetrain options for the 2022 Toyota Sienna:
| | | | |
| --- | --- | --- | --- |
| Trim Mileage Estimates | City/mpg | Highway/mpg | Combined/mpg |
| 2022 Toyota Sienna FWD | 36 | 36 | 36 |
| 2022 Toyota Sienna AWD | 35 | 36 | 35 |
INTERIOR, SOLACE & BAGGAGE
Toyota has made sure to pair up the stylish exterior of this Hybrid SUV with an interior that's up-to-date with modern designs. The 2022 Toyota Sienna Hybrid interior space is composed of an easily navigated layout, upscaled material work on higher-end models, and leather trim seating options. For passenger capacity, the Sienna Hybrid can fit around 7 to 8 passengers depending on the model you get. For cargo capacity, the Sienna Hybrid has around 33.5 cubic feet of space with all rows of seats deployed. With the 3rd row folded up, this increases to 75.2 cubic feet with a further 101 cubic feet if the 2nd row is stowed away as well.
TOWING CAPACITY
Although there's no mention of its axle ratio, we do know that the 2022 Toyota Sienna towing capacity is around 3,500 pounds. Take note that this is only possible with the proper towing equipment which can be availed of as an option when purchasing your own Sienna Hybrid.
TECHNOLOGY
The infotainment package that comes standard with the many models of the Sienna is fitted with a lot of the modern features you might expect from a 2022 release. All models make use of a 9-inch touchscreen that comes with Amazon Alexa compatibility even on the base models. Speaking of which, the Sienna comes with native Android Auto and Apple CarPlay support. Bluetooth technology is also present for either audio streaming or even hands-free phone usage. Other features of this infotainment system include USB media and charging ports, a SiriusXM 3-month Platinum trial, and access to Toyota's connected services suite. The audio system on the base models is a standard 6-speaker setup that's improved to an 8-speaker premium setup on higher-end models. The most exclusive of all these speaker options are the 12-Speaker JBL sound system which comes with a subwoofer and amplifier unit.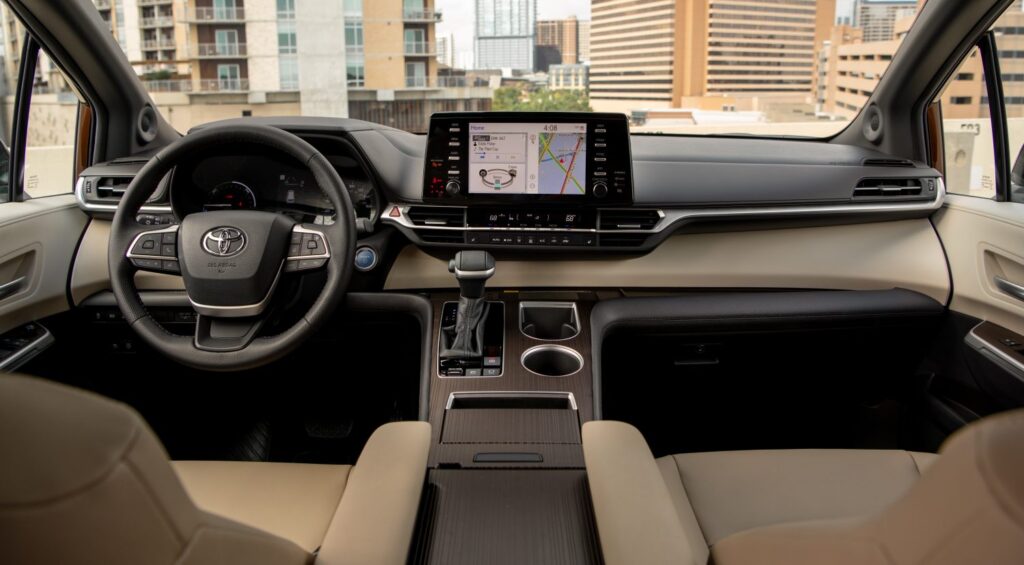 SAFETY
In terms of overall safety rating, the NHTSA has given the Sienna a full 5-star rating thanks to the built-in safety features and driver-assistive features. With the Toyota Safety Sense 2.0 bundle, the Sienna gains access to Pre-Collision Systems, Pedestrian Detection, a Lane Departure Alert system, and a Radar-based Cruise Control system. Some features are limited to premium models like the Woodland Edition or the XSE. These include Front and Rear Parking Assist, Automatic Braking for Parking Systems, and LATCH locations for children's seats.
WARRANTY
Toyota does offer a basic warranty package for all of its new vehicles including the Toyota Sienna. Their limited warranty plan spans 3 years or the first 36,000 miles driven, whichever comes first. Next is the powertrain warranty which lasts for 5 years with a mileage limit of 60,000 miles driven. The hybrid powertrain components are also covered by an 8-year warranty with a mileage limit of 100,000 miles. One great perk that comes with all Toyota vehicles is their complimentary maintenance plan which is available for 2 years or the first 25,000 miles driven.