Chevrolet's lineup for this year's SEMA Show in Las Vegas has been revealed, with a concept off-roader being the star of the show. Called "The Chevy Beast", it embodies Chevrolet's vision for a high-performance desert trekker.
This concept was meant to show off Chevrolet's prowess when it comes to their trucks, along with the performance of the Chevrolet Performance components on it. Designed to conquer desert terrain, it focuses more on control and performance as you race on the sands.
This four-seat off-road truck is based off a modified chassis of the Chevy Silverado, along with a custom pickup body. The engine mounted on this behemoth is a 6.2-Liter LT4 Supercharged V8 engine, capable of 650 horsepower and outputting 650 pounds-feet of torque. A 10L90 10-speed automatic transmission and two-speed transfer case channels the engine's power to all four wheels.
Its suspension system was specifically made for the rough deserts, featuring a new five-link rear suspension. It allows for 12 inches of travel at the front and 15.5 inches at the rear. 37-inch off-road tires are mounted onto 20-inch beadlock wheels. The brakes consist of Brembo disc brakes, with the front wheels equipped with six-piston calipers, all features of the Chevrolet Performance Big Brake upgrade system.
It leans more on a minimalistic style, going for more function than form. A set of Recaro performance seats with four-point harnesses keep the riders in for the ride. A pair of 7-inch LCD screens allow the driver to monitor performance data and vehicle statistics. The tubular doors and safety cage keeps the truck's weight lower, adding on to the prominent minimalist and purposeful aesthetic.
The truck itself is designed with no front or rear overhang, maximizing the angle of attack on steep grades. The large figure of this truck gives an approach angle of about 45 degrees, departure angle of 46.5, and a breakover angle of 35 degrees. On its truck bed, you'll find a pair of spare tires mounted onto it. A LED light bar, courtesy of Baja Designs, sits atop the roof. Other design elements include a custom front grille and a pair of front and rear bowtie emblems.
Jeff Trush, GM's program manager, says that "There's nothing else like The Chevy Beast." He also added that "The Chevy Beast concept sets a new standard for off-road performance."
According to Jim Campbell, the US vice president of Performance and Motorsports at GM, this concept truck takes the soaring popularity of high-performance off-road trucks and brings them to another level. "It's a vision for a new dimension of Chevrolet Performance capability from a brand that's been pioneering performance and supporting customer personalization for more than 50 years.", he adds.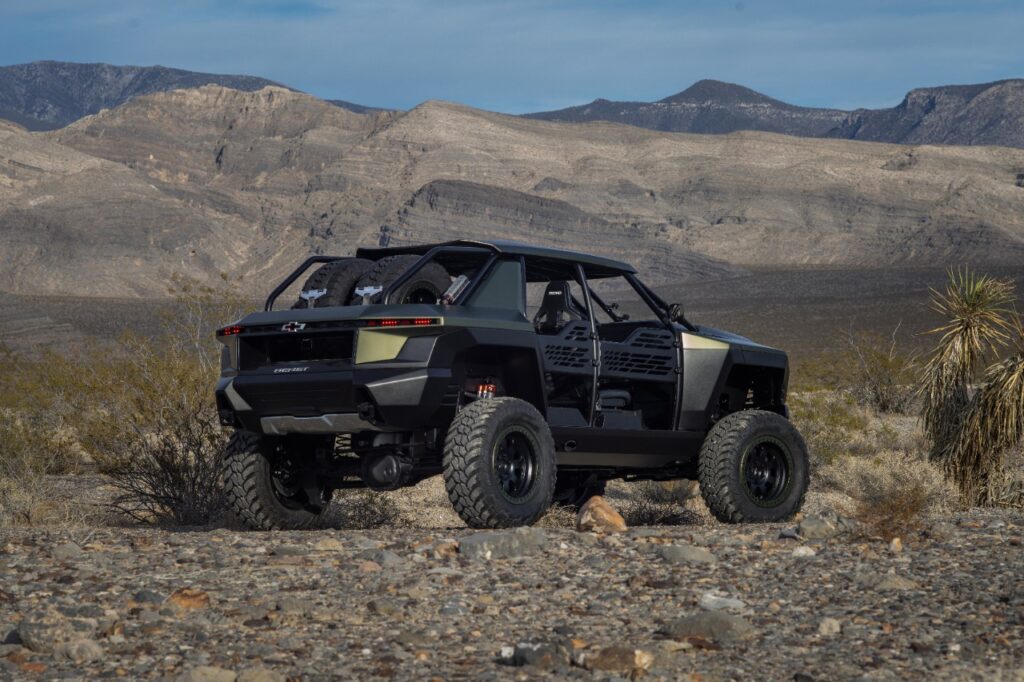 Along with this novel concept off-roader, Chevrolet is planning to feature 7 more trucks in their SEMA 2021 lineup. Although it's unlikely that the Chevy Beast will ever make it to production, those attending the SEMA Show will be in for a treat when it rolls up as part of Chevrolet's debut on the stage.