Kia has revealed their idea and vision for an all-electric SUV concept, dubbed the Kia Concept EV9, at AutoMobility LA. This is one of the newest releases in the brand's up and coming EV lineup, underlining their recent advances with designing the eco-friendly vehicles of tomorrow. This isn't just another pretty concept to look at, the hardware underneath it's stylish exterior showcases Kia's solutions for the future.
Making use of an all-electric powertrain that boasts zero-emissions, the Concept EV9 is ready to cover an electric driving range of about 300 miles. The concept SUV also makes use of a state-of-the-art fast charging system, utilizing a 350-kW charger. It can go from 10% battery to 80% in only a span of 20 to 30 minutes thanks to its advanced battery electric powertrain.
Its exterior gives off a rugged and adventurous vibe, creating an SUV silhouette that makes it look ready for the outdoors. This is further improved by various stylings such as a low gravity side body that produces strong SUV form factor. This is contrasted by the soft fuselage cabin, meant to welcome in the passengers of the EV9.
The EV9 has an interior space that's been thoughtfully designed for the passenger's comfort and experience. Described as a first-class lounge, the SUV comes with it a selection of creature comforts. The cabin of the EV9 is fitted with a panoramic roof for gazing out onto the sky, meant for a deeper connection with the surroundings. It will also come with a 27-inch ultra-wide infotainment display, serving as the console for media, cabin controls, comfort features.
Three interior modes are available for different situations on your drives: Active, Pause, and Enjoy. The Active Mode is for when the car is moving, making sure that the driving experience is absolutely optimal for the conditions. The Pause mode causes the first and third rows of seating to face each other, while the second row retracts into a table for a first-class lounge treatment. The last mode is the Enjoy Mode, which opens the tailgate and turns the third row of seats towards the great outdoors while the car is stopped.
The overall design of the Concept EV9 is based off of a "Water Element", guiding the design team's vision for the car. They aimed more for a sustainable approach, with the use of recycled materials for various elements of the EV9. From fishnets, wool fibers, and even plastic bottles, all of these were used in the flooring and seating fabrics. Vegan leather was also used for certain surfaces of the interior space, part of an initiative to reduce animal leather usage in all vehicles by Kia.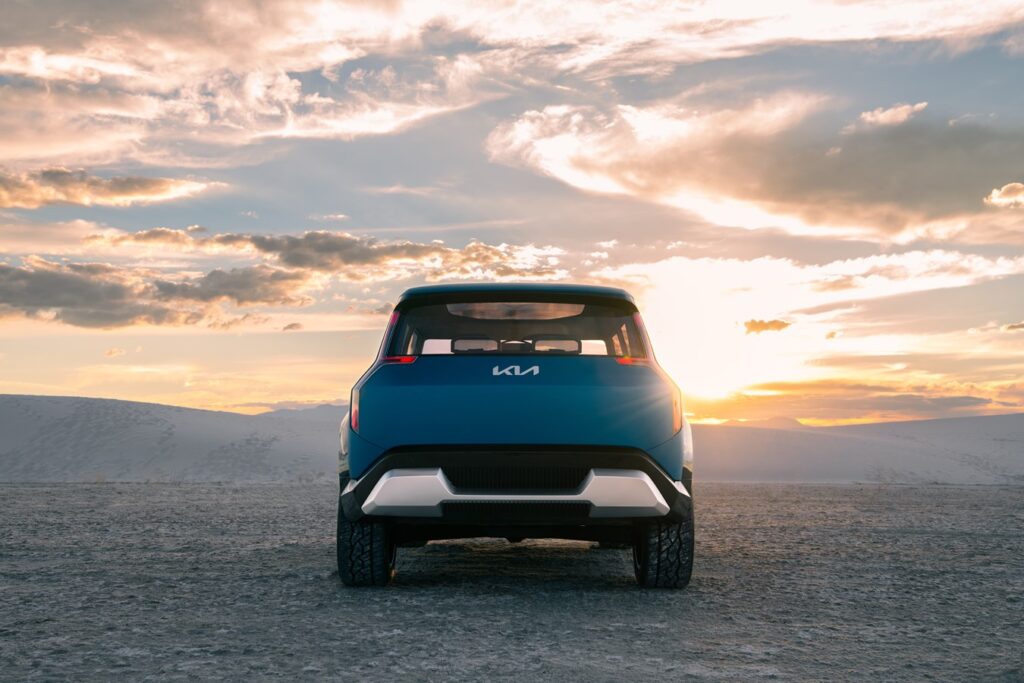 This is all in line with Kia's motion to become a leader in providing sustainable solutions within the automotive industry. With their goal to become a carbon neutral company by 2045, it makes sense their new Concept EV9 would embody some of the core philosophies that drove this ambitious task