SUMMARY
The Toyota Tundra 2022 comes as a fully loaded pickup truck with a couple of cab configurations and even a hybrid option that comes new on this model. Full-size pickup trucks are usually the forte of US domestic automakers, but the 2022 Toyota Tundra targets the fan base of Toyota lovers. Its major competitors are the RAM 1500, the Chevrolet Silverado, and the Ford.
It comes with a twin-turbo V-6 engine. This is the only option it offers, but a hybrid system can be combined to give whopping 583-pound feet of torque and 437 horsepower. The 2022 Tundra gives its American rivals many points to consider with its rear coil spring suspensions, impressive 12,000-pound tow power, and a 14-inch touch screen infotainment system included in its nicely sculptured interior. The Toyota Tundra 2022 offers a better drive experience than its competitors with these specifications and an array of driver-assisted features.
LATEST
The Tundra has been given a total overhaul after basically remaining the same since 2007. Though the 2014 model was refreshed, it still struggled against its rivals. The new Tundra may not outsell its competitors, the Ram 1500, Sierra 1500, the Silverado 1500, and the F-150. Still, with these new improvements, we should see a more competitive and desirable truck in the dealerships this winter.
ESTIMATED VALUE
Toyota has not yet released the official pricing for the Tundra 2022 model but for sure it would be a little bit expensive than the previous Tundra model which started at $32,620. It is to be estimated that the new Tundra 2022 price would range from $33,000 to $55,000. This price would vary for all six trims. So purchase recommendations would be made with in comparing the key features and for sure the price lists of all the six trims.
MACHINE PERFORMANCE
Interestingly the 2022 Tundra only comes with one engine model – a twin-turbo V6 engine complemented with a ten-speed automatic transmission. This engine, however, comes in two versions. A standard version gave 389 horsepower with 479 pound-feet of torque and a hybrid version that features an electric motor built into the transmission, allowing you to drive on pure electric at low speeds. The combination generates a combined 437 horsepower with 583 pound-feet of torque. The 2022 Tundra is now the only full-size American pickup truck that is not available in a V-8 engine.
Toyota changed the rear suspension of the Tundra 2022 from the leaf-spring type of previous models to a more refined coil-spring rear suspension to improve ride and handling in driving. Additionally, Toyota offers a new double-wishbone front and new adaptive damping suspensions to improve ride and handling further, and available air suspensions ensure proper load-levelling.
Toyota still offers the popular TRD Off-Road and TRD Sport options; the TRD Off-Road option includes an off-road suspension, skid plates, and unique wheels. The TRD Sport option consists of a lowered suspension and 20-inch wheels. The TRD Pro features exclusive dampers with lifted suspension and an amazing set of all-terrain tyres fitted with all-black 18-inch rims for maximum off-road capabilities.
FUEL EFFICIENT & ACTUAL MPG
Toyota has not yet release its fuel-economy numbers. Its flagship powertrain, dubbed the iForce Max, is an option on its Limited and Platinum editions. Toyota claims the non-hybrid engine will be more fuel-efficient than its previous V8 models and insists 2022 is much faster.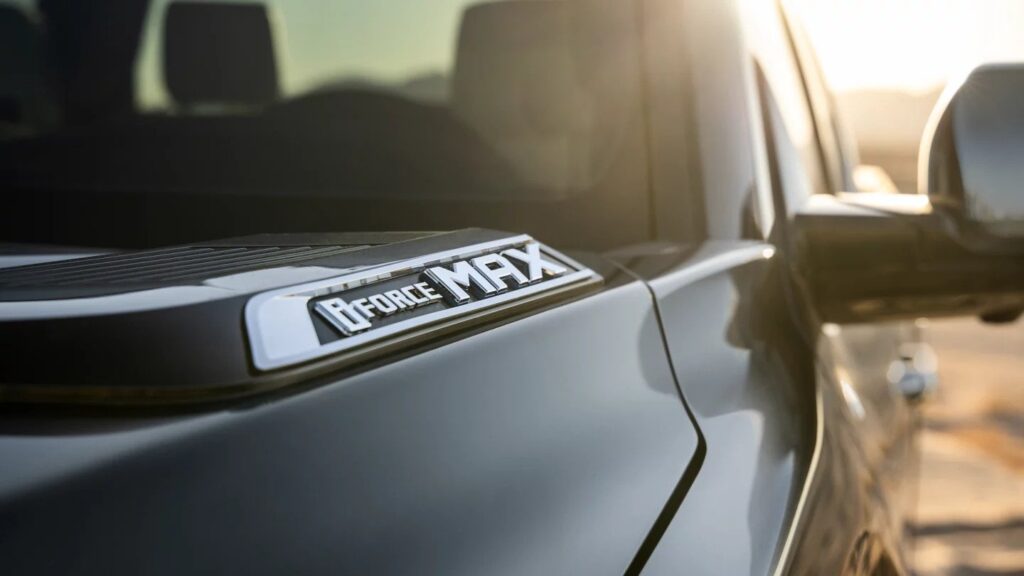 The iForce Max hybrid makes uses of an efficient motor-generator with a clutch installed between the engine and transmission to give it extra push. Toyota says this can drive the truck at speeds below 29 km/h and handle starting and power for various electrical components.
INTERIOR, SOLACE & BAGGAGE
The Interior of the Tundra is a bulky dashboard dotted with distinguished air vents and a thick, smooth centre section that connects the door panels. This generation features better materials than previously used in crafting the doors, dashboard, and centre console.
All models will have a versatile centre console, a huge centre bin, and many cubby storages. Better quality is expected with higher trim levels with top-of-the-line coming in 1794 Edition sporting wood accents; the standard instrument panel is a pair of analogue gauges with a small driver-information display. The top trim levels, however, have a slightly larger 12.3-inch digital gauge cluster.
The Tundra 2022 features four different cargo-bed lengths, which come in two body styles. The Double Cab or extended cab is available with two options of 6.5 or 8.1-footbed. The cab that houses the crew is available with either a 5.5 or 6.5-footbed.
TECHNOLOGY
The Tundra offers a regular 8.0-inch touch screen in all models. While almost every full-size pickup truck except the Nissan Titan offers touch screens that measure up to12 inches, the screen provided in the Tundra can be upgraded to a horizontally oriented 14.0-inch touch screen that beats what is provided by its rivals. The system offers Android Auto and Apple CarPlay with subscription-based Wi-Fi hotspots and numerous Toyota Connected Services plans. Dials and knobs are big enough to allow for easy control even while wearing gloves.
Drivers can configure user profiles to allow for their preferred settings. Toyota stores media and climate settings in the cloud, and drivers can now use their personalized setting options on other Toyota models that offer similar multimedia systems.
SAFETY
The Tundra 2022 shows an outstanding complement of driver-assistance technology that Toyota calls the advanced driving assistance system (ADAS), and it comprises an
Cruise control that is adaptive
A collision warning that prevents users from colliding with a vehicle in front
A technology that detects pedestrian and cyclist
An Automatic emergency braking
A Lane withdrawal warning
A Lane maintaining assistance
An Intersection turn aid,
An Evasive steering aid,
An automatic high-beam headlights
A Road-sign recognition etc.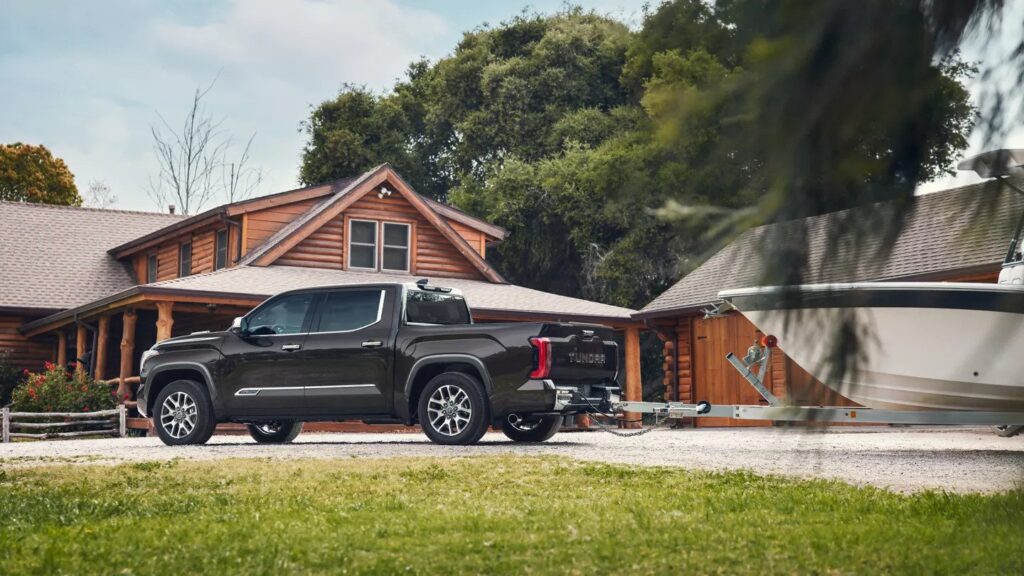 The new Tundra also comes with a well equipped blind spot warning system and trailer coverage that enables you detect if there is an oncoming trailer towards your direction which you may not easily see maybe due to bad weather and efficient rear cross-traffic warning system which makes it one of the most equipped trucks in the truck automobile market from the standpoint of a safety conscious user. The following features mark the new Toyota Tundra as a unique safety truck for the road
Excellent collision alert system
Automated engine brakes system
Lane withdrawal alert system which ensures you always stay in lane
An impressive lane maintenance assist standard adaptive cruise control
WARRANTY
Toyota offers a limited and powertrain warranty similar to what every other full-size pickup truck offers. However, Toyota has an unmatched complimentary scheduled maintenance offer. The warranty schedule is as follows: R
Regional warranty that spans three years or miles of 36,000
A Powertrain warranty that reaches up to five years or a record of 60,000 in miles
Complimentary care that spans only two years or 25,000 miles.