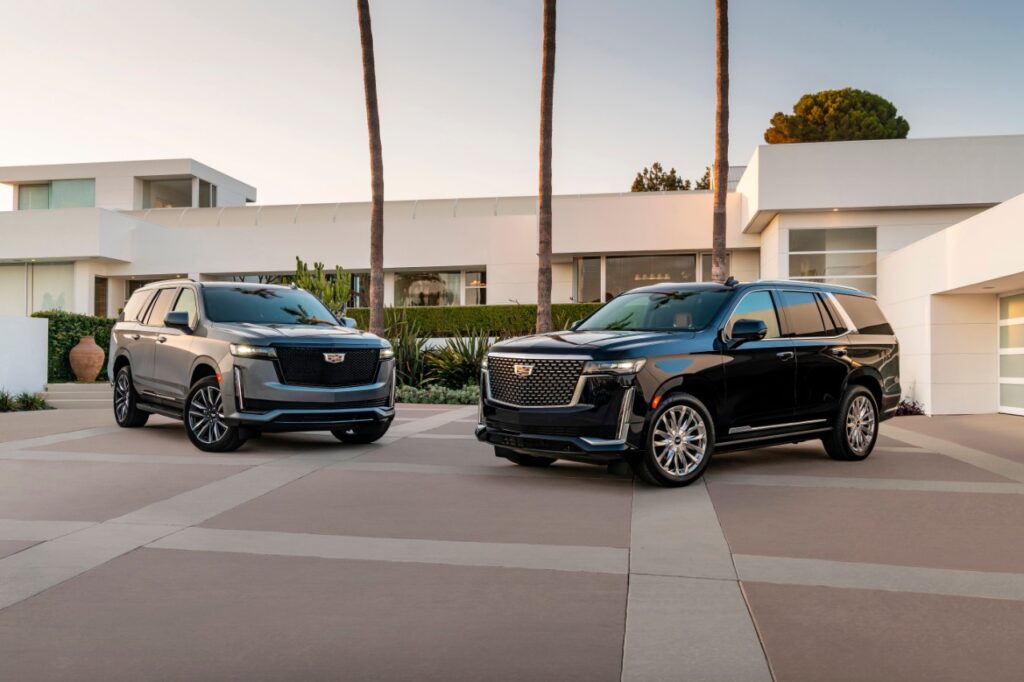 The esteemed Cadillac Escalade is one of those cars that is just instantly iconic, with this new iteration being the 5th generation of the lineup. The 2021 Cadillac Escalade is back and coming in hot, equipped with some elements of a concept car that Cadillac revealed in 2016. This 2021 Cadillac Escalade review will go through various aspects of this impressive luxury SUV. It comes with 2 engine options, an expanded third row of seating, additional cargo room, and more technology mounted onto the SUV. With Cadillac touting this generation as the most technologically advanced model, those looking for an extensive technology package will definitely be satisfied. The exterior of the 2021 Escalade has seen a slight expansion, with the 2021 model extending about 8 inches and lowering the floor. Cadillac states that these modifications to the car's dimensions have increased 10.1-inches in the leg room of the third-row.
Cadillac's flagship SUV comes with 2 engine options for buyers to choose from. The choice can either be a 6.2-Liter V8 Engine or a 3.0-Liter Duramax Turbo Diesel Engine. The V8 engine can generate up to 420 horsepower and a torque output of around 460 pounds-feet at 4100 RPM. The 3.0-Liter Diesel offers an engine output of 277 horsepower and 460 pounds-feet of torque. Acceleration for the V8 models takes about 6.0 seconds to reach 60 mph from a complete standstill. The engine noise is a deep and resounding tone, being a small teaser to the engine's roaring performance. The V8 engine has a new feature, the "Dynamic Fuel Management System" which helps to vary the number of firing cylinders. This can range from a fuel-efficient 2-cylinder operation, all the way up to a performance-enhancing 8-cylinder operation.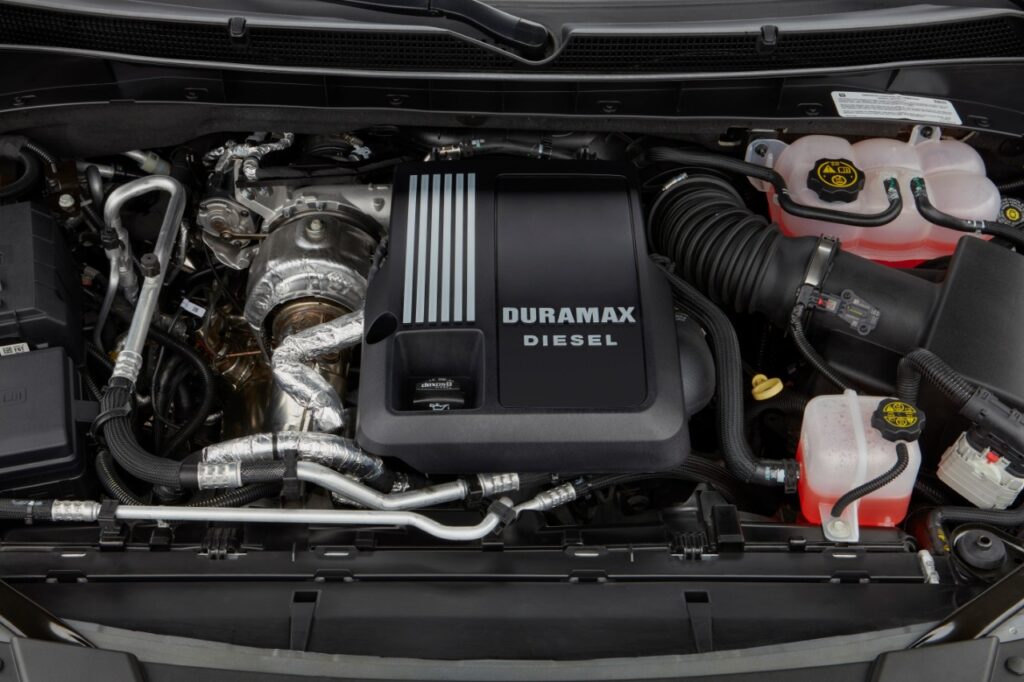 All of these engine options are paired with a 10-speed automatic transmission system, with the engine's power routed through either a rear-wheel or all-wheel drive system. The transmission is well tuned, providing a comfortable drive feel whether it's a city romp or a full-on vacation down the highway. This is further improved on by an independent rear suspension, isolating one side of the car according to road conditions. For the brake system, it makes use of a set of 4-wheel antilock disc brake, which can be monitored with a brake lining wear indicator. Handling is decently responsive and agile, aided by the electric power steering capabilities of the Escalade.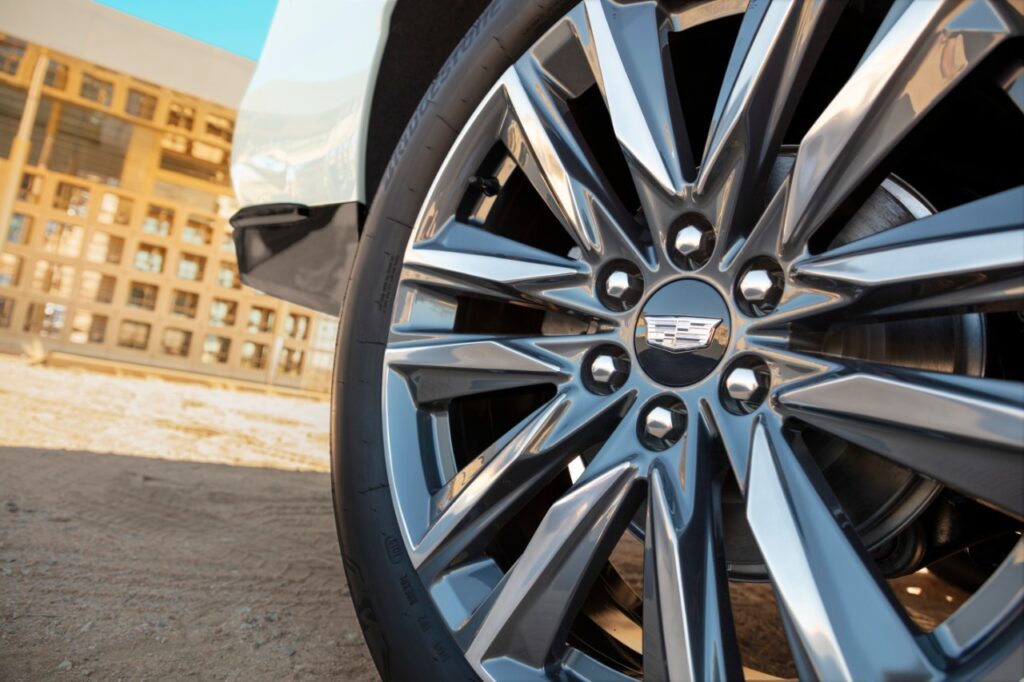 Towing is no problem for the 2021 Cadillac Escalade, having ample power for any of your towing needs with its axle ratio of 3.23 across all models. The 6.2L models can pull up to 8200 pounds with the rear-wheel model, and 8000 pounds with the All-wheel model. The diesel engine performs slightly less with 8000 pounds of towing capacity in the rear-wheel version and 7800 pounds in the all-wheel drive variant.
The 2021 Cadillac's interior has also been revamped with new styling elements and technologies. 8 exterior colors are available, with 7 of them being premium and requiring an additional cost. The standard color is Black Raven, a color scheme that's more evocative of one would imagine when they think of the Escalade. The standard seating options for the Escalade are a set of bucket seats for the first and second row, with an option for the latter to be replaced with a split-folding bench seat. The cargo capacity of the Cadillac Escalade starts off at 25.50 cubic feet with the third row deployed. However, the cargo capacity increases to 72.90 cubic feet with the third row of seating folded up. The full measure of the Escalade's cargo area is a massive 121 cubic feet. This improves on the previous generation, making the Escalade even more prepared for those long trips out of the city.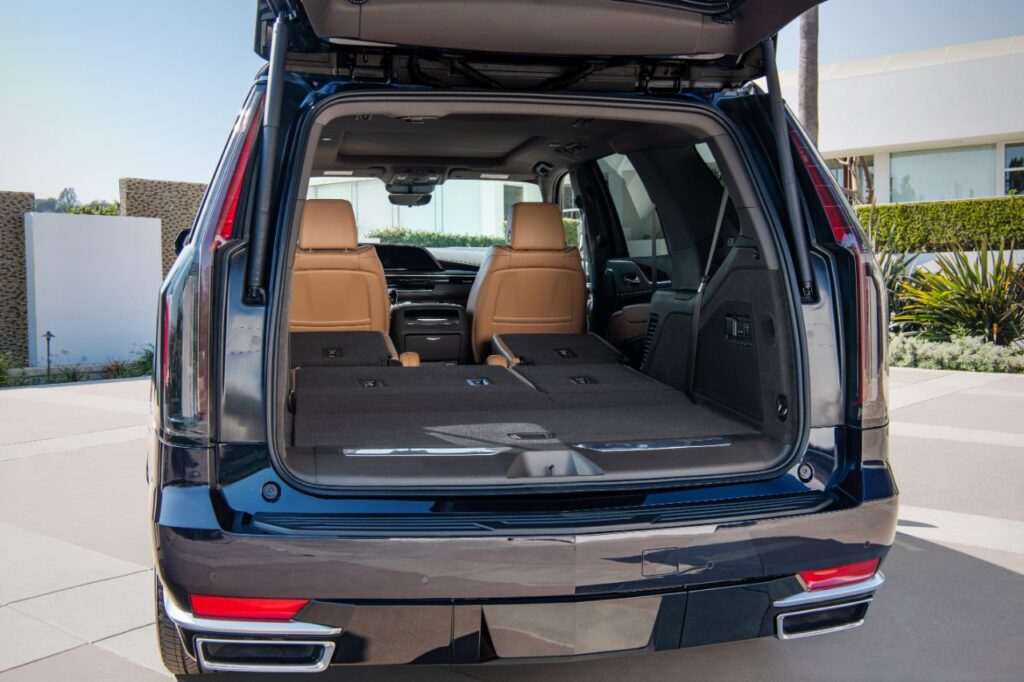 Families planning on getting a Cadillac Escalade will not be disappointed with the vast array of infotainment features it provides. A total of 38-inches of curved OLED displays, made up by 3 different displays. These are the 7.2-inch touchscreen, a 14.2-inch digital gauge cluster for the driver, and a 16.9-inch touchscreen for controlling the SUV's cabin functions and infotainment system. The digital gauge cluster is paired with a small screen that relays information on the current trip, as well as changing and controlling the information shown on the gauge cluster.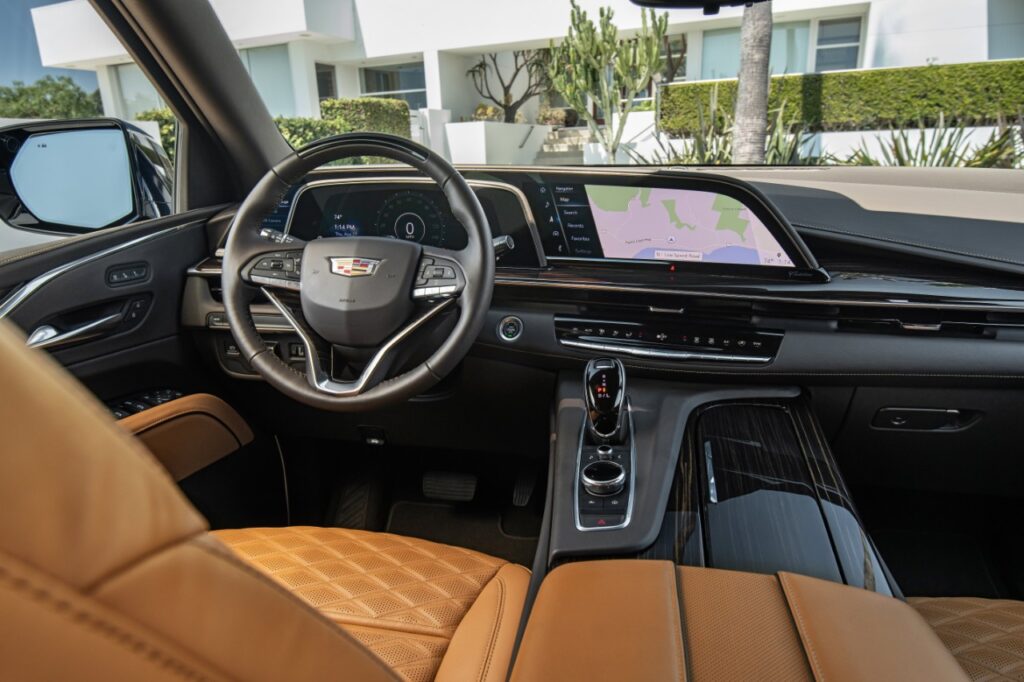 Passengers can make use of Cadillac's CUE infotainment system, equipped with Android Auto and Apple CarPlay connectivity. It also has features for Wi-fi hotspot support as a standard, along with a treat for music lovers and audiophiles alike. The brand has collaborated with AKG, a well-known audio and acoustics company, to produce the audio systems that the 2021 Escalade will be offered with. It is equipped with a 19-speaker audio setup, providing crisp and clean audio quality no matter what media is being played. Rear passenger has access to a rear entertainment system, coming with two displays that support HDMI connectivity. Various devices, such as a Nintendo Switch or a Chromecast device, can be plugged in to provide a great experience as they wait to reach their destination.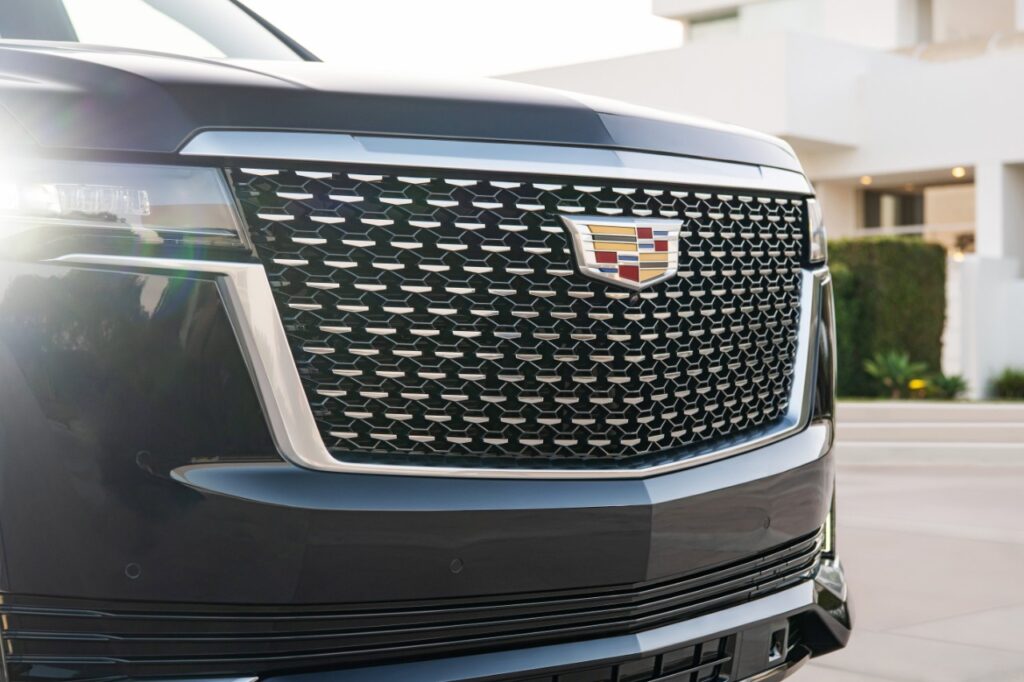 The Cadillac is an extremely fuel-thirsty SUV, with an EPA rating of 15 MPG/City, 20 MPG/Highway, and 17 MPG/Combined for the rear-wheel drive variant. The all-wheel drive variant of the Escalade has a drop of 1 mpg on all categories when compared to the RWD. The 3.0-Liter diesel engine has EPA ratings of 21 MPG/City, 27 MPG/Highway, and 23 MPG/Combined for the rear-wheel. The all-wheel variant has ratings of 20 MPG/City, 26 MPG/Highway, and 22 MPG/Combined.
A whole host of driver-assistance tech is available, with most of it being standard features. These include automated emergency braking, front and rear pedestrian detection systems, a lane-departure and keeping assist, and other features. Overall, this car does feel quite safe to drive as the experience is quite catered. NHTSA has rated the safety rating of the Escalade at 4 stars.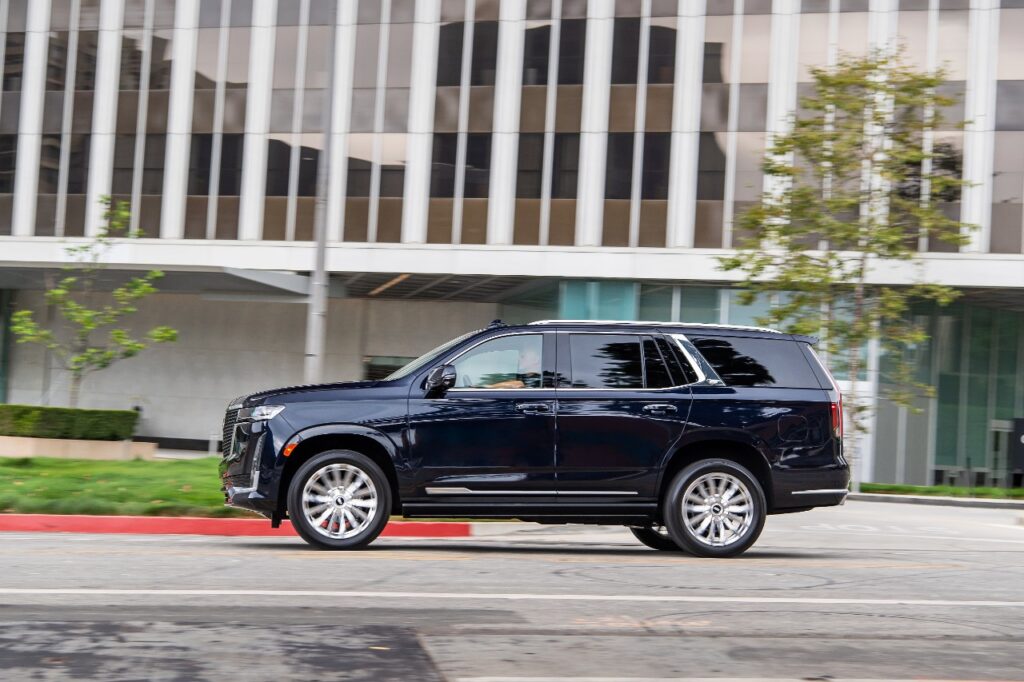 The 2021 Cadillac Escalade still maintains its position as a well-made luxury SUV that raises the bar for others to follow. With its dedication to maintaining a technological edge over the competition, as well as its imposing silhouette, this SUV makes itself distinguished in a crowd of competitors and fierce rivals. The 2021 Cadillac Escalade's price currently sits at an MSRP of $77,890* for the 4-cylinder RWD variant, with the 2021 Cadillac Escalade's Cost as an AWD rising to $80,890*. The diesel engine variant has a slightly lower price point, at $80,840* for the AWD variant and $77,840* for the RWD version. The 2021 Cadillac Escalade tends to have an average lease price of $1,132*/month, engaged in a 36-month term with annual mileage limits of 12,000 miles. There also tends to be a $2,000 down payment upon signing. More details on the pricing of the 2021 Cadillac Escalade's various trims are down below:
| | | |
| --- | --- | --- |
| Trim (Drivetrain) | RWD – MSRP* | AWD – MSRP* |
| Luxury w/ 3.0-Liter Turbo Diesel Engine | $ 77,840* | $ 80,840* |
| Luxury w/ 6.2-Liter V8 Engine | $ 77,890* | $ 80,890* |
| Premium Luxury w/ 3.0-Liter Turbo Diesel Engine | $ 84,840* | $ 87,840* |
| Premium Luxury w/ 6.2-Liter V8 Engine | $ 84,890* | $ 87,890* |
| Sport w/ 3.0-Liter Turbo Diesel Engine | $ 87,540* | $ 90,540* |
| Sport w/ 6.2-Liter V8 Engine | $ 87,590* | $ 90,590* |
| Premium Luxury Platinum w/ 3.0-Liter Turbo Diesel Engine | $ 102,240* | $ 105,240* |
| Premium Luxury Platinum w/ 6.2-Liter V8 Engine | $ 102,290* | $ 105,290* |
| Sport Platinum w/ 3.0-Liter Turbo Diesel Engine | $ 102,240* | $ 105,240* |
| Sport Platinum w/ 6.2-Liter V8 Engine | $ 102,290* | $ 105,290* |