SUMMARY
The 2022 Audi A3 continues forward with one of the brand's most well-known sedan lines. Coming straight from a 1-year hiatus, it returns with improved handling and the same joyous experience that drivers expect from the A3. There are even improvements to the standard features that come with every configuration, leaning towards a more technologically advanced setup for drivers and passengers to enjoy. Overall, it's one of the best choices buyers have got when it comes to a sedan that delivers in every single category. This 2022 Audi A3 review will look into the specs and features that make it a great choice for the 2022 model year, even after its year-long break.
LATEST
Since the 2022 Audi A3 skipped 2021, there's been a lot of improvements made to the styling and tech features that come with the A3. One important piece of news about the A3 is that it will only be sold within the North American market as a sedan. The Global and European markets will get a hatchback model instead of the sedan.
ESTIMATED PRICE
The 2022 Audi A3 price point varies according to which of the 3 different trim levels are available for buyers. First is the Premium model which has the standard set of features available on all models of the A3. Next is the Premium Plus which comes with improved driver-assistive technologies and safety features. The Prestige model has special Matrix-design LED headlights and a premium audio system as some of the new features it carries. The roster of 2022 Audi A3 colors includes options such as Atoll Blue Metallic, Tango Red Metallic, Mythos Black Metallic, and many others. Overall, the number of options that drivers can choose from reaches all the way up to 9 different colorways. Below is our 2022 Audi A3 cost table detailing the different starting MSRPs of each configuration:
| | |
| --- | --- |
| Trim (Drivetrain) | MSRP* |
| 2022 Audi A3 Premium FWD S tronic | $34,800* |
| 2022 Audi A3 Premium quattro AWD S tronic | $36,800* |
| 2022 Audi A3 Premium Plus FWD S tronic | $38,100* |
| 2022 Audi A3 Premium Plus quattro AWD S tronic | $40,100* |
| 2022 Audi A3 Prestige FWD S tronic | $42,100* |
| 2022 Audi A3 Prestige FWD quattro AWD S tronic | $44,100* |
If you're looking for a lightweight and easy way of financing any of Audi's vehicles, then their leasing program might be the right choice for you. The 2022 Audi A3 lease price is available on their website alongside other financing options available. Make sure to check out their resources and the list of preferred car dealers to ensure you're getting the best deal for your money.
MACHINE PERFORMANCE
The 2022 Audi A3 specs sheet shows that all models and configurations make use of a 2.0-Liter Inline 4-Cylinder Engine. With its engine, the 2022 Audi A3 horsepower figures reach up to 201 horsepower while also producing a torque output of 221 pounds-feet. It takes 6.6 seconds for it to reach 60 mph from a standstill and has a top speed of 130 mph. The transmission found on all 2022 Audi A3 models is a 7-speed S tronic dual-clutch automatic system. Drivers have a choice between front-wheel drive and all-wheel drive for the drivetrain system. The brakes are electromechanical while the suspension is managed by a McPherson Strut at the front and a Four-link independent setup at the rear. The brand has improved the handling of the Audi A3 with it being assisted by a speed-dependent power assist.
FUEL EFFICIENT & ACTUAL MPG
The EPA has already released its estimates for the fuel efficiency of the 2022 Audi A3 and its different drivetrain options. The quattro AWD model saves around $1,750 within a 5-year timeframe while the FWD A3 saves $2,000. Each model comes with a fuel tank capacity of 13.2 gallons and takes in Regular Unleaded Gasoline. Below are the MPG scores attained by the 2022 Audi A3:
| | | | |
| --- | --- | --- | --- |
| Trim Mileage Estimates | City/mpg | Highway/mpg | Combined/mpg |
| 2022 Audi A3 FWD S tronic | 29 | 38 | 32 |
| 2022 Audi A3 Quattro AWD S tronic | 28 | 36 | 31 |
INTERIOR, SOLACE & BAGGAGE
The 2022 Audi A3 interior takes on a more laidback approach as it lets go of unique features found in the cabins of other Audi products. Although everything's still laid out in a mindful and ergonomic manner, the more intricate material work done within the standard cabin is mostly just stitching and other details. The A3 has a passenger capacity enough for 5 people with a respectable amount of space for both front and rear passengers. For cargo, drivers have around 10.9 cubic feet of space to work with. This should be enough for shorter trips out of the city but it won't cut it when you're having to haul back large amounts of groceries or luggage.
TECHNOLOGY
The 2022 Audi A3's infotainment system starts with the MMI 10.1-inch touchscreen display alongside a digital gauge cluster for the driver's usage. Android Auto and Apple CarPlay come as standard to the A3 alongside Bluetooth features for wireless usage of your phone. The A3 also comes with a limited-time subscription to the Audi connect CARE assistance and security services suite, offering drivers different features that they can make use of anywhere on the road. The audio system found on the 2022 Audi A3 is a 15-speaker setup that's sourced from Bang & Olufsen. It's capable of 680 watts and turns the cabin of the A3 into a prime listening hub for any music you pump into the speakers.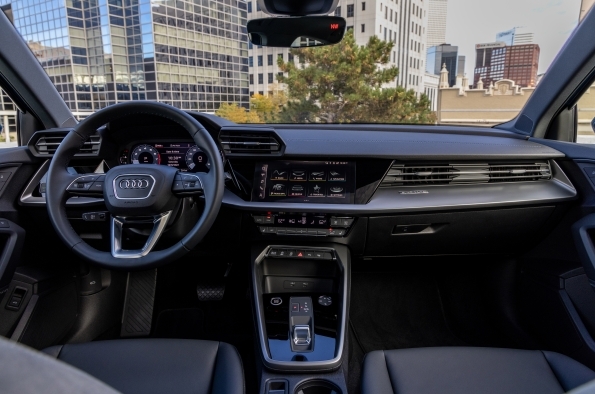 SAFETY
Although the NHTSA hasn't released any safety data for the 2022 Audi A3, we do know that it comes with a respectable suite of safety and driver-assistive features. An example is the Audi Pre Sense Basic suite which comes with pre-collision safety belt tightening. The Audi A3 also comes with Electronic Stability Control, a Tire-pressure monitoring system, High beam assists, and a Rearview Camera system.
WARRANTY
Audi has a set of standard warranty programs which offer just about the same perks as that of other luxury automotive manufacturers. First, the Limited Warranty they offer spans 4 years or 50,000 miles, whichever comes first. Next is the Powertrain Warranty which lasts the same amount of time: 4 years with a mileage limit of 50,000 miles. The company has yet to offer any packages or perks that come with complimentary scheduled maintenance.