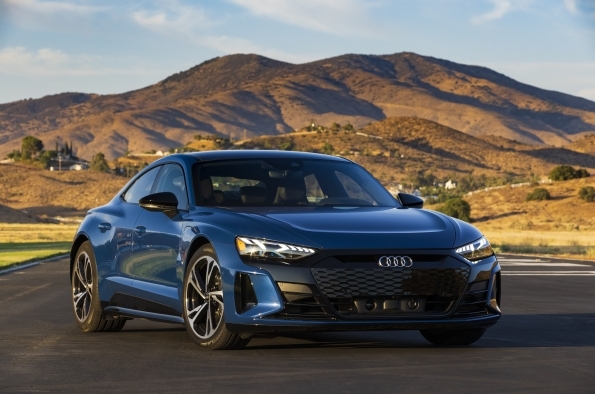 SUMMARY
Looking for an EV that's got the style and performance to race through the competition? The 2022 Audi e-tron GT should be a car that's on your wishlist then. Its powertrain has got some amazing performance with the electrified powertrain being easy and quick to charge. The interior cabin is filled with fine design work and a ton of desired technology features. It's a good choice when comparing it to other EV models available on the market right now. This 2022 Audi e-tron GT review will look into the specs and features that make this chiseled EV sedan a fine choice for those who want a good experience with an electrified Audi product.
LATEST
For 2022, the Audi e-tron GT is the latest in the brand's push toward an EV product line. It joins the SUV and Sportback EVs that Audi already sells and makes use of a similar dual-motor setup.
ESTIMATED PRICE
The 2022 Audi e-tron GT price point is split between the 2 trim levels available for the 2022 model year. The Premium Plus models treat the front passengers with heated seats that come with power-adjustability features. The Prestige Audi e-tron GT improves the package with the addition of desirable driver-assistive technologies and an improved infotainment system. The roster of 2022 Audi e-tron GT colors includes different metallic schemes such as Florett Silver, Ascari Blue, and Tango Red. The total number of choices that drivers can pick from reaches 9 different colorway options. Below are the different starting MSRPs for each of the 2022 Audi e-tron GT configurations:
| | |
| --- | --- |
| Trim (Drivetrain) | MSRP* |
| 2022 Audi e-tron GT Premium Plus e-tron GT quattro | $102,400* |
| 2022 Audi e-tron GT Prestige e-tron GT quattro | $109,600* |
The 2022 Audi e-tron GT lease price can be found on the company's official website alongside information regarding preferred car dealers around your area. This can be a good option for those who want a more manageable way to finance their dream vehicle. Make sure to do your research and figure out which features you want to add to your car.
MACHINE PERFORMANCE
The 2022 Audi e-tron GT specs sheet shows that all 2022 Audi e-tron GT configurations make use of 2 synchronous electric motors in a fully electrified powertrain setup. Without boost mode, the engines create 469 horsepower and a torque output of 464 pounds-feet. With boost mode, the power output is raised to 522 horsepower and 472 pounds-feet of torque. All models come with the quattro all-wheel drive system with the transmission being a single-speed system for the front and a two-speed automatic system for the rear. It comes with torque vectoring features that help deliver torque to each wheel as it's needed. The 2022 Audi e-tron GT top speed reaches 152 mph while the 2022 Audi e-tron GT 0-60mph sprint time takes around 3.9 seconds in total.
BATTERY LIFE
The battery pack used by the 2022 Audi e-tron GT is rated at 93 kWh and is composed of Lithium-ion. It has a dual-port setup on either the passenger or driver's side. With a 9.6 kWh AC current, charging times take around 10 hours and 30 minutes.
FUEL EFFICIENT & ACTUAL MPG
With the EPA's release of fuel estimate scores for Audi's lineup, we've found that the Audi e-tron GT is a great choice for those looking for a luxurious yet fuel-efficient car. The 2022 Audi e-tron GT mileage stats give it an electrified driving range of 238 miles and saves around $8,500 within a 5-year timeframe when it comes to fuel costs. Below are the MPG scores that's been given to the 2022 Audi e-tron GT:
| | | | |
| --- | --- | --- | --- |
| Trim Mileage Estimates | City/mpg | Highway/mpg | Combined/mpg |
| 2022 Audi e-tron GT (AWD) | 81 | 83 | 82 |
INTERIOR, SOLACE & BAGGAGE
The 2022 Audi e-tron GT interior is made to be a wonderful mix of design stylings and functional additions. The material work done on the cabin is quite upscale compared to other options and comes with optional features for leather upholstery. The passenger capacity of the Audi e-tron GT is enough for 5 people thanks to the 3-seater rear bench. We've found that passengers get a lot of space to move around but taller passengers at the rear may find the headroom to be a bit cramped. The cargo capacity of the 2022 Audi e-tron GT stands at around 9.2 cubic feet of space. Compared to its rivals, the storage capacity is a bit lacking but is made up for with the addition of the front trunk. You could also place luggage behind the rear seats should you need more space.
TECHNOLOGY
The MMI Navigation Plus system is the main attraction when it comes to the highly-advanced infotainment system of the 2022 Audi e-tron GT. Its smartphone interface comes with Android Auto and Apple CarPlay connectivity alongside Bluetooth features for both wireless phone usage and media streaming. There's also a built-in Navigation Plus system that comes with Audi Connect which allows for usage of the company's connected services suite. The audio system of the e-tron GT varies with the Premium Plus model having a standard audio setup while the Prestige gets one that's sourced from Bang & Olufsen.
SAFETY
The NHTSA or other car safety authorities have not yet released public data regarding their reviews of the 2022 Audi e-tron GT. However, we do have some idea of the safety and driver-assistive features that come with this EV. Both configurations come with Lane Departure Warning, Rear Cross Traffic Assists, an Adaptive Cruise Control, Traffic Sign Recognition, and other desirable features.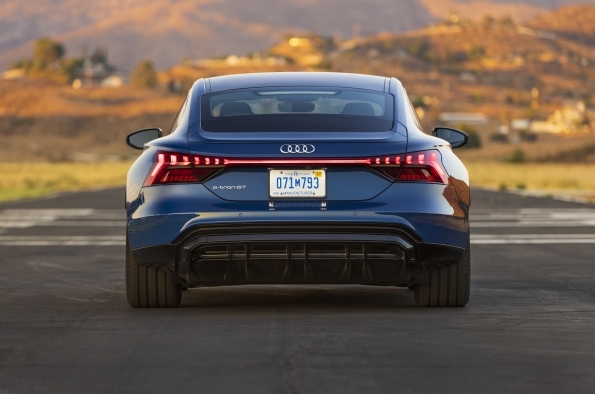 WARRANTY
When it comes to the warranty package offered by Audi, its terms and perks are about the same as that offered by other brands. They have a limited warranty coverage that lasts 4 years or the first 50,000 miles driven, whichever comes first. Next is their powertrain warranty that spans 8 years with a mileage limit of 100,000 miles. The company has yet to offer any package which has complimentary scheduled maintenance as a perk.