SUMMARY
Audi's SUV lineup comes in all sorts of shapes and sizes. The 2022 Audi Q3 happens to be the smallest of the SUV line but offers a lot of the same luxuries and performance metrics. It sports a handsome exterior and an interior that's been thoughtfully laid out with high-quality materials and an easy-to-use layout. Although cargo capacity is a bit on the lesser side, it's got a perky drive feel that's great for urban driving or out-of-town trips. This 2022 Audi Q3 review will look into the specs and features that make this smaller SUV a big competitor to big players in the market.
LATEST
Even the most budget-friendly option within the 2022 Audi Q3 line gets some brand-new features for this model year. Improved safety features and interior design elements have been added for drivers to enjoy. There have also been some updates to the lineup's "Convenience Package" with the addition of power-adjustable seating and even remote garage door controls. With the Premium Plus, drivers can enjoy a surround-view camera setup and a new brown wood color scheme.
ESTIMATED PRICE
The 2022 Audi Q3 price point is split between the 4 configurations made available to buyers. Both the 40 and 45 TFSI models come with the same powertrain but differ with the presence of an S line styling kit and a specialized driving mode called "S mode". All models also come with a powered panoramic sunroof and a respectable array of interior features and infotainment technologies. The roster of 2022 Audi Q3 colors includes options such as Pulse Orange, Ibis White, and Turbo Blue. There are a total of 8 different exterior colorways available for the Audi Q3 lineup. Below is our 2022 Audi Q3 cost table which details the different starting MSRPs of the different vehicles:
| | |
| --- | --- |
| Trim (Drivetrain) | MSRP* |
| 2022 Audi Q3 Premium (40 TFSI) | $36,400* |
| 2022 Audi Q3 Premium (45 TFSI) | $38,700* |
| 2022 Audi Q3 Premium Plus (40 TFSI) | $39,700* |
| 2022 Audi Q3 Premium Plus (45 TFSI) | $42,000* |
As with all of Audi's vehicles, the 2022 Audi Q3 lease price can be found on their official website. From there, you can also check out other financing options and the benefits you get through Audi's Financial Services. Make sure to contact them and work with your preferred car dealer to ensure you're getting the most value out of your purchase.
MACHINE PERFORMANCE
The 2022 Audi Q3 specs sheet shows that both models come with a Turbocharged 2.0-Liter 4-Cylinder engine that's paired with an 8-speed Tiptronic AT transmission and the quattro all-wheel drive system. With the powertrain providing the right amount of power for the SUV, the 2022 Audi Q3 hp output reaches 184 horsepower for the 40 TFSI and 228 horsepower for the 45 TFSI.
FUEL EFFICIENT & ACTUAL MPG
Fuel efficiency seems to be a focus for the various 2022 Audi Q3 models as the MPG scores released by the EPA place it in a similar spot as other rivals. The regular Q3 models tend to rate higher by 2 MPGs across all categories while the S/45 TFSI models get better performance for slightly diminished fuel usage. Both models have a fuel tank capacity of 15.9 gallons and take in Regular Gasoline. Below are the various MPG scores received by the different models of the 2022 Audi Q3:
| | | | |
| --- | --- | --- | --- |
| Trim Mileage Estimates | City/mpg | Highway/mpg | Combined/mpg |
| 2022 Audi Q3 (40 TFSI Models) | 23 | 30 | 26 |
| 2022 Audi Q3 (45 TFSI Models) | 21 | 28 | 24 |
INTERIOR, SOLACE & BAGGAGE
Considering the cabin's ergonomic layout and the quality material work that's been done, we feel that the 2022 Audi Q3 interior is quite the upgrade from previous versions. Leatherette armrests, a standard panoramic sunroof, and an interior lighting suite make the cabin feel a lot more homely than expected. The 2022 Audi Q3 passenger capacity has enough seats for 5 people. All seats come with standard leather seating surfaces while the front passengers get to enjoy heating features. The 2nd row is a split-folding 40/20/40 rear seatback. The cabin also hosts a three-zone automatic climate control system to allow for a comfortable riding experience. For the Q3's cargo capacity, the company says that the cargo volume measures up to 23.7 cubic feet with the rear seatbacks deployed. With the rear seating folded up, the cargo volume expands to 48.0 cubic feet of space.
TECHNOLOGY
The infotainment system found on the 2022 Audi Q3 starts with a 8.8-inch MMI display from which you can access your messages and music playlists. Android Auto and Apple CarPlay connectivity come as standard on all models alongside Bluetooth features that allow for media streaming and wireless phone usage. A free 3-month SiriusXM trial subscription is available for drivers to enjoy, enabling them to connect with Pandora Stations and listen to ad-free music. The sound system of the Audi Q3 is composed of a standard 10-speaker layout with an integrated subwoofer and an amplifier. Higher models get the choice to upgrade to the Sonos Premium Sound System which comes with 15 speakers and a 16-channel amplifier for clearer audio quality.
SAFETY
The 2022 Audi Q3 has already been rated by the NHTSA as a prime candidate for families and safety-conscious drivers with its 5-star safety rating. We've found the safety and driver-assistive suite of the 2022 Audi Q3 to be ample enough for daily driving scenarios. Some standard features include pre-collision belt tightening, Hill Descent Control, Front and Rear Parking Assists, and a 130mph top-speed limiter. Higher-tiered models come with additional safety technologies such as an Adaptive Cruise Control System, Lane Guidance Features, and a Bird's Eye View Camera System which displays the surroundings virtually.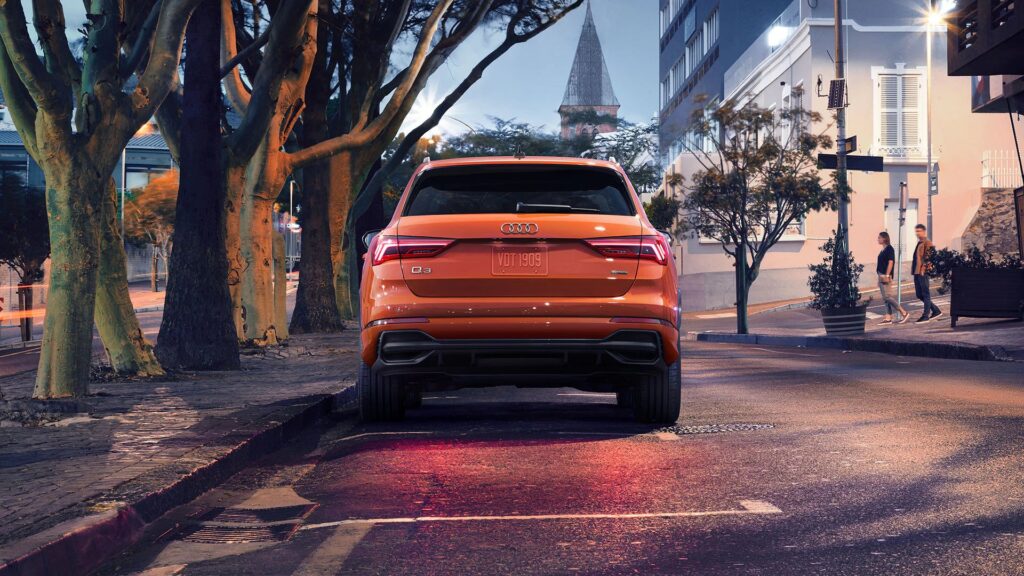 WARRANTY
The warranty package offered to all new owners of the 2022 Audi Q3 is solid as every perk is comparable to what other manufacturers offer. Both the limited and powertrain warranty plans come with a 4-year term with a mileage limit of 50,000 miles. The company has yet to offer any package or plan that comes with complimentary scheduled maintenance as a perk.