SUMMARY
The Luxury EV market is expanding outwards with the rise of commodity and fuel prices. Families want a car that helps ease their fuel costs while providing the same range and utility as a conventional vehicle. That's where the 2022 Audi Q4 Sportback e-Tron shines as a reliable option for all sorts of drivers. It comes with a decent powertrain and a battery pack that delivers good mileage on a full charge. With tons of interior and technological features, you won't get bored of this car anytime soon. This 2022 Audi Q4 Sportback e-Tron review will look into the specs and features that make it a great contender in the electrified vehicle market for this model year.
LATEST
The 2022 Audi Q4 Sportback e-Tron is a brand-new model for the 2022 model year. With this, the Q4 Sportback e-Tron is one of the newest additions to the company's growing EV lineup.
ESTIMATED PRICE
The 2022 Audi Q4 Sportback e-Tron price point varies with the 3 trim levels made available to buyers. The Sportback models come with the same perky powertrain setup found on its sedan counterpart. The interior is packed with a well-equipped infotainment system and a standard set of safety features. Higher-end models gain access to additions such as a heated steering wheel and even a premium sound system. The roster of 2022 Audi Q4 Sportback e-Tron colors includes options such as Pebble Gray, Glacier White, Mythos Black, and Navarra Blue. The first option comes standard while all subsequent color schemes add $595 to the build price. Below are the various starting MSRPs for each of the 2022 Audi Q4 Sportback e-Tron configurations:
| | |
| --- | --- |
| Trim (Drivetrain) | MSRP* |
| Audi Q4 Sportback e-Tron Premium | $52,700* |
| Audi Q4 Sportback e-Tron Premium Plus | $56,800* |
| Audi Q4 Sportback e-Tron Prestige | $60,300* |
Should you be looking for an easier way of financing your new vehicle, you could look over some of the benefits that are found on the Audi Financial Services page. You can also find the 2022 Audi Q4 Sportback e-Tron lease price on their official website alongside other financing options and a list of preferred car dealers. Make sure to check these resources out to ensure you're getting the best deal you can!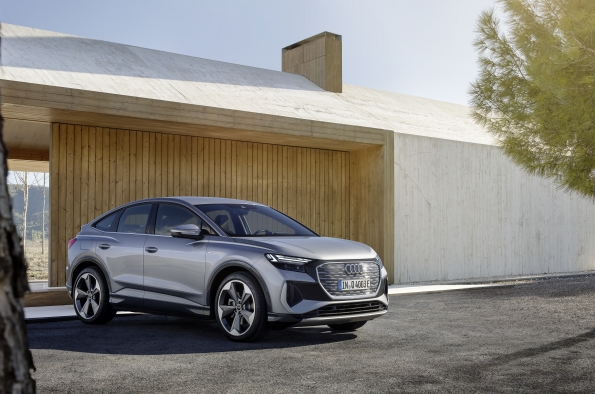 MACHINE PERFORMANCE
The 2022 Audi Q4 Sportback e-Tron specs sheet shows that all models make use of a rear permanently excited synchronous motor and a front asynchronous motor setup. With this, the Q4 Sportback e-Tron can reach power outputs of 295 horsepower while maintaining good handling and control with its speed-dependent power steering system. The 2022 Audi Q4 Sportback e-Tron0-60 sprint time takes around 5.8 seconds with the 2022 Audi Q4 Sportback e-Tron top speed reaching about 112 mph. All this is paired with a single-speed automatic transmission system and the company's quattro all-wheel-drive setup. The front suspension is a McPherson Strut design while the rear is a Four-link design.
BATTERY LIFE
The Q4 Sportback e-Tron makes use of a Lithium-ion battery pack which is rated at 82 kWh. With a charging time of 9 hours on a standard 9.6 kW AC outlet, you'll still need to plan out charging times according to your trip schedule. The 2022 Audi Q4 Sportback e-Tron range reaches up to 241 miles on a full charge.
FUEL EFFICIENT & ACTUAL MPG
The EPA has released the MPGe metrics of the 2022 Audi Q4 Sportback e-Tron which shows the efficiency of the electrified powertrain setup. With the 2022 Audi Q4 Sportback e-Tron range reaching up to 241 miles, drivers worried about their fuel usage will see massive savings with this vehicle. Charging times do take overnight to complete on a standard outlet so make sure to plan your trips accordingly. Below are the MPG scores attained by the 2022 Audi Q4 Sportback e-Tron:
| | | | |
| --- | --- | --- | --- |
| Trim Mileage Estimates | City/mpg | Highway/mpg | Combined/mpg |
| 2022 Audi Q4 Sportback e-Tron | 100 | 89 | 95 |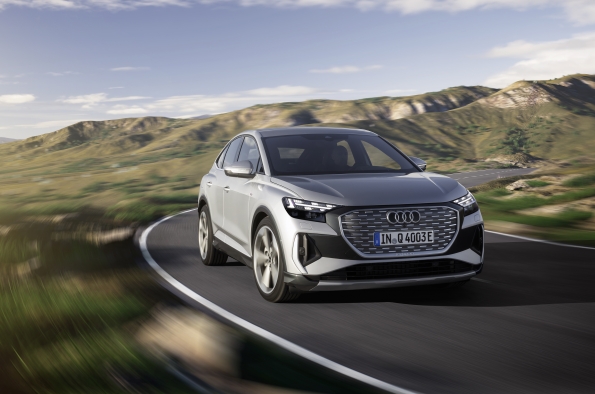 INTERIOR, SOLACE & BAGGAGE
The 2022 Audi Q4 Sportback e-Tron interior cabin is much like its sedan counterpart. With a great roster of features and the latest technologies that the brand can field, you'll surely be getting your money's worth. The passenger capacity of the Sportback has enough seating for 5 passengers with leatherette armrests and leather seating surfaces adorning the front and rear rows. Front passengers get additional luxuries such as heating elements while the rear seatbacks can be split-folded in a 40/20/40 manner. Another excellent addition to the interior design of the 2022 Audi Q4 Sportback e-Tron is the option for dual-pane acoustic glass on the front side windows. This allows for better noise control which gives way to a more comfortable ride experience. The cabin also comes with many compartments and bottle holders for stowing smaller items. Larger loads can be kept at the rear with the seatbacks capable of being folded for more space.
TECHNOLOGY
The infotainment system found on the Q4 Sportback e-Tron starts with an MMI touch response display. Drivers can also use the brand's virtual cockpit for checking up on vehicle information in real time. The car's smartphone interface allows for both Android Auto and Apple CarPlay connectivity alongside Bluetooth features for streaming and wireless phone usage. Higher-end models even get a 6-month trial for Audi connect PRIME and PLUS, allowing for certain online services. The sound system found on the base model is composed of a 10-speaker setup that's capable of producing 180 watts. On higher-end models, an upgrade to a SONOS premium sound system is available which swaps everything out for a 19-speaker layout paired with a 16-channel amplifier unit. This new sound system is capable of producing 755 watts while delivering crystal-clear audio quality.
SAFETY
The Audi Q4 Sportback e-Tron has not been thoroughly reviewed by the NHTSA or other relevant safety authorities, the Q4 does offer several standard safety and driver-assistive technologies. These include pre-collision belt tightening, automated emergency braking, traffic sign recognition, and even automated sensors for parking at the front and rear. Higher trim levels gain access to the Audi Adaptive Cruise Control system alongside Traffic Jam Assist features. This system also comes with lane guidance, automated distancing, and lane centering features.
WARRANTY
Along with the other vehicles in the company's "e-Tron" lineup, the Q4 Sportback e-Tron gets an additional electric component warranty alongside standard offerings. The Limited and Powertrain Warranty packages span 4 years and have a mileage limit of 50,000 miles driven, whichever comes first. The previously mentioned Electric Component Warranty lasts for 8 years with a mileage limit of 100,000 miles. Audi has yet to offer any package or perk that comes with complimentary scheduled maintenance services.