SUMMARY
If you're looking for an SUV that comes with all the glitz and glamour of a limo, then the 2022 BMW X7 is for you. It's got a great set of engine options, a nice interior cabin, and a technology package that's sure to wow any passenger. Lastly, the BMW X7 comes with tons of upscale material elements that help to solidify its luxurious nature. This 2022 BMW X7 review will look into the specs and features that make it a lovely SUV that isn't afraid to go faster than the competition.
LATEST
There are only a few changes made to the various packages available for the 2022 BMW X7. This includes the addition of enhanced Bluetooth as standard along with automatic sunshades for the M50i. The Dynamic Handling Package now includes rear-wheel steering for the xDrive40i.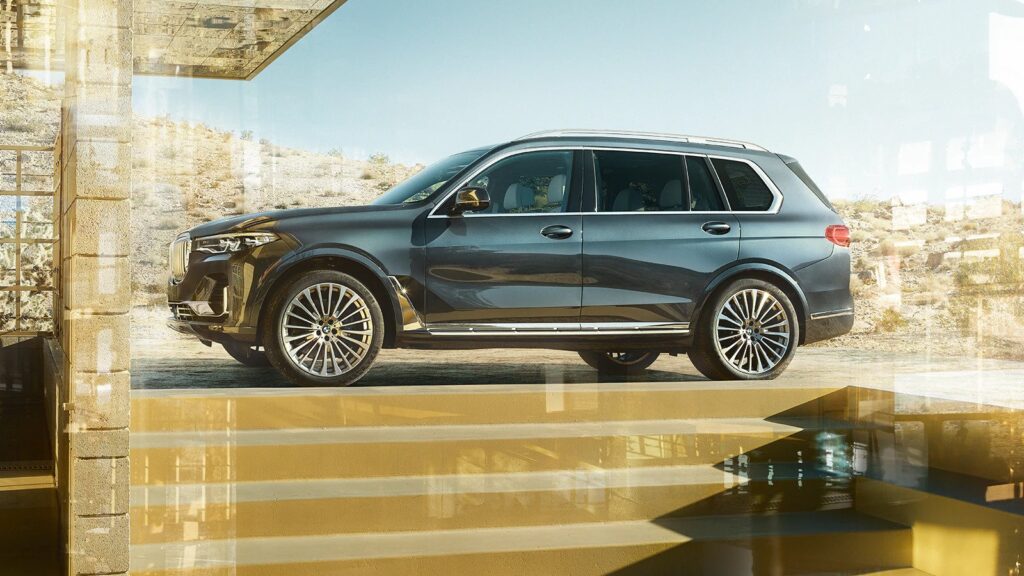 ESTIMATED PRICE
The 2022 BMW X7 price point varies according to which of the 3 models you choose to purchase. The core model for the X7 lineup is the X7 xDrive40i, already coming with stylish wheel options and a 3-row seating layout alongside other features. Next is the M50i which you could describe as the regular X7 on but better as it sees improvements to both its powertrain and performance metrics. The last of the models is the Alpina XB7, the choice for those drivers who want the best performance stats, the best interior amenities, and the best ride experience. The roster of 2022 BMW X7 colors includes options such as Tanzanite Blue II Metallic, Mineral White Metallic, Alpine White, and Arctic Grey Metallic. Unique color schemes are available for the higher-end trim levels. Below are the starting MSRPs for each model of the 2022 BMW X7:
| | |
| --- | --- |
| Trim (Drivetrain) | MSRP* |
| 2022 BMW X7 xDrive40i | $74,900* |
| 2022 BMW X7 M50i | $99,800* |
| 2022 BMW X7 Alpina XB7 | $141,300* |
BMW does offer a leasing program for drivers who want an alternate option to get their dream SUV. The 2022 BMW X7 lease price can be found on their official website alongside other financing deals available. Make sure to check their site and with your preferred car dealer for more information.
MACHINE PERFORMANCE
The 2022 BMW X7 specs sheet shows that the lineup makes use of 3 different powertrain systems. The xDrive40i makes use of a 3.0-Liter BMW M TwinPower Turbo Engine with a 48V Mild Hybrid System supplementing it. The engine produces a total horsepower output of 335 and a torque output of 331 pounds-feet. The M50i uses a 4.4-Liter BMW M TwinPower Turbo V8 Engine. This model has a power output of 523 horsepower while the torque output rounds out to 553 pounds-feet. Finally, the X7 Alpina XB7 uses a 4.4-Liter BMW ALPINA Bi-Turbo V8 that helps it reach 612 horsepower and a torque level of 590 pounds-feet. Each of the 2022 BMW X7 Configurations performs impressively on the road. The xDrive40i has a top speed of 130 mph and an acceleration sprint time of 5.8 seconds. The next model, the M50i, travels at 130 mph max as well but has a sprint time of 4.5 seconds instead. Lastly, the Alpina XB7 raises the 2022 BMW X7 top speed all the way up to 180 mph while the 2022 BMW X7 0-60 sprint time takes around 4.0 seconds.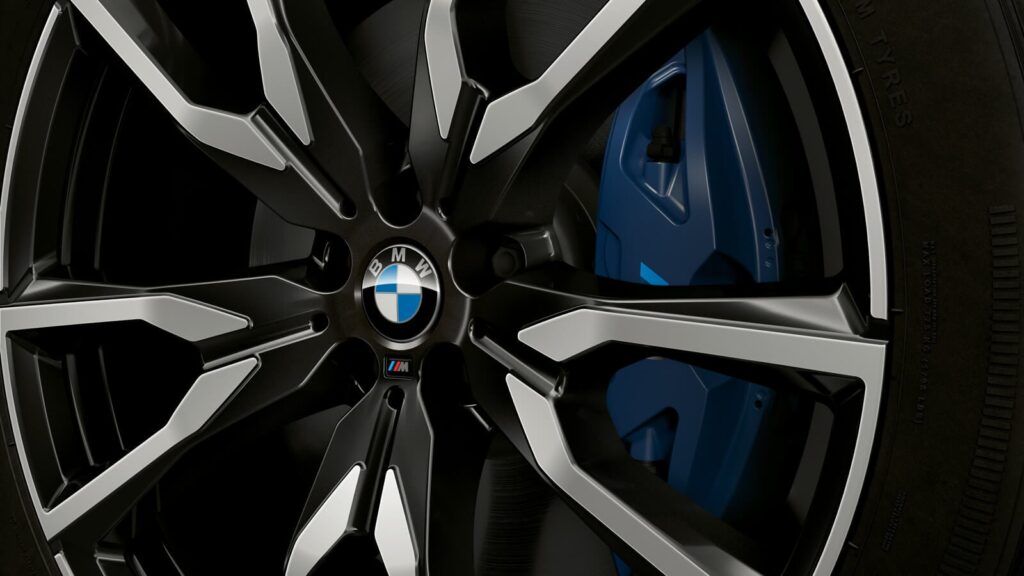 FUEL EFFICIENT & ACTUAL MPG
The xDrive40i is decently efficient thanks to its Mild Hybrid System, garnering MPG scores of 24 for the Highway category and 21 Combined. Those going for the M50i will find that the increased performance comes at the price of reduced fuel efficiency with its Highway/MPG score lowering to 21 and Combined/MPG at 17. According to BMW, the Alpina XB7 receives the same fuel scores as the M50i. Below are the MPG estimates for all the models of the 2022 BMW X7.
| | | | |
| --- | --- | --- | --- |
| Trim Mileage Estimates | City/mpg | Highway/mpg | Combined/mpg |
| 2022 BMW X7 xDrive40i | 19 | 24 | 21 |
| 2022 BMW X7 M50i | 15 | 21 | 17 |
| 2022 BMW Alpina XB7 | 15 | 21 | 17 |
INTERIOR, SOLACE & BAGGAGE
The 2022 BMW X7 interior could be described as plush, rich, and well-equipped with the best amenities and technologies the brand has released. As the largest SUV in BMW's product lineup, it has a total of 7 seats available across 3 rows of seating. The seats are covered with SensaTec, a synthetic material, on the xDrive40i while the M50i used Vernasca Leather. Nappa Leather is the material of choice for the Alpina XB7's cabin as it comes with a leather dashboard and leather design elements. The cargo capacity of the BMW X7 stands at 48.6 cubic feet with all seats deployed and 90.4 cubic feet maximum should you retract all 2 rows of rear seating.
TECHNOLOGY
The infotainment system found on the 2022 BMW X7 is quite the treat for tech-savvy drivers and passengers. All models come with a 12.3-inch touchscreen display while drivers make use of a 12.3-inch digital instrument cluster for vehicle and road information. All models come with Android Auto and Apple CarPlay compatibility alongside enhanced USB and Bluetooth features. Wireless Charging Pads, which were standard before on the M50i, are now only available as an optional feature. The audio system of the Core Model X7 xDrive40i is composed of a 10-speaker HiFi Sound System that has a sound output of 205-watts. Upgrading to the M50i or the Alpina XB7 gets you a Surround Sound Audio System sourced from Harman Kardon. This setup is composed of 16 speakers and a 464-watt amplifier unit.
SAFETY
The X7 comes with various standard safety and driver-assistive features that are available all across the lineup. Some inclusions are an Anti-lock Braking Systems, Automatic High Beams, Adaptive Brakelights, and the brand's Active Driving Assistant system. Higher-end models get advanced features such as a Surround-view Camera System, the Parking Assistant Plus system, Active Park Distance Control, and other high-tech assistive technologies.
WARRANTY
The warranty package offered by BMW is quite competitive when compared to similar manufacturers in its class. They offer their limited warranty with a duration of 4 years and a mileage limit of 50,000 miles driven, whichever comes first. Next is their powertrain warranty which comes with similar term durations, 4 years, and 50,000 miles driven. One good addition to their warranty offers is complimentary scheduled maintenance that lasts for 3 years or 36,000 miles.