SUMMARY
The 2022 GMC Hummer EV resurrects the classic Hummer brand name, but in a whole new light. Hummer is going to be the dominating electric vehicle all around the globe. This translates to no pollutants. Second, the Hummer EV offers specifications that exceed expectations. The Hummer EV boasts 1,000 horsepower and 11,500 pound-feet of torque, all generated by an electric truck. Finally, the Hummer EV's design is sleek, opulent, yet tough and polished. The lighted six vertical grille panels, which have been combined with a fueling animation as the Hummer EV charges, are never seen before.The upcoming Hummer EV is a big pickup truck that runs on electricity instead of gas. GMC calls it a super truck, and on paper, it has super truck characteristics. Massive power, lightning-quick acceleration, and possibly class-leading off-road prowess are all rolled into one package.We know the Hummer EV boasts numerous innovative characteristics that will permanently revolutionize the car industry, especially setting a new benchmark for electric trucks, thanks to its introduction.
LATEST
When GM took over advertising of the former army vehicle at the beginning of the century, the Hummer became part of the GM portfolio.The hummer GMC EV is going to be the latest model among all GMC lineup.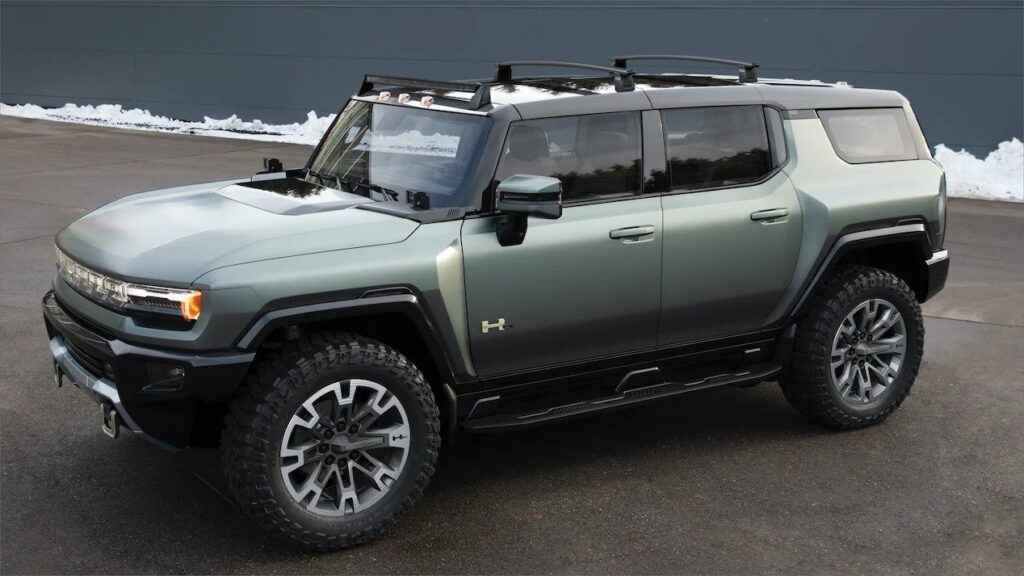 ESTIMATED VALUE
The GMC hummer EV model Hummer EV is going to be launched in fall 2021. The Hummer EV3X is the next to go on sale, in the fall of 2022; the Hummer EV2X and Hummer EV2, which feature a less efficient two-motor powertrain, will be available in 2023 and 2024, correspondingly.
HUMMER EV2
HUMMER EV2X
HUMMER EV3X
HUMMER EV
EDITION 1
$79,995 (MSRP) destination & handling charges not included
$89,995 (MSRP) destination & handling charges not included
$99,995 MSRP) destination & handling charges not included
$112,595 MSRP) destination & handling charges not included
MACHINE PERFORMANCE
The long-awaited GMC Hummer EV super truck and its three electric motors, which will produce 1,000 horsepower, 11,500 pound-feet of torque, and a 3-second zero to 60 speed, have finally been shown by General Motors. All specifications are estimations because manufacturing is a year away. The GMC Hummer EV, an all-electric range rover with a 0-60 mph speed.
BATTERY LIFE
The Hummer EV is powered by GM's innovative Ultium rechargeable batteries and has estimated range of 350 miles per charge. The Hummer will also have an 800-volt electrical design, with 350-kilowatt fast-charging capabilities.
It is allowing it to add 100 miles on a charge in just 10 minutes, according to the manufacturer. The Hummer EV will also be capable of charging on standard public charging terminals or at home via a provided adaptor for buyers who do not have access to DC power system. However, charging durations will be much longer.
FUEL EFFICIENT & ACTUAL MPG
The Hummer EV's EPA fuel economy ratings have yet to be announced, so it's unclear how efficient this large electric car will be. The Hummer EV will be the first car to use GM's Ultium upcoming electric vehicle chassis and batteries. Because of the battery's chemistry, GM will be able to utilize 70% fewer cobalt — a costly metal used in EV batteries – than in prior generations of EVs.
INTERIOR, SOLACE & BAGGAGE
Despite the fact that previous Hummers were mostly SUVs, the Hummer EV is an extended cab full size pickup with a five-foot-long bed; an SUV design will pursue the truck into manufacturing and be disclosed in 2021. The top panels of the Hummer EV are also detachable. The design of the Hummer EV is similar to that of GMC's Sierra extended cab pickup truck, and it can be established to the elements via a novel detachable roof that reinstates a T-top–style architecture popular in GM sports and classic cars in the 1970s and 1980s.
The translucent panels seem like a regular panoramic glass sunroof when installed, but removing them and stashing them in the Hummer EV's front trunk gives the vehicle a convertible feel comparable to the Jeep Gladiator. Inside, a moon-boot imprint on the dead pedal and speaker headlamps depicting the Sea of Tranquility offer as just not mementos of GM's relationship with NASA astronauts and the electrically driven Apollo 15 lunar lander that the firm helped develop.
TECHNOLOGY
The infotainment screen is a huge 13.4-inch panel, and there's also a 12.3-inch digital instrument panel. The visuals for the Hummer EV's entertainment display were created by Epic Games, the creators of the hugely famous Fortnite video game.
Android/Apple CarPlay, auto functionality and Wi-Fi hotspot. The GM's OnStar telematics system is also fitted in the upcoming model hummer EV. Moreover, we will get more information about Hummer EV on its launch.
TOWING & PAYLOAD CAPACITY
The Hummer EV's towing capacity would be another spec that GM hasn't launched yet, or at least that we didn't locate anywhere, but it'll be fascinating to see how it impacts the variety of the battery between expenses, which GMC hasn't revealed the real size of the battery just yet, but the twenty-four module, double-stacked pack offers an effective range of 350+ miles. The Hummer EV latest model is expected to have towing capacity in the range of 7500 and 11,000 pounds. Moreover, the expected payload capacity is between 1500 and 3500 pounds.
SAFETY
On 200,000 miles of suitable roads, next-generation Super Cruise is an optional driver assistance function that provides hands-free driving with automated lane changes. It has up to 18 camera shots, along with a waterproof underbelly camera, for off-roading and parking assistance. However, for traffic safety experts, this is far from a comfort. Less sophisticated technologies such as lane-keeping support and blind-spot tracking are also expected.
WARRANTY
The Hummer EV will very certainly be covered by the same basic warranty that applies to all GM cars. It comes with a bumper-to-bumper warranty that lasts three years or 36,000 miles. On GM electric cars, hybrid components are typically covered by an eight-year or 100,000-mile guarantee. On all GM cars, complimentary repair is only available for the first visit.