SUMMARY
The Hyundai Kona returns as a subcompact that's ready for both family driving and outdoor adventures. This review on the 2022 Hyundai Kona will look over the difference between the Electric models and the Gasoline ones, as well as the various other features you should look out for.
LATEST
Hyundai has given the Kona a complete design refresh, with the car's interior and exterior given new styling elements. Hyundai's N line trim has also been added to the Kona's lineup, being a package that's meant more for those who want a sportier look.
ESTIMATED PRICE
The company offers several trim levels for the 2022 Hyundai Kona, all with differing price points depending on the model. The Hyundai Kona N Line is the newest addition to the lineup, with the Kona N performance model meant for release someday soon. Hyundai also offers 2 all-electric models for those looking for greater fuel efficiency ratings. Below are the respective MSRPs of the various trim levels of the 2022 Hyundai Kona:
| | |
| --- | --- |
| Trim (Drivetrain) | MSRP* |
| 2022 Hyundai KONA SE | $21,150* |
| 2022 Hyundai KONA SEL | $22,950* |
| 2022 Hyundai KONA N Line | $25,700* |
| 2022 Hyundai KONA Limited | $28,450* |
| 2022 Hyundai KONA N (Estimated) | $35,000* |
| 2022 Hyundai KONA Electric SEL | $34,000* |
| 2022 Hyundai KONA Electric Limited | $42,500* |
Hyundai offer several lease deals for the 2022 Hyundai Kona, as well as other financing options. These deals can vary from state-to-state so some deals are limited in scope. Make sure to check out the brand's official site for more details on the financing options that you can make use of.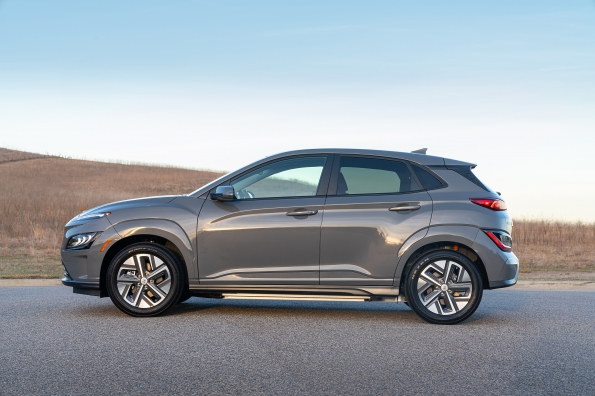 MACHINE PERFOMANCE
The Hyundai Kona makes use of several powertrain options, all operating on a different balance of fuel efficiency and performance. First up is the engine mounted onto the SE and SEL trim levels: A 2.0-Liter Inline 4-Cylinder Engine. It can produce a power output of about 147 horsepower and a torque output of 132 pounds-feet at 4,500 RPM. The powertrain is paired with an Intelligent Variable Automatic Transmission system, with both front-wheel and all-wheel drive systems with Active On-Demand features being available. The SE rides on 16-inch alloy wheels, while the SEL makes use of 17-inch alloy wheels.
Next up is the engine option that comes with the N Line and Limited models of the Kona. These come with a turbocharged 1.6-Liter Inline 4-Cylinder engine, capable of 195 horsepower and a torque output of 195 pounds-feet when running at a range of 1,500 to 4,500 RPM. It uses a 7-speed Ecoshift Dual Clutch transmission system in order to send the engine's power via a front-wheel drive system or an all-wheel drive system that comes optional and also has Active On-Demand capabilities. Both cars ride on 18-inch alloy wheels, with the N Line trim level having a unique design to them.
The following trim level is the Kona N, which is the performance-oriented model of this iteration of the 2022 Kona. This model makes use of a 2.0-Liter Turbo GDI 4-Cylinder engine that produces an astounding 280 horsepower and a torque level of 289 pounds-feet. Its transmission system is an 8-speed Wet DCT which comes with rev-matching and paddle shifters on the steering wheel. It rides on 19-inch alloy wheels and is fitted with a set of Pirelli P-Zero Performance Tires. The N model also comes with special drive modes such as N mode and a Launch Control setting for fast acceleration.
Hyundai has also released 2 all-electric models, namely the Electric SEL and the Electric Limited. These models opted to use a Permanent Magnet Synchronous Motor which creates about 150kW of power. When converted, this is roughly about 201 units of horsepower. It also produces a torque output of about 291 pounds-feet.
BATTERY LIFE –
For the 2 EV models, the Kona makes use of a Lithium-ion Polymer battery pack with a system capacity of 64.0 kWh. When using a simple home outlet with a Level II Standard 7.2kW charger, it takes the Kona 9 hours and 15 minutes to go from 10% battery to 100% full charge. This time is shortened when you use a Level III Quick Charge charger that runs 50kW of power, able to go from 10% to 80% in only 64 minutes. Bump the Level III charger up to 100kW and you'll be able to reach full charge from a nearly depleted state in only 47 minutes.
FUEL EFFICIENT & ACTUAL MPG
The EPA has already given most of the trim levels a respective EPA rating, all except for the Kona N which has yet to receive one. We'll be updating this section when more information can be accessed but for now, we'll stick to the ones we know of.
All gasoline models of the 2022 Hyundai Kona have a fuel tank capacity of 13.2 gallons. Hyundai has not given any estimates on the total driving range of any of the gasoline models. For the electric models, they make use of a 64.0kWh battery pack which allows it to have an all-electric driving range of 258 miles. Below is a table detailing the various MPG estimates of all the trim levels of the 2022 Hyundai Kona:
| | | | |
| --- | --- | --- | --- |
| Trim Mileage Estimates | City/mpg | Highway/mpg | Combined/mpg |
| 2022 Hyundai KONA SE FWD | 30 | 35 | 32 |
| 2022 Hyundai KONA SE AWD | 28 | 33 | 30 |
| 2022 Hyundai KONA SEL FWD | 30 | 35 | 32 |
| 2022 Hyundai KONA SEL AWD | 28 | 33 | 30 |
| 2022 Hyundai KONA N Line FWD | 29 | 35 | 32 |
| 2022 Hyundai KONA N Line AWD | 29 | 35 | 32 |
| 2022 Hyundai KONA Limited FWD | 27 | 32 | 29 |
| 2022 Hyundai KONA Limited AWD | 29 | 35 | 32 |
| 2022 Hyundai KONA Electric | 132 | 108 | 120 |
INTERIOR,SOLACE AND BAGGAGE
The interior of the 2022 Kona is balanced for both comfort and functionality, able to meet the demands of a vehicle needed for everyday drives. The car holds seating for 5 passengers, all with cloth upholstery as standard for the SE and SEL trims. The N Line differs from this slightly as it makes use of unique N Line Sport Cloth Upholstery. The Limited trim level, for both the Gasoline and electric powertrains, upgrades the seating upholstery to leather trims for added luxury.
The Driver's seat of the SE and SEL trim is 6-way adjustable, however this can further be upgraded as you go along the higher trim levels. The N Line and Limited trim levels upgrade the driver's seat to an 8-way power adjustable unit. From the N Line and upward, the front passenger seats are heated for maximum comfort even in colder climates.This also goes the same for the EV model of the Limited trim, with options for power lumbar support and Ventilated front seats for the Limited. In terms of cargo capacity, all models of the 2022 Hyundai Kona come with 19.2 cubic feet of space with the rear sets deployed. This is increased to 45.8 cubic feet of space with the rear seats folded.
TECHNOLOGY AND CONNECTIVITY
The Hyundai Kona comes outfitted with an extensive infotainment suite that's capable of entertaining passengers and notifying the driver of important information. For the drivers who are going for the N Line and Limited trims, they can make use of a 10.25-inch Digital Gauge Cluster as wither a standard feature or an optional one for the N Line. The Electric models add an EV Technology Display to the 10.25-inch Digital Cluster.
An 8-inch color touchscreen comes standard on most models. However, the N Line and Limited receive the option for a 10.25-inch touchscreen. This goes for both gasoline and EV models.
The Kona comes integrated with Android Auto and Apple CarPlay, as well as SiriusXM Satellite Radio capabilities. It also comes with several USB outlets for both charging your phone and playing media files. The audio system mounted onto the Kona can be upgraded to an 8-speaker setup that's been sourced from Harman/Kardon. This system also comes with Clari-Fi Music Restoration Technology which helps to improve the listening experience.
SAFETY
The 2022 Hyundai Kona has many different safety and driver-assistive features that can be used in various situations. The SE and SEL come standard with a Rear Occupant Alert system, Tire Pressure Monitoring System, an Anti-lock Braking system, and a Front Belt Pretensioner and Load Limiters. The N Line and Limited add in some features such as Blind Spot Collision Warning, a Rear Cross-Traffic Collision and Avoidance Assist, and a Safe Exit Warning.
The Electric Models make use of a Regenerative Braking System. An Electronic Stability Control system is also available for Traction Control and Braking Assist.
WARRANTY
Hyundai is quite generous with their warranty plans, some of them being the best in the market right now. Their Limited Warranty lasts for 5 years or for the first 60,000 miles driven, whichever comes first. Next is their Powertrain warranty, which is one of the longest lasting ones around right now for this class. Drivers can avail of it for 10 whole years or for the first 100,000 miles driven. For the Electric Batteries of the SEL and Limited trims, they are also under a warranty plan which lasts for 10 years or for the first 100,000 miles driven. The company also offers an anti-perforation warranty plan which spans 7 years, regardless of how many miles have been driven already. Last of all, the brand's 24/7 Roadside Assistance package is available to drivers for a total of 5 years without taking into consideration how many miles your car has already driven.