SUMMARY
The market for high-performance hatchbacks has been on the rise and the 2022 Hyundai Veloster N is trying to meet up with this new trend. It delivers some nice feedback with its powerful and lively turbocharged 4-Cylinder engine that's paired with a variable exhaust system. The manual transmission option is as satisfying to drive as ever, being snappy and responsive. There's also an 8-speed Wet Dual-Clutch Transmission which is available for buyers. Although, we do admit the interior is lacking in aesthetics and luxury factor. The standard features for safety and infotainment do make up for it a bit. This 2022 Hyundai Veloster N review will look into the specs and features that make it a great choice for anyone, especially with how the price being as it is.
LATEST
The 2022 model of the Hyundai Veloster N remains unchanged when compared to last year's release. One big piece of news though is the company's choice to discontinue the rest of this car's lineup, leaving the Veloster N as the only three-door hatch left in the company's roster. Oriented more on the car's performance specs, the Veloster N is still the same capable vehicle as that of years past.
ESTIMATED PRICE
For this model year, Hyundai offers 2 distinct drivetrain choices for buyers to select from: A Manual Transmission model and an 8-Speead Dual-Clutch AT Transmission system. The roster of 2022 Hyundai Veloster N colors is relatively small compared to other cars as it only has Blue, White, Red, and Black as options. Below is our 2022 Hyundai Veloster N cost table detailing its starting MSRP:
| | |
| --- | --- |
| Trim (Drivetrain) | MSRP* |
| 2022 Hyundai Veloster N | $32,500* |
As with all other Hyundai vehicles, the 2022 Hyundai Veloster N lease price is available on their official site. Alongside your preferred car dealer, you can check out the various deals available in your local area for you to make use of.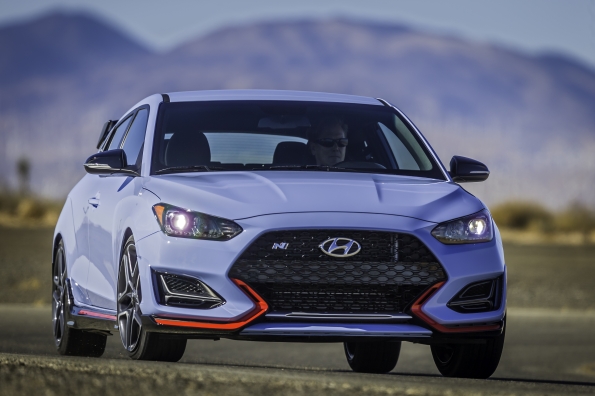 MACHINE PERFORMANCE
The 2022 Hyundai Veloster N specs sheet features only a single engine option on all models: A 2.0-Liter Inline Turbocharged 4-Cylinder Engine. It's capable of 275 horsepower and a torque output of 260 pounds-feet. All models come in Front-wheel drive without options for any other drivetrains. Transmission systems range from a 6-speed manual transmission with rev-matching features and an 8-speed N Wet Dual-Clutch Transmission. One special feature of the Veloster N is its N Corner Carving Differential which uses true torque vectoring to distribute engine torque for optimal handling of corners. The Rack-and-Pinion steering gear is tuned for a sports-oriented driving experience. An Electronically Controlled Suspension system helps to mitigate the shocks and shake experienced from uneven road conditions. The Veloster N rides atop 19-inch Alloy Wheels and comes with a set of R19 Pirelli P Zero tires.
FUEL EFFICIENT & ACTUAL MPG
According to the fuel efficiency ratings given by the EPA to the 2 drivetrain options of the Hyundai Veloster N, it's not exactly breaking any boundaries in terms of fuel economy. The MT-Transmission models will be the one for drivers who want to cut down on the car's fuel cost while the Dual-Clutch Transmission models differ in the Combined MPG ratings by 2 MPG. The fuel tank capacity of the 2022 Hyundai Veloster N is 13.2 gallons with the MPG ratings being made with Premium Gasoline in mind. Below is our table detailing the fuel efficiency scores of the drivetrains of the Hyundai Veloster N:
| | | | |
| --- | --- | --- | --- |
| Trim Mileage Estimates | City/mpg | Highway/mpg | Combined/mpg |
| 2022 Hyundai Veloster N (MT) | 22 | 28 | 25 |
| 2022 Hyundai Veloster N (AT) | 20 | 27 | 22 |
INTERIOR, SOLACE & BAGGAGE
The focus with the 2022 Hyundai Veloster N interior seems to be around creating a compact space that doesn't distract from the driving experience. The cabin itself doesn't host too many luxuries in terms of materials used as dark plastics are found all throughout the cabin. Passenger capacity is enough for 4 passengers with a passenger volume of 89.9 cubic feet. The sport bucket seats installed here are comfortable but lack the option for leather upholstery which may be a bit of a let-down depending on the buyer. Cargo capacity for the Veloster N is around 19.9 cubic feet which increases to 44.5 cubic feet with the rear seats folded and stowed away. Drivers could get away with stowing a few suitcases or small bags should they fold the rear seats flat but it's obvious that cargo capacity isn't this car's strong suit. It should still suffice for shorter trips and the weekly shopping drive.
TECHNOLOGY
The Veloster N's infotainment system starts off with an 8-inch touchscreen that's capable of connecting with Android Auto and Apple CarPlay services. Bluetooth features are also available for both hands-free phone operation and audio streaming. This model also comes with access to the Bluelink Connected Care and Remote Package which allows for certain features to be used. The audio system on the Veloster N is an 8-speaker setup which includes a subwoofer unit that's sourced from the audio manufacturer "Infinity". AM/FM radio functionality is present alongside compatibility with SiriusXM's satellite radio features.
SAFETY
With the safety suite found on the Veloster N carrying a large number of standard features and driver-assistive tech, we're confident with the car's focus on passenger safety. Some of the standard features to be found here include a Forward Collision-Avoidance Assist, Lane Following and Keeping system, Blind-Spot Collision Warning, Rear Cross-Traffic Collision Warning, and even a Driver Attention Warning system. Brake Assists and Vehicle Traction/Stability Controls are also available on all models of the Veloster N.
WARRANTY
Hyundai's warranty coverage terms are some of the longest lasting ones in the industry today. This is exactly the case with the offered warranty plans on the 2022 Hyundai Veloster N. Their limited warranty plan spans for 5 years or the first 60,000 miles driven, whichever comes first. Next is their powertrain warranty which lasts for 10 years with a mileage limit of 100,000 miles driven. Hyundai also offers complimentary scheduled maintenance which is available for 3 years with a mileage limit of 36,000 miles driven.