SUMMARY
The Honda Accord is a respectable and reliable sedan that's been further improved by the addition of a hybrid powertrain. With the arrival of the 2022 Honda Accord Hybrid, everyone can enjoy all of Honda's offerings while enjoying some amazing fuel efficiency ratings. Although the engine's power is a little toned back, it makes up for it with some great handling that's sure to excite on longer journeys. Not only that, many features and technologies come standard across all models with only a handful being exclusive to the higher trim levels. This 2022 Honda Accord review will look into the specs and features that can be found on this sedan as well as its fuel efficiency and performance scores.
LATEST
Most of the major changes made to the Honda Accord occurred with the 2021 model refresh so there's not much change to the 2022 version. However, we do note that the Accord Sport Hybrid replaces the EX Hybrid trim level.
ESTIMATED PRICE
Honda is currently offering 4 different trim levels that utilize the hybrid powertrain: The Base Accord, Sport, EX-L, and Touring. The 2022 Honda Accord Hybrid price differs with these models with the base model being slightly above $27,000 and the premiere Touring model reaching the $38,000 mark. The roster of 2022 Honda Accord Hybrid Colors includes Crystal Black Pearl, Still Night Pearl, San Marino Red, and many other options. Below is our 2022 Honda Accord Hybrid cost table detailing the different starting MSRPs of the 4 models:
| | |
| --- | --- |
| Trim (Drivetrain) | MSRP* |
| 2022 Honda Accord Hybrid | $27,320* |
| 2022 Honda Accord Hybrid Sport | $30,670* |
| 2022 Honda Accord Hybrid EX-L | $33,640* |
| 2022 Honda Accord Hybrid Touring | $37,190* |
The Honda Lease program can be a great option towards getting yourself a new Hybrid Accord without having to shell out as much money all at once. The 2022 Honda Accord Hybrid lease price is available on their official site alongside other financing options made available to your local area. Make sure to check these out to catch up on the latest lease deals!
MACHINE PERFORMANCE
The 2022 Honda Accord Hybrid specs sheet details the 2.0-Liter In-Line 4-Cylinder Hybrid Engine that powers it forward. Capable of 143 horsepower and a torque output of 129 pounds-feet, it's supported by an additional AC Electric Motor for additional power. This secondary motor creates 181 horsepower and 232 pounds-feet of torque by itself. Altogether, that's around 212 horsepower for the whole system. This sedan only comes in a front-wheel drive configuration and comes paired with an electronic continuously variable transmission system. It comes with Deceleration Selectors and even a toggle able Sport Mode for when you need that extra power.
FUEL EFFICIENT & ACTUAL MPG
The EPA's released estimates for the fuel efficiency rating of the Honda Accord Hybrid show it as a highly economical option for the cost. With a combined MPG rating of 47 on the base model and EX-L, we suggest those models for more cost-conscious drivers. The Sport and Touring hybrid models suffer a bit on fuel economy in exchange for the increased performance, a trade-off that's understandable at least. Below is our table detailing the MPG estimates of the 4 models of the 2022 Honda Accord Hybrid:
| | | | |
| --- | --- | --- | --- |
| Trim Mileage Estimates | City/mpg | Highway/mpg | Combined/mpg |
| 2022 Honda Accord Hybrid | 48 | 47 | 47 |
| 2022 Honda Accord Hybrid Sport | 44 | 41 | 43 |
| 2022 Honda Accord Hybrid EX-L | 48 | 47 | 47 |
| 2022 Honda Accord Hybrid Touring | 44 | 41 | 43 |
INTERIOR, SOLACE & BAGGAGE
Honda's choice to keep the 2022 Honda Accord interior a spacious and comfortable area for both front and rear drivers is a welcome one for any driver. The passenger capacity of this sedan is at 5 persons within its 105.6 cubic feet of passenger volume. On the higher trim levels, the seats can be modified with leather-trimmed upholstery alongside cooling and heating features. The driver's seat can be fitted with power adjustment features as well as the front passenger's seat. The cargo volume of the Accord Hybrid's storage space reaches 16.7 cubic feet. This is mostly enough for small bags, a few bags of groceries, and other necessities you may need on hand.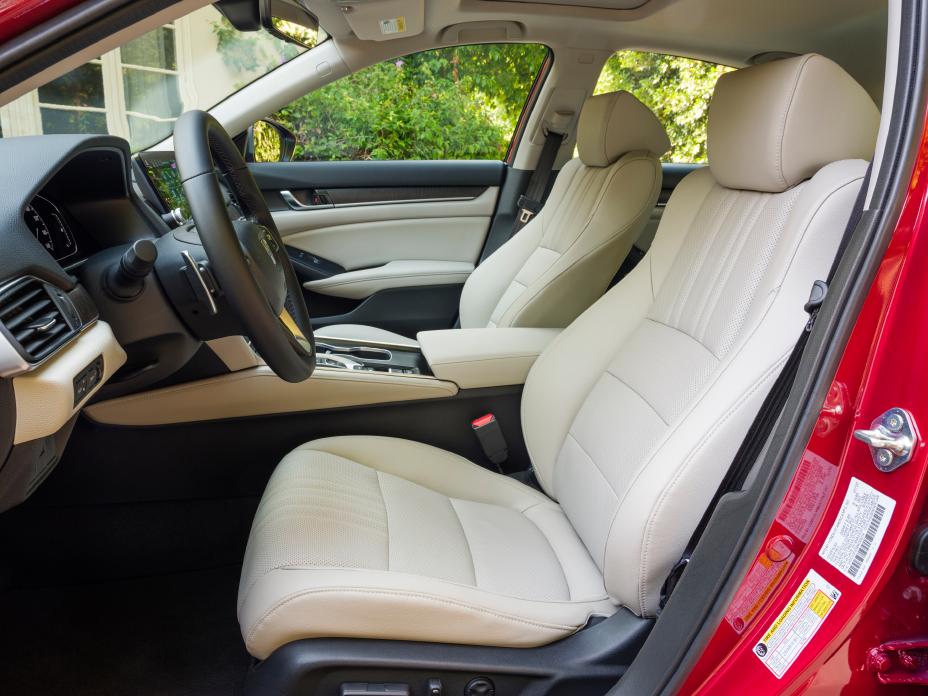 TECHNOLOGY
The Honda Accord is stocked with infotainment features even on the base model, making it great for long road trips. All models have an 8-inch touchscreen display as standard that has Android Auto and Apple CarPlay integration worked in. Bluetooth functions are also available on all models of the Accord Hybrid for both audio streaming and hands-free phone usage. HondaLink, the brand's connected services suite, is present in all trim levels with the Limited model having complimentary trials to certain subscription services. Wi-Fi Hotspot capability is also exclusive to the Limited model alongside Satellite-Linked Navigation, Traffic Data, and Voice Recognition features. The standard audio system on the Accord Hybrid is a 4-speaker system that produces around 160-watts. This is improved to an 8-speaker setup that produces 180-watts and a 10-speaker setup that produces around 450-watts which is exclusive to the top-tier models.
SAFETY
Although Honda has always impressed with its safety features and driver-assistive tech, it's still notable when a car gets a 5-star rating from the NHTSA for overall safety. This proves that the design and features of the Honda Accord are all optimized for maximum passenger protection in the event of an emergency. Some standard features include Collision Mitigation Braking Systems, Adaptive Cruise Control, Lane Departure and Lane Keeping Assistance, Forward Collision Warnings, and even Traffic Sign Recognition Systems. There are only a few features found only on the Hybrid Touring models which include a Blind Spot Information System, Cross-Traffic Monitor, a Head-Up Display, and a Low-Speed Braking Control System.
WARRANTY
Honda's warranty packages for the Accord are relatively average but don't hold much ground against the longer terms offered by other brands. Their limited warranty plan spans for 3 years or the first 36,000 miles driven, whichever comes first. Next is their powertrain warranty which lasts for 5 years with a mileage limit of 60,000 miles driven. Hybrid components are under warranty for 8 years with a mileage limit of 100,000 miles driven. The brand does not offer any plans or perks regarding complimentary scheduled maintenance.