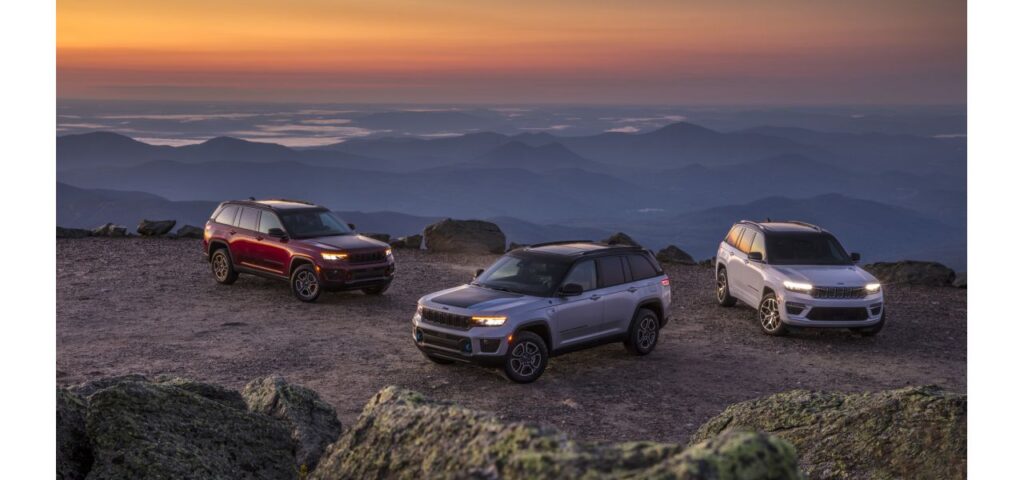 SUMMARY
The 2021 Grand Cherokee was a great addition to the Jeep family of SUVs, already housing icons such as the rugged Wrangler. The Grand Cherokee has garnered the reputation of being an excellent 3-row jeep, boasting the same excellent off-road experience whenever you think of Jeep. Now with the new 2022 Jeep Grand Cherokee, the company aims to retain the same iconic appeal with even more engine options for buyers to choose from.
LATEST
The three-row model of the Grand Cherokee was revealed last January 2021, but the two-row model was released only a few weeks ago. Being the first massive redesign in 11 years, the new model introduces a two-row body style along with other massive style changes.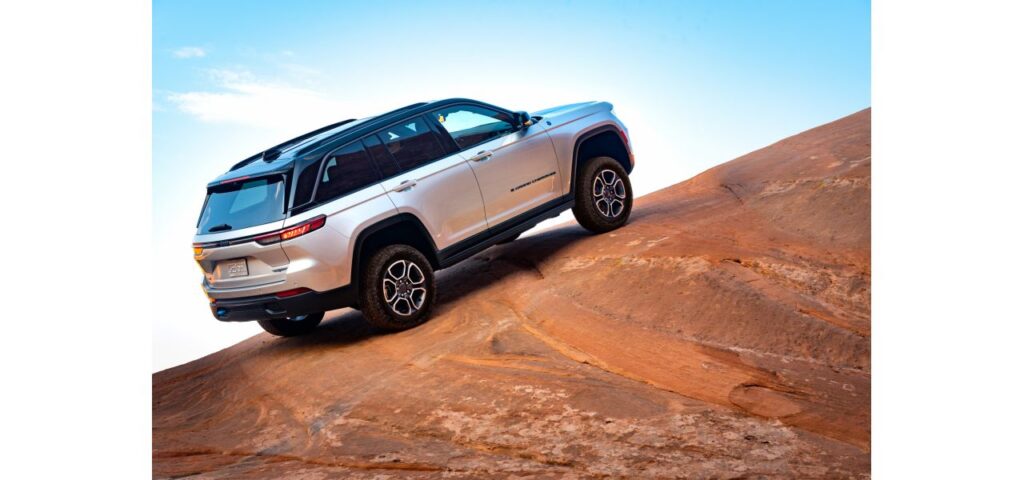 The 2021 Grand Cherokee L is known as quite a beefy and large SUV. This model, being considerably smaller and more manageable, might be the perfect choice for most consumers. The biggest change would be the addition of a plug-in hybrid model and the comeback of the fan-favorite Trailhawk off-road trim.
ESTIMATED VALUE
There will be a multitude of models available for purchase, each with its own slew of features. However, the Limited model at $45,405* seems to be the best for those who want something better than the base Laredo ($39,085*). The Limited model comes with a power-operated rear gate, leather upholstery with heated seats, interior ambient lighting, powered adjustable front seats, and a remote start option along with many other features.
The plug-in hybrid Limited model is estimated to have an asking price of $50,000*. To those looking to get into the Trailhawk off-road models, it'll have a starting price of $51,970* for the regular version and an estimated $55,000* for the future plug-in hybrid model.
Those looking for an even more luxurious kit for the Grand Cherokee should look into the Overland and Summit trims. The Overland will cost $55,000*, while the Summit will cost $59,060*. Estimated prices for the plug-in hybrid versions of these trims stand at $60,000* and $65,000*.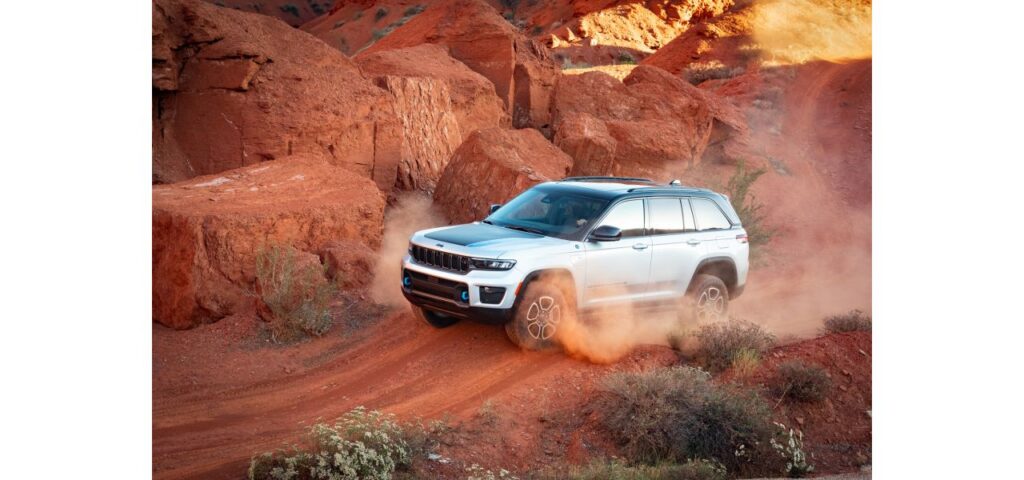 MACHINE PERFORMANCE
The new 2022 Grand Cherokee seems to be powered by either the 3.6-Liter PentastarV6 or the 5.7 liter Hemi V8 engine. Jeep will be releasing a plug-in hybrid version of the SUV in early 2022, and promising to expand its lineup of EV cars by 2025. However, we do know that the Grand Cherokee 4xe will be using a 2.0-Liter turbocharged engine, along with a pair of electric motors that are expected to deliver a combined output of 375 horsepower. It will also be coming with a 14-kilowatts-per-hour battery pack, giving it a decent range of 25 miles.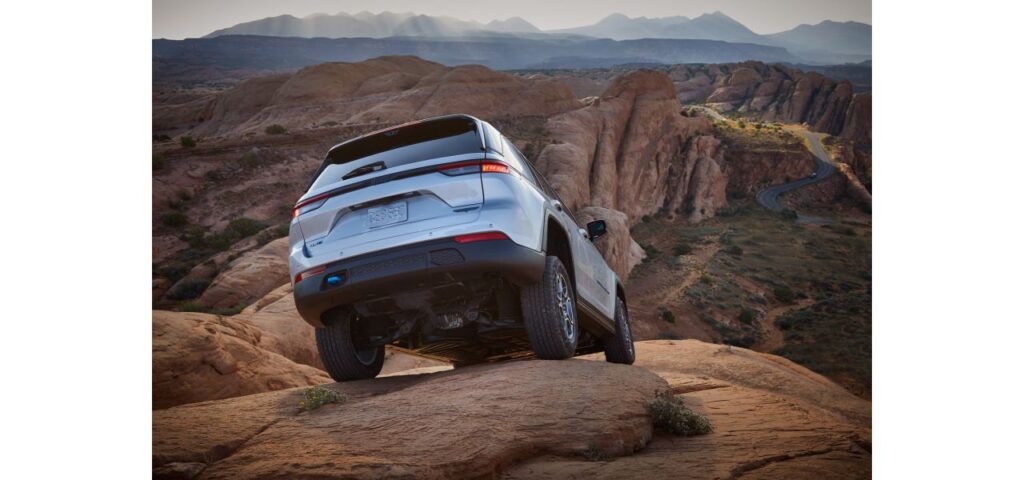 The V6 model will come standard with rear-wheel drive, while the V8 models and the plug-in hybrids will have all-wheel drive systems. Speaking of which, Jeep will be offering several AWD systems, along with a Trailhawk trim that offers much more off-road equipment and capability. This Trailhawk features an air suspension that provides 11.3 inches of ground clearance, along with a disconnecting sway bar that gives the SUV better wheel articulation for rough terrain.
FUEL EFFICIENT & ACTUAL MPG
Estimates for this SUVs fuel economy place it at the middle of the road for a mid-sized SUV. It has an MPG rating of 19 MPG/City and 26 MPG/Highway when using a rear-wheel drive model. The V8 all-wheel drive model performs considerably les with a rating of 14 MPG/City and 22 MPG/Highway. The ratings for the plug-in hybrid 4xe have yet to be released, but it is speculated to deliver much better fuel economy.
INTERIOR, SOLACE & BAGGAGE
The newly stylized cabin of the Grand Cherokee does give it a much more modern look, compared to the older interior of the previous models. The Summit and Overland Trims offer additional niceties such as quilted leather seats and upholstery, an open-pore wood trim, and modernized digital displays.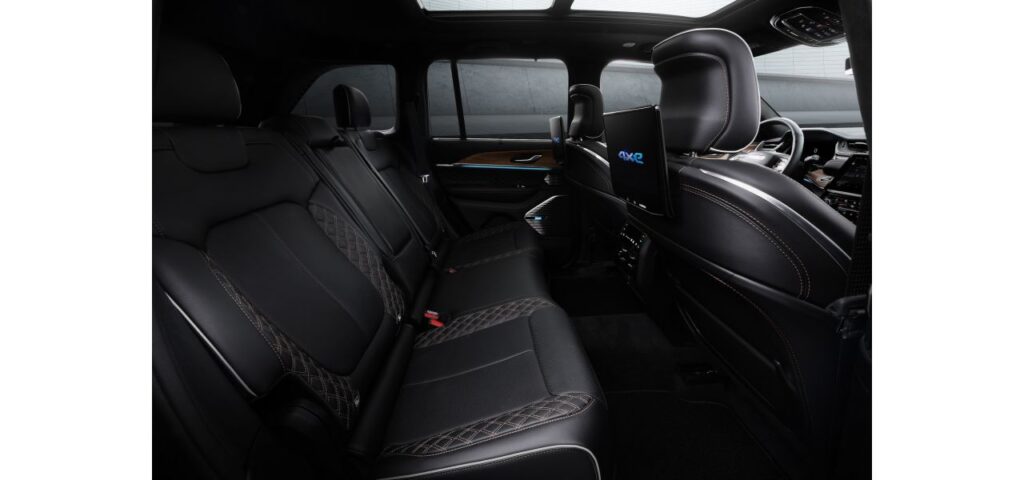 It is expected that the cargo space of the 2022 Grand Cherokee will be an improvement from previous iterations. However, Jeep has yet to release more information regarding this.
TECHNOLOGY
Above the dashboard of this SUV lies the 8.4-inch digital touchscreen. It comes integrated with Android Auto, Apple CarPlay, and a SiriusXM satellite radio. The dashboard navigation system offers real-time traffic view along with an optional weather update panel. Higher-end models may also avail of a digital gauge cluster, a 10.3-inch display for the front passenger, and a 10.0-inch HUD.
The Laredo and Limited models will have a standard six-speaker stereo setup, but customers can avail of a multitude of packages to sweeten the deal.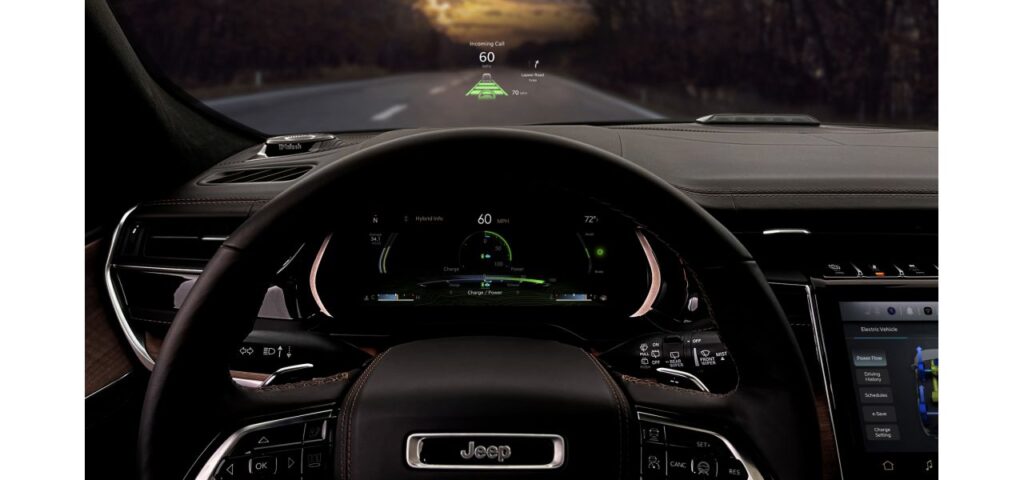 Buyers can also avail of multiple packages, such as the Entertainment Group Package. This adds a 10.1-inch infotainment display along with a nine-speaker Alpine stereo sound system. There's also the Lux Tech Group II package which has a multitude of different features. These include: Rain-sensing windshield wipers, Wireless charging capability, perforated leather seats and upholstery, ventilated front seats, a powered adjustable steering column, a digitally-integrated rear view mirror, built-in sunshades on the second-row, and a collision avoidance feature. It also includes a camera system that spans the full 360-degrees of the car, along with parking sensors at the rear and front.
SAFETY
The 2022 Grand Cherokee carries Driver-assistance features that are becoming standard with newer upcoming models. These include pedestrian detection, semi-autonomous driving, and lane-keeping assistance. Jeep is also delivering a more robust suite of safety tech to satisfy customer's want for better safety features, along with the standard adaptive cruise control we've come to expect of newer cars.
WARRANTY
The standard warranty package will not be changing with the arrival of the 2022 Grand Cherokee. Jeep's warranty offer might not be the longest terms out there, but it does line up with the packages of other rivals. The limited warranty spans for either 3 years or the first 36,000 miles, whichever comes first. Powertrain warranty comes next, spanning 5 years or 60,000 miles. Lastly, Jeep offers a whole three years of complimentary scheduled maintenance for your new SUV, which is a nice addition to the whole package.