SUMMARY
The 2022 Kia EV6 is one of the latest strides of the brand to an electrified future. As one of the many vehicles planned by the company to spearhead its new electrified fleet, it comes with a whole host of new features to help it stand among the crowd of other EVs on the market today. This review of the 2022 Kia EV6 will go through the specs and features that make this car one big leap for the company towards its dreams of a fully-electrified future.
LATEST
The EV6 is one of the many electrified vehicles to be produced by Kia with its 5-year electrification plan introduced back in 2020. The company has released various screenshots that feature the exterior and interior of the crossover. It's striking design is definitely a looker when compared to its competitors, but what's most interesting is the released specifications that the 2022 Kia EV6 will come with.
ESTIMATED PRICE
Kia has recently released the prices for the various models of the 2022 Kia EV6, as well as the various different trim levels which will be released across all 50 states this early 2022. The GT-Line version will be releasing sometime later within 2022, so buyers gunning for that specific model will have to wait a bit longer. Below is a table summarizing the various cost points of the 2022 Kia EV6, both rear-wheel and all-wheel configurations:
| | |
| --- | --- |
| Trim (Drivetrain) | MSRP* |
| 2022 Kia EV6 Light RWD | $40,900* |
| 2022 Kia EV6 Wind RWD | $47,000* |
| 2022 Kia EV6 Wind Dual Motor e-AWD | $50,900* |
| 2022 Kia EV6 GT-Line RWD | $51,200* |
| 2022 Kia EV6 GT-Line Dual Motor e-AWD | $55,900* |
Although there haven't been any official press releases regarding the lease price of the 2022 Kia EV6, we do know that the company offers various financing options and lease deals on their official website.
MACHINE PERFORMANCE
The specs of the 2022 Kia EV6 have been recently released, turning eyes towards Kia's new electrification initiative. The RWD model makes use of a 168-kW rear motor which comes paired with either the 58.0- or 77.4-kWh battery pack. The former of these options is available on the Light RWD model and produces a power output of 167 horsepower. The latter option is available in the Wind RWD and GT-Line RWD trims and produces around 225 horsepower.
The Dual Motor e-AWD models gives a lot more performance, available on the Wind AWD, GT-Line AWD, and the GT series which releases later on in the year. The Wind AWD and GT-Line AWDs make use of a front motor rated at 74kw and a rear motor that's rated at 165 kW. Together, they produce a combined output of 320 horsepower and an electric driving range of 274 miles.
The GT trim of the 2022 Kia EV6 is expected to mount its 77.4-kWh battery onto a more powerful dual-motor setup comprised of a 160kW front motor and a 270kW rear motor. All in all, it's able to produce 576 horsepower and has an estimated 0 to 60 sprint time of less than 3.5 seconds.
BATTERY LIFE
The EV6 makes use of an advanced battery system which grants the benefits of ultra-fast charging with the range to make it go the distance. The battery pack is available in 58.0 kWh and 77.4 kWh configurations, all composed of a mixture of Nickel-Cobalt-Manganese. Charging times for users that have DC chargers will range from 50kW all the way up to 350kW. With 800V DC fast charging, the battery can be charged from 10% to 80% in 18 minutes. Its on-board charger is rated at 11kW and can recharge from 10% to 100% within 7 hours with a Level 2 charger.
FUEL EFFICIENT & ACTUAL MPG
The MPGe rating of the 2022 Kia EV6 has also been recently released by the EPA, with scores being around standard when compared with other EVs on the market. Although the EV6 doesn't really tread new ground when it comes to fuel efficiency, it has a lot to offer buyers in other respects. Below is a table summarizing the MPGe estimates for the 3 different powertrain options of the 2022 Kia EV6
| | | | |
| --- | --- | --- | --- |
| Trim Mileage Estimates | City/mpg | Highway/mpg | Combined/mpg |
| 2022 Kia EV6 Standard Range RWD | 136 | 100 | 117 |
| 2022 Kia EV6 Long Range RWD | 134 | 101 | 117 |
| 2022 Kia EV6 Long Range AWD | 116 | 94 | 105 |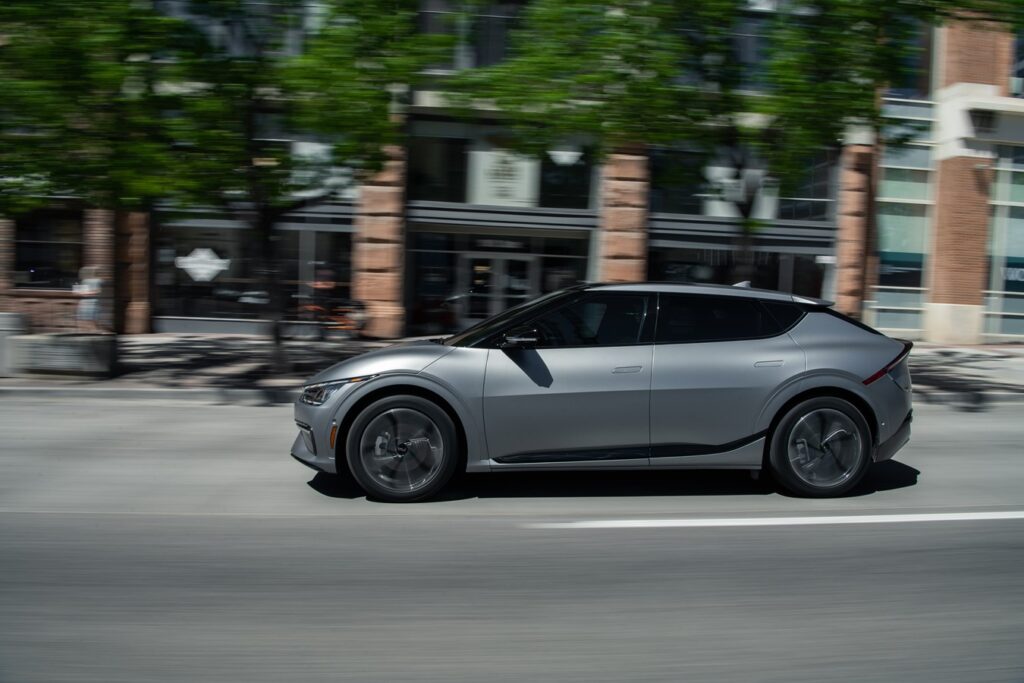 INTERIOR, SOLACE & BAGGAGE
The interior of the 2022 Kia EV6 is much more subdued when compared to its exterior look. Its passenger seats are made of 100% vegan leather, with recycled plastics used throughout the interior for various design elements. In terms of cargo space, it has 24.4 cubic feet of space with the second row deployed and 50.2 cubic feet of space with the second row folded away. Additional storage can be found on the front trunk of the EV6.
TECHNOLOGY
The infotainment system of the Kia EV6 is well-equipped with various functionalities for keeping passengers busy. A 12.3-inch Center Cluster is placed on the car's dashboard, forming a horizontal curved display that spans wide across it. Blue light filters have been applied onto the screens to reduce any eye strain and fatigue caused by looking into the screens. The EV6 comes with Bluetooth functionality as well as connectivity with Apple and Android smartwatch accessories. Voice command functionality allows drivers to adjust the settings of the EV6's climate control system, audio system, and other cabin functions. The audio system mounted on the vehicle is a 14-speaker premium audio system sourced from Meridian Audio. Paired with Intelli Q technology, it allows the car to actively adapt the volume and sound quality depending on conditions.
SAFETY
The EV6 sports a wide variety of safety features and driver-assistance technologies to help in various circumstances. A Surround View Monitor allows for a 360-degree view of the driver's surroundings which is useful for difficult parking spots. There's also a Parking Collision-Avoidance assist which detects objects and issues warnings during risks of collisions. Blind-Spot Avoidance Assist, along with other smart safety features, all work to give the driver more confidence in riskier driving environments.
WARRANTY
Kia is known for their amazing warranty plans which spans for a significant amount of time. Their limited warranty offerings cover 5 years after purchase or the first 60,000 miles driven. Their powertrain warranty plan lasts for 10 years or the first 100,000 miles driven. The brand has yet to offer any programs or plans for complimentary scheduled maintenance.