SUMMARY
Along with the highly-praised sedan model of the Porsche Taycan comes the Cross Turismo: a longroof variant of this EV. This offers a bit more utility than the average sedan with an increase in power for your driving needs. Inheriting the sophisticated EV infrastructure of its sedan counterpart, it offers some impressive performance which makes it such a satisfying car to drive. This review on the 2022 Porsche Taycan will look closely into the specs and features that make the Cross Turismo a great choice for all drivers that want to get into EVs.
LATEST
The Cross Turismo has been updated with some additional features, such as a remote-parking system done through your smartphone. There have also been notable upgrades to the car's infotainment system such as a better OS, voice command recognition, and Android Auto compatibility. Charging times have been improved upon as well with the addition of new charging functions and temperature management.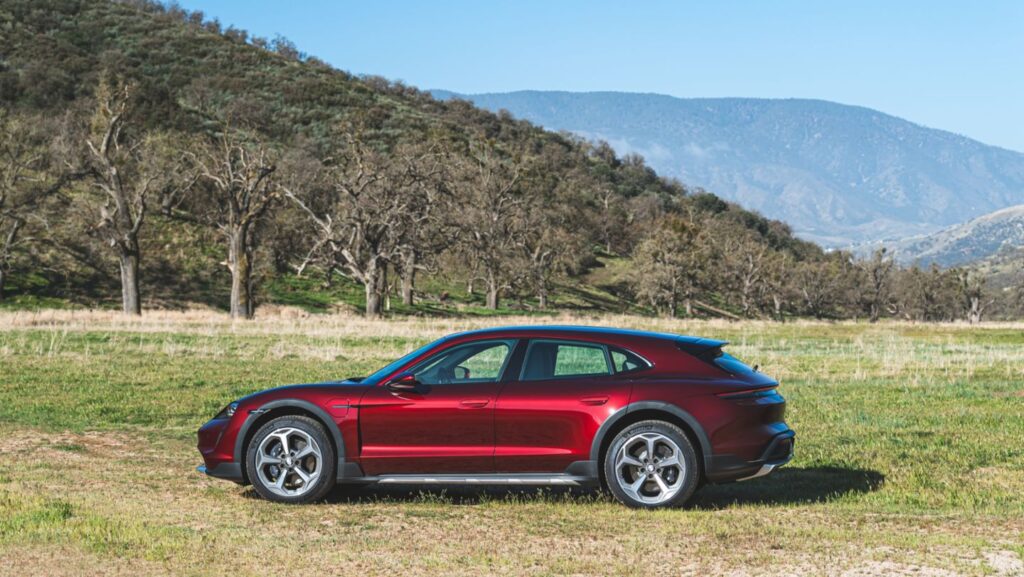 ESTIMATED PRICE
The 2022 Porsche Taycan Cross Turismo's price is on par with similar vehicles made by different automakers. It also lines up with the price point of the regular Porsche Taycan, with the difference being in that it features no rear-wheel model. Below is a table summarizing the cost of the 2022 Porsche Taycan Cross Turismo:
| | |
| --- | --- |
| Trim (Drivetrain) | MSRP* |
| 2022 Porsche Taycan 4 Cross Turismo | $93,700* |
| 2022 Porsche Taycan 4S Cross Turismo | $110,300* |
| 2022 Porsche Taycan Turbo Cross Turismo | $153,500* |
| 2022 Porsche Taycan Turbo S Cross Turismo | $187,600* |
In terms of lease prices, the 2022 Porsche Taycan Cross Turismois under the brand's Porsche program. They also offer end-of-lease programs through Porsche Financial Services, ensuring that you'll always have different opportunities to make use of.
MACHINE PERFORMANCE
The specs of the 2022 Porsche Taycan Cross Turismois focused solely on electric-based powertrains. It also brings certain elements of the sedan version into its own design, such as its chassis. Two AC Permanent Synchronous Motors bring this wagon to life, capable of a combined power output of 469 horsepower for the base Tycan 4. This model goes from 0 to 60 in about 4.8 seconds with the aid of the car's Launch Control mode. In comparison, the Turbo S Cross Turismo has a power output of 750 horsepower and can reach 60 mph in only 2.7 seconds from a standstill. There are also the Taycan 4S and Turbo models which have power outputs of 562 and 670 horsepower. These two are able to make the 0 to 60 sprint in 3.9 and 3.1 seconds, respectively.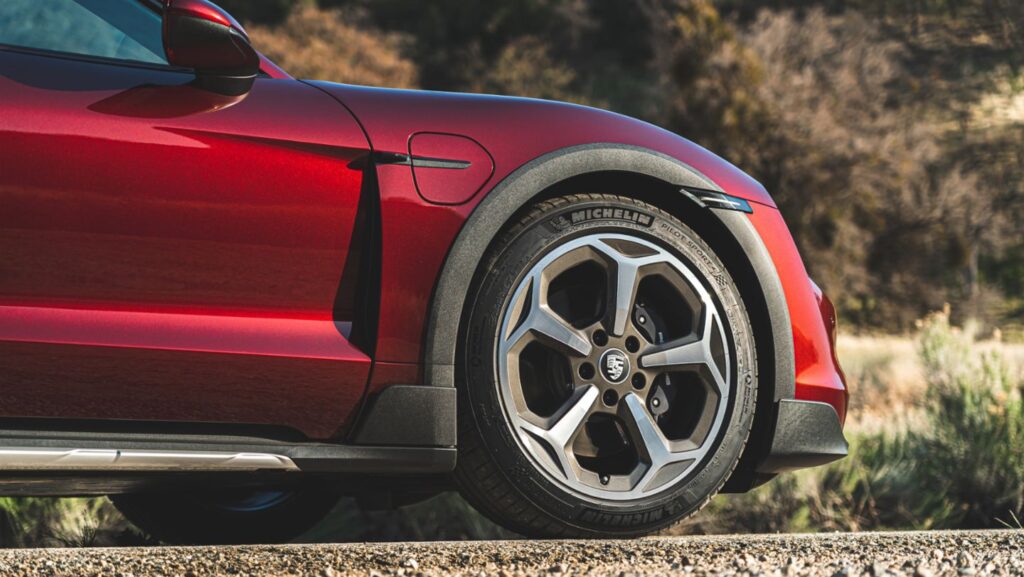 BATTERY LIFE
All models of the Cross Turismo variant of the Porsche Taycan come equipped with the brand's "Performance Battery Plus", a battery pack rated at 93.4 kWh. The battery pack is housed within the flooring of the vehicle to aid in improving the handling of the car by lowering its center of gravity. Shared among all models of the Cross Turismo, charging time with an AC current takes about 10.5 hours in total. If using a DC connection at 50kW, it takes 93 minutes to go from 5% to 80%. With a DC connection at max power, the time it takes to go from 5 to 80% charge lowers to 22.5 minutes.
FUEL EFFICIENT & ACTUAL MPG
The EPA has already released their estimates on the fuel efficiency of all 4 models of the 2022 Porsche Taycan Cross Turismo. All models have an average combined MPGe rating above 70, with the Taycan 4 Cross Turismo being the most fuel efficient of all the models. Below is a table tallying the different MPGe ratings of the various models of the Cross Turismo.
| | | | |
| --- | --- | --- | --- |
| Trim Mileage Estimates | City/mpg | Highway/mpg | Combined/mpg |
| 2022 Porsche Taycan 4 Cross Turismo | 76 | 77 | 76 |
| 2022 Porsche Taycan 4S Cross Turismo | 75 | 75 | 75 |
| 2022 Porsche TaycanTurbo Cross Turismo | 72 | 72 | 72 |
| 2022 Porsche TaycanTurbo S Cross Turismo | 74 | 73 | 73 |
INTERIOR, SOLACE & BAGGAGE
The 2022 Porsche Taycan Cross Turismo's interior is quite roomy in the front but slightly cramped at the rear for passengers. Utilizing a 2+2 seating concept, the front seats are power adjustable while the rear seats can be individually folded. All are fitted with seat heating, with options for ventilation available. If needed, there is even a five-seater setup which adds a small passenger seat in the center. Its storage capacity is respectable enough, definitely being greater than that of the sedan version. With the seats folded up, rear storage volume goes to 41.4 cubic feet from 14.3 cubic feet. The front luggage compartment has a total storage volume of around 2.9 cubic feet.
TECHNOLOGY
The 2022 Taycan Cross Turismo's infotainment system has been given a few touch-ups. First up is a 16.8-inch curved display meant for driver use. The Center console comes integrated with Direct Touch Control to make sure that navigating cabin controls is easy to manage. Other key features include the Porsche Communication Management system which comes with Online Navigations and Bluetooth Connectivity. Android Auto and Apple AirPlay also comes standard to all Taycan Cross Turismo models. The audio system is supplied by Bose who have equipped the Cross Turismo with a 14-speaker Surround sound system that has a combined output of 710 watts.
SAFETY
The Porsche Taycan Cross Turismo comes equipped with various driver-assistance technologies and safety features. The car features a system called "Functions on Demand" which enables driver-assistance functions as soon as you purchase them. Some features which can be purchased from Porsche include the Intelligent Range Manager, an Active Lane Keeping system, a Dynamic Light System, and InnoDrive with Adaptive Cruise Control. Safety features include sets of airbags for all passengers, rollover detection for the curtain airbags, and a warning and brake assistant for collisions.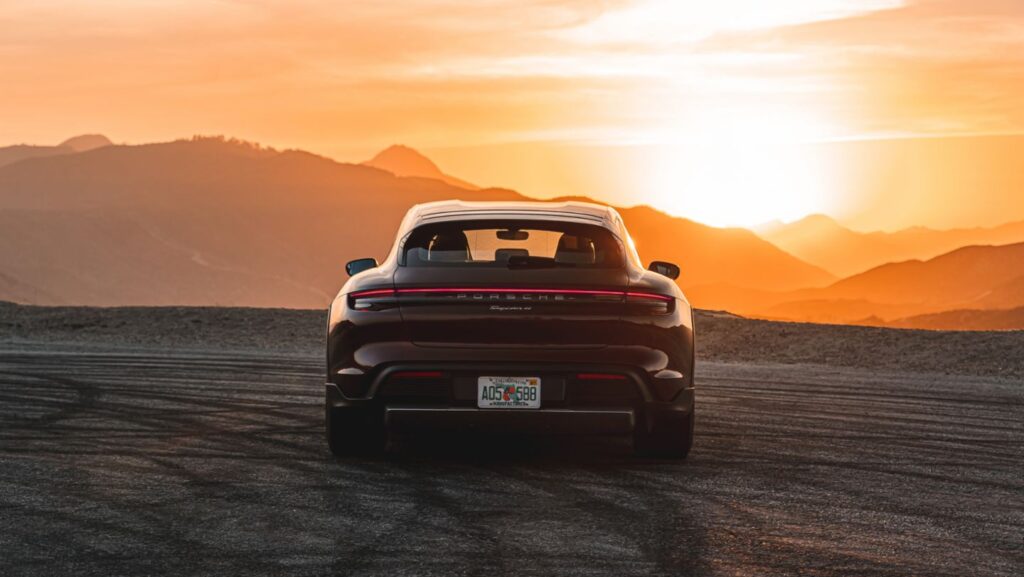 WARRANTY
Porsche offers basic coverage for the different electrical components of the Cross Turismo. The brand's warranty packages stand competitive when compared to the offerings of other similar vehicle brands. Their limited warranty spans 4 years or for the first 50,000 miles drive, whichever comes first. There is also a powertrain warranty which lasts for 8 years or the first 100,000 miles driven. Porsche has yet to offer any plans for complimentary scheduled maintenance.