SUMMARY
The 2022 Porsche Taycan is one of the leaders when it comes to the Sports EV market. However, many new competitors are making their way into the scene. Can the Taycan handle the heat and speed away from its rivals? This review on the 2022 Porsche Taycan will go into the different features and performance specs that make this EV a grand contender for the top.
LATEST
The 2022 iteration of the Porsche Taycan has had some notable improvements to its design. Its also welcoming a new GTS model which features the same equipment as that of the Turbo S. The 2022 Taycan also features various improvements to the infotainment system, finally adding in Android Auto support. Reduced charging times also come with this new generation, letting drivers get back onto the road even quicker than before.
ESTIMATED PRICE
The price of the 2022 Porsche Taycan is at the middle of the pack when it comes to sport EVs. Its most expensive model, the Turbo S, nearly makes it to the 200-thousand-dollar mark. Those looking to find a model that's a step up from the base Taycan should look into the 4S as it offers a mix of both fuel efficiency and performance. Below is a table listing down the cost of each model of the 2022 Porsche Taycan
| | |
| --- | --- |
| Trim (Drivetrain) | MSRP* |
| 2022 Porsche Taycan | $82,700* |
| 2022 Porsche Taycan 4S | $103,800* |
| 2022 Porsche Taycan GTS | $131,400* |
| 2022 Porsche Taycan Turbo | $150,900* |
| 2022 Porsche Taycan Turbo S | $185,000* |
Porsche does offer lease prices for the 2022 Porsche Taycan. Their lease program is aimed at providing drivers a flexible and manageable payment option for their top-of-the-line cars.
MACHINE PERFORMANCE
All models of the 2022 Porsche Taycan make use of an AC Permanent Synchronous Motor. The standard Taycan produces about 402 horsepower, while the 4S model gets away with 522 horsepower. The new GTS model improves on this with a power output of 590 horsepower. Finally, the Turbo and Turbo S each create a power output of 670 and 750 horsepower. The standard Taycan can go from 0 to 60 in 5.1 seconds, with the Turbo S covering that in only 2.6 seconds. All models make use of a 2-speed transmission that's fitted onto a rear-wheel drive system. The wheel size of the Taycan ranges from 19- to 21-inches depending on which model you go for. It hosts 4 drive modes (Sport, Range, Launch Control, and Power Steering Plus) which drivers can make use of in a myriad of situations.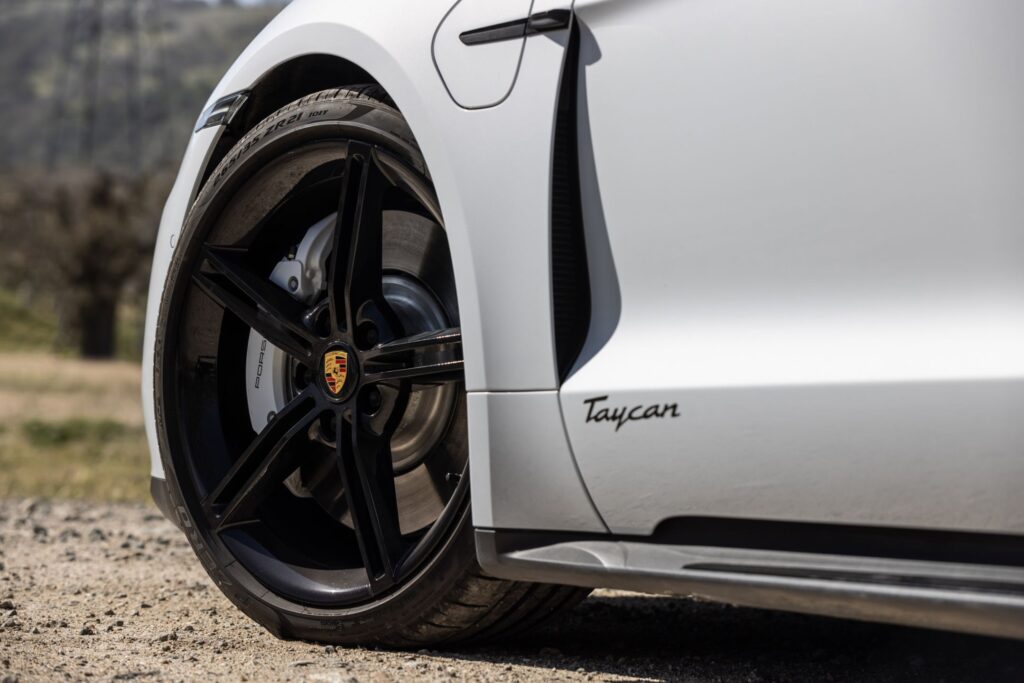 BATTERY LIFE
The Porsche Taycan makes use of an 800-volt battery platform which produces a power output of 270 kW. The Taycan is powered by a standard 79.2 kWh lithium-ion battery pack. However, there is the option to use Porsche's Performance Battery Plus, which features a 93.4 kWh battery pack. Charging the Taycan's performance battery should take about 9.5 hours on a 9.6kW AC connection. This increases to 10.5 hours if your model is fitted with Performance Battery Plus. If you're using a 50kW DC connection, charging time from 5% to up to 80% takes 93 minutes according to tests. On max power, a DC connection can charge the Taycan in as little as 22 and a half minutes.
FUEL EFFICIENT & ACTUAL MPG
The Taycan's MPGevary with its performance, with the Turbo S being the most inefficient but most powerful of the lineup. When it comes to driving range, the Taycan is capable of about 200 miles with the standard performance battery and 225 miles with the optional Plus model. This is quite underwhelming when compared to other EVs on the market. The Turbo model has a driving range of 212 miles and that's already with the Performance Battery Plus pack. On the Turbo S, it's been further decreased to a range of 201 miles of electrical driving range.
| | | | |
| --- | --- | --- | --- |
| Trim Mileage Estimates | City/mpg | Highway/mpg | Combined/mpg |
| 2022 Porsche Taycan | 76 | 84 | 79 |
| 2022 Porsche Taycan 4S | 79 | 80 | 79 |
| 2022 Porsche Taycan 4S (w/ Perf. Battery Plus) | 71 | 80 | 75 |
| 2022 Porsche Taycan GTS | TBD | TBD | TBD |
| 2022 Porsche Taycan Turbo | 71 | 75 | 73 |
| 2022 Porsche Taycan Turbo S | 69 | 71 | 70 |
INTERIOR, SOLACE & BAGGAGE
The interior of the 2022 Porsche Taycan and sleek and simple, similar to that of other Porsche releases. The cabin is decked out with rich materials and is available in a wide variety of color palettes. The car can seat up to 4 people, with the option to boost it up to 5. Storage space is a bit tight with 12.9 cubic feet of storage in the rear trunk.
TECHNOLOGY
A whole host of displays await the passengers of a kitted-out Porsche Taycan. For drivers, the car has a 16.8-inch curved digital gauge display. The standard infotainment package starts with a 10.9-inch infotainment touchscreen and an 8.4-inch screen for controlling various systems such as the advanced 2-zone climate control and navigation. For rear passengers, there is also the option to have a 5.9-inch display. The car comes integrated with Wireless Apple AirPlay and Wired Android Auto capabilities. Other infotainment options include the Porsche Communication Management system which carries voice recognition and 3D navigations tools. There is also Porsche Connect which improves upon the Taycan's ability to stream music through the internet as well as other E-mobility features.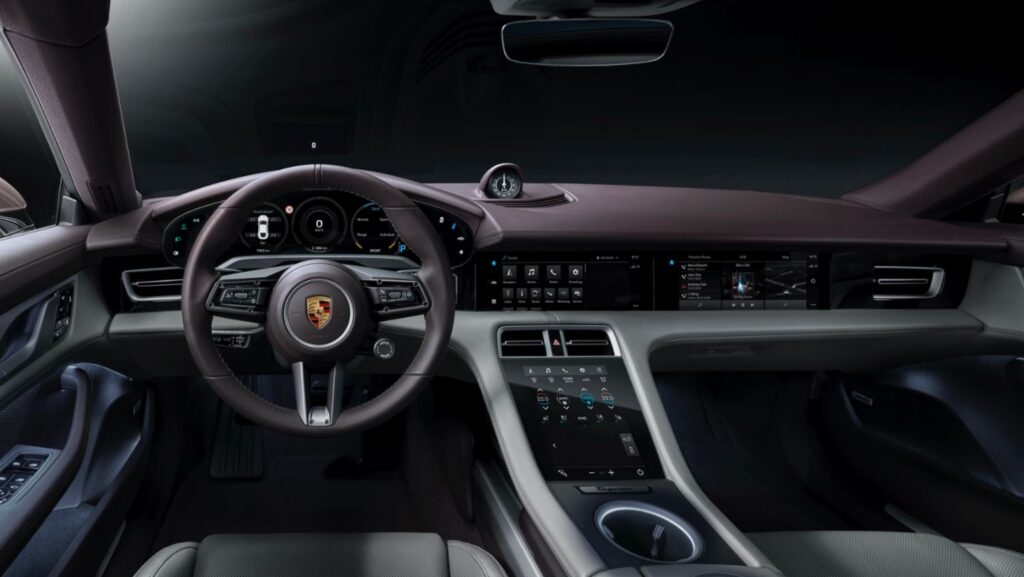 SAFETY
In terms of Safety, the Porsche Taycan has a lot to offer. Various driver-assistance technologies and safety features have been worked into the design of the car. A Warn and Brake Assist helps in mitigating or outright preventing collisions by using sensors to detect obstructions on the road. There is also a rollover detection system which manages curtain airbags and seat belt functions. Drivers may also go for various technology packages available to the Taycan for more driver-assistive features. The Technology Package, priced at $5,300, gives the car a Lane Change Assist and an Adaptive Cruise Control.
WARRANTY
The company offers quite the warranty plan, competing with similar offerings from its competitors in the sports EV market. Their limited warranty plan spans for 4 years or the first 50,000 miles driven, whichever comes first. Their powertrain warranty lasts for 8 years or 100,000 miles driven. The brand has yet to offer any plans for complimentary scheduled maintenance.