SUMMARY
The Toyota Avalon is the perfect choice for people who want something larger than a mid-sized sedan but don't want the large proportions of an SUV. Its standard offerings are filled to the brim with high-tech features and driver-assistive systems. The infotainment system is just as feature-packed but isn't too confusing to navigate. With two powertrain options that offer either performance or fuel efficiency, the Avalon has something for everyone. This 2022 Toyota Avalon review will go through the different specs and features present.
LATEST
With this iteration of the Toyota Avalon, there's not much that's been changed. However, there is news that the brand will stop production of the Avalon by the end of August this year. Those looking to have their own Avalon should act quickly as this is the last year for the Avalon. The TRD model has been discontinued and the option for the all-wheel drive system is gone from the lineup. The XSE model's hybrid variant is only in the Nightshade package. Lastly, the car's safety and driver-assistance features have been upgraded through the addition of new cameras and radar-based systems.
ESTIMATED PRICE
The 2022 Toyota Avalon price point differs across all the different trim levels available. However, compared to the previous model years, some options haven't been carried over. Still, all of the Avalon models come with a variety of tech features and other cabin comforts. Of course, our price analysis won't be covering additional costs such as for certain options in the 2022 Toyota Avalon colors range. Below is our 2022 Toyota Avalon cost table detailing the MSRPs of the different trim levels:
| | |
| --- | --- |
| Trim (Drivetrain) | MSRP* |
| 2022 Toyota Avalon XLE | $36,375* |
| 2022 Toyota Avalon XLE Hybrid | $37,350* |
| 2022 Toyota Avalon XSE Hybrid Nightshade | $40,700* |
| 2022 Toyota Avalon Touring | $43,075* |
| 2022 Toyota Avalon Limited | $42,675* |
| 2022 Toyota Avalon Limited Hybrid | $43,650* |
The 2022 Toyota Avalon's lease price, along with other financing options available for the vehicle, can be seen on their official website. Make sure to check that out along with your preferred car dealer to take advantage of deals in your local area.
MACHINE PERFORMANCE
The 2022 Toyota Avalon's specs sheet is separated into two different powertrain options: The traditional 3.5-liter V6 and the hybrid 2.5-Liter 4-Cylinder engine.
The 3.5-Liter V6 engine is available on the XLE, Touring, and Limited trim levels. It's capable of around 301 horsepower and a torque output of 267 pounds-feet. It's paired with a Direct Shift 8-speed automatic transmission system. All models come in front-wheel drive as the all-wheel drive version has been discontinued in this year's model.
The next powertrain option is the hybrid 2.5-Liter 4-Cylinder engine that's capable of 176 horsepower and 163 pounds-feet of torque. It's aided by two electric motors that produce 118 horsepower and 149 pounds-feet of torque. Overall, the whole hybrid system produces 215 horsepower. The hybrids make use of an ECVT or Continuously Variable Transmission system and are also only available in front-wheel drive.
FUEL EFFICIENT & ACTUAL MPG
The fuel efficiency of the 2022 Toyota Avalon ranges around a combined MPG rating of 25 to 26. With the hybrid models, this goes up to a combined MPG of 43 across the XSE Hybrid and Limited Hybrid. The XLE Hybrid models have the highest combined MPG rating at 44.
| | | | |
| --- | --- | --- | --- |
| Trim Mileage Estimates | City/mpg | Highway/mpg | Combined/mpg |
| 2022 Toyota Avalon XLE | 22 | 32 | 26 |
| 2022 Toyota Avalon XLE Hybrid | 43 | 44 | 44 |
| 2022 Toyota Avalon XSE Hybrid Nightshade | 43 | 43 | 43 |
| 2022 Toyota Avalon Touring | 22 | 31 | 25 |
| 2022 Toyota Avalon Limited | 22 | 31 | 25 |
| 2022 Toyota Avalon Limited Hybrid | 43 | 43 | 43 |
INTERIOR, SOLACE & BAGGAGE
With the 2022 Toyota Avalon interior being much more refined than the layout of previous generations, we're happy that it doesn't sacrifice much in the ergonomics department. The passenger capacity on both the Avalon and Avalon hybrid fits 5 people with its passenger volume totaling around 103.8 cubic feet on most models. For cargo storage, the rear compartment has 16.09 cubic feet of space for suitcases and travel bags. Even with the hybrid versions having to make space for the lithium-ion battery, it still preserves the same amount of space as that of the traditional models.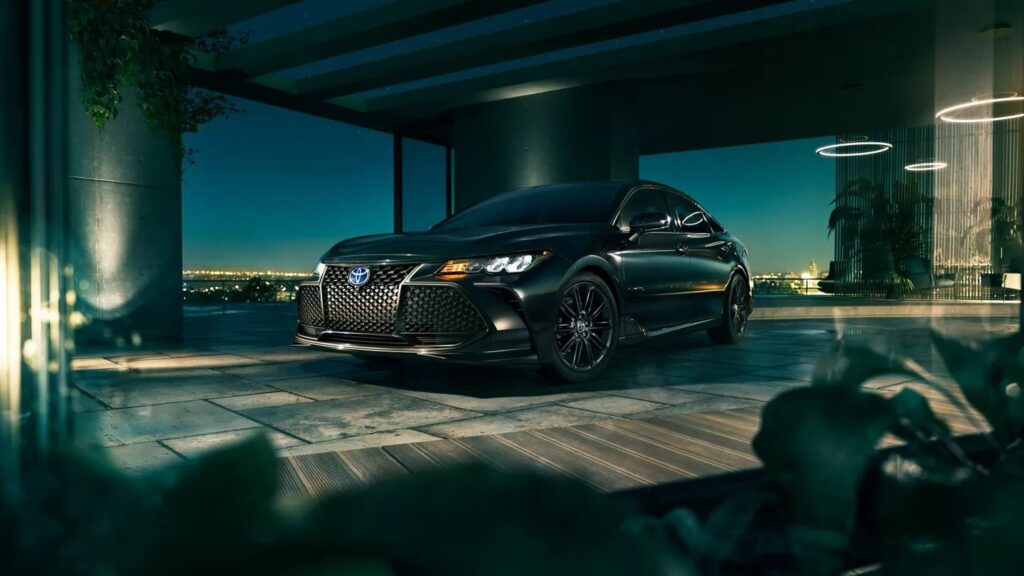 TECHNOLOGY
The XLE models of the Avalon and Avalon Hybrid come with a standard infotainment package that consists of a 9-inch touchscreen for controlling cabin functions and streaming. Connectivity options include Android Auto, Apple CarPlay, and Amazon Alexa. Bluetooth functions are also available for both hands-free phone operations and media streaming. Its audio system consists of an eight-speaker standard setup with a subwoofer unit and an amplifier. Other models come standard with a more deluxe infotainment package that comes with a Dynamic Navigation System that's free for 3 years. With its 9-inch touchscreen, the passengers can all connect via the same connectivity options as the last package. What's new with this one is the 14-speaker JBL audio system that also comes with both a subwoofer and an amplifier for increased sound quality.
SAFETY
The 2022 Toyota Avalon and the 2022 Toyota Avalon Hybrid have seen some upgrades to their driver-assistive features and safety suite. As with its rival, the Avalon and Avalon Hybrid have Blind Spot Monitoring and the Toyota Safety Sense 2.5+ as standard features. Certain features are also available as optional additions such as an Intelligent Clearance Sonar that's only for the Limited and Limited Hybrid models. Another standard package is Safety Connect with features such as a Stolen Vehicle Locator and Automatic Collision Notification. However, it's limited to a subscription plan with Toyota giving you complimentary access for 3 years.
WARRANTY
Toyota's warranty plans top the offerings of its rivals with its complimentary scheduled maintenance plan lasting for two years. Its Limited Warranty plan spans for 3 years or the first 36,000 miles driven, whichever comes first. The Powertrain Warranty lasts for 5 years with a mileage limit of 60,000 miles driven.