SUMMARY
Toyota is a company that has made some fantastic options for work and off-road uses. The Toyota Tacoma aims towards that same goal but sacrifices a lot of other things on the way there. Its engine is a bit underpowered, even with the V6 engine selected. We also feel that the interior is outdated, a trait shared by all models in the lineup. Although it still retains its position as a reliable work and off-road partner, it's debatable whether it stands up to today's competition. This 2022 Toyota Tacoma review will go into the different features and specs of this mid-sized pickup.
LATEST
The 2022 model year for the Toyota Tacoma is rich in new additions for the mid-sized pickup. The TRD Pro and the Trail Edition models have been given a bit of a taller figure at the front, giving them a better angle of approach and departure for rugged terrain. There are also new additions to the roster of 2022 Toyota Tacoma colors such as Electric Lime for the TRD Pro and Lunar Rock for the Trail Edition.
ESTIMATED PRICE
When it comes to the 2022 Toyota Tacoma price point, there's plenty to choose from. With the base model that costs roughly $27k, it tops off with the TRD Pro with a starting price of $46,135. Every other model comes with a selection of features and mechanical differences that helps improve performance stats. The infotainment packages are roughly the same on all models with the higher-end ones getting some additional features. Below is our 2022 Toyota Tacoma cost table which details the starting MSRPs:
| | |
| --- | --- |
| Trim (Drivetrain) | MSRP* |
| 2022 Toyota Tacoma SR | $26,700* |
| 2022 Toyota Tacoma SR5 | $28,490* |
| 2022 Toyota Tacoma TRD Sport | $33,610* |
| 2022 Toyota Tacoma TRD Off-Road | $34,890* |
| 2022 Toyota Tacoma Limited | $39,455* |
| 2022 Toyota Tacoma TRD Pro | $46,135* |
The 2022 Toyota Tacoma lease price can be found on their official website through the company's leasing program. From there, buyers can check out lease deals and financing options that are available to them. Make sure to check the site out and to contact your preferred car dealer for deals and other perks!
MACHINE PERFORMANCE
The 2022 Toyota Tacoma specs sheet details the 2 powertrain options available to the lineup: A 2.7-Liter 4-Cylinder engine and a 3.5-Liter V6 engine. The 2.7-Liter 4-Cylinde is capable of producing 159 horsepower and a torque output of 180 pounds-feet at 3,800 RPM. Its more powerful counterpart, the 3.5-Liter V6 engine, is capable of 278 horsepower and 265 pounds-feet of torque. The Tacoma is available in a 4×2 or 4×4 drivetrain setup, all paired with a 6-speed automatic transmission system.
FUEL EFFICIENT & ACTUAL MPG
The EPA's statistics on the fuel efficiency ratings of the 2022 Toyota Tacoma detail the different MPG ratings for each drivetrain. For the 4×2 model, the bed length doesn't affect fuel consumption in any necessary degree. However, this changes with the 4×4 model as there's a 2 MPG difference with the 5-ft and 6-ft beds. Below are the MPG ratings for the different powertrain options of the 2022 Toyota Tacoma:
| | | | |
| --- | --- | --- | --- |
| Trim Mileage Estimates | City/mpg | Highway/mpg | Combined/mpg |
| 2022 Toyota Tacoma 4×2 w/ 6-Ft. Bed | 20 | 23 | 21 |
| 2022 Toyota Tacoma 4×2 w/ 6-Ft. Bed | 19 | 24 | 21 |
| 2022 Toyota Tacoma 4×2 w/ 5-Ft. Bed | 20 | 23 | 21 |
| 2022 Toyota Tacoma 4×4 w/ 6-Ft. Bed | 19 | 22 | 19 |
| 2022 Toyota Tacoma 4×4 w/ 6-Ft. Bed | 18 | 22 | 20 |
| 2022 Toyota Tacoma 4×4 w/ 5-Ft. Bed | 18 | 22 | 18 |
INTERIOR, SOLACE & BAGGAGE
The 2022 Toyota Tacoma interior space is made with utility in mind rather than comfort. Even the higher-end trim levels make use of hard plastics in the build of its cabin, making the overall feel a bit cheaper than expected. The passenger capacity of the Tacoma is enough to seat 5 people although we admit the legroom is a bit cramped. The Toyota Tacoma has a cargo payload capacity that depends on the model. The Tacoma SR 4×4 with the 5-ft. bed has a payload capacity of 1,155 pounds. The 4×2 model with the 6-ft bed can carry up to 1,685 pounds.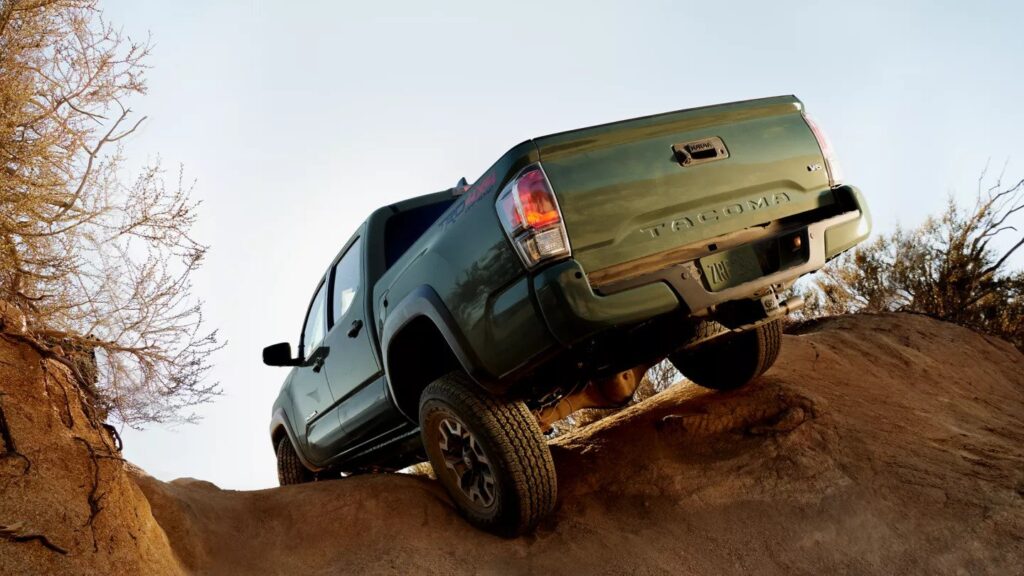 TOWING CAPACITY
Although there's not much information on the axle ratios of the different Toyota Tacoma models, we do know that the 2022 Toyota Tacoma towing capacity is around 6,400 pounds for all models. All of them also have a Tongue load of 640 pounds and comes with a Class-IV towing hitch receiver. This receiver comes with a 4- and 7-pin connector and even has Trailer-Sway Control features on the V6 engine models.
TECHNOLOGY
The infotainment system of the 2022 Toyota Tacoma starts off with a 7-inch screen which is upgraded to an 8-inch touchscreen as you look into the models past the base Tacoma SR. All models come with Android Auto and Apple CarPlay connectivity and have access to SiriusXM's satellite radio. Bluetooth is also available on all the models, allowing drivers to operate their phones and stream media through their mobile phones. Toyota's different connected services are also available on the Tacoma, with the top-tier trim levels coming with complimentary trials for each of them. The Safety, Service, and Remote Connect Systems add onto the already impressive array of features available for drivers on the Tacoma. Toyota's Wi-Fi Connect, powered by AT&T, comes with 2GB useable in a 3-month premium trial.
SAFETY
The NHTSA has already taken a thorough look into the Tacoma's safety suite, giving it a 4-star rating for overall safety rating. With its driver-assistance technologies, the Toyota Tacoma outshines other vehicles with the massive number of features that come standard to it. Some of the features include Pre-Collision Detection Systems, Pedestrian Detections, Lane Departure Alert, and a Dynamic Radar Cruise Control feature. All of these come with the Toyota Safety Sense package that's available to all models. Other features such as Blind Spot Monitors, Rear Cross-Traffic Alerts, and a Rear parking sonar, are only available on the higher-end tiers such as the TRD Off-Road and the Limited. Tire Pressure Monitors do come standard but individual tire alerts are also exclusive to the higher-tiered models.
WARRANTY
Toyota offers a decent warranty package for every purchase of the Toyota Tacoma. Their limited warranty spans for 3 years or 36,000 miles driven, whichever comes first. Their powertrain warranty lasts for 5 years with a mileage limit of 60,000 miles driven. Last off is the complimentary scheduled maintenance package which is available to drivers for 2 years with a mileage limit of 25,000 driven.