SUMMARY
The 2022 Ford Explorer returns as the family-oriented SUV of this year's lineup. It comes with three rows of seats and is capable in both urban settings and work-related uses. The 2.3-Liter EcoBoost engine is capable enough but can be improved further to a 3.0-Liter V6 or the standard 3.3-Liter Hybrid options. Tech features are plentiful but aren't as cohesive when compared to the likes of its rivals. This 2022 Ford Explorer review will look into the features and specs of this SUV.
LATEST
There's a whole host of updates made to the various trim levels of the 2022 Ford Explorer, including a new model that combines performance and style. No changes have been made to certain options such as the roster of 2022 Ford Explorer colors. The Explorer ST-Line is the newest member of the Explorer lineup, combining the 4-cylinder engine with the aesthetic used on the Explorer ST. There's also changes to the King Ranch and Platinum as they are now available in rear-wheel drive configurations. The Timberline model has the option for a second-row bench for additional passenger capacity.
ESTIMATED PRICE
The 2022 Ford Explorer price point is split among the many trim levels made available to buyers. With a selection of standard features and powertrain options, we expect this SUV to see a wide range of uses. Even the base Explorer is capable with its 2.3-Liter Ecoboost Engine although infotainment options and other technologies improve as you go up the trim levels. Below is a table detailing the different starting MSRPs of the 2022 Ford Explorer:
| | |
| --- | --- |
| Trim (Drivetrain) | MSRP* |
| 2022 Ford Explorer | $33,745* |
| 2022 Ford Explorer XLT | $37,425* |
| 2022 Ford Explorer ST-Line | $45,245* |
| 2022 Ford Explorer Timberline | $46,745* |
| 2022 Ford Explorer Limited | $45,995* |
| 2022 Ford Explorer ST | $47,745* |
| 2022 Ford Explorer King Ranch | $53,995* |
| 2022 Ford Explorer Platinum | $52,595* |
Ford offers leasing programs and other financing options for most of their vehicles through specific dealers and their online site. Make sure to check those out for the 2022 Ford Explorer lease price alongside the many deals available in your local area.
MACHINE PERFORMANCE
The 2022 Ford Explorer specs sheet details the 3 powertrain options made available: A 2.3-Liter Ecoboost 4-Cylinder Engine, a 3.0-Liter EcoBoost V6 and a 3.3-Liter Hybrid Engine. The first option, the 2.3-Liter Ecoboost, can produce 300 horsepower and 310 pounds-feet of torque. The 3.3-Liter Hybrid V6 Engine sees a decent uptick in power and torque as it reaches 318 horsepower and 322 pounds-feet of torque. The most powerful of the options is the 3.0-Liter EcoBoost Engine that's available on the King Ranch, Platinum, and ST models. It produces 400 horsepower and 415 pounds-feet and is best for those drivers that need tough and reliable options. This model of the Ford Explorer comes with a 10-Speed Automatic Transmission system. Drivetrain options range from rear-wheel drive to an Intelligent 4WD system that has 7 drive modes available.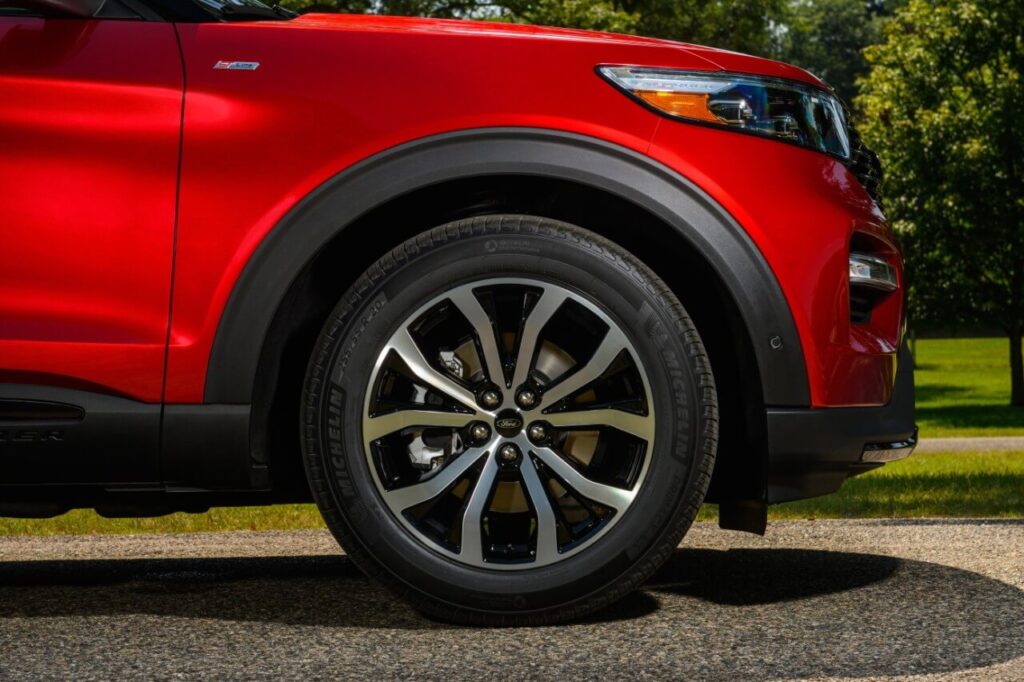 FUEL EFFICIENT & ACTUAL MPG
The EPA has already released the MPG estimates for the various configurations of the 2022 Ford Explorer. For the traditional engine options, the 2.3-Liter EcoBoost options are the most fuel-efficient choice. Of course, they're beaten by the hybrid engine option which offers a small improvement in performance alongside its fuel efficiency when compared to the 2.3-Liter. Below is a table detailing the various MPG Estimates for the 2022 Ford Explorer:
| | | | |
| --- | --- | --- | --- |
| Trim Mileage Estimates | City/mpg | Highway/mpg | Combined/mpg |
| 2022 Ford Explorer 2.3-Liter EcoBoost RWD | 21 | 28 | 24 |
| 2022 Ford Explorer 2.3-Liter EcoBoost 4WD | 20 | 27 | 23 |
| 2022 Ford Explorer 3.0-Liter EcoBoost V6 RWD | 18 | 25 | 20 |
| 2022 Ford Explorer 3.0-Liter EcoBoost V6 4WD | 18 | 24 | 20 |
| 2022 Ford Explorer 3.3-Liter Hybrid RWD | 27 | 28 | 27 |
| 2022 Ford Explorer 3.3-Liter Hybrid 4WD | 23 | 26 | 25 |
INTERIOR, SOLACE & BAGGAGE
Ford's work on the 2022 Ford Explorer interior makes it so that the cabin is suitably comfortable and functional. However, we feel that the design itself is a bit simple and could use a bolder styling scheme as it's starting to get old. The passenger capacity of the Explorer is enough for 6 people with a passenger volume of 152.7 cubic feet. Getting into the third row found on all models is a quite cramped though as there's little space to work around. The cargo capacity of the 2022 Ford Explorer sits at 18.2 cubic feet behind the third row of seats. This increases to 47.9 cubic feet from behind the 2nd row and 87.8 cubic feet if from behind the front row.
TOWING CAPACITY
Although the company's online page for the 2022 Ford Explorer doesn't have much information on axle ratios, we do know that the 2022 Ford Explorer towing capacity starts off at 5,300 pounds on the base model. The 3.3-Liter V6 powertrain is capable of a towing capacity of 5,000 pounds instead and the 3.0-Liter Ecoboost V6 powertrain is capable of a towing capacity of 5,600 pounds. There's also the option for Towing and Trailer Sway Control which helps by adjusting engine power to aid trailer control.
TECHNOLOGY
The infotainment suite of the Ford Explorer is composed of an 8.0-inch touchscreen that is upgradeable to a 10.1-inch vertical screen on the higher trim levels. All models above the base Explorer get good connectivity options with Android Auto and Apple CarPlay through the SYNC infotainment system. Some other features included with this system are voice recognition features and a thorough built-in navigation system. FordPass, the company's connected services suite, is also a standard option for most models of the Ford Explorer. Models come with a 4G LTE Hotspot that's powered by AT&T and works up to 50 feet outside of the vehicle. The standard audio system on most models is an MP3-Compatible 6-Speaker system which is improved to a 12-speaker setup sourced from B&O.
SAFETY
The safety systems and driver-assistive technologies found on the Ford Explorer are mostly standardized across all models. Some features include an SOS Post-Crash Alert System and the Safety Canopy System which helps to protect passengers in the case of rollovers or other accidents. The Explorer also comes with AdvanceTrac and Roll Stability Controls, features that are included with the Ford Co-Pilot360 Technology suite.
WARRANTY
When it comes to the warranty packages offered with the Ford Explorer, the company provides one that's on-par with other competitors. They have a limited warranty plan that spans for 3 years or the first 36,000 miles driven, whichever comes first. Next is the powertrain warranty which lasts for 5 year with a mileage limit of 60,000 miles driven. The company doesn't provide a complimentary scheduled maintenance plan.