SUMMARY
Chevrolet is looking to get into the exotic cars market, setting their sights on placing their name alongside brands like Lamborghini or Bugatti. Not only does it innovate on the base Corvette Stingray model, it completely reinvents it in a way better than any Z06 before it. Its performance and handling is shaping up to be a remarkable improvement from its predecessors. If anything, the Chevy Corvette Z06 will build up on trends being set by the latest and greatest from the company.
LATEST
Chevrolet switched it up with a mid-engine layout on their C8 Corvette, and now they plan on passing it down onto the 2023 Corvette Z06. This high-performance Chevrolet is equipped with a whole new engine, along with new body panels that are 3.6 inches wider. This allows for broader tires for better grip, and allows it more space for additional cooling for the new V8 engine.
The first of these beauties will start production in the summer season of 2022 at Bowling Green, Kentucky. Chevrolet plans for it to go on sale as a 2023 model, so it won't be coming out anytime soon. The Z06 is a tricked-out version of the standard corvette, but track-focused and with added performance to boot.
ESTIMATED VALUE
Pricing has yet to be disclosed by the company, so all there is for now is speculation on the base price. However, we do know that the Z06 is not exclusive to just North America. General Motors is looking into international distribution, including a promised right-hand drive version. This bodes good news to the everyday car enthusiast as they can get into the same action as the competition. Rumors state that it will likely have a starting price of $90,000*.
MACHINE PERFORMANCE
The Chevrolet Z06 comes with a new unique engine that makes it not only sound like the supercars we know, but even compete toe-to-toe with them. A 5.5 liter V8 with a flat-plane crank capable of up to 8600 rpm. It produces a staggering 670 horsepower along with 460 pounds-feet of torque. This is quite the improve to the previous C7 Z06 that had 20 less horsepower, and that car came with a supercharger to it!
This wonderfully designed V8 is hooked up to an eight-speed automatic transmission and will come in a rear-wheel drive configuration. Wider tires and powerful brakes help it to round corners without slowing down much and help it to stop quicker than regular corvette models. Chevrolet has also improved the chassis, ensuring that the added performance is felt when you bring it around a racetrack.
For those looking to kit out their ride even more, Chevy offers the Z07 package which adds aerodynamic parts, reduced weight, and additional upgrades to both the tires and brakes of the car. Its wheels will come as both 20-inch front and 21-inch rear forged aluminum. There is also the option to swap these out with lighter carbon-fiber rollers.
FUEL EFFICIENT & ACTUAL MPG
The company states that details on the car's fuel economy and MPG rating will be released soon. We'll keep you posted on more updates regarding this!
INTERIOR, SOLACE & BAGGAGE
While being a bit cramped in the cockpit, it is definitely a step-up and best-designed Corvette cabin we've seen to date. The high-quality finish and competency for design being shown here gives little need to upgrade it further. The layout itself is perfectly catered to the driver, sporting a great assortment of standard and optional features for you to choose from.
It sports a square steering wheel and a whole host of climate-control options located on the center console, being a bit of a strange deviation from the typical layout. It sports a digital gauge cluster, heated seats, a heads-up display, and even has the capacity for wireless phone charging. The rear trunk of the Corvette should give drivers enough space to carry a small amount of cargo. However, we feel that the trunk space takes a backseat to the style and performance of the car.
TECHNOLOGY
Within this Corvette's dashboard stars an 8.0 inch touch infotainment system. This comes integrated with Android Auto, Apple Carplay, and Wi-Fi hotspot capabilities. Two options for Bose stereo systems are rumored to be options: A 10-speaker and 14-speaker setup.
It will also keep the Performance Data Recorder (PDR), allowing you to record track runs, relaxing drives, and as much as your travels as you want. There's even a setting which keeps track of the car if you should leave the Z06 for valet parking.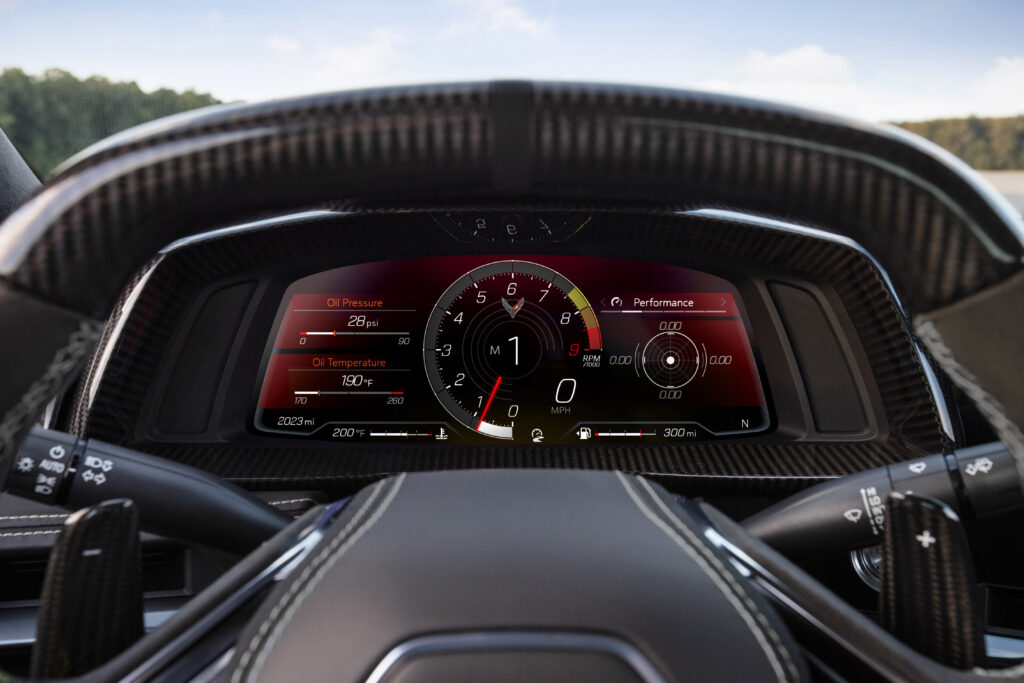 SAFETY
The Z06 offers Standard rear parking sensors along with a multi-view camera system. It also has a blind-spot monitor and cross-traffic alert system available. Crash-test results can be viewed online.
WARRANTY
Chevrolet provides a warranty coverage plan that's on-par with the rest of the industry. While the company does have more maintenance options that they offer as free, the warranty plan itself is one of the shortest around.
The Limited warranty is available for 3 years or 36,000 miles, whichever comes first. The warranty on the Powertrain is covered for 5 years or 60,000 miles.