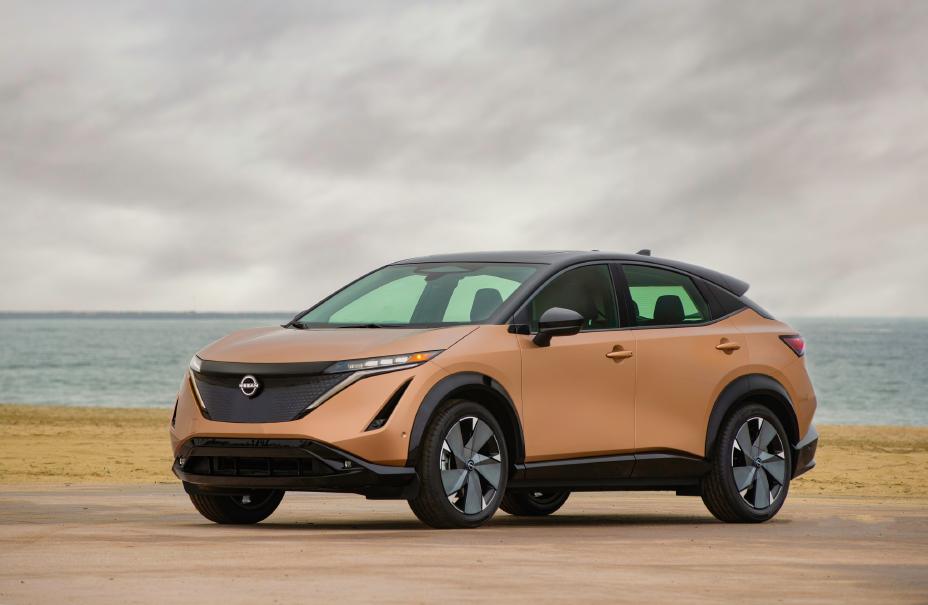 Nissan is getting closer to the release date of the new 2023 Nissan Ariya EV Crossover, set for delivery as soon as 2022. This Crossover will be Nissan's first model stemming from their electrification initiatives, of which they expect that greater than 40 percent of car sales will be of electric vehicles by 2030. Coinciding with the release, Nissan has also opened up a special reservation site for customers to make sure they get their SUV first.
For the first wave of deliveries, there will be four models that will be made available, equipped with a variety of standard features. These include an 87-kWh battery pack with advanced liquid cooling systems, a CCS quick charging port, Apple CarPlay wireless integration, Android Auto wired integration, and Nissan's Safety Shield 360 suite.
MSRP for reserved units of the Ariya Venture+ front-wheel drive model starts off at $45,950*, with a driving range estimated to be about 300 miles. The Evolve+ model in FWD follows, with an asking price of about $48,950* and comes with additional features such as a powered moonroof and liftgate, power-adjusted front seats, and a monitoring system that offers 360° view of the surroundings. It offers The reserved Premiere model is the last one that is offered in front-wheel drive, starting at a price of $53,450*. It comes fitted with 19-inch wheels composed of an aluminum-alloy, along with a distinct aero wheel cover color treatment. All three of the models stated so far have a power output 238 horsepower and 221 pounds-feet of torque. The Premiere + e-4ORCE is the other top-tier model available, costing an MSRP of $58,950* and has the greatest performance with 389 horsepower and 442 pounds-feet of torque. This trim is similar to the premiere in many aspects, carrying 20-inch wheels and fitted with leather upholstery. The telescoping steering wheel comes with a power tilt feature and the front seats are cooled and have position memory. It also comes with a 10-speaker audio system setup courtesy of Bose.
Buyers who are interested in reserving their models of the Nissan Ariya can visit the NissanUSA website and create their own MyNissan account. From there, they can select their preferred model through the vehicle configurator with a $500 refundable deposit. Afterwards, buyers can choose their trusted car dealer to have the Ariya delivered to. Once it arrives, buyers can either complete their purchase through the online site or at the dealership itself. There's options for the Ariya to either be picked up at the dealership or delivered straight to your doorstep.
The first 10,000 reserved units that reach the Jan. 31, 2022 deadline will be able to avail of a free two-year EVgo membership, as well as $500 in charging credits. This is estimated to be about 5000 miles of electric driving range if using the Ariya Venture+ models. The first models to arrive will be the front-wheel drive setups, which will then be followed by the all-wheel drive models by late fall of 2022.