The Ford Mustang Mach-E GT is one of the first flagship models by Ford to get the electrification treatment. This all-electric SUV gets both the GT badge and the distinction of the Mustang lineup, which might make more die-hard fans of Ford get a little heated. Of course, you must be thinking to yourself "Why would they give an electric SUV the Mustang treatment?". We'll be getting to the bottom of that in this look into what makes the 2021 Ford Mustang Mach-E GT a surprising player in the EV industry. Some features that come with the GT model of the Mustang Mach-E include a Permanent Magnet Electric Motor present on both axles, sport-style seats with ActiveX seating material, and various other features that make it a premium choice for buyers.
The GT model of the Mustang Mach-E makes use of an Electronic All-wheel Drive (eAWD) system. This lets the SUV produce a combined power output of 480 horsepower with the 2 electric motors found on each axle. It also has a torque output of around 600 pounds-feet. Performance-wise, it takes around 3.8 seconds for it to go from 0 to 60 mph.
Since the GT is meant for a sportier experience when compared to the other trims, it comes with several changes to both balance and power distribution of the front and rear wheels. This can all be configured through the different drive modes available for a variety of road conditions and situations. These modes are Engage, Whisper, and Unbridled.
The image of a family-friendly electric SUV doesn't really invoke images of a high-speed machine, but the Mustang Mach-E GT isn't any old electric SUV. When kicked into its Unbridled drive mode, the motors take its performance all they way up to 11. It allows drivers to push this vehicle to the max without any dips in engine power that comes from thermal issues. It even simulates the grumble of a powerful gas engine by filling the cabin with sounds.
The GT's body sits a bit lower than that of other models, roughly lower by about 10 millimeters. This makes it take tighter corners with much more confidence. It sports a set of Brembo disc brakes which gives it some top-notch braking power. These brakes are hidden behind 20-inch Cast Aluminum Wheels which are fitted with a set of 245/45R20 tires which were developed with the aid of Pirelli.
The interior of the Mustang Mach-E GT is similar to that of the other trims, but maintains a sporty feeling to it with the additions that have been made. The Sport-styled front seats do look athletic, but they don't really have the supports needed for keeping riders on their seats during tight turning. In terms of the materials that adorn the cabin, it makes use of leather and plastic elements that might pass for some but may feel cheap and synthetic for others.
The 15.5-inch touchscreen within the cabin is used to navigate the various features of the car and cabin. It comes with the SYNC 4A infotainment suite which comes integrated with Apple CarPlay and Android Auto. Its menus are composed of swipeable cards that access features such as Navigation, SiriusXM Satellite Radio, and other features. Its audio system is composed of a 9-speaker setup sourced from Bang & Olufsen and includes an additional subwoofer unit.
In terms of cargo capacity, it has a total of 59.7 cubic foot of cargo volume. With the rear seats deployed, this is reduced to about 29.7 cubic feet. This should be enough for families on the moves or when you just need a decent amount of stuff moved from point A to B.
Its battery system is composed of 376 lithium-ion cells that are packed together and liquid-cooled for optimized performance and improved charging times. It has a total usable capacity of 88 kWh and is fixed on the floor of the car, right between the front and rear axles. The battery pack itself is surrounded by a waterproof case and is fortified by crash-absorption protection.
This effectively gives this electric SUV an estimated driving range of about 270 miles when operating on a full charge. It has also been given an EPA rating of 90 MPGe/City, 77 MPGe/Highway, and 84 MPGe/Combined.
The Mustang Mach-E GT can be charged on SAE J1772 CCS outlets capable of either 120V, 240V, or DC Fast Charge. For AC outlets, it can be charged on outlets rated up to 10.5Kw, while DC outlets can be used if they are rated for up 150 kW. Ford also includes a Mobile Charger that's meant for home use.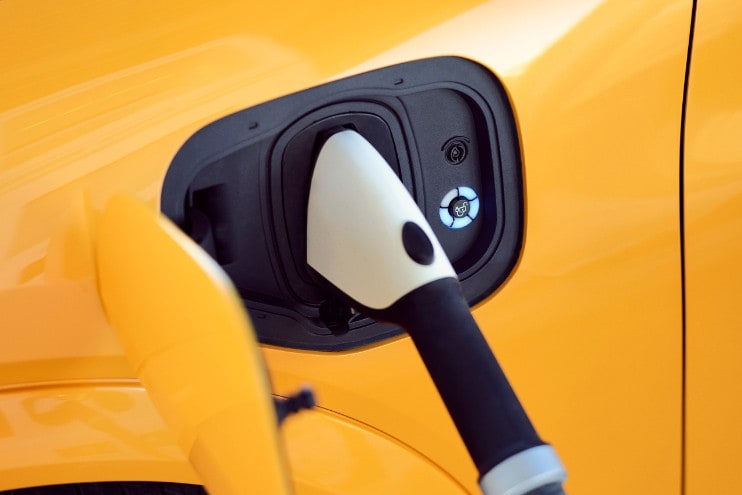 In terms of safety features, the GT trim of the Mustang Mach-E comes laden with different technologies that help prevent or mitigate accidents on the road. One such feature is AdvanceTrac, which comes standard on the GT trim. This feature by Ford allows drivers to be alerted by the car's system whenever there's an issue with the car's traction control, whether it be from oversteer or understeer. The Advanced Security Pack also comes as standard, including several anti-theft measures that help when you need to leave your car alone for awhile.
Ford also integrated their "Co-Pilot360" Technology suite onto the Mustang Mach-E GT. This allows the GT to field several sensor-reliant driver-assistance technologies. Features included with the Co-Pilot360 suite an Adaptive Cruise Control, Automatic Emergency Braking assist, Reverse Brake Assist, Reverse Sensing System, and even a 360° Camera System for monitoring the surroundings.
Surprisingly, the 2021 Ford Mustang Mach-E GT gives buyers a package that's both practical and able to dish out some high-performance action. To us, its impressive power output and handling make it worthy of the Mustang name. It even has the added benefit of being suitable for family drives and daily outings. The 2021 Ford Mustang Mach-E GT is a suitable competitor for the current staples of the EV industry, bringing buyers some good value for the price. The GT model starts off at an MSRP of $59,900*.