SUMMARY
Hyundai releases the 2022 model refresh of their Sonata family sedan. Coming with a variety of trim levels, the Sonata can be a fuel-efficient family car that has impressive performance. Those looking for more power should definitely go for the N Line trims, but others may find that the other models will do just fine for their daily drives. This review on the 2022 Hyundai Sonata will go through the various features available on the car.
LATEST
There are not many noticeable changes to the Hyundai Sonata, with the only noteworthy one being the new Night Edition available for the N Line trim level. The release date of the 2022 Hyundai Sonata was in the summer season of 2021.
ESTIMATED PRICE
Hyundai offers a variety of options for the 2022 Hyundai Sonata, all with differing price points. Three engine options are available among the various trims, allowing buyers to choose the one suited for their driving style. Below are prices of the various trim levels of the 2022 Hyundai Sonata in the USA:
| | |
| --- | --- |
| Trim (Drivetrain) | MSRP* |
| 2022 Hyundai Sonata SE | $24,150* |
| 2022 Hyundai Sonata SEL | $25,950* |
| 2022 Hyundai Sonata SEL Plus | $31,150* |
| 2022 Hyundai Sonata N Line | $33,450* |
| 2022 Hyundai Sonata Limited | $34,100* |
| 2022 Hyundai Sonata N Line Night | $34,750* |
The company offers various deals and lease offers for the 2022 Hyundai Sonata, all differing according to the state you're living in. Make sure to check out their official site to see what deals you can take.
MACHINE PERFORMANCE
Three engine options are available for the various trim levels of the Hyundai Sonata. The first of these is a 2.5-Liter Inline 4-Cylinder engine which is capable of 191 horsepower and a torque output of 181 pounds-feet of torque. This is available on the SE and SEL trims, only available in FWD and comes paired with an 8-speed automatic transmission.
Next powertrain option is a 1.6-Liter Turbocharged 4-Cylinder engine, producing 180 horsepower and a greater torque output of 195 pounds-feet. This powertrain is available on the SEL Plus and Limited trim levels.
The N Line trims are both equipped with a 2.5-Liter Turbo 4-Cylinder engine, being the most powerful of the engine options. This powertrain outputs 290 horsepower and 311 pounds-feet of torque. No official information on sprint time is available on Hyundai's site, but we do know that it uses a variety of tire sizes: 16-,17-,18-, and 19-inch alloy wheels.
FUEL EFFICIENT & ACTUAL MPG
The Hyundai Sonata has a range of different powertrains which offer varying levels of fuel efficiency. Buyers can choose their own balance of performance, technology, and fuel economy which fits their budget. Below are the respective MPG values for the trim levels available:
| | | | |
| --- | --- | --- | --- |
| Trim Mileage Estimates | City/mpg | Highway/mpg | Combined/mpg |
| 2022 Hyundai Sonata SE | 28 | 38 | 32 |
| 2022 Hyundai Sonata SEL | 27 | 37 | 31 |
| 2022 Hyundai Sonata SEL Plus | 27 | 37 | 31 |
| 2022 Hyundai Sonata N Line | 23 | 33 | 27 |
| 2022 Hyundai Sonata Limited | 27 | 37 | 31 |
| 2022 Hyundai Sonata N Line Night | 23 | 33 | 27 |
One thing to note is that the SE has the lowest fuel tank capacity, being able to carry 14.8 gallons of fuel. All trim levels afterwards have a fuel capacity of 15.9 gallons.
INTERIOR, SOLACE & BAGGAGE
The 2022 Hyundai Sonata's interior is surprisingly luxurious to look at, giving a greater sense of value for its price point. Passengers, both at the back and front, will find the headroom and legroom to be quite spacious. The driver's seat is 6-way adjustable but can be upgraded to an 8-way power adjustable seat. The front passenger seat can also be upgraded in a similar way up to a 6-way power adjustable seat. The front passengers also enjoy heating and ventilation features on higher trim levels. All seats come standard with premium cloth covering but can be upgraded to leather seat covers. The Limited trim level also has unique sport-style front seats which make use of Dinamica microfiber inserts as its seating material. Other interior features include a panoramic sunroof, an auto-dimming rearview mirror, and even a memory system for the position of the driver's seat and rearview mirrors. Cargo capacity on the Hyundai Sonata totals up to 16.0 cubic feet, a sizeable amount that's ample for cars of its class.
TECHNOLOGY
There's a lot of upgrade options available for the technology suite found on the Sonata. The infotainment suite starts off with an 8-inch color touchscreen, which can then be upgraded with an 8-inch screen that comes integrated with SiriusXM and Hyundai Bluelink. The higher-tier trim levels come with a 10.25-inch touchscreen that comes with many features built-in to the console. The Sonata comes integrated with Android Auto and Apple CarPlay connectivity, as well as being able to use the Hyundai Digital Key. The latter allows drivers to use their smartphones to start the car, open and lock doors, and other features. Higher trim levels also come with voice recognition abilities, allowing for more hands-free interactions with the car's various features. The Sonata comes standard with a 6-speaker audio setup, which can then be upgraded to a 12-speaker sound system courtesy of Bose.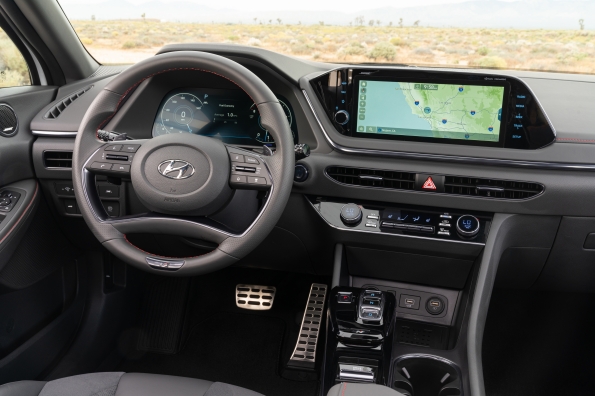 SAFETY
The Hyundai Sonata carries a whole slew of safety features and driver-assistance technologies that help prevent or mitigate accidents. Most of the features come bundled with Hyundai's SmartSense package. Some of the features that are equipped on the Sonata include a Smart Cruise Control system, blind-spot collision assists, rear cross-traffic alerts, a lane-keeping and following assist system, and various other options. Some of these features come standard to all trims, while others are optional.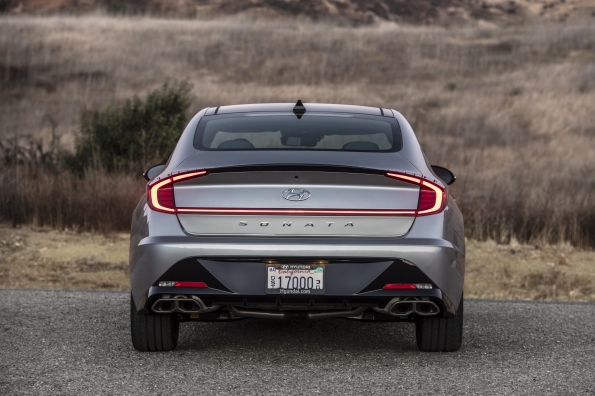 WARRANTY
Hyundai is quite proud of their warranty offerings, touting it as America's Best Warranty. Their limited warranty plan spans for the first 5 years or the first 60,000 miles driven, whichever comes first. Their powertrain warranty is one of the best around, spanning a long 10 years or for the first 100,000 miles driven. There is also an anti-perforation warranty which lasts for 7 years with no mileage allowances. It's a similar situation for Hyundai's roadside assistance offer, being available for 5 years regardless of how many miles driven. They also offer a new complimentary maintenance service plan, available for driver for the first 3 years or 36,000 miles driven.