SUMMARY
Hyundai has refreshed its compact sedan, the Hyundai Elantra, for the 2022 model year. With a newly kitted-out cabin and a whole array of new technology offerings, the 2022 Hyundai Elantra is improving its style and form factor. Not wanting to be cut ahead by the competition, the hybrid powertrains are also available as a fuel-efficient alternative. With the new additions, improvements, and offerings on display, the Elantra is ready to compete in this heavily contested market.
LATEST
There's not much difference in the transition between the 2021 and 2022 models of the Hyundai Elantra. There are plans for a racing-oriented model for this model year, with its release at the same time as the Elantra.
ESTIMATED PRICE
The 2022 Hyundai Elantra's Price differs with the 6 different models available for purchase. Four of these run-on traditional gasoline powertrains, while the Blue and Limited Hybrids are available for those looking into their fuel savings. The 2022 Hyundai Elantra's price in the USA market is still quite affordable for a sedan of its class, especially with the additions that this new iteration brings in.
Without any additional options or packages, the SE has a starting MSRP of $19,850*. This is followed by the SEL trim which is offered at about $21,100*. The 2022 Hyundai Elantra N is the next in tier, with an asking price of $24,250*. Lastly, the Limited trim is the high-end trim level and has a starting MSRP of $25,600*.
The Blue Hybrid is the first of the available traditional hybrid model of the Elantra, starting at a price point of $23,750*. A Limited Hybrid is also available for purchase, with a starting price of about $28,250*. Both of these models have a fuel tank capacity of 11.0 gallons of gasoline.
| | |
| --- | --- |
| Trim (Drivetrain) | MSRP* |
| SE | $19,850* |
| SEL | $21,100* |
| N Line | $24,250* |
| Limited | $25,600* |
| Blue Hybrid | $23,750* |
| Limited Hybrid | $28,250* |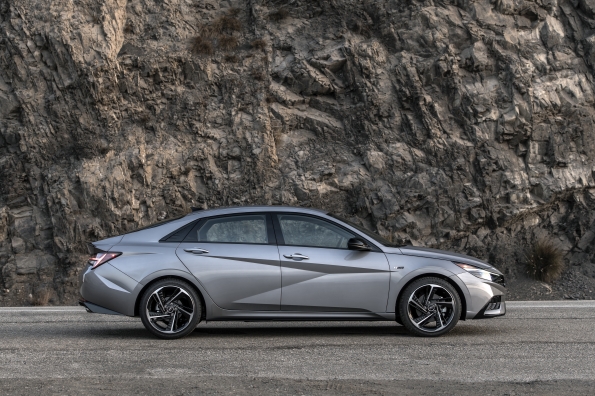 MACHINE PERFORMANCE
The SE, SEL, and Limited trim levels all make use of a 2.0-Liter Inline 4-Cylinder gasoline engine. This setup allows a power output of 147 horsepower and a torque output of 132 pounds-feet at 4500 RPM. These models are only available in front-wheel drive, integrated with Hyundai's Intelligent Variable Transmission. These models also have 3 different drive modes: Normal, Sport, and Smart.
The N Line is a special case in the gasoline Elantra lineup, making use of a more powerful 1.6-Liter Inline 4-Cylinder gasoline engine. This increases the performance of the engine to a power output of 201 horsepower and a torque output of 195 pounds-feet. It comes standard with a front-wheel drive system and comes in a standard 6-speed manual transmission. Buyers can also go for a 7-speed Dual Clutch Automatic Transmission, integrated with SHIFTRONIC that overrides the automatic system for more control.
The Hybrid models both make use of a 1.6-Liter Inline 4-Cylinder Hybrid engine. These are capable of a power output of 104 horsepower and a torque level of about 109 pounds-feet at 4000 RPM. Its electric power comes from a 32-kW electric motor that's capable of about 43 horsepower and 125 pounds-feet of torque. Overall, the hybrids can produce a combined system output of about 139 horsepower. These only come in a front-wheel drive setup and with a 6-speed EcoShift Dual Clutch transmission setup.
Handling the Elantra is still quite responsive, creating a surprisingly satisfying experience in both city and highway driving. The Motor-Driven Power Steering helps to ease the driver's burden in turning the wheel. The 2022 Hyundai Elantra N Line would be the best in this category, giving much better acceleration and overall performance. Brake power is also good for the whole lineup, both gasoline and hybrid, as they make use of a set of 4-wheel disc brakes. The N Line also does things different with an additional set of 12-inch brake rotors for the front wheels.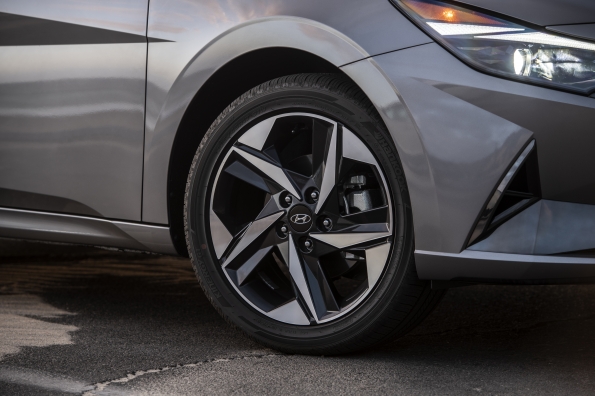 FUEL EFFICIENT & ACTUAL MPG
The standard gasoline models all have a fuel capacity of 12.4 gallons. The SE has garnered an EPA rating of 33 MPG/City, 43 MPG/Highway and 37 MPG/Combined. The SEL does a bit worse for an increase in performance, having an EPA rating of 31 MPG/City, 41 MPG/Highway, and 35 MPG/Combined. The Limited model is similar in fuel efficiency as that of the SEL, with an EPA rating of 31 MPG/City, 41 MPG/Highway, and 35 MPG/Combined.
The N Line model is next with an EPA rating of 25 MPG/City, 34 MPG/Highway, and 28 MPG/Combined with the 6-speed manual transmission. The 7-speed dual clutch model of the N Line Elantra has an EPA rating of 28 MPG/City, 36 MPG/Highway, and 31 MPG/Combined.
The Blue Hybrid is expectedly much more fuel efficient than the traditional gasoline models with an EPA rating of 53 MPG/City, 56 MPG/Highway, and 54 MPG/Combined. The Limited Hybrid falls behind its more efficient counterpart with an EPA rating of 49 MPG/City, 52 MPG/Highway, and 50 MPG/Combined.
INTERIOR, SOLACE & BAGGAGE
The 2022 Hyundai Elantra's interior is quite high-tech looking, with many elements invoking more futuristic looks. It also manages to encapsulate a minimalist aesthetic, with the dashboard and center console tightly packed mostly on the driver's side. The Hyundai Elantra can carry 5 adults comfortably. Passenger seating can either be composed of cloth or leather materials, with the N Line making use of a leather-cloth combination for its sport seats. The driver's seat comes as a 6-way adjustable with height adjustment, with lumbar support available for all trims above SE. The passenger seats are 4-way adjustable. Those sitting in the rear will have a lot of legroom to work with, making it much more comfortable compared to some of the Elantra's rivals. The front passengers can enjoy heating features, being available on the SEL, N Line, and Limited trims. This also goes for the Blue Hybrid and Limited Hybrid models. The interior's cargo volume stands at around 14.2 cubic feet, a decent amount if you pack light for your trips and vacations. Testers have managed to fit around six suitcases within the trunk.
TECHNOLOGY
The infotainment system makes use of either an 8- or 10.25-inch touchscreen system, with the latter being for the higher end models. The infotainment suite of the Elantra comes integrated with Android Auto and Apple CarPlay capabilities, as well as HD Radio and SirusXM Satellite Radio. Wireless device charging is an option for the SEL, with the Limited and N Line models having it as a standard feature. Other options are available through several convenience and premium packages that are available when configuring your own Elantra. Bluelink functionality is also available as an offered package, allowing for connection with the driver's smartphone for access to certain features. This service lasts for 3 years and requires enrollment into Bluelink. Another functionality that comes with the 2022 Elantra is dynamic voice command interactions with the Limited and N Line models. One more improvement is the integration of the Hyundai Digital Key, however this tends to work more on Android devices and not on iPhones. The fact that most of the more futuristic additions to the Elantra are exclusive to higher tier trims may cause a bit of disappointment, but the package being offered as standard is still quite solid. A standard audio system is used on the SE, SEL, and N Line trims. The Limited and Limited Hybrid models brings out a better sound package with an 8-speaker setup from Bose that's bundled with a center channel and a subwoofer.
SAFETY
The 2022 Hyundai Elantra comes equipped with a whole array of different driver-assistance features and technologies, many of these coming as standard features. Some of these features include a forward collision avoidance assist, Pedestrian detection, an adaptive cruise control, blind-spot collision detection, lane keeping assist systems, and other features that aid in safety. The 2022 Elantra's engineers have also made it so that the exterior of the car is resilient to impact and damage. Bodyside reinforcements are standard to even the SE, as well as front and rear crumple zones and an Energy-absorbing steering column. It also comes with an Anti-theft security system that comes with panic modes and remote keyless entry solutions.
WARRANTY
The warranty offerings for the Hybrid and Gasoline models slightly differ, although still quite generous when compared to Hyundai's competition. This deal is just sweetened by the fact that they now offer three whole years of complimentary scheduled maintenance for both. All these models gain a Limited warranty plan that span for 5 years or for the first 60,000 miles driven, whichever comes first. The Powertrain warranty lasts for 10 years or the first 100,000 miles driven, being one of the most legendary offerings in the automotive market to this date. The Hybrid models gain an additional warranty plan for the electric motor and battery which lasts for 10 years or the first 100,000 miles, like the Powertrain warranty. Other standard offerings include an Anti-perforation plan which spans for 7 years regardless of how many miles have been driven. A 24/7 Roadside Assistance plan is also standard with every purchase, lasting for 5 years regardless of how many miles driven.