SUMMARY
The Tesla Model X redesign is finally releasing in 2022, and with it comes grand expectations. A newly designed interior and exterior, along with a tri-motor Plaid variant, it seems poised to take on the new electric SUVs that are coming into the market. Boasting large numbers when it comes to engine output, can it truly race ahead of its steep competition? Will the 2022 Model X be the industry-defining SUV that Tesla fans have been eagerly waiting for?
LATEST
Along with the anticipated updates to the 2022 Tesla Model X's interior, the other new offering is the Model X Plaid. This tri-motor variant offers much more performance than the Long Range counterpart, also offering an astounding acceleration speed. The last new happening with the Model X is the price increase for the Long Range model. The 2022 Tesla Model X's release date is expected to be around November 2022, with the Plaid variant delivered starting August 2022.
ESTIMATED PRICE
According to Tesla's own website, it's possible for buyers to order both the Plaid and standard versions of the Model X already. With an estimated delivery date of November 2022, this means a nearly year-long wait before your new Tesla electric SUV reaches your dealer or doorstep. The Dual-motor Model X is the standard model for this SUV, and comes in at a purchase price of $104,990. The Plaid version of the Model X is its higher performance sibling, coming in at an asking price of around $119,990. Tesla also makes it known that certain savings can also be applied, which includes the California Clean Fuel Reward and other incentives that may apply.
MACHINE PERFORMANCE
In line with Tesla's creations, the Model X and Model X Plaid boast some impressive numbers when it comes to their performance. All of these models only come in All-wheel drive platforms. First, we'll go through the specs and performance of the 2022 Tesla Model X Long Range, the base model of this series. The Long Range's dual-motor setup allows it to go up to 670 horsepower. It also goes from 0 to 60 mph in only 3.8 seconds, a wickedly fast time when it comes to electric SUVs so far. Its top speed levels out at about 155 mph, riding on 20- or 22-inch wheels.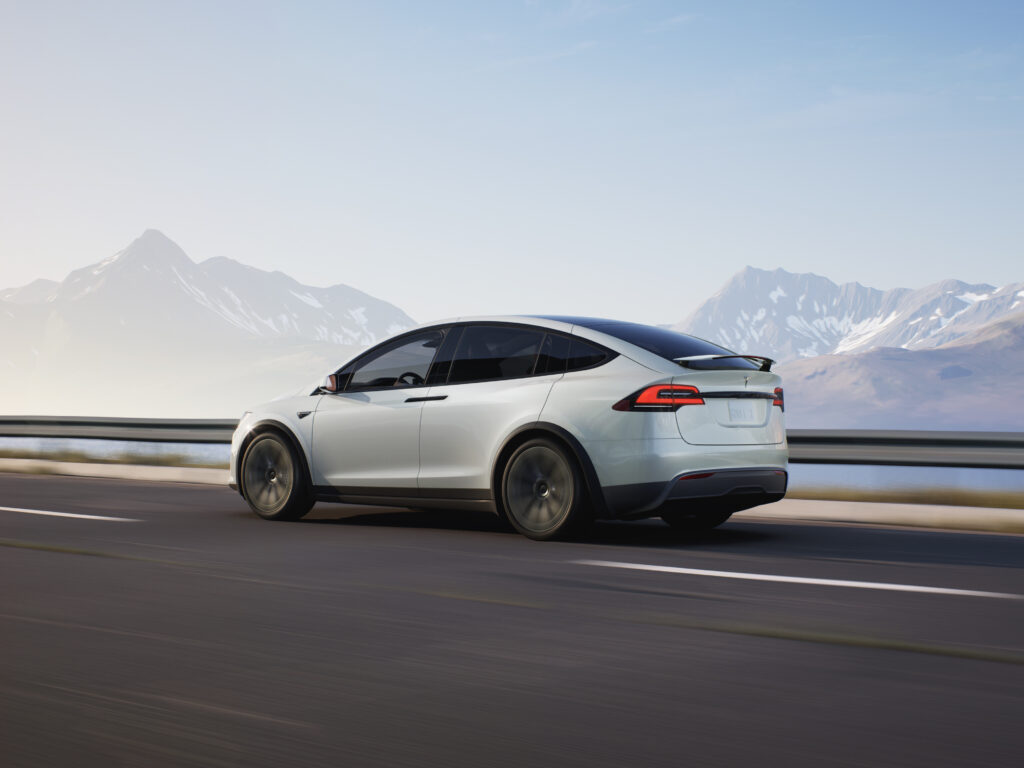 The Model X Plaid takes it a bit further, with a whole array of improvements and features that improve the performance. The tri-motor setup makes the Model X Plaid race forward with an astounding 1,020 units of horsepower. Its acceleration time is as amazing, only needing 2.5 seconds to reach a speed of 60 mph from a standstill. It makes use of torque vectoring which allows it to vary the torque output and the power sent to the wheels in order to improve its handling. It also comes with carbon fiber-sleeved rotors that help the engine maintain power all the way towards top speed. The Model X Plaid tops out at a speed of 163 mph, riding on either 20- or 22-inch wheels.
The base Model X Long Range feels confident to drive, serving the driver with thrills as they handle the power of the dual-motor setup. Its smooth ride is all thanks to the standard air suspension it comes with, supported by a set of brakes that give it ample braking power. The handling of the Model X leans more towards the sporty side, having the sort of agility that you'd expect from that of a sports car. This is exemplified further with the Model X Plaid, with the upgrade being like night and day when it comes to drive feel. It gives off performance that mimics that of supercars, while also being a practical SUV for the family. The balance it achieves in both the comfort factor and the performance factor is astounding, with enough to get its driver excited to be behind the wheel.
BATTERY LIFE
The battery architecture of the Model X has been reworked, allowing for better electric driving range. The Model X Long Range makes use of a 100-kWh lithium-ion battery pack, capable of being supercharged to a current of 250 kW. The Long Range can be supercharged to an electric range of 175 miles in only 15 minutes, with a full battery being able to last for a driving range of 348 miles. Of course, it's important to note that you may lose out on some miles of range if you go for the 22-inch wheels.
The Model X Plaid makes use of the same 100-kWh battery pack, with the same numbers for its max supercharging current. The Range of the Model X Plaid with a full battery pack helps it reach 333 miles, with a slight reduction when fitted with 22-inch wheels.
FUEL EFFICIENT & ACTUAL MPG
The Tesla Model X not only has impressive machine performance, it also comes with great fuel economy. The Standard Model X Long Range has an EPA rating of about 109 MPGe/City, 101 MPGe/Highway, and 105 MPGe Combined. The Model X Plaid has a drop in fuel efficiency due to its increased performance. It rates at 100 MPGe/City, 95 MPGe/Highway, and 97 MPGe/combined which is still quite efficient in the grand scheme of things.
INTERIOR, SOLACE & BAGGAGE
The 2022 Tesla Model X's Interior is quite similar to that of other Tesla vehicles, complimented by a few unique aspects. The U-Shaped steering wheel is most prominent out of everything in the interior, resembling an airplane's yoke rather than a traditional steering wheel. A good positive of this new steering wheel design is the clear view the driver has of the digital gauge cluster. It can also come in three different color schemes: Cream, Black and White, and All Black. All this is accentuated by the largest panoramic windshield that Tesla currently offers, giving the riders a completely unobstructed view all around the vehicle's surroundings.
The seating layout of the Model X can go from five, six, and even seven passengers, having built-in heating features for every seat. The front seats are pampered with additional ventilation. Front doors are also automatically opened and closed, which is a theme for other elements of the interior. It also comes with sliding cup holders and storage areas, as well as other features meant for the passenger's comfort and entertainment. Cargo space on both variants of the Model X is spacious with the 5-seater setup. The 3-row setup still offers a great amount of space, but with the 3rd row folded it becomes much more spacious.
TECHNOLOGY
As with anything offered by Tesla, it comes with quite an extensive array of infotainment systems and options. The Model X has three different displays, with the 17-inch central display being more of a 10-teraflop gaming rig through the Tesla Arcade feature. It comes with wireless controller capability, allowing anyone from any seat to take control of the game. The second display screen, measuring in at 12.3-inches, is where the digital gauge cluster of the vehicle is shown. An 8-inch rear display is located on the second row and is used by the rear passengers for certain cabin controls and entertainment features. The UI of the infotainment suite is quite user-friendly as well, helping less tech-savvy buyers make use of all the features of the Model X. All models come with a 22-speaker audio system, equipped with active noise cancelling features. It also allows for Bluetooth connection with your phone, allowing you to stream music and media from it. FM Radio, SiriusXM Satellite Radio, and Internet Radios are also an option for passengers. However, the Model X in both its variants do not support any connectivity with Android Auto and Apple CarPlay.
SAFETY
Tesla once again offers a "Full Self-Driving Capability" package for $10,000, giving the Model X autonomous control over certain functions. These include autoparking, Automatic Lane changing, Traffic Light and Stop Sign controls, as well as other autonomous driving features. It also has a Sentry Mode which monitors the car's surroundings for potential dangers and theft, alerting the driver on the smartphone app if it detects anything. It is also expected to come with the standard driver assistance features and technologies a buyer might expect for newly released cars. This might include a standard adaptive cruise control, forward collision warning system, and an automatic emergency braking when in accidents.
WARRANTY
Tesla offers quite the warranty plan, but lacks certain things such as a complimentary scheduled maintenance plan. The Basic Limited Warranty plan spans for about 4 years or for the first 50,000 miles driven, whichever comes first. The Battery and Drive Unit is also covered by a separate warranty plan, spanning for 8 years or the first 150,000 miles driven. An additional term to this is that there must be minimum 70% retention of battery capacity for the warranty to be applied. There are also options for Extended Service plans, but this comes at an additional cost and takes effect one the Limited Warranty is set to expire.